2022 Richmond vs Delaware
CAA Games Of The Week: A Saturday Critical To The Championship Chase Looms
CAA Games Of The Week: A Saturday Critical To The Championship Chase Looms
Two matchups of Top 25-ranked teams will have profound impact on the Colonial Athletic Association's championship race with just two weeks remaining.
Nov 9, 2022
by Kyle Kensing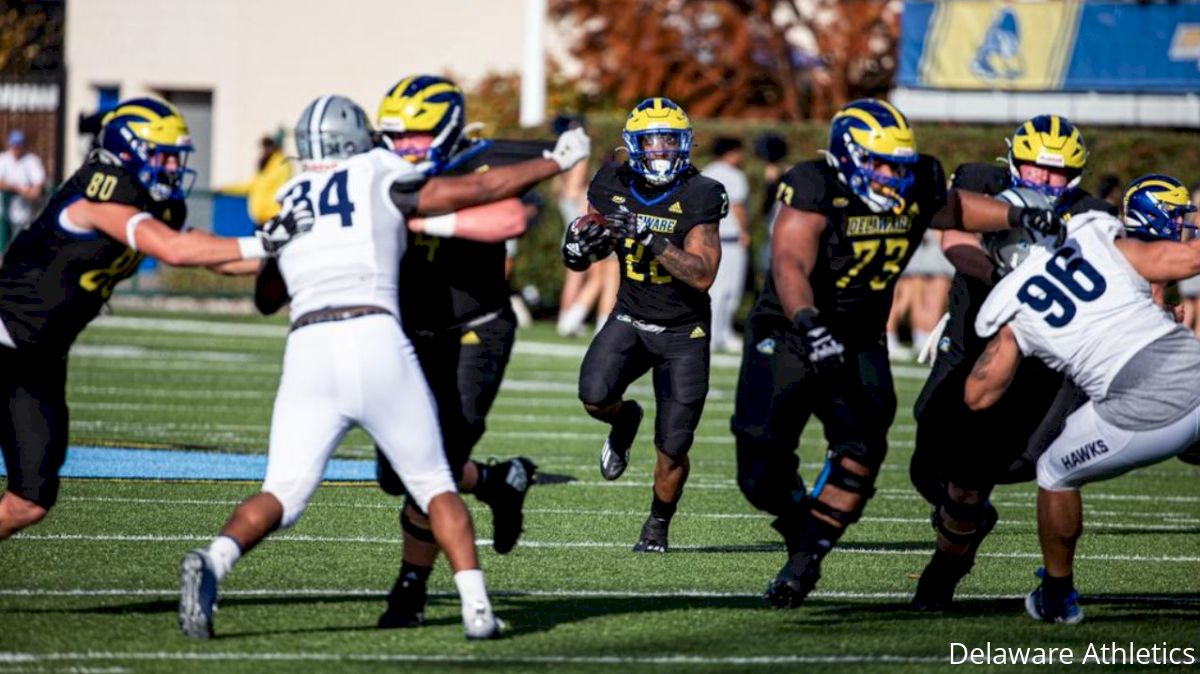 Every team in the Colonial Athletic Association now has a conference loss, following Richmond's thrilling win over previously undefeated-in-league New Hampshire to cap Week 10.
The Spiders' 40-34 victory opened the door for a variety of championship aspirants heading into the regular season's penultimate Saturday. With head-to-head matchups between some of the title contenders headlining the Week 11 slate, however, a few hopefuls will be eliminated.
Few conferences at any level of college football head into their final weeks with a championship race as competitive as the CAA's, which features six teams still in the mix.
No. 12 Richmond at No. 17 Delaware
For a second week in a row — and, depending how Week 11 shakes out, possibly for the second of three straight weeks — Richmond plays in the most high-profile game on the docket. The Spiders are in a role-reversal after last week looking to knock off first-place New Hampshire at home.
This week, it's Richmond on the road looking to protect its first-place standing against a tough opponent presumably headed for its own spot in the FCS Playoffs.
"We came to this university to play in meaningful, November games. And we're in one," Delaware coach Ryan Carty said. "It's pretty awesome we get a chance to be in situations like this and play meaningful games this time of year."
The similarities between Delaware and Richmond hardly end at the mirroring positions coming into marquee November games.
Starting with quarterbacks Nolan Henderson of Delaware (206-318, 2,391 yards, 25 touchdowns/6 interceptions) and Reece Udinski of Richmond (269-353, 2,574 yards, 22 touchdowns/4 interceptions) , the offenses resemble each other. Both receiving corps feature reliable targets in Jake Herres and Jourdan Townsend, established weapons who can convert big first downs or get into the end zone with Jasiah Williams and Thyrick Pitts, and potential big-play game-changers in Leroy Henley and Chandler Harvin.
Each offense also has the ability to move the ball effectively on the ground. Richmond's Aaron Dykes is a dependable every-down back, and Delaware's Kyron Cumby has shown a knack for tearing off explosive runs.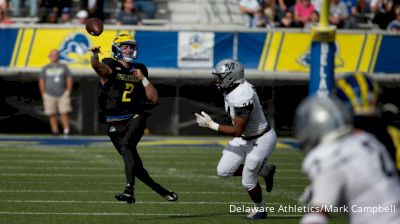 "Our defenses are the top two in the league. Our quarterbacks are two of the top ones in the league," Carty said. "For sure, there are a lot of similarities between us...It's going to be a battle. It's going to be about who can stop the offense a little bit better."
Carty cited turnovers and special teams as keys to watch. Availability will be another.
Spiders coach Russ Huesman said Udinski is nursing a "lower-body" injury. Richmond was without its top pass-rusher, Marlem Louis, as well as explosive change-of-pace back Savon Smith in last week's win over New Hampshire.
No. 22 Rhode Island at No. 21 New Hampshire
Rhode Island kept its pursuit of the program's first playoff appearance in nearly 40 years alive last week with its first win over Maine in 15 outings. Now, the Rams will look for another milestone win when it visits New Hampshire.
Since the first CAA season in 2007, Rhode Island is winless at Wildcat Stadium. A field goal as time expired sealed a New Hampshire win when the two last faced in Durham in 2019.
Despite losing at Richmond last week, UNH can still claim a share of the CAA championship by winning out. At 6-3, the Wildcats may need to win out to have a shot at qualifying for the Playoffs. The same is true of Rhode Island, which learned the hard way a season ago that 7-4 is no guarantee of a berth in the postseason.
First win over the Maine Black Bears since 2006.

Presented by The Pizza Gourmet | #3MoreFeet pic.twitter.com/iL8HJBlN2h

— Rhody Football (@RhodyFootball) November 7, 2022
"We know what we've got to do," Rams coach Jim Fleming said. "We're all playing for a lot on the table here. So, I know Ricky [Santos] will have those guys ready."
Fleming shouted out URI sports information director Shane Donaldson for an accurate summary of this closing stretch, beginning with Rhody's win at Maine: The Playoffs have effectively already begun for these teams.
Rhode Island is New Hampshire's third straight Top 25 opponent, following an impressive win Oct. 22 over Elon and last week's showdown for first place with Richmond. Those games followed much different trajectories, with UNH jumping all over Elon early in the win, but needing to rally — and coming one play shy of completing it — from down 24-0 against the Spiders.
"A little bit of performance anxiety coming out of the gate, and ultimately, that's a game that had big-time implications," Santos said. "The moment was a little much for some of the guys, but they buckled down and had some conviction in the second half....But if you're going to win a game like that in November, on the road against a very tough opponent, you simply can't start that slow."
Getting off to a faster start this week means getting All-America candidate Dylan Laube going in the first half. Laube flipped the Richmond game on its head with a pair of touchdowns, including a 100-yard kickoff return.
The always-dangerous Laube and Rhode Island's breakout performer, Marquis DeShields, key each offense. Establishing the run will be crucial for quarterbacks Max Brosmer and Kasim Hill to have breathing room against two of the best defensive lines in the CAA.
Villanova at No. 8 William & Mary
Sporting the best overall record, best ranking, and a first-place tie atop the CAA, William & Mary heads into the final two weeks in a good spot. The Tribe's success has been predicated in part on their ability to win away from Zable Stadium, where they moved to a program-best 5-0 with last week's gritty win at Hampton.
🧨💥 @Darius_W11 ➡️ @Dre_Ken5 #GoTribe pic.twitter.com/Hm8aofDITR

— William & Mary Tribe Football (@WMTribeFootball) November 9, 2022
William & Mary closes out its home slate in Week 11 with a Villanova bunch that may have seen its playoff hopes evaporate last Saturday at Towson. The 27-3 loss dropped the Wildcats to 5-4 overall and out of the CAA championship picture.
Still, a win over a top 10 opponent, with the Battle for the Blue against a Top 20-ranked Delaware looming, Villanova may have an outside shot of still playing its way into a berth. The Wildcats shouldn't be lacking for motivation when they try to spoil William & Mary's conference-championship aspirations.
Beyond the league crown, William & Mary might also be playing for home-field advantage deep into the postseason. As good as the Tribe have been away from Zable Stadium, earning more games at home as a top-four seed is an attractive and attainable goal.
No. 18 Elon at Hampton
Fresh off completing a perfect mark at home, Elon closes its regular season on the road at Hampton. The Phoenix dropped their last two games away from Rhodes Stadium, Oct. 15 at Rhode Island and Oct. 22 at New Hampshire, complicating their CAA championship path.
Not 1.
Not 2.
Not 3.
Not 4.
Not 5.
Not 6.
Not 7.
Not 8.
Not 9.
Not 10.
But ELEVEN sacks in one game!#AED pic.twitter.com/RTCE5q4QrW

— Elon Football (@ElonFootball) November 8, 2022
To claim a share of its first CAA crown, Elon needs a win this week, and each of UNH, Richmond and William & Mary to lose at least once. The Phoenix own the head-to-head advantage over Richmond and William & Mary, as well as fellow two-loss counterpart Delaware, but trail UNH by a game with the head-to-head disadvantage.
Beyond its conference championship pathway, Elon likely needs to close out with a win at Hampton to ensure itself a berth in the Playoffs. An 8-3 overall mark with wins over three Top 20 opponents would likely give the Phoenix another game at Rhodes Stadium. A loss to fall to 7-4 could doom their playoff chances.
Hampton's boasted one of the best rushing defenses in the CAA all season, and last week's showing against the Colonial's best rush offense, William & Mary, reflected the Pirates at their best. With Elon boasting one of the nation's best turnover-creating defenses, Saturday's affair could be a low-scoring grind.