2022 Unh vs Richmond
CAA Weekend Recap: Richmond Win Shakes Up CAA Title Race
CAA Weekend Recap: Richmond Win Shakes Up CAA Title Race
A successfully defended Hail Mary changed the complexion of the CAA championship race heading into the final two weeks of the regular season.
Nov 8, 2022
by Kyle Kensing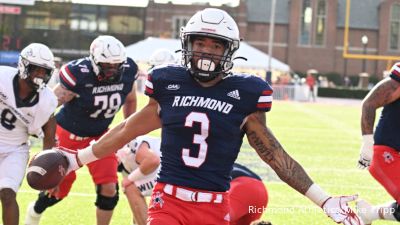 A portion of Richmond's Friday practices are dedicated to simulating a Hail Mary situation, Spiders coach Russ Huesman said following the Spiders' Week 10 win over New Hampshire.
As it turns out, those drills — including wide receiver Jake Herres helping with the defensive secondary — proved integral to the Colonial Athletic Association championship race.
A New Hampshire victory at Richmond would have eliminated at least two teams from the CAA title picture, Elon and Richmond, and made sledding for a variety of others especially difficult in the final two weeks. Instead, a successfully broken-up Hail Mary attempt in the Robins Stadium end zone creates a bevy of possibilities for the league crown with just two weeks to go in the regular season.
"It was a heckuva football game," Huesman said. "Both teams left it all on the field. Proud of our guys; it was a big win for us against an excellent football team."
The Spiders coach tipped his cap to New Hampshire, which rallied from a 24-0 deficit to lead to the game-deciding final play, and to Dylan Laube specifically. Huesman called Laube the best player in the CAA, and the Wildcats running back's two second-half touchdowns certainly strengthened any arguments to that end.
My goodness Dylan Laube, are you serious? @UNH_Football @CAAFootball pic.twitter.com/05wI4NlifH

— Kyle Kensing 🦃🏀🏈 (@KyleKensing) November 5, 2022
Laube's 100-yard kickoff-return touchdown was one of two pivotal momentum plays that gave New Hampshire a chance to win. The other, coincidentally, was another deep shot to end the half. Max Brosmer's 46-yard touchdown connection with Heron Maurisseau gave New Hampshire life after RIchmond shut the Wildcats offense down for the first 30 minutes.
Saturday's roller-coaster ride at Richmond served as a fitting reflection of the CAA championship race overall. Each of the Colonial's FCS-best six ranked teams have a pathway to at least a share of the conference championship thanks to the Spiders holding off the Wildcats. Richmond is at the forefront of that sextet.
Should the Spiders win out, they would have wins over both of the other current one-loss teams tied for first place. The 133rd installment of the Oldest Rivalry in the South might well be for the CAA championship with William & Mary in the hunt.
But that means Richmond getting past Delaware in Week 11. After an uncharacteristic showing in the Oct. 29 loss at Elon, the Blue Hens rebounded in their blowout of Monmouth. Nolan Henderson was nothing short of brilliant, going 22-of-28 passing for 323 yards and five touchdowns, showing no ill effects from the injury that limited him the week prior.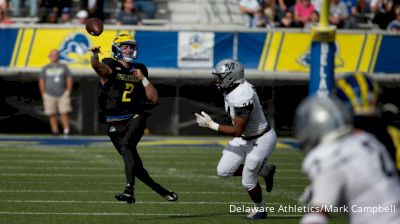 The Delaware that showed up against Monmouth can beat any team in the FCS, the CAA included. Wins over Richmond and Villanova to close out the regular season would give the Blue Hens a shot to score a share of the league title with some help.
Either way, a 9-2 overall record should be enough to land Delaware at least one game at Delaware Stadium, where the Blue Hens have been dominant this season.
"We try to make it at comforting as possible for ourselves and...uncomfortable for our opponents," Delaware coach Ryan Carty said. "A lot of that has to do with our fan base. We're going to have 16, 17,000 there most likely. Those situations can get loud."
Home-field advantage could also be a factor in the conference-title aspirations of both New Hampshire and Rhode Island. The Wildcats return home from their first and only CAA loss looking to regroup against a Rhode Island team that, coupled with the Rams' comeback win to beat Maine for the first time in 15 tries, had its conference championship chances salvaged by Richmond's Hail Mary defense.
URI coach Jim Fleming joked that the visiting locker room at Wildcat Stadium is "complete[ly] nasty," but added that the Rams' historic struggles to win in Durham are not the byproduct of facilities.
"It's the quality of their program," Fleming said.
Should Rhode Island play its way into conference-title contention, it and other teams around the CAA can thank Richmond's Friday Hail Mary drills.
The Colossus of Rhodes
Of all the home-field advantages this season in the CAA, none has been more measurably meaningful than that of Elon's Rhodes Stadium.
A second dominant defensive effort in as many weeks propelled Elon to a 27-3 win over UAlbany in Week 10, closing out a perfect regular season for the Phoenix at home.
"Being undefeated at home...as a legacy standpoint for our seniors, this is the pinnacle of what we want to pass down to our underclassmen," said linebacker Jamir Malone. "It's just great to see. It's great for our whole university, and it's especially great for our staff and our coaches.
One week after it became the only defense to limit Delaware to a single score, Elon's encore was holding UAlbany out of the end zone for the game. No Great Danes opponent, including Baylor, can say the same.
And Malone is one of only two individual defenders who can stake claim to an interception of Jerry Rice Award-contending quarterback Reese Poffenbarger. His pick adds to an increasingly crowded Get The Ball Wall, as Elon boasts 19 total takeaways on the season and a nation's best 10 fumble recoveries.
CAA Leaders In Forced Fumbles In 2022

1 - Marcus Hillman (0.4/game)
2 - Jamir Malone (0.3/game)
3 - Devonte Chandler (0.25/game)
t4 - Marvin Pearson (0.22/game)#AED pic.twitter.com/W4OxVBxvRU

— Elon Football (@ElonFootball) November 6, 2022
Just one game remains on Elon's schedule, a Week 11 trip to Hampton. A win over the Pirates presumably guarantees the Phoenix their first playoff bid since 2018. With wins over Delaware, Richmond and William & Mary — all ranked in the Top 20 heading into Week 11 — Elon has a case to play another game at Rhodes should it secure a berth.
"Absolutely I think we have," Malone said. "I would love a home playoff appearance. I think we've earned it, and I think it would be a great atmosphere at Rhodes."
Reasons to Celebrate
Mike London fought back tears following William & Mary's 20-14 win at Hampton, but it wasn't the hard-fought victory that choked up the the Tribe's coach.
"I'm not ashamed to say this: My father, Wilson London, on Wednesday had emergency surgery where..." London hesitated, his voice cracking. "The odds were 50/50 whether or not on the table, he'd get off the table alive. So, this has been heavy all week for me. I've shared it with the team and things like that.
"But I'm going to tell you why God is good, because on Wednesday, when they did the operation — although it was a 50/50 chance of him getting off the table, or take him home to hospice — mom decided let's go for the surgery. And he came out of the surgery. He came out well."
The London family's difficult week puts into perspective that, while players and coaches invest countless hours in the pursuit of championships, there's so much more to life. There are other lessons London emphasized, too — like what can be accomplished when "you believe in what you can do," as London said.
Embracing all of life's achievements is another lesson. Although William & Mary's ultimate goals are not yet accomplished, the Tribe have plenty of reasons to be proud thus far in 2022.
William & Mary improved to 5-0 on the road with Saturday's win, a program first, and chalking up their eighth win overall likely assures the Tribe a berth in the FCS Playoffs — the program's first since 2015.
𝙏𝙍𝙄𝘽𝙀 𝙏𝙊𝙐𝘾𝙃𝘿𝙊𝙒𝙉‼️

Malachi Imoh with a 49-yd TD run!

W&M back on top, 17-14!#GoTribe pic.twitter.com/Cwf1rYtQav

— William & Mary Tribe Football (@WMTribeFootball) November 5, 2022
"You're not satisfied, because there are some things you could've done better, but at the same time, you celebrate," London said. "You celebrate things, because it's part of competition."
Meanwhile, the work put in and time spent together as part of that competition makes the moments on the field a big part of the lives of everyone involved. To that end, London wasn't the only CAA head coach to choke up postgame in Week 10.
Towson's Rob Ambrose held back tears following the Tigers' 27-3 win over Villanova as he expressed his pride in the squad.
"Truth be told, by Thursday afternoon, I didn't know who was going to be able to line up and start," Ambrose said. "Very few times in my career have we had an opportunity to beat [Villanova]. And not only did we beat them, we beat them handily. That says a lot about the players in the locker room, it says a lot about the coaches."
"Through everything that's happened this year, all the ups and downs, we know what we have in that locker room," said Tigers defensive back Robert Topps III, offering a player's perspective of Towson's mettle. "I believe in every single person in that locker room."
On Monday, Ambrose said that the positive vibes emanated not just from the current locker room, but from Towson's past, as well, with alums calling and texting to show their support.
One alumnus sharing that energy, former standout wide receiver Shane Leatherbury, joined the growing call for D'Ago Hunter to garner 1st Team All-American recognition.
Hunter followed up scoring his second kickoff-return touchdown of the season Week 9 at Monmouth with Towson's first punt-return since 2017.
This kid is an All American!!! https://t.co/WNkd7uY3sf

— Shane Leatherbury (@leather__) November 5, 2022
"He's been doing this all the time," Ambrose said. "The versatility of him is how we've used him offensively."
Integrating Hunter's speed — "He's kind of fast," Ambrose said, tongue firmly in cheek — as well as his elusiveness, Towson's made use of him as a running back and receiver.
All of his contributions total 141 yards per game in all-purpose production, behind only New Hampshire's Laube and Monmouth's nation-leading rusher Jaden Shirden among CAA players and 13th-most nationally.
"But as far as a kick-return guy?" Ambrose added. "They call him The Hummingbird around here because he's really quick and he's hard to tackle...He's a great player, he's a great kid, he's a talented athlete. Highly intellectual kid. He's one of the do-it-right guys."