2022 CAA Football
CAA Week 4 Recap: Henderson, Udinski and Shirden Get Into The Zone
CAA Week 4 Recap: Henderson, Udinski and Shirden Get Into The Zone
Otherworldly performances from Jaden Shirden, Nolan Henderson and Reece Udinski highlighted a thrilling Week 4 in the CAA.
Sep 25, 2022
by Kyle Kensing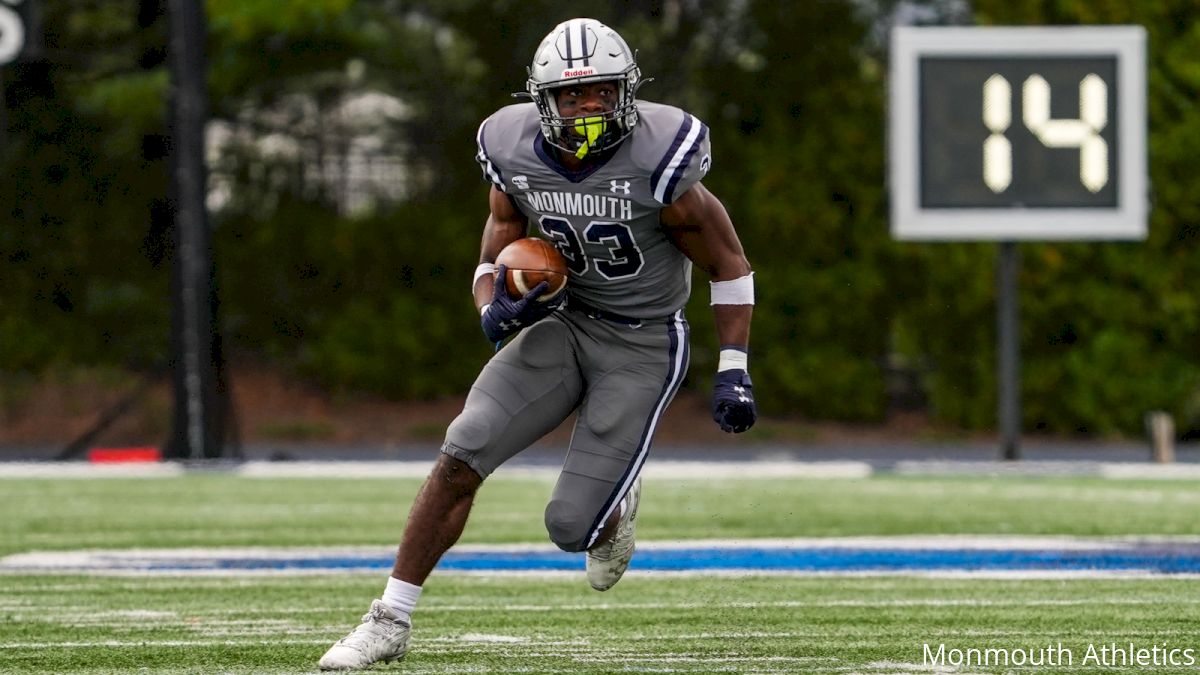 No visible indicator exists once a player enters the zone. It's not like an energy bar on a video game, or Mario flickering with rainbow colors after touching a star. But for that player in the zone, the experience has a tangible feel.
"It's like a tunnel vision," said Monmouth running back Jaden Shirden. "I can't really explain it, but once I get hot, I start seeing things differently and get rolling. Whenever I get into that zone, I'm going to take it to a whole other level.
Shirden has gone to that level a few times already on the 2022 season, most recently in the Hawks' landmark, 49-42 win in Week 4 at No. 9-ranked Villanova.
He erupted for 212 yards, his second time surpassing the 200-yard mark already on the campaign. But unlike the 52-49 loss Week 2 to Fordham in which Shirden gained 299 yards, the most in all of Div. I football this season — Cal's Jaydn Ott set the FBS bar in Week 4 yet was a full 25 yards off Shirden's pace — there was no damper on the Monmouth running back's outstanding day.
Shirden himself, who credited those early defeats for pushing the Hawks to "never give up," saw to that.
On a day that Monmouth and Villanova exchanged more big plays and touchdowns than a couple of gamers on a Friday night Madden session, Shirden hit his turbo button just one time more.
OUR LEAD.@shirden_20 with 46 seconds to go. Us by 7.

Deep. Breaths. pic.twitter.com/nPYFtSRodD

— Monmouth Football (@MUHawksFB) September 24, 2022
His 16-yard gain in the final minute lifted Shirden beyond the 200-yard mark and gave him his second touchdown of the game. But more importantly, it gave the Hawks a lead they never relinquished en route to the program's first-ever Colonial Athletic Association win.
Monmouth suffered heartbreak in its first CAA contest, a 31-21 loss Week 1 at New Hampshire. Like in Week 2 against Fordham, the Hawks held a fourth-quarter lead against the Wildcats. Getting over that hump to close out, and doing so at the expense of a top 10-ranked opponent and the reigning CAA champion, took multiple key contributions.
Owen Wright continues to be the most prolific point-scorer in the nation, tacking on two more touchdowns to bump his season total of end-zone trips to 10.
"Coach Sam Dorsett, got to give credit to him," Shirden said of the multi-dimensional Monmouth running-back rotation, which also includes preseason All-American Juwon Farri. "He goes hard in practice, tells us what we need to do. And we all feed off each other, and do it well. I'm really proud to be part of this running-back group."
Preseason 1st Team All-CAA quarterback Tony Muskett also came through, rushing for 78 yards and completing 11-of-17 passes for 160 yards and three touchdowns. Two went to Assanti Kearney.
They're not Animal and Hawk, but they're both @MUHawksFB, they're Road Warriors, and they're one heckuva tag team pic.twitter.com/PBwshos9Qr

— Kyle Kensing (@KyleKensing) September 24, 2022
"What we thought about throughout the entire game was to keep our foot on their necks, in a sense, never let up," Kearney told the Monmouth Digital Network in a postgame interview. We knew this was a big opponent, so we had no choice but to do our best. And it was a great opportunity to showcase our talents to prove to the CAA we're here."
Monmouth's announced its arrival to the CAA, and Shirden individually should have the nation's attention. His 664 rushing yards are 99 more than the next-most productive back in FCS, his 166 yards per game outpace the second-most prolific rate by about 23 yards a contest, and his 11.5 yards per carry are about 2.4 more a touch than No. 2.
If Shirden can continue entering his zone, he'll ride that self-described tunnel vision all the way to the Walter Payton Award. Plenty of season remains, of course, and there's no shortage of contenders sure to emerge for the nation's most prestigious offensive award — including within the CAA.
Delaware quarterback Nolan Henderson is one.
The Colonial's last remaining undefeated team maintained its perfect record at the expense of previous unbeaten Hampton, 35-3, thanks to stifling defense and Henderson's playmaking.
Henderson has set career completions and passing touchdown records in each of the last two weeks, this time going 30-of-43 for 296 yards and five scores. Two went to Thyrick Pitts, who now leads the CAA in receiving touchdowns with five.
.@t_pitts1 IS A MACHINE 🤖 pic.twitter.com/GkNciDT7oj

— Delaware Football (@Delaware_FB) September 25, 2022
Henderson's 14 passing touchdowns lead the league and are third-most nationally.
"They're both really good players and so, it makes sense one's getting open and one's throwing it for him and connecting," Blue Hens coach Ryan Carty said in Saturday's postgame press conference, but added that's not necessarily by design. "Those could have easily been other people on those touchdowns."
"It's a great offense to be in if you're a quarterback," Henderson added.
Another CAA quarterback operating a program with a new scheme, Reece Udinski, is fast asserting himself among the nation's premier playmakers. His 11 passing touchdowns are tied for seventh nationally, and he's hitting his groove just as Richmond enters CAA play.
Udinski threw for five touchdowns in the Spiders' 51-7 romp over conference counterpart Stony Brook, giving the quarterback seven in the last two games. Adding his five scores Saturday — which totaled just two fewer than his total amount of incompletions — to a 17-for-17 start Week 3 against Lehigh, is Udinski in that mystical zone like Shirden described?
"It's funny you say that," Udinski said following the CAA-opening rout. "Because I kind of thought that in the second quarter. I told coach [offensive coordinator Billy] Cosh, 'Just keep riding my number, and I'll try to make it work.'
"I felt really good about today," he continued. "We had great weather, everybody on the offense is really playing great. [The linemen] were protecting me, and the receivers were getting open. We started a little slow there, but once we scored that first touchdown, I felt like I had a groove going."
Udinski's day reflects the phenomenon of one player going into the zone becoming infectious for the team. His five scores went to four targets, with Jasiah Williams, Savon Smith and Connor Deveney getting into the end zone, and Leroy Henley doing so twice.
Right on the money🤑@ReeceUdinski @Jasiah_W | #OneRichmond pic.twitter.com/iY1k7FlKEm

— Richmond Spider Football (@Spiders_FB) September 24, 2022
Love this pre-snap motion Udinski calls for from Connor Deveney on @Spiders_FB touchdown pic.twitter.com/adL2kif46g

— Kyle Kensing (@KyleKensing) September 24, 2022
Even a coach can come along for that ride in the zone. Just ask Richmond's Russ Huesman.
"It feels great," he said with a chuckle of Udinski's play. "That's why we take the ball; we win the [coin] toss, we take the ball. I want him out on the field."
Rising From The Ashes
A year ago, almost to the day, Elon dug a 21-0 hole in the first quarter against William & Mary before rallying to pull within one score. The Phoenix could never fully bridge the gap, however, losing a 34-31 heartbreaker.
While no one loss is any more impacting than another theoretically, it's not unrealistic to suggest that field goal's margin was the difference in Elon making the Playoffs and not.
Week 4 started to seem like a case of deja vu. William & Mary — sporting some slick, new gray uniforms — jumped to a quick, 14-0 lead. The second of the Tribe's early scores came on a picture-perfect connection of 75 yards between Darius Wilson and Caylin Newton.
Newton's celebration paid homage to NFL Most Valuable Player, Heisman Trophy winner and — oh, yeah — Caylin's older brother, Cam, who was in the Zable Stadium audience.
Darius Wilson with a beautiful throw and an even better catch from Caylin Newton, whose touchdown celebration includes a nod to brother Cam @WMTribeFootball via @FloFootball https://t.co/UZd2WFhDEJ pic.twitter.com/CucK3dyGIm

— Kyle Kensing (@KyleKensing) September 24, 2022
Although the Tribe lead didn't grow to 21-0 like in 2021, thanks to Elon answering the initial flurry with 10 unanswered points, William & Mary managed to push the gap to three scores at 28-10.
The Phoenix chipped away at the three-possession deficit, like they had a year prior. But failed extra-point conversions in the third quarter on Matthew McKay's 18-yard touchdown pass to Bryson Daughtry and DJ Moyer's touchdown carry with just 4:43 remaining left Elon down 31-29 and facing a repeat of 2021.
Until the defense rose up.
"At halftime, going down the way we were, 28-10, it wasn't pretty in [the locker room]," Phoenix coach Tony Trisciani told Elon media. "Our guys weren't happy about where we were at. We knew we had to fix some things. We had to fix the turnovers, we had to fix the big plays defensively, we had to tackle better. And we did. In the second half, we were a different football team."
Against an offense that rolled in ranked among the nation's best, posting more than 500 yards per game, the Phoenix defense put together one more dominant stand to complete a half defined by them.
Elon allowed William & Mary to cross the 50 just once in the second half, which produced the Tribe's sole points of the second 30 minutes with an Ethan Chang field goal. Otherwise, William & Mary's drives leading up to the Phoenix taking the lead went as follows:
Three plays, seven yards, punted from the Tribe eight-yard line
Four plays, six yards, fumble forced by Marvin Pearson recovered at the Tribe 17-yard line
Three plays, nine yards, punted from the Tribe 10-yard line
Three plays, 18 yards, fumble forced by Marcus Hillman recovered at the Tribe 43-yard line
Three plays, eight yards, punted from the Tribe 34-yard line
The last of those defensive possessions gave Elon the ball for its game-winning drive: a seven-play, 69-yard sequence culminating with Jalen Hampton rushing 15 yards for his third touchdown on the day.
TOUCHDOWN ELON!!!!! #AED pic.twitter.com/XaLwcQm5uD

— Elon Football (@ElonFootball) September 24, 2022
Hampton has been nothing short of dynamite the last two weeks, totaling more than 300 yards. Hillman continued his standout play on defense with a team-high two tackles for loss, a team-high matching eight tackles, the forced fumble and another recovered. Punter Jeff Yurk and the coverage unit also played an invaluable role once again, pinning William & Mary at its one-yard line twice in the second half.
We love great work by a punt team around here. 👏

Jeff Yurk boots it 65 yards for @ElonFootball and it's downed at the 1 by Chandler Brayboy.

📺 @CoxComm (VA), @FloFootball
➡️ https://t.co/wZhH1155bM pic.twitter.com/az9rzRakv2

— CAA Football (@CAAFootball) September 24, 2022
One of those field-flipping moments from the punt unit resulted in quick change of possession and Elon touchdown; the other ended with the Phoenix advancing into the red zone before turning it over on downs.
All three phases' contributions reversed Elon's fortunes against William & Mary and sets the Phoenix on the right course for the CAA calendar still to come.
Looking Up At New Hampshire
Elon joined the mix of teams with unblemished conference marks, a group that also includes Delaware at 2-0, and the Colonial's lone 3-0 squad, New Hampshire.
After a non-conference loss last week to North Carolina Central, the Wildcats returned to league competition in Week 4 with something to prove on defense.
"We've been having problems containing quarterback," UNH defensive end Dylan Ruiz said. The Wildcats gave up 140 yards at an 8.8-per carry clip to NCCU dual-threat playmaker Davius Richard a week prior. "It fueled us a lot. We're not trying to look like a hoax; we had a lot to prove. This was a redemption game."
UNH redeemed itself to the tune of just 97 net rushing yards allowed in total, including limiting two-way Towson quarterback Tyrrell Pigrome to 29 net yards on 14 carries.
The Wildcats got to Pigrome in the backfield for six sacks; Ruiz was responsible for half.
"I'm kind of disappointed I didn't get that fourth one, though," Ruiz said. He nearly came away with a fourth, which would have set the national single-game high thus far in 2022.
Perhaps a storyline to follow in Week 5 as New Hampshire returns to non-conference competition for a trip to Western Michigan. The Wildcats seek the Colonial's third win over an FBS opponent this season, and the program's first since beating Georgia Southern in 2017.
Breaking Through
UAlbany joined the win column with an emphatic, 45-26 win over Central Connecticut.
Running back Todd Sibley set the tone just seconds into the Week 4 contest with a 97-yard touchdown run to surpass Jaden Shirden for this season's single-longest carry (UT-Martin's Zak Wallace matched Sibley's 97-yarder later in the day against Lindenwood).
Todd Sibley rushed for a career-high 190 yards, highlighted by a 97-yard touchdown run on the opening play of the game as @ualbanyfootball picked up its first win of the season over Central Connecticut State pic.twitter.com/CTIKfzEIsv

— CAA Football (@CAAFootball) September 25, 2022