2022 Central Connecticut vs UAlbany
CAA Notebook: Autumn's Arrival Brings A New Season In Multiple Ways
CAA Notebook: Autumn's Arrival Brings A New Season In Multiple Ways
The first official weekend of fall features important, and potentially season-altering matchups for teams through the Colonial Athletic Association.
Sep 23, 2022
by Kyle Kensing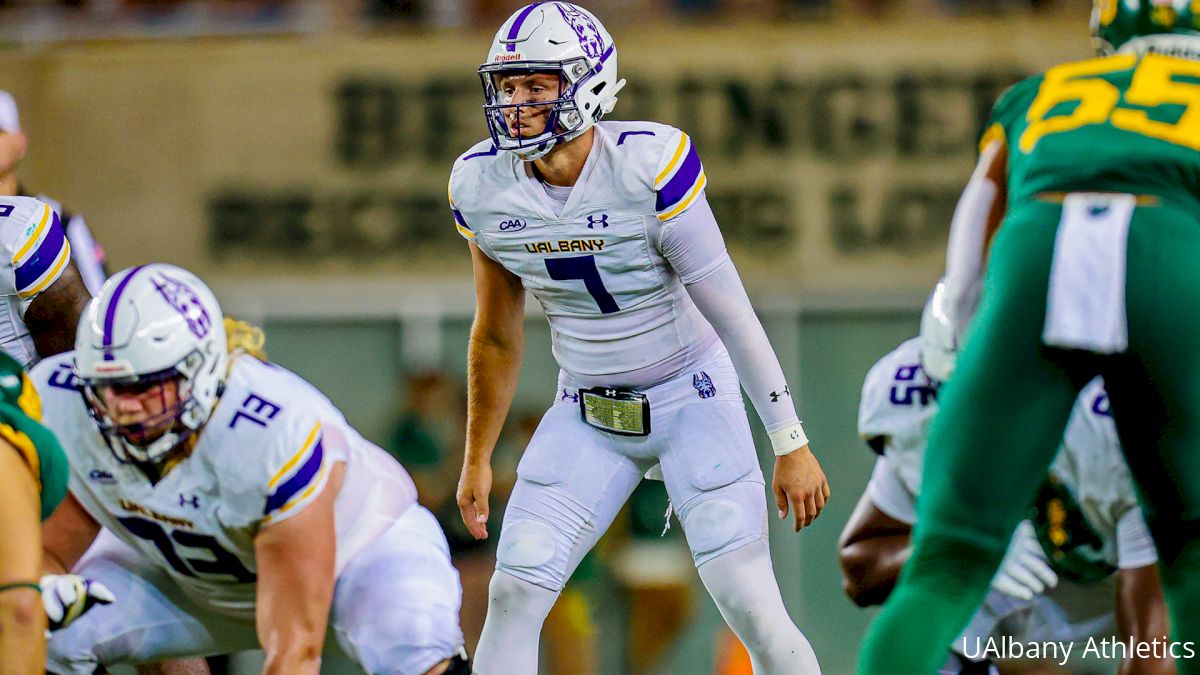 Among the most meaningful wins in UAlbany football history, if not the most, is its 42-14 rout of Central Connecticut in the 2019 FCS Playoffs.
The Blue Devils return to Casey Stadium, and while the stakes are significantly different then three years ago when the Great Danes scored the first playoff win in program history, UAlbany coach Greg Gattuso stressed the importance of this Week 4 matchup.
"We're going to get out there and play, for us, a really important football game," he said. "They're all important, but we've got to play well, finish, and get us our first win to get ourselves moving in the right direction."
The Great Danes fell to 0-3 with their 48-45 loss to Fordham, an opponent ranked No. 18 in the Coaches Poll that won a similar shootout in Week 2 at Monmouth. After a season-opening trip to reigning Big 12 Conference champion Baylor, UAlbany's losses to conference rival New Hampshire and last week's shootout were by a total of eight points.
Despite the setbacks, quarterback Reese Poffernbarger has been a revelation, most recently setting a program record with 412 yards passing last week and six touchdowns against no interceptions for the season. Running back Todd Sibley eclipsed 100 yards in each of the Great Danes' two matchups with FCS competition, and defensive end AJ Simon has been an early standout. Those three players filled arguably the three most pressing question marks ahead of this team coming into the season with the departures of Jeff Undercuffler, Karl Mofor and Jared Verse.
Reese Poffenbarger ➡️ Brevin Easton 🏈@UAlbanyFootball | @UAlbanySports | @CAAFootball | #CAAFB | #UAUKNOW 🟪🟨

🎥 (@SonOfAJones) pic.twitter.com/E72mfjyrXj

— Enveonline (@Enveonline) September 18, 2022
The pieces are there; the challenge now becomes putting them to together as the season moves into its next phase. And the same goes for the entire Colonial Athletic Association.
UAlbany's is one of only two non-conference date on the CAA calendar this week, coincidentally (Rhode Island at Pitt is the other). This a milestone weekend in shifting gears to the ultimate goal of claiming a championship. While there have been CAA games played thus far, including two apiece for New Hampshire and Rhode Island, the entire conference will be into the fray by Week 4's end.
There's a fun symmetry in the first mostly full conference weekend coinciding with the official start of autumn. League competition is another season of its own in which any results to occur outside it doesn't factor. Any team and every team is alive for the conference championship, and the playoff invitation that comes with it.
Even for those teams that don't win the CAA title, conference play provides a chance to rewrite their postseason resume. In order to get to that historic playoff matchup with Central Connecticut, UAlbany successfully rebounded from a 1-2 non-conference schedule with a 6-2 CAA record.
"I talked to them yesterday, we had a heart-to-heart. I told them, 'The frustration is OK. You have to identity it and understand that's normal,'" Gattuso said. "We can't get too frustrated. We need to solve problems and get better. And the kids, they've responded to it so far."
Maine finds itself in a similar position at 0-3, starting with a lopsided FBS loss a couple time zones away from and a few thousand feet higher than Orono at New Mexico. Since the shutout loss, the Black Bears dropped a 21-18 heartbreaker to Colgate before taking the fight to Boston College out of the ACC.
"We took a step forward, in each phase of the game," first-year Maine coach Jordan Stevens said. "We were really in the game all the way until the end and had an opportunity to be in a position to tie it up in the fourth quarter.
"The growth that they've shown through the first three games is something to be recognized," he added. "We're heading in the right direction and making improvements in the areas we want to be making improvements in."
The Black Bears went to Chestnut Hill and executed offensively early in the game much more effectively than at New Mexico or against Colgate. Meanwhile, signs of the Black Hole Defense returning to form have been evident with the nine total sacks, including three from Justin Sambu.
Maine is on its bye in Week 4, but returns with a considerable measuring stick to open its CAA schedule: reigning league champion Villanova.
Bye Week Work 🛠#BlackBearNation | ⬆️ pic.twitter.com/ib0IU8evgO

— Maine Football (@BlackBearsFB) September 21, 2022
On the other end of the spectrum is William & Mary. The Tribe concluded a 3-0 start, all in non-conference games, with a 34-7 rout of Lafayette.
The dominant showing against the Leopards capped an opening stretch with a defeat of an FBS opponent at Charlotte, and a romp against a Campbell bunch that came into the season with plenty of hype and expectations. William & Mary's start is no doubt impressive, but Tribe coach Mike London understands that conference play ups the ante.
"It helps that you're 3-0, and one was against an FBS team, but there's nothing like getting ready to play the conference," he said. "To me, the CAA is the toughest conference in FCS football. People would argue you that, but you look around and see what's going on in the league.
"It's good to be in the position that we're in, but there's no accomplishments yet until we start whittling away at our conference opponents," London added.
That starts for the Tribe with a true test against Elon, an opponent that has given William & Mary all it can handle the last two fall seasons. The Phoenix finished non-conference play 2-1 for the first time since 2018 — which was the last season they reached the Playoffs. But it was more Elon's 4-1 start in the CAA that cemented it as a postseason qualifier that season.
After falling in early holes before strong latter stretches in league during the 2019 and 2021 campaigns, the Phoenix recognize the need to start fast. The thrilling loss to William & Mary last season almost provided a snapshot, with Elon nearly completing a rally from down 21-0 initially.
The three-touchdown barrage early was not unlike the Phoenix's Week 3 win over Gardner-Webb, when the Runnin' Bulldogs scored all their touchdowns in a flurry over the second quarter — exactly the scenario linebacker Marcus Hillman, who played an outstanding game, said Elon looks to avoid in conference.
"We feel pretty good about ourselves, but we're not satisfied," he said. "Just because a couple quarters are shutouts, you can't play a half-a-game of football."
Regardless if it's the undefeated squads or the winless, Hillman's words reflect not only individual games but the season as a whole. A new season is here, and fall can change all.
Football Fitness
Richmond's reshaped offense under new coordinator Billy Cosh generated no shortage of buzz heading into the season. The combination of multifaceted rushing with Aaron Dykes and Savon Smith, Reece Udinski's veteran savvy at quarterback and the dynamic play-making of wide receivers like Jasiah Williams and Leroy Henley has made the Spiders downright electric in the early going.
But after last week's edition of the CAA Notebook praised the role of offensive lines in determining field position, it's only right the role of the line in transforming an offense take the spotlight.
A facet that has nothing to do with strategy or performance has aided Richmond in its strong start.
"Last year, we had a few guys — Tim Coleman, Clayton [McConnell] — playing a little banged up," said Spiders tackle Joe More. "This year as a whole, we're a lot healthier, which definitely helps. And now, between me, Ryan Cole and Cade [Salyers], we've played a lot more football together, so we're more so on the same page, going the same direction, thinking the same.
"Communication and just our experience is definitely helping us play better together," More added.
Health is bolstering the Spiders line, and so is fitness.
A perhaps under-appreciated element of implementing a new offense is the change in responsibilities for the linemen. A team going to an air-raid inspired scheme calls for cardio.
"Getting in shape for this fast tempo," More said was the greatest challenge for the group when implementing the system. "Last year, we ran some [uptempo offense], but it wasn't a true [uptempo offense]. We ran a couple of plays kind of fast here and there. But now, we're really just trying to run it up, get plays off as fast as we can.
"All camp and all summer, we were really focused on getting in shape, getting our bodies right and really focusing on being able to play 70, 80 plays a game," he added.
So far, Richmond is averaging right between that number: 75.6 plays per game. That's an increasing of almost 10 per game more than a season ago (66.3) and seventh-most among the FCS in 2022.
More admitted that Week 1 against Virginia was taxing. But not unlike a recently lapsed gym patron finally getting back to it, "as we play more games, we get more and more in shape."
And hey — for anyone who needs some extra motivation to stick with their gym regime, perhaps wearing a Boss Hawgs tee on the treadmill is the answer.
Excited to partner with @hogacademyllc for Year 2 of their exclusive College Collection! be sure to click my shirt on the website

📲 Check it out using the link in my bio! https://t.co/RnQ9tIDQ3v#CollegeCollection #SupportTheTrenches pic.twitter.com/AI6DzwB4G1

— Nolove78 🐺 (@Joe78More) September 20, 2022
Fun With Numbers
Of 25 FCS teams with at least nine sacks thus far on the season, five come from the CAA, most of any conference. That includes William & Mary, tied for the most in the nation thus far.
CAA (5): William & Mary, 14; Rhode Island, 11; Elon, Maine, New Hampshire, 9
SWAC (4): Jackson State, 14; Alcorn State, 12; Mississippi Valley State, Alcorn State, 9
MVFC (3): Illinois State, 13; Indiana State, 10; Youngstown State, 9
Heading the Tribe's FCS-best pass-rush is the nation's most prolific individual, John Pius. Somewhat ironically, however, Rhode Island's A.J. Pena is the only other CAA sack-producer ranked in the nation's top 20.
That's a credit to the depth of defenses around the league. Seven players have at least one sack for Elon; New Hampshire has six with at least one, and nine Wildcats total have at least been in on a sack.
Even a team like Richmond, which went its first two games with just one sack combined, has spread its season total of five to five players in on at least one.
"Every single week, it's been a personal vendetta of mine," said Spiders defensive end Marlem Louis, who made two sacks last week at Lehigh. "Pass-rush being one of my strong suits, as well, I wanted to represent that on the stat sheet...But as a whole d-line, we definitely always want to get to the quarterback and affect the game. Sacks is the way to do that as a d-line."