2022 CAA Football
CAA Week 3 Recap: Delaware Makes A Statement; Pius, Hillman Play The Sacks
CAA Week 3 Recap: Delaware Makes A Statement; Pius, Hillman Play The Sacks
Nolan Henderson erupted for four touchdowns, all in the first half, and Delaware's 42-21 win at Rhode Island headlined the CAA Week 3 slate.
Sep 18, 2022
by Kyle Kensing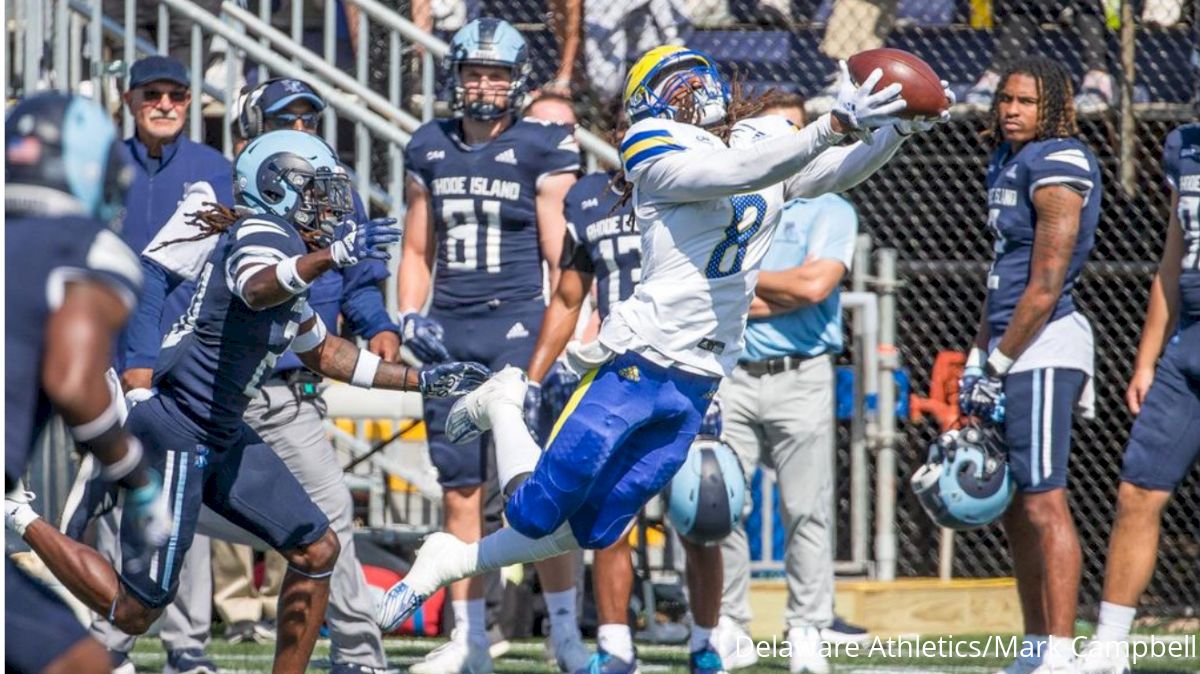 If Saturday's Top 20 matchup between No. 9-ranked Delaware and No. 17 Rhode Island was about making a statement for the Colonial Athletic Association race unfolding in the coming two months, the Blue Hens crowed loud-and-clear.
Outgaining the Rams 610 yards to 299 and never trailing, Delaware put together perhaps the single-most impressive effort of any CAA team thus far in 2022 in its 42-21 win.
Nolan Henderson completed 29-of-34 pass attempts for 379 yards with four touchdowns, the kind of performance that provides the cornerstone for a Walter Payton Award campaign. All the more impressive, Henderson did much of his work in one half.
All four scoring throws, spread to three different pass-catchers in Thyrick Pitts, Braden Brose and a pair to Jourdan Townsend, and 315 of Henderson's yards came before intermission. Per BlueHens.com, that was a program-best since 1998.
Touchdown!!! Henderson finds Pitts and the Hens extend their lead before the half! pic.twitter.com/P0hyiX8xiH

— Delaware Football (@Delaware_FB) September 17, 2022
After clawing to a 14-7 win Week 1 at Navy and rolling but not necessarily wowing against an overmatched Delaware State, 35-9, Week 3 marked the first time under new Blue Hens head coach Ryan Carty that shades of the explosive offense he coordinated at Sam Houston State really shined through.
"It's a cumulative effort in a new offense, [and] this is the third game we've had in it. And there's no doubt, we moved the ball a little bit better today," Carty said in his postgame press conference. "But, we've also been playing against really good defenses, and this is the third really good defense we've played against. Luckily, our defense has been the best defense on the field in those three games."
Delaware didn't exactly need its defense to pitch a shutout with its offensive performance. Along with Henderson's near-perfect passing and Townsend's 109 receiving yards, a trio of Blue Hens ball-carriers — Kyron Cumby, Quincy Watson and Khory Spruill — all averaged more than five yards per carry.
TOUCHDOWN BLUE HENS!! @KyronCumby2 with his 1st score in the Blue & Gold! pic.twitter.com/9iMbH3fQ7w

— Delaware Football (@Delaware_FB) September 17, 2022
Nevertheless, the Delaware defense once again showed out. Rhode Island went just 2-of-12 on third down, which was a byproduct of the Blue Hens' stinginess with yards on first and second down. The Rams faced an average of 8.5 yards-to-go on their third-down snaps.
Delaware's performance on both sides of the ball made a statement indeed, summed up succinctly by Rhode Island coach Jim Fleming.
"We'd have to play a helluva lot better in all three phases to beat that football team, the way they played today," he said in his postgame press conference.
John Pius & Marcus Hillman Stacking Up Sacks
You may not see another sequence of four consecutive plays this college football season comparable to Marcus Hillman's down the stretch of Elon's 30-24 win over Gardner-Webb.
Clinging to the lead of less than a touchdown-and-extra point, a Phoenix defense in need of a fourth-down stop got it when Hillman hit Bulldogs quarterback Bailey Fisher in the backfield. Hillman's initial contact and Devonte Chandler's tackle denied Fisher's option carry the yard needed for a conversion.
"On that play, we know it's fourth-and-1, and I know Gardner-Webb's a team that likes to give you a lot of tricks," Hillman said. "I first wanted to make sure the tight end didn't go out for a route, make sure they didn't try to get us on a trick play. Once I saw that it was a speed option where the quarterback keeps at the boundary, I just went upfield and wanted to take shot, because I know if I take my shot, I got my guys coming with.
"We emphasize 11 hats to the football," he continued. "So, if I miss [but] stop [the ball-carrier's] feet, I know the rest of the team's coming."
Marcus Hillman has been an absolute monster for @ElonFootball so far this season pic.twitter.com/xurjMYNbOE

— Kyle Kensing (@KyleKensing) September 18, 2022
Elon's philosophy of 11 defenders to the ball was evident on the next drive. Phoenix running back Jalen Hampton, who had an otherwise excellent game with 204 yards on 34 carries, fumbled at the end of a long run. The 36-yard dash — coincidentally, Hampton's longest of a career performance — that would have iced the win instead called on the defense to bow up once more.
In a half Elon dominated, holding Gardner-Webb scoreless in response to a 21-point barrage just before halftime, the Phoenix saved their best for this critical drive.
Three Bulldogs snaps led to three Elon sacks: First from Senquavious Alsobrooks, then Josh Johnson (who finished the night with 2.5 sacks), and finally, Hillman. However, Hillman was in on all three plays to put an exclamation point on his game with a team-leading eight tackles, a pass break-up and two quarterback hurries.
Here's the sequence that essentially won it for @ElonFootball tonight. Sacks on three straight snaps, credited to three different players - though of note, Marcus Hillman is involved in all three plays. pic.twitter.com/4gCsQ9owJT

— Kyle Kensing (@KyleKensing) September 18, 2022
"The main thing said to us is, 'Get home when you blitz,'" Hillman said. "It's one opportunity. When the game is on the line, you want to get a win at home, this is a team that beat us before [in the spring 2021 season], you got to do what you can. Just don't get blocked."
Blocking Hillman's proven difficult for Elon opponents thus far in 2022; similar can be said of William & Mary's John Pius.
Opening the season with four tackles for loss in the Tribe's romp over FBS opponent Charlotte set the tone for Pius through the first three weeks. He took his output to another level in Week 3, racking up 3.5 sacks as William & Mary capped a perfect non-conference schedule with a 34-7 romp at Lafayette.
Pius is now at a remarkable seven sacks on the season, the most in FCS to this point.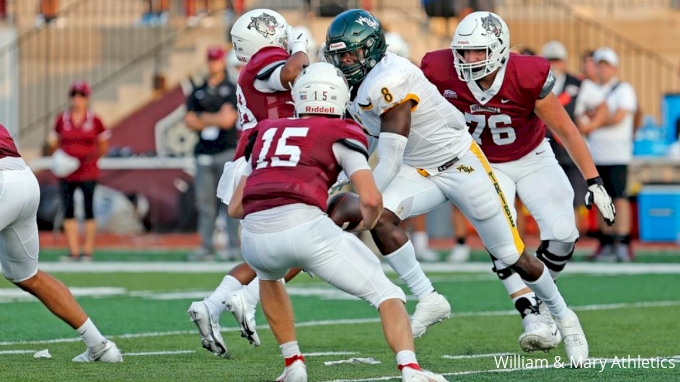 "It's the skill set of the individual," said Tribe coach Mike London, citing key contributors from the front seven like All-American lineman Nate Lynn as well as Pius. "John Pius is just phenomenal in rushing off the edge. He has a speed move, an up-and-under move, a counter move...The coaches do a good job of trying to attack the protections. They do a good job of trying to align our best pass-rushers on a pass defender who might be suspect, and then just rely on their skill set."
While Pius' game-changing skill set was evident in his 2021 freshman campaign — FloFootball.com pointed to the linebacker as William & Mary's X-Factor Player to Watch ahead of the season — his otherworldly start isn't just a byproduct of ability. Credit the NFL for preparing Pius ahead of 2022.
"[Tribe outside linebackers] Coach [Darryl] Blackstock played seven years in the NFL, the same position John plays right now," London said. "His skill set is definitely something special, but he also wanted to learn the game and increase his football IQ, his acumen, about how to be a better pass-rusher."
Blackstock transitioned from an All-ACC college tenure at Virginia — which included his own three-sack game against Georgia Tech — to a seven-year pro career that included stops with the Arizona Cardinals, Cincinnati Bengals and then-Oakland Raiders.
London hired Blackstock as a defensive analyst in the head coach's first season at William & Mary, and Blackstock elevated to outside linebackers coach in 2020. His own experiences as a player have helped Pius grow into one of the top defenders in the nation.
"Coach Blackstock really helped me a lot, breaking down a lot of pass-rush film," Pius said. "Coach Blackstock played the game, played in the league, so he has a lot of experience with that, a lot of knowledge."
Near-Perfect Passing
Richmond's introduction of a new-look offense rooted in the air-raid philosophy was among the most intriguing CAA storylines heading into this season. But perhaps ironically, the Spiders run game with standouts Aaron Dykes and Savon Smith set the tone in the first two weeks.
That changed in Week 3 when quarterback Reece Udinski opened Richmond's 30-6 rout of Lehigh with a flawless passing stretch.
"I didn't realize that until halftime, when [Richmond sports information director] Matt [McCollester] told me Reece had started 17-for-17," Spiders coach Russ Huesman said. "That's incredible, but we just expect him to complete balls, he's such a good player. Throws a great ball."
.@ReeceUdinski 👉 slick like 🧈#OneRichmond pic.twitter.com/09ynhKD2bm

— Richmond Spider Football (@Spiders_FB) September 17, 2022
With Dykes' status coming into the week questionable after he came out of the Week 2 win over Saint Francis, the Lehigh defense stacked defenders in the box. Offensive coordinator Billy Cosh's play-calling made the Mountain Hawks pay all day, and the Huesman pointed to the preparation receivers coach Winston October oversaw among his position group.
Udinski went 20-of-27 after his perfect 17-of-17 start — which would be a good line on its own — and finished the afternoon with a total of 351 yards. He spread the ball among seven pass-catchers, all of whom made at least two catches and picked up at least 27 yards.
"Reece is amazing," said wide receiver Leroy Henley, Udinski's leading target with nine catches for 127 yards and a touchdown in the Week 3 win. "He's smart, one of the smartest dudes I've been around. He knows football, and it's good to see him put the work in everyday."
Play Of The Week: Savon Smith Shows Off His Arm
Reece Udinski's passing was near-spotless in Week 3, but credit is due one of the Richmond quarterback's most reliable targets for throwing a ball worthy of the spotlight.
Henley said that the Spiders often laugh about a touchdown pass coming "out of the running backs" during practice, but Savon Smith's execution of a double-pass play was no joke.
Smith, who already scored via the run and on a reception through the first two weeks, added a passing score to his resume at Lehigh when he found a wide-open Connor Deveney on a 23-yard toss.
.@Spiders_FB pulling out ALL the tricks 💥Connor Deveney is wide-open for six!

💻 https://t.co/Xv3PX54eT2
➡️ @ESPNCFB pic.twitter.com/D4mE1q8dYL

— CAA Football (@CAAFootball) September 17, 2022
And while Richmond players might have joked about such a play in practice as Henley described, the team also had some firsthand knowledge that it could work.
"[The offense] scored on us on defense in camp one time," Huesman said of the Spiders offense breaking out the call in practice. "It's a tough play to defend. I didn't know he was calling it. I saw the backward pass to Savon and the first I'm thinking is, Why are we throwing the ball backwards? I never want us to throw it backwards.
"When [the officials] came out and they were going to look at it [in review], Billy [Cosh] asked me, 'Did we throw that thing backwards?'" Huesman continued. "And I said, 'Oh yeah. I was about to get on you about that one.''"
Still Undefeated
Three CAA teams remain undefeated through the opening stretch with William & Mary and Delaware defending their Top 25 rankings on Saturday. Hampton joined the Tribe and Blue Hens in the win column, scoring the Pirates second rivalry-game win over the season and staying perfect ahead of their first-ever CAA conference game next week.
Hampton held an opponent to single-digits scoring for a second straight week, this time overwhelming Norfolk State in a 17-7 win. The Pirates combined for a staggering 12 tackles for loss, paced by Mason King with 2.5.
The Colonial is guaranteed no more than two undefeated teams when September ends, as 3-0 Hampton's league debut comes at 3-0 Delaware.
Getting Into The Win Column The Wright Way
Monmouth's CAA tenure opened in much more trying fashion than the first two weeks of fellow newcomer Hampton. The Hawks saw fourth-quarter leads slip away in losses to both New Hampshire and Fordham. There was no need to sweat the final 15 minutes in a 45-6 blowout of Georgetown, however.
The Monmouth run game continued to impress for a second consecutive week, as Jaden Shirden followed his career-best 299 yards with 139 and a touchdown on Saturday. Shirden's was one of five rushing scores coming from four Hawks, including Juwon Farri; Frankie Savino; and Owen Wright.
THROW THOSE 🎩!

Two straight weeks with three scores for @OwenWright_23 😮#FlyHawks pic.twitter.com/ts9yfoVhOA

— Monmouth Football (@MUHawksFB) September 17, 2022
Wright's two rushing scores and a third touchdown off a Tony Muskett pass further inflated some of the most eye-popping statistics of this young season:
Wright is averaging a rushing touchdown every three carries, with seven total scores in 21 runs.
Wright is responsible for twice as many points from running plays (42) as he has carries.
Wright is the only non-quarterback ranked in the top 30 nationally for points scored (he's No. 15 overall).
With a receiving touchdown on Saturday, Wright's eight total touchdowns are more than 42 FCS teams have recorded in as many games (three).