2022 CAA Football
CAA Notebook: FBS Matchups Become Building Blocks For The Season
CAA Notebook: FBS Matchups Become Building Blocks For The Season
Matchups with FBS opponents inherently have tremendous value for FCS programs. Among them are the building blocks for the season to come they can provide.
Sep 8, 2022
by Kyle Kensing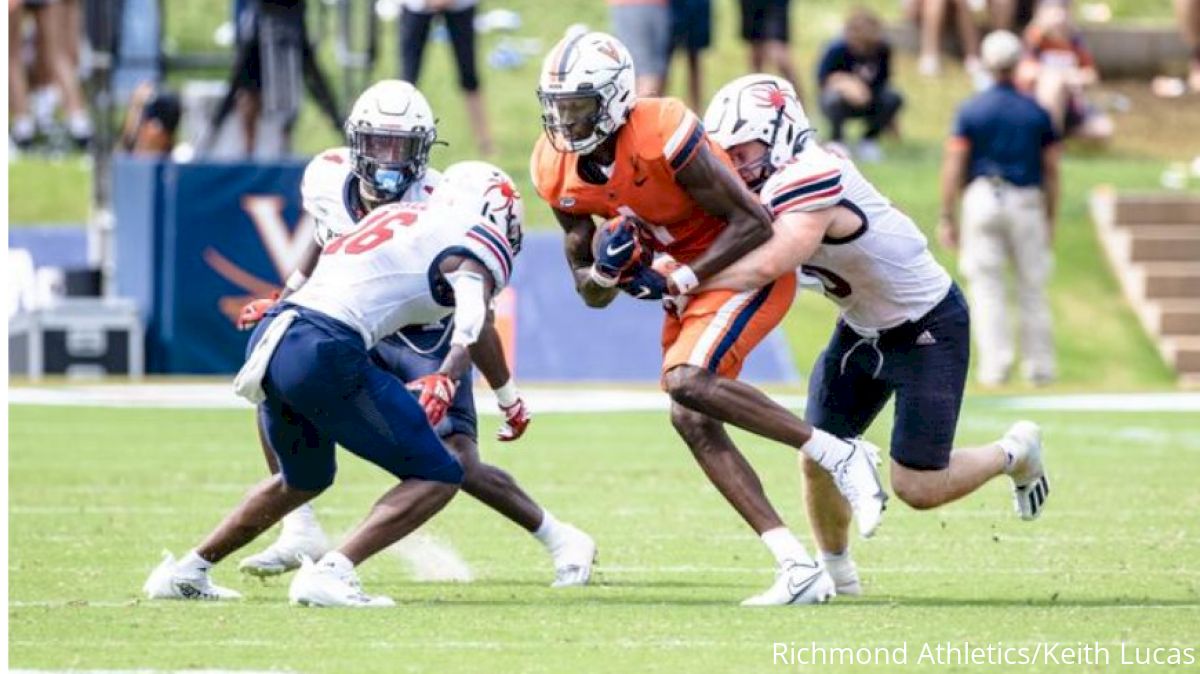 Gauging from linebacker Tristan Wheeler's words and body language following a Week 1 loss at Virginia, the Richmond Spiders went into Charlottesville seeking nothing less than a win.
"Everyone goes into big games, 'Oh they're ACC this, ACC that, they've got ACC players.' I mean, everyone [in Div. I are] good players. We wouldn't be here if we weren't all good players," Wheeler said following the 34-17 decision at Scott Stadium.
In a contest that was much more competitive than the final score might indicate, Wheeler most noticeably reflected that perspective. For all the advantages of FBS, and especially Power Five-conference athletic departments, the Richmond linebacker was arguably the best defensive player on the field.
Now, that's a subjective assessment. Objectively, however, he was the most active defender with a game-high 19 tackles, getting in on one for a loss, and generating a quarterback hurry on preseason Heisman Trophy contender Brennan Armstrong that resulted in an Aaron Banks interception.
✅ Interception last year vs. Virginia Tech
✅ Interception this year vs. Virginia@Aaron_Banks7 has a knack for big games! 👀 that pressure from @TWheels24!#OneRichmond @SpiderAthletics pic.twitter.com/rRO70LUH09

— Richmond Spider Football (@Spiders_FB) September 5, 2022
The interception and a Philip O'Connor forced fumble both came in a second half that Richmond won, 7-6, and could have pulled to within a score had it cashed in its opportunities off takeaways.
Not that any of that is of consolation to Wheeler, who expressed his belief — his knowledge — Richmond could have scored a milestone win with a stronger start. If nothing else, that's one of the primary takeaways the Spiders carried with them from Scott Stadium.
"We have to have that mindset going into that game from the jump. I learned last year from playing Virginia Tech — I mean, I went into that game, I was a little sketched out — but I learned from that game we're all just players," he said. "We all play D-I ball. FBS, FCS, it doesn't mean a thing to me."
Richmond's near-misses this season at Virginia and in 2021 at Virginia Tech fall into a category of non-conference game that Spiders coach Russ Huesman said a year ago he believes are endangered. And Huesman's evaluation of the future of FBS vs. FCS matchups came a full nine months before the Big Ten Conference extended its reach from the Atlantic-to-Pacific with the admissions of UCLA and USC, with rumors swirling the league plans to continue its Manifest Destiny.
FloFootball.com examined the importance of these matchups last year through the lens of the lead-up: visiting the campuses of history-rich programs, playing in iconic stadiums, and the financial boon of accepting these dates. Coming out of an opening week in which six Colonial Athletic Association programs faced FBS competition, and with the only two FCS teams to score wins in such games, we examine the significance of these contests after they've been played.
Certainly picking up a win provides a boost moving forward. William & Mary's 41-24 defeat of Charlotte marked coach Mike London winning against an FBS opponent at his third different FCS program, joining a 2009 win over Duke while at Richmond; and Howard's 43-40 win at UNLV in 2017 that surpassed Stanford's 2007 victory at USC as the biggest upset in college football history by virtue of Las Vegas point spread.
Wins of that magnitude offer insight into a team's mettle, London noted following the Tribe's fourth-quarter dismantling of Charlotte.
"At the end, it looked like we were probably in better shape than them," London said. "The disparity of the numbers they have [85 scholarship players vs.] what you have [65 for most FCS programs], sometimes it's the other way around."
William & Mary made a statement about its depth and conditioning. Delaware, which stymied Navy in a 14-7 "slugfest," the Blue Hens exerted their physicality and toughness — traits necessary for the bigger-picture goal of winning a national championship.
"Most playoff games are pretty physical, to be honest with you, at the FCS level," Blue Hens coach Ryan Carty. "Both teams were feeling like they were in a fist-fight, for sure. It was a fun one, though."
While Navy's unique triple-option offense isn't like anything Delaware will see again in the regular season, the physical nature of grinding down the Midshipmen provides a blueprint that the Blue Hens can implement all season.
Delaware also has firsthand experience with the value of special teams, thanks to the outstanding punting and ensuing coverage that Carty noted. And the Blue Hens weren't alone in their impressive special-teams play against FBS competition.
In a 42-31 loss at Vanderbilt, Elon came away with plenty of building blocks heading into the rest of its schedule. Among them was the electrifying punt returning of Tre'Von Jones.
Playmaker 🔥 @trejones10_ https://t.co/5eQjLF631E

— Tony Trisciani (@TonyTrisciani) September 6, 2022
Jones returned a punt 34 yards in the second quarter to set up a Phoenix field goal; ran back another 10 yards to midfield, which Elon cashed in with a touchdown; then returned another seven yards to initiate a drive approaching the Elon 40 that went into Vanderbilt territory. Had the drive not ended on Vandy's side of the field with a fumble, another touchdown would have made it a 35-31 game.
"We walked off the field disappointed in the outcome of the game, but proud of our guys for the effort and resiliency we showed," Elon coach Tony Trisciani said. "We fell into some of the first-game pitfalls in that first quarter. We struggled to sustain drives, convert on third down, and we gave up some explosive plays on defense; didn't tackle well early in the game. But we outscored an SEC team 24-21 in the last three quarters of the game, so there's a bunch of positives we can take."
Indeed, a Phoenix team with a new quarterback behind center — replacing someone in Davis Cheek who could be accurately labeled a program legend — seemingly took its FBS-matchup lessons during the contest. Matthew McKay was outstanding in his debut, the defense buckled down after giving up 21 quick points, and Jones' performance underscored the value of special teams.
The goal is always to win. But as Tristan Wheeler laid out, there's plenty that can be extracted from defeat in such games.
"Overall, we should be motivated knowing we did compete — and we know we should have competed, knowing the work we put in and preparation we put into this game," he said.
Streaks At Stake In The Lone Week 2 CAA Matchup
New Hampshire heads to UAlbany for Saturday's CAA nightcap, and the only conference matchup of the weekend. With a win, the Wildcats would have their third straight 2-0 start to CAA play in as many fall seasons.
Note the fall qualifier, as UNH's one-game spring season opened and closed with a loss — a loss that's part of the streaks on the line when the Great Danes host the Wildcats in Week 2.
UAlbany's 24-20 defeat of New Hampshire in the spring-season opener and 20-7 victory last November extended the Great Danes' streak to three consecutive wins over the Wildcats. The breakthrough, playoff-qualifying UAlbany team of 2019 started the streak with a fourth-quarter touchdown to win 24-17, a key victory for the Great Danes' postseason aspirations.
New Hampshire's 2018 win is the only Wildcat victory in the series over the last five, with UAlbany pulling off upsets in 2016 and 2017.
Looking to Stay Perfect Vs. FCS
CAA teams went 3-0 in non-conference matchups with FCS competition to open the season, starting with Villanova's 45-17, Friday romp of Lehigh. Towson and Hampton scored significantly closer wins with the Tigers surviving a 14-13 tussle at Bucknell and Hampton holding off a late-game surge from rival Howard.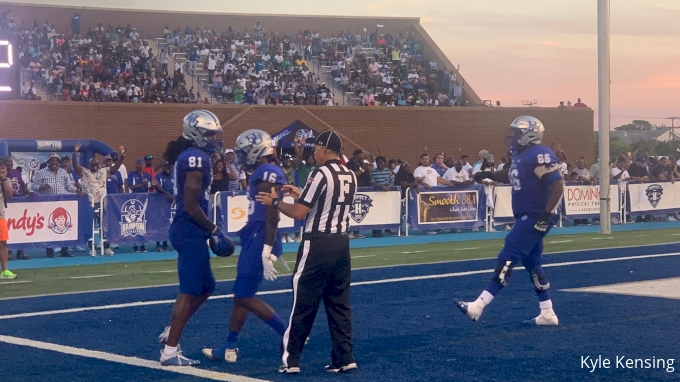 CAA squads play nine FCS non-conference games from:
Patriot League
Maine vs. Colgate
Monmouth vs. Fordham
NEC
Villanova at Long Island
Richmond vs. Saint Francis
Big South
Rhode Island at Bryant
William & Mary vs. Campbell
MEAC
Towson vs. Morgan State
Delaware vs. Delaware State
SoCon
Fun With Numbers
3: The nation's top three tacklers through Week 1 all represent the CAA with National Defensive Player of the Week Johnny Buchanan racking up 23; his Blue Hens teammate, Noah Plack, going for 17; and Richmond's Tristan Wheeler registering 19.


306.213: Connor Watkins' nation-leading passing efficiency rating was almost 30 points more than the next-most efficient quarterback, Incarnate Word's Lindsay Scott (278.576).


55: While Watkins' rocket arm and the highlight catches the Villanova wide-receiving corps made in the Wildcats' 45-17 rout of Lehigh stole the show, the Villanova defense helped set the offense up with some favorable field position. The Wildcats' seven scoring drives averaged a starting position 55 yards from the goal line at the VU 45-yard line.


89: The yards Hampton quarterback Christopher Zellous gained on his touchdown run in the Pirates' win over Howard, the most for any one rushing play in the FCS through Week 1. It was also the longest run by a quarterback since 2021 Walter Payton Award winner Eric Barriere of Eastern Washington went 92 yards against Sacramento State in October 2019.


4-of-16: The Towson defense buckled down to hold Bucknell to a combined 25 percent on third-and-fourth-down conversion attempts, 4-of-14 on third and 0-of-2 on fourth. Interior lineman Vinnie Shaffer was in on three of the Tigers' third-down stops.