2021 Villanova vs James Madison
FBS Matchups Offer Huge Positive To FCS
FBS Matchups Offer Huge Positive To FCS
Both Penn State and Villanova come into Saturday's matchup undefeated, fresh off emotional wins over Top 25 opponents played before sold-out home crowds.
Sep 23, 2021
by Kyle Kensing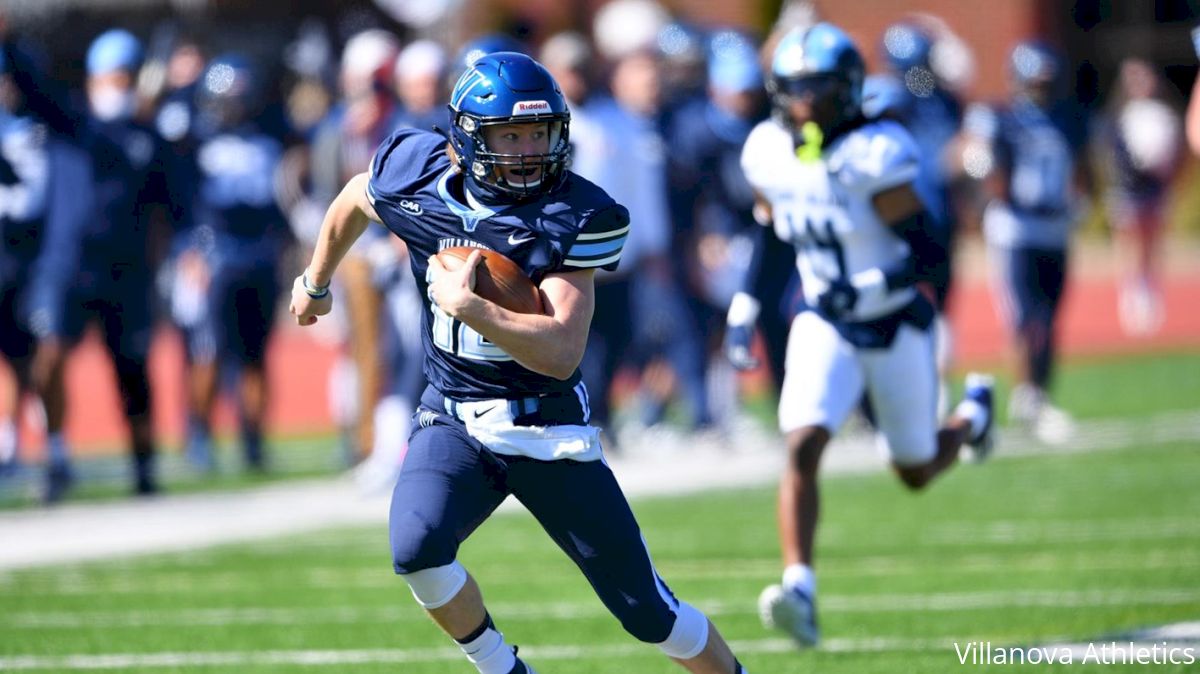 Taking the football field in front of 110,000 spectators may sound imposing. For Dan Smith, the prospect is more exhilarating.
"Growing up you kind of imagine yourself in these types of situations," the Villanova quarterback said of facing Penn State at Beaver Stadium. "We get to play the No. 6 team in all of college football. Playing in front of a crowd like that in a stadium like that is going to be a fantastic experience."
Both Penn State and Villanova come into Saturday's matchup undefeated, fresh off emotional wins over Top 25 opponents played before sold-out home crowds.
The two programs also have some history—Villanova brings in a three-game winning streak—but have not played since 1951. Combined with the Nittany Lions sporting the No. 6 ranking in the Football Bowl Subdivision's AP Top 25 and harboring realistic College Football Playoff aspirations, buzz among Villanova faithful has been piqued.
"There's been a lot of support, there's been a lot of interest," said Wildcats coach Mark Ferrante. "Getting calls from former players, a lot of alumni. I think we're going to have a pretty good following up there. I don't know how many tickets they're going to allow our people to purchase but...there's a lot of excitement about this game."
Hyped as the fans and alumni might be, it cannot match the excitement of the team.
Playing Penn State isn't about gawking at the size of Beaver Stadium or simply having the privilege of sharing the field with a Big Ten opponent. The Nittany Lions offer Villanova an opportunity to show what it's made of and maybe make a bit of college football history.
"I've told some of the guys this week: To be in the game with them, they might talk about us the rest of the year," Smith said. "But if we go beat them, they'll talk about that for a long time."
In other words: "What kind of legacy do you want to leave?"
Some of the FCS programs to beat FBS competition have indeed left legacies not just on their own, but on the entire sport. Appalachian State's upset of Michigan to kick off the 2007 season remains one of the most talked-about games in recent history.
Three years later, the Colonial Athletic Association's own James Madison scored what was arguably an even bigger upset by virtue of what Virginia Tech accomplished that season, as the Dukes knocked off the eventual ACC champion, 21-16.
Yet, for as much as these matchups mean to the programs involved and the role they play in the game's history and spirit, FCS vs. FBS contests are among the many traditions at a potential crossroads in an uncertain time for the sport.
"Do I think they're going to go away?" Richmond coach Russ Huesman said in his weekly press conference. "Yes."
This summer's restart of conference realignment after almost a decade of dormancy—first with the Southeastern Conference adding Oklahoma and Texas from the Big 12, then the Big 12 turning to American Athletic Conference members Houston, Cincinnati and UCF and independent BYU—has percolated league quarrels over Playoff expansion, future TV rights and threatens to impact future scheduling.
After COVID-19 forced the 2020 FCS season to spring 2021, voices in the national FBS media advocated for a permanent move. That won't and should not happen for myriad reasons, not the least of which is the elimination of those games against FBS opponents.
But with the SEC growing and the ACC/Big Ten/Pac-12 Conferences entering into an "Alliance" for scheduling, the future of non-conference play is murky. Huesman, emphasizing it was only his opinion, said he believes the elimination of FCS vs. FBS contests is five years away.
Until then, CAA teams are involved in five of them in Week 4, and nine over the past two weeks. Six of those eight are against programs from the ACC, Big Ten and Pac-12 Alliance, including Villanova's visit to Happy Valley and Richmond facing Virginia Tech.
Week 4 also sees New Hampshire visiting Pitt, Maine playing the first of two FBS opponents this season in Northern Illinois, and Towson going across the country to San Diego State.
While such matchups may have their vocal skeptics, there is no shortage of proponents.
"I know some of those BCS/FBS coaches don't want them to go away," Huesman said. "I think they know that Div. I college football, which we play at the FCS level, is really important."
Ferrante said that he didn't want to give all the credit to conversations with Penn State coach James Franklin at the Pennsylvania State Coaches Association clinics. Still, Franklin's knowledge of Villanova's history and its present state made this an attractive non-conference option for the Nittany Lions.
"I've got a lot of respect for Villanova. Mark Ferrante, I've known forever. I'm a big fan of Mark's," Franklin said at his weekly press conference. "You look at their history playing FBS opponents, you're talking about beating Temple in 2018...They took Syracuse to overtime in 2014. This is a team that's won a national championship, this is a team that's played these type of opponents tough."
The on-field product for which Franklin offered his respect gets a boost from the athletic department dealings that make these games possible in a way that isn't limited just to football.
Huesman described the emphasis coaches from the FBS place on these games through this lens, saying: "Let's keep everybody healthy financially."
Financial health certainly plays a part, and these games are important to athletic budgets any season—but especially so after COVID-19 wiped them out in 2020.
Per USA Today data, each of Maine, New Hampshire, Richmond and Towson earn around $400,000 for this week's contests. Villanova-Penn State was not included.
Maine will also receive $300,000 when it renews a regional rivalry with UMass in November.
"That's not changing," Black Bears coach Nick Charlton said of Maine scheduling two FBS opponents each season, adding it went beyond the financials. "They're a big deal to our players because we get up for them and we've had success in the past and we've been close in other ones."
The payouts are for folks outside of the locker rooms to worry about. Inside the fieldhouse, there are benefits to the coaches and players alike.
"It's something we talk about quite a bit when we are out on the road recruiting," Ferrante said. "'Hey, we're playing Penn State.'"
The prospect of playing in a hallowed venue against a prominent opponent is its own recruiting pitch, but so is the opportunity for the athletes to show their abilities on such stages. As Ferrante put it: "A lot of players at the FCS level all feel they should play at that FBS level."
Ten times already in the 2021 season, FCS programs have flexed their muscles in wins over FBS competition—including four over Power Five conference competition. Most notably, Montana joined James Madison among the club to knock off AP Top 25 opponents with the Grizzlies' win over Washington in Week 1.
Even in defeat, there's positives for the teams to gain from playing these games.
Towson and Stony Brook took on two of the more arduous FBS games this season, going to the other side of the continent for matchups with San Diego State and Oregon.
In Stony Brook's case, the Seawolves went into hostile Autzen Stadium and, per coach Chuck Priore, "had our chances early."
"We got challenged athletically and physically," he said. "And I think our kids stood up to the challenge. We take those things out of it."
Towson's Rob Ambrose expressed similar sentiment in meeting undefeated San Diego State, that the challenges of these contests in September lay building blocks for November.
"The mentality gets simplified," Ambrose said. "That it's a day-to-day mentality of getting better. It doesn't matter who you're playing against, it doesn't matter how far away from home you've got to go, doesn't matter anything [but] getting better at your craft, getting better as a unit and getting better as a team."
"The goal is to be the best team at the end of the year so you can move and play against the best teams at the end of the year," he added. "Nobody is the best team today."
Anybody can be the best team on a particular Saturday, though. And the FCS getting cracks at the FBS can make for some of the most unforgettable and historic memories college football provides.