2023 Gulf South Conference Football
QBs Beware: D-II D-Linemen To Watch Pack A Punch In The Backfield
QBs Beware: D-II D-Linemen To Watch Pack A Punch In The Backfield
All-Americans and record-setters headline an impressive crop of defensive linemen in Div. II for the 2022 season.
Aug 29, 2022
by Kyle Kensing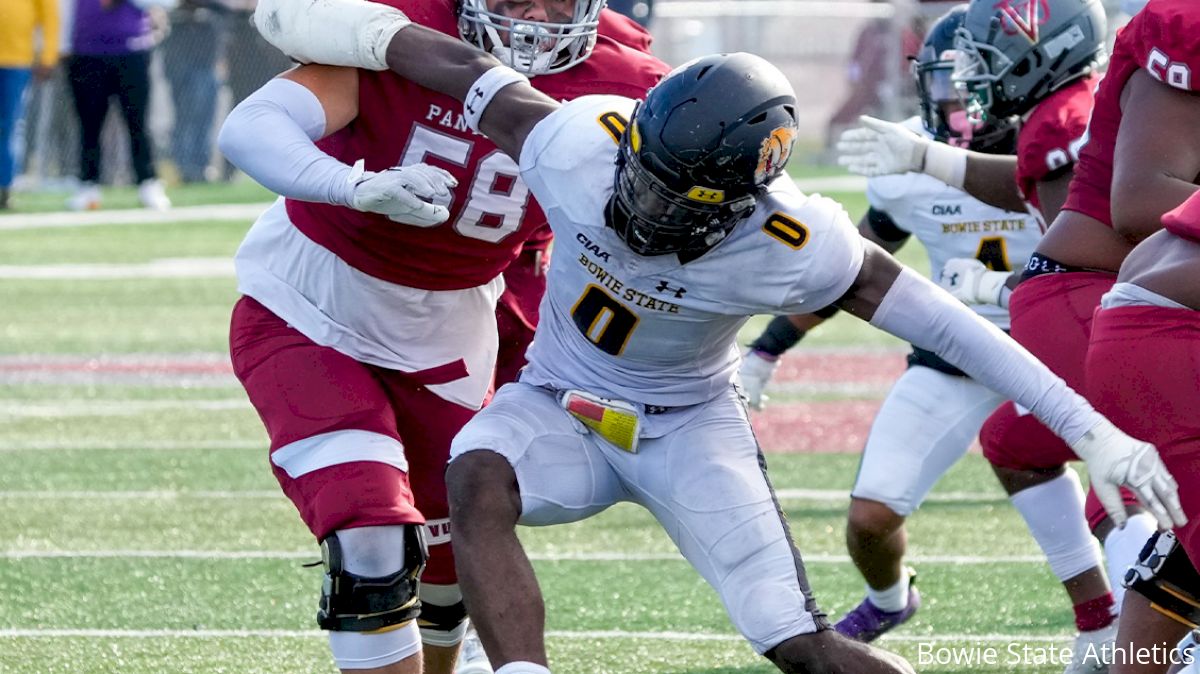 In the same way offensive line performance dictates success with the ball, the play of the fellas up front does the same for a defense.
From the ends barreling off the edge to pressure the quarterback and create takeaway opportunities, to the tackles who absorb the blocks critical to stopping the run, defensive linemen set the tone.
Check out a few of the defensive linemen to watch in Div. II during the 2022 season.
Joel Burgess, UVA Wise
Defending from the interior can be a thankless responsibility since tackles don't typically rack up stats. Joel Burgess is an exception to that rule.
The preseason 1st Team All-South Atlantic selection led UVA Wise with 11.5 tackles for loss in 2021, including 5.5 sacks. Burgess excelled both at getting into the backfield and in stuffing the run, registering 62 tackles.
Kwame Livingston, North Greenville
Size and strength define 1st Team All-GSC defensive tackle Kwame Livingston. The size is obvious: Livingston is 6-foot-3, 305 pounds. As for strength? Well, sometimes images can say more than words.
AND JUST LIKE THAT ANOTHER RECORD GOES DOWN, MOVING UP THE CHARTS

Kwame Livingston-700LBS

Big Things Happening At @NGUFootball1 #SeeTheGoalGoGetTheGoal #RecordBreakers pic.twitter.com/3tuLEms4o8

— Al DeGraffenreid (@CoachDeGraf23) April 23, 2021
Livingston heads into his senior season at North Greenville with an impressive resume already to his credit, boasting three multiple-sack seasons. Last year, he added 44 total tackles, a forced fumble and a pass deflection to go with his two sacks. Livingston's generated fumble and one of his two sacks came on the final snap and preserved a North Greenville win over GSC counterpart Delta State.
Deshawn McCarthy, East Stroudsburg
Deshawn McCarthy earned 1st Team All-American recognition from both the D2Football.com Elite 100 and the AFCA. He returns for 2022 a Lindy's Sports preseason 1st Team All-American, and will be in the hunt for the most sacks in the nation during the coming campaign.
McCarthy made 13 sacks a season ago, including a remarkable four in Week 1. He's already up to 19 in just two seasons, putt him on pace to leave East Stroudsburg as one of D-II's all-time career leaders in that category.
Caleb Murphy, Ferris State
Coming off an absolute monster 2021, Caleb Murphy again leads defensively for a Ferris State squad seeking a repeat as national champions.
WATCH: All-America defensive end Caleb Murphy talks about FSU's first fall practice with the media today! @FerrisFootball pic.twitter.com/ZnvtB33crw

— Ferris Athletics (@ferrisathletics) August 8, 2022
Murphy won GLIAC Defensive Lineman of the Year and was an All-American selection for his program record-setting 14.5-sack season, which also included 21.5 tackles for loss. He comes into the 2022 campaign with a chance to elevate his NFL draft stock, and make his case as the top defender in all of Div. II.
Joshua Pryor, Bowie State
Joshua Pryor will leave Bowie State as one of the most prolific defensive players in Div. II history, even if he doesn't accrue a single statistic in 2022. With a full slate ahead of him, however, the versatile lineman can put his name at the top of national records.
Pryor — whose role on the Bulldogs line can be best described as hybrid, playing both off the edge and on the interior — has made at least 20 tackles for loss in each of his three seasons. He sits at 66.5 for his career, less than 11 off the all-time career mark in the NCAA's time tracking TFL as an official stat. He can move into the top eight all-time for career sacks with 10.5 or more this season.
Austin Schlicht, Michigan Tech
Not your typical defensive end at 6-foot-2, 210 pounds, Austin Schlicht more than made up for his size with tenacity and speed coming off the line. Schlicht earned All-GLIAC recognition as a freshman in 2021 with his eight sacks and two forced fumbles.
Tim Williams Jr., Delta State
Rangy and explosive Delta State defensive lineman Tim Williams Jr. embarks on 2022 as arguably the best defender in the Gulf South Conference. Williams went off for 9.5 tackles for loss en route to 1st Team All-GSC honors a season ago, including 7.5 sacks. He was also a problem on special teams with a pair of blocked kicks.