2022 Gulf South Conference Football
Championship Contenders Build Around Top O-Lines; Star Tight Ends Return
Championship Contenders Build Around Top O-Lines; Star Tight Ends Return
An outstanding offensive line powered Ferris State to the national championship. The Bulldogs front is again among the very best in Div. II.
Aug 28, 2022
by Kyle Kensing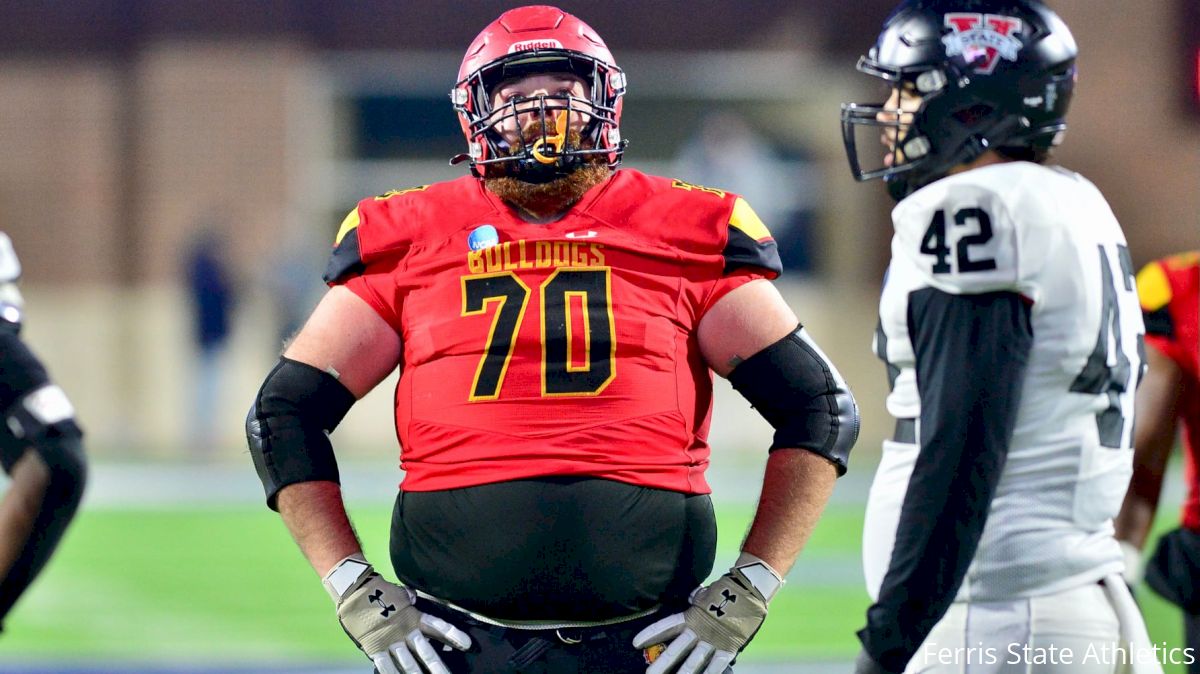 Championship football starts up front; look no further than Ferris State.
The Bulldogs offensive line paved the way to Ferris State finishing fifth in the nation in rushing yards, and tops in both yards and points scored. Most importantly, the front five played an integral role in Ferris State claiming its first-ever national championship.
Despite turnover in the starting rotation, preseason No. 1 Ferris State will again build out from the trenches in pursuit of another title. But the Bulldogs' front isn't the only one to watch in the coming season.
As a bonus, FloFootball.com individually spotlights the tight ends to watch around Div. II.
Offensive Lines to Watch
Bowie State
Defending CIAA champion Bowie State returns a veteran offensive line with cornerstones Mark Murphy and Quinton Bobo. The duo were named 1st Team Preseason All-CIAA, and Murphy's coming off a 2021 in which he earned D2Football.com 2nd Team All-America.
The Bulldogs scored almost 32 points per game while ripping off 5.5 yards on average in their 897 plays. With 60 touchdowns and 16 field-goal attempts, Bowie State's front helped it end more possessions in scoring opportunities (76) than ended in punts (72).
Central Washington
Central Washington moves to the Lone Star Conference with an explosive en tow, coming off a 2021 campaign in which the Wildcats lit up the scoreboard for 44.5 points per game. At the heart of that production was an offensive line that returns standouts Scottland Vise and Raymond Schalk. The two 1st Team All-GNAC honorees gave quarterback Quincy Glasper clean pockets in which to operate and paved holes for the multifaceted Central Washington rushing attack.
Congrats to Scottland Vise of @CWUAthletics, named today as the #GNACFB Offensive Lineman of the Year!https://t.co/zh0pv4ITzF pic.twitter.com/OoqB3QmLUP

— GNAC Sports (@GNACsports) November 17, 2021
The Wildcats line also welcomes back Kent Powell, who started 10 games as a freshman, and Noah Thompson, who made three starts in his frosh campaign.
Ferris State
Credit an outstanding front in no small part for Ferris State ranking fifth nationally in rushing yards per game (280.1); first in total offense (511.5 yards per game); and first in scoring offense (47.2 points per game). Oh, and let's not forget the line's role in delivering a national championship.
Standouts from last year's line are gone, most notably GLIAC Offensive Lineman of the Year Dylan Pasquaii and All-GLIAC honorees Jake Boonstra and Zein Obeid. However, Ferris State is uniquely built to reload, starting with the return of another All-GLIAC performer in Adam Sieler. Sieler is a prospective All-American as the veteran leader of the Bulldogs 2022 unit.
Senior Marouf Hamade played in 12 games as part of the line's rotation in 2021 and Brendan Bengtsson appeared in 11. Both should uphold the lofty standard predecessors on the Ferris State line set in recent years.
Grand Valley
GVSU OT Quinton Barrow Earns CCA All-Region Honors https://t.co/JYvcUC2CgI

— GVSU Football (@gvsufootball) December 15, 2021
All-GLIAC tackle Quinton Barrow and honorable mention interior lineman Garrett Carroll lead a stout Grand Valley offensive line that experiences some turnover from 2021, but reloads nicely. Gone from the 2021 unit are 2nd Team All-GLIAC honorees Ethan Culberson and Jake Kochanny, but the Lakers welcome in transfer Justus Smith. The 6-foot-4, 308-pound Smith was a two-time All-GLVC selection at McKendree before spending a season as a cornerstone for the Missouri Southern State line.
Veteran Laker Joel Linden was a regular in the rotation last year, including making one start, and should transition smoothly into the primary front five, while Brendan Bengtsson played in 11. Both should factor prominently into another outstanding Ferris State line.
Harding
The nation's top rushing attack a season ago thrives with disciplined line play and a unique blocking style. Harding's flexbone will build off veterans Dalton Allen, who has 10 career starts for the Bison; Hunter Willis, with 15 career starts; Austin Toler and his 13 career starts; and All-GAC selection Keegan Shive with 14 starts.
All that experience translates to another season of lofty rushing totals and the preseason pick to win the Great American Conference in 2022.
Lenoir-Rhyne
A top 10 rushing offense and top five total offense a season ago should continue at a prolific pace in 2022 with running back Dwayne McGee operating behind an outstanding offensive line. The All-American McGee shouted out Blake Jefferson and Bryce Heidinger as crucial to his success, and the two have All-American potential in their own right.
The Bears front also returns Isaac Chapman, who made seven starts in 2021; and Shane Wells, with four starts to his credit.
Shepherd
An offensive line featuring All-PSAC performers Joey Fisher at tackle and Adam Stilley at center set the stage for quarterback Tyson Bagent's Harlon Hill Trophy-winning season. Fisher and Stilley return to once again anchor Shepherd's high-powered offense, and help Bagent to potential back-to-back Harlon Hill Trophies.
The West Virginia transfer Stilley moved into the starting rotation last season and held it down for all nine games he played at center. Fisher, meanwhile, is a potential All-American.
West Florida
The nation's third-highest scoring offense a season ago at 44.5 points per game reloads up front with three of the five preseason 1st Team All-GSC selections on the line: center Dalton Simpler, guard Juac Angoi and tackle Jacob Bruce.
Other Argo linemen including JUCO transfers Parker Thomas out of California; and Desmond Bland. Bland was a high-3-star prospect coming out of Arizona Western College.
Tight Ends to Watch
Some of the nation's top tight ends in 2021 return for 2022. An outstanding group of elite pass-catchers headline Div. I's tight ends to watch.
Hunter Budke, Fort Hays State
Fuller to Budke for a Tiger Touchdown!#DefendTheFort pic.twitter.com/zvwACb6KI8

— FHSU Football (@FHSUFootball) October 3, 2021
1st Team All-American Hunter Budke solidified himself as a pillar of the Fort Hays State offense, finishing the 2021 season with three-plus receptions in each of the final eight games — and that was after an incredible nine-reception, 122-yard performance against Missouri Western.
Budke hauled in eight touchdowns for the Tigers to put an exclamation point on his outstanding campaign. Look for him to build on his 620-yard junior season.
Matt Hall, Truman State
A key figure in Truman State's nine-win 2021 was Matt Hall, whose first full season with the Bulldogs culminated in a four-catch outing in the America's Crossroad Bowl with a touchdown.
Hall made at least one catch in every game last fall, including seven for 100 yards against Southwest Baptist. He'll be one of the most productive tight ends in the nation in the coming campaign.
Kyle Morlock, Shorter
1st Team All-Gulf South tight end Kyle Morlock delivered against some of Shorter's toughest opponents a season ago, including five receptions against West Florida and a touchdown catch against national runner-up Valdosta State.
Morlock returns in 2022 for a Shorter team looking to surprise in the tough Gulf South. If he can continue on his late-season upswing, which included his showing against UWF and a seven-catch performance in the Hawks win over Erskine, Shorter will have a solid foundation off which to build.
Reece Perkins, Notre Dame
Chris Brimm finds Reece Perkins for an 8-yard TD.
Notre Dame leads 16-10 with 9:10 in the first half.
No lead is safe in this game. pic.twitter.com/bS8onHk43i

— Michael Trivisonno (@MichaelTriv_) November 20, 2021
Notre Dame's Reece Perkins isn't the prototypical tight end at 6-foot-2, 205 pounds, but don't let his size fool you. Perkins is a tenacious playmaker and threat in the red zone who hauled in five touchdowns a season ago, including one in the thrilling playoff showdown with Shepherd.
Mike Rigerman, Findlay
1st Team All-G-MAC, an All-Region selection and one of the top tight ends returning to college football in 2022, Mike Rigerman is a proven cornerstone for the Findlay offense.
Rigerman's workload has steadily progressed through three seasons at Findlay, going from one scoring reception as a reserve freshman in 2019; three scores over just six games in the shortened spring 2021 season; and six touchdown grabs in his breakout junior campaign. With his year-to-year increase in productivity, expect a monster senior season from Rigerman.