2022 Warner Royals vs West Florida
Highlight-Reel Receivers Return Around D-II In 2022
Highlight-Reel Receivers Return Around D-II In 2022
Record-setting receivers return to Div. II competition in the 2022 season, including the nation's leader in yards a season ago.
Aug 22, 2022
by Kyle Kensing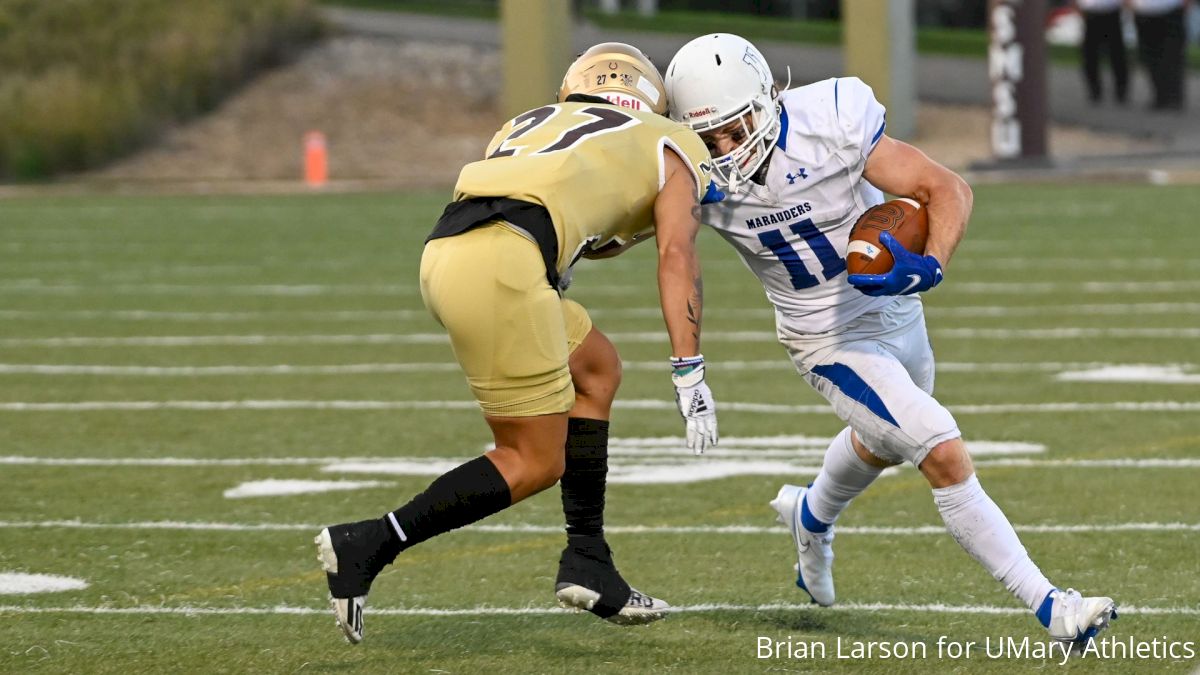 Since Jack Schneider caught Bradbury Robinson's toss for the first reception in football history 117 years ago, pass-catchers have grown ever increasingly vital to the game. To wit, there were an incredible 22 players to eclipse 1,000 yards receiving at the Div. II level in 2021.
A healthy number of those yard-hogging playmakers return for 2022, and headline the crop of wide receivers to watch in the coming campaign — including last year's leader in total receiving yards.
Ryan Beach, Shepherd
Individual awards in college football reflect team greatness, and Harlon Hill Trophy winner Tyson Bagent has plenty of greatness around him at Shepherd. The '21 Harlon Hill recipient quarterback was throwing to a standout receiving corps, led by then-freshman Ryan Beach.
The 5-foot-6 Beach was a workhorse for the Rams, catching six-plus passes in nine games last season, including in each of the final three during Shepherd's run to the national semifinals. Beach caught a remarkable 28 passes in total during the postseason, and snagged 13 touchdowns just in the regular season.
Brendan Beaulieu, Bemidji State
Bemidji State's prolific passing attack (335.3 yards per game, fifth nationally) relied on a variety of targets. Brendan Beaulieu stood out as the most consistent, catching a team-high 76 passes — 16 more than the next-most active Beaver — for 1,318 yards.
Look for Beaulieu to build on his 13 touchdown receptions from a season ago, as well, as Bemidji State replaces Malik Williams and his 18 scoring grabs from 2021.
Armani Carmickle, Minnesota Duluth
Armani Carmickle settled in as an integral part of the Minnesota Duluth offense immediately upon his transfer from Northwest Missouri, catching four touchdowns in 2019. His role grew exponentially in 2021, however, with 67 receptions for 1,315 yards and 11 touchdowns.
Bulldogs coach Curt Wiese called Carmickle Minnesota Duluth's "go-to" player the last two seasons. As he approaches his third season fulfilling that role, don't be surprised if Carmickle rewrites more program records.
With this touchdown reception from Garrett Olson, Armani Carmickle surpasses D.J. Winfield's all time single season receiving yard record of 1,201. Congratulations Armani!#BulldogCountry | #EarnIt pic.twitter.com/WXfHeWglVt

— UMD Football (@UMD_Football) November 13, 2021
David Durden, West Florida
2019 national champion West Florida introduces a new quarterback this season, but the return of 1st Team All-Gulf South selection David Durden ensures a gradual learning curve for Austin Reed's replacement.
Durden delivered on four 100-plus-yard games in 2021, including in Argos wins over Div. I opponent McNeese and national runner-up Valdosta State. He's a prime candidate to break into the 1,000-yard club this season with West Florida's pass-heavy offense undergoing some change in the receiving corps and Durden returning as a proven target.
Keilahn Harris, Oklahoma Baptist
Oklahoma Baptist boasted two All-American receivers in 2021 with Keilahn Harris and Josh Cornell putting up almost identical numbers (including the nation's third-most receiving touchdowns at 16 each). Cornell exits, but Harris returns as the cornerstone of the Bison's pass-happy attack.
Harris finished 2021 a shade below 1,100 yards receiving, which was almost three times his output from 2019. As the clear A-1 of the Bison's receiving corps heading into 2022, Harris could be a top contender to lead the nation in yards.
Danny Kitnner, UMary
A unanimous All-American selection in 2021, Danny Kittner is tabbed as the Northern Sun's North division Preseason Offensive Player of the Year to open 2022. He boasts a variety of records, including matching the league's single-game reception record of 19 and the conference's single-season mark of 128.
Kittner's 2021 numbers comparable most favorably to those DeVonta Smith put up a season earlier for Alabama at the FBS level, en route to Smith becoming the first wide receiver to win the Heisman Trophy since Desmond Smith in 1991. Coincidentally, the Harlon Hill Trophy last went to a wide receiver the same year, '91, when Ronnie West claimed the award out of Jerry Kill's offense at Pittsburg State.
Should Kittner replicate his 2021 performance in 2022, he could very well give West company in a most exclusive club.
Xavier Malone, Henderson State
JUCO transfer Xavier Malone made an immediate splash at Henderson State with a rush, three receptions and kickoff return all in his first game. By his second outing, Malone recorded the first of five 99-yard-or-better pass-catching efforts in 11 games, going for 130 against Northwestern Oklahoma.
With the outstanding L'liott Curry gone (91 receptions for 1,297 yards, 16 touchdowns), Malone stands to see even more opportunities in his senior season with the Reddies.
Jalen Sample, Minnesota State
Not many defensive backs stand a chance countering the 6-foot-6 Jalen Sample on a jump ball. However, there's much more to the Minnesota State receiver's game than simply beating opponents over the top.
Sample has already solidified himself one of the best pass-catchers in program history.
Congrats to Jalen Sample who just became the eighth Maverick in program history to record 1,000 receiving yards in a season. pic.twitter.com/f4XxVmfzCT

— Minnesota State Football (@MinnStFootball) November 13, 2021
Should he match last season's output, Sample will become just the third Maverick ever with multiple 1,000-yard seasons (joining Shane Zylstra and Josh Nelsen) and move to fifth all-time in receiving yards.
Xavier Wade, Ferris State
The last we saw Xavier Wade, he was hauling in a 72-yard reception in Ferris State's National Championship Game win romp over Valdosta State. Not that that's unusual for Wade, arguably the top big-play receiver in the nation.
Wade also had a grab of 83 yards in 2021, marking his fourth catch of at least 72 yards in the last two years. The 83-yarder last September also resulted in one of Wade's 10 touchdowns in 2021 and 15 over the past three seasons.
Not so fast!
Xavier Wade of @FerrisFootball comes up with the BIG touchdown catch.
9-7 Lakers as we close out the half.#FWIM2019 pic.twitter.com/pY2cTX9bU5

— Bally Sports Detroit (@BallySportsDET) November 9, 2019