2022 Virginia Union vs Valdosta State
Bagent, Alt Among The D-II Quarterbacks To Watch In 2022
Bagent, Alt Among The D-II Quarterbacks To Watch In 2022
Reigning Harlon Hill winner Tyson Bagent headlines a stacked crop of quarterbacks in the Div. II ranks during the 2022 season.
Aug 17, 2022
by Kyle Kensing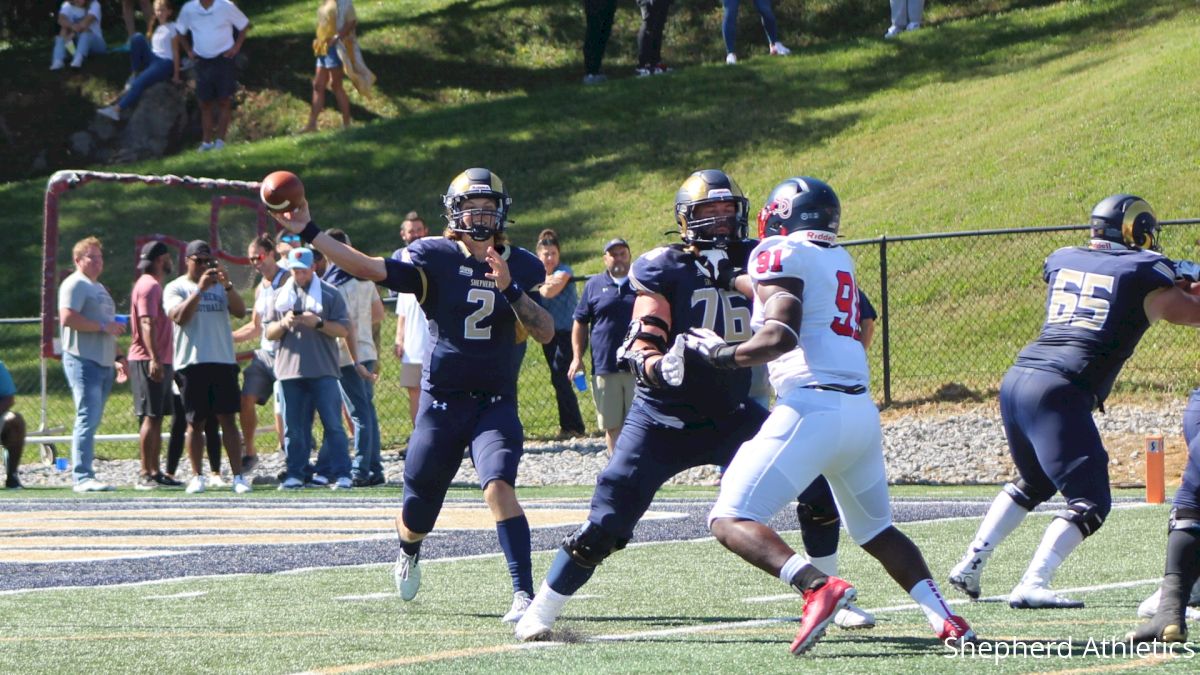 No position commands the spotlight more prominently than quarterback. In the 2022 season, Div. II is rife with playmakers made to shine in pressure-packed moments.
Among the proven quarterbacks leading their teams into the new campaign is the 2021 Harlon Hill Trophy winner, Tyson Bagent. The Shepherd signal-caller briefly entered the transfer portal over the winter, but after flirtations with Power Five-conference programs Maryland and West Virginia, returned to captain the Rams one more time.
Bagent can join Jason Vander Laan, Dustin Bonner, Johnny Bailey and Danny Woodhead as the latest two-time recipient of the award, but he'll have no shortage of challengers — most notably from the crop of standout quarterbacks back in the mix for '22.
Brandon Alt Bemidji State
Powering Bemidji State to a 10-win finish, Brandon Alt contended for the 2021 Harlon Hill Trophy. He went for 4,245 yards and 46 touchdowns a season ago, and after throwing 530 passes in 2021, figures to have an opportunity for even loftier numbers this season.
Tyson Bagent, Shepherd
The reigning Harlon Hill winner was off-the-charts a season ago, posting 5,000 yards on 391-of-579 passing with 53 touchdowns — including a couple of game-winners in Shepherd's playoff run.
UNREAL! Tyson Bagent's 24-yard TD pass to Josh Gontarek with 1.9 seconds left in the game lifts Shepherd to a 38-34 win over Notre Dame in the second round of the NCAA D2 playoffs. pic.twitter.com/mu1GfDyjGF

— Andy Mason (@Andrew_M_Mason) November 27, 2021
Bagent's ability to move around and out of the pocket and thread the smallest eyes make him a standout at any level.
T.J. Davis, Nebraska-Kearney
Nebraska-Kearney is a potential championship-spoiler in the MIAA this coming season, thanks in no small part to the returning T.J. Davis. A true two-way difference-maker, Davis rushed for nearly as many touchdowns (18) as he passed (21). He's also a member of the illustrious 2,000/1,000 Club, last season totaling 2,234 passing and and a team-high 1,139 rushing.
Man what a year…It doesn't hit you until it's all over with. I am proud of the sacrifices on and off the field this team has made. 10-3 finishing top 16 in the nation..It's just the beginning. Thankful for all who believed and supported. 2 Be Continued💙🙏🏾😉 pic.twitter.com/sU2aBpXNU8

— TJ (@davistj05) November 29, 2021
Ivory Durham, Valdosta State
One of the origin points in the proliferation of the air-raid offense is also an epicenter for evolving the system. Case in point is quarterback Ivory Durham. Durham put the ball in the air plenty for the national runner-up Blazers a season ago, passing to the tune of 3,425 yards and 32 touchdowns on 406 attempts.
But the dimension Durham brings to the Valdosta State offense as a ball-carrier takes the air raid to a whole new place. Durham rushed for more than 1,000 yards in 2021 and reached the end zone 13 times.
Harrison Frost West Georgia
West Georgia reached the 2021 Playoffs on the strength of a prolific and multifaceted passing attack, which Harrison Frost gave life with his savvy. Frost debuted with a 29-of-40, three-touchdown performance against Carson-Newman and thus was on his way to four games of three-plus passing touchdowns and six with more than 300 yards passing.
Frost will again captain West Georgia's version of the air-raid offense.
Quincy Glasper, Central Washington
Player of the Year honors in two different conferences? It could happen for Central Washington's Quincy Glasper.
With the Wildcats' move to the Lone Star Conference, the 2021 GNAC Offensive Player of the Year figures to be in the hunt for the LSC's version of the award. He was named a preseason All-Lone Star 1st Team selection on the strength of a freshman season in which he passed for 18 touchdowns against just four interceptions, and rushed for another four scores.
What's more, Glasper did it all in just seven games.
Dre Harris, Newberry
Two-way playmaker Dre Harris powered Newberry to a South Atlantic Conference championship and trip to the 2nd Round of the Playoffs in 2021. His postseason performance in a 33-30 win over then-reigning national champion West Florida — going for 77 yards rushing and a touchdown with another 182 and touchdown passing — demonstrated Harris' ability in the clutch.
Combined with running back Mario Anderson, Harris gives Newberry one of the most intriguing backfields in the nation headed into 2022.
Mike Hohensee, Northwest Missouri
Perennial power Northwest Missouri should factor into the national championship conversation, and the return of Mike Hohensee behind center is one key reason why. Hohensee is a dynamic dual-threat, producing at least one passing and rushing touchdown in six games a season ago.
He closed 2021 with 20 scores through the air and eight on the ground (the latter second-most among all Bearcats), and completed a remarkable 73.6 percent of his pass attempts. That's about 20 percent higher than his dad's output at Minnesota in the early '80s.
John Matocha, Colorado School Of Mines
Colorado School of Mines' tradition of putting up big-time passing numbers continues with John Matocha behind center. Matocha helped the Orediggers to their first-ever appearance in the national semifinals by completing better than 68 percent of his 382 pass attempts for 3,105 yards.
He put up 38 touchdowns against just eight interceptions, and rushed for another seven scores to complement his 492 yards on the ground.
Mylik Mitchell, Ferris State
Although Jared Bernhardt handled much of the quarterbacking duties in Ferris State's run to the 2021 national championship, Mylik Mitchell had plenty of opportunities to shine a season ago — like his six passing-touchdown performance against Northwood last October.
Mitchell heads into 2022 poised to be the man driving the Ferris State offense. While his individual credentials are not as lofty as some of the other most intriguing quarterbacks ahead of this campaign, few — if any — will have eyes as squarely on them as Mitchell.