2022 Gulf South Conference Football
Frosh Phenoms Turned Super Sophs Headline D-II Running Backs
Frosh Phenoms Turned Super Sophs Headline D-II Running Backs
Some of the nation's top rushers in 2021 were freshmen. They return in 2022 as proven stars and running backs to watch in the season to come.
Aug 18, 2022
by Kyle Kensing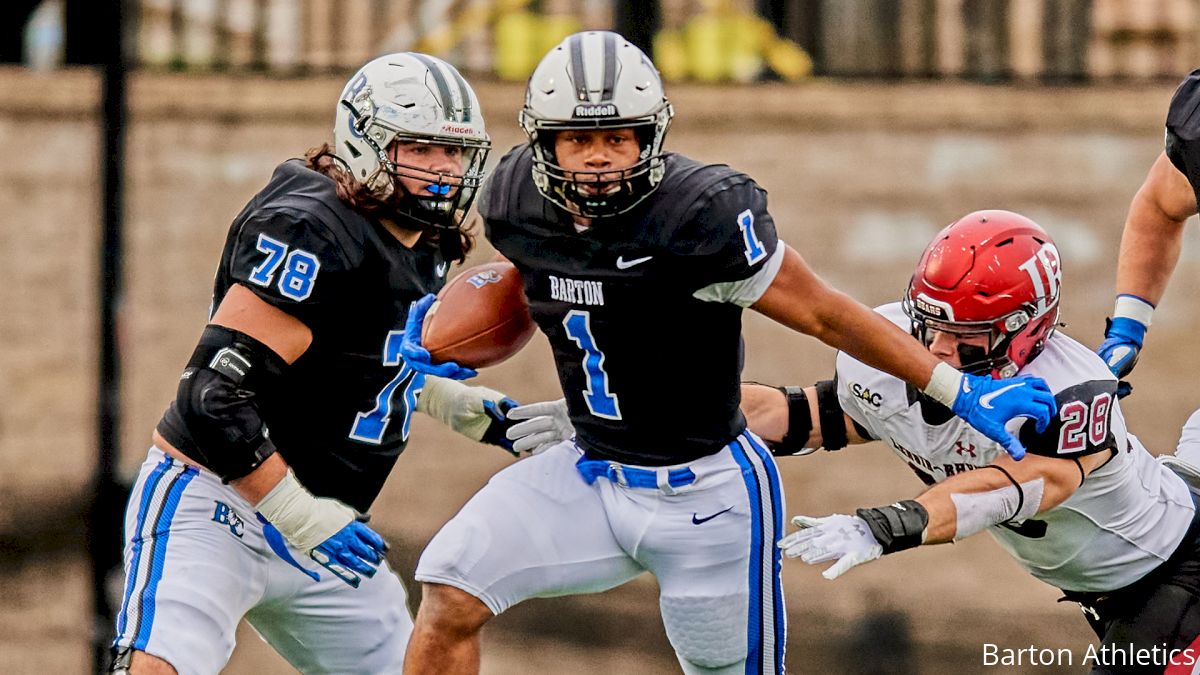 Ground games on the Div. II landscape a season ago proved to be a youth movement. Two of the nation's top four, three of the top six, and four of the leading 13 rushers in 2021 were freshmen. All return in 2022 to build on their impressive debuts.
This stellar first-year class—Barton's Jordan Terrell, Lenoir-Rhyne's Dwayne McGee, Southern Arkansas' Jariq Scales and Wayne State's Myren Harris—sets the pace for the deep crop of standout running backs in the season to come.
Toriano Clinton, Indianapolis
Credit UIndianapolis' status as the preseason favorite in the GLVC in no small part to Toriano Clinton. Clinton, the nation's top returning rusher in yard-per-game average from a season ago, needed only nine games to set a program record with 1,525 rushing yards. Clinton also set the Div. II all-time mark of 197 yards in a single quarter last season against Southwest Baptist.
Clinton's big-play ability makes him especially dangerous as demonstrated in the spring 2021 season GLVC Championship Game.
T.J. Cole & Kendel Givens, Ouachita
A tandem offering out of Ouachita hits defenses with quite a combination. In a system with either being expected to shoulder the load exclusively, each could conceivably go for 2,000 yards; T.J. Cole wasn't especially far off from doing so last season at 1,530 while sharing carries with Kendel Givens.
But the Tiger twosome combined to form an integral part of Ouachita's offense, combining for 40 rushing touchdowns in 2021. Givens went for 23, averaging a touchdown every 5 1/2 carries, with Cole reaching paydirt 17 times.
Myren Harris, Wayne State
Myren Harris was a revelation in an otherwise trying 2021 for Wayne State. The first-year back broke off an absurd 7.8 yards on 113 carries, eclipsing 1,000 yards in just nine games. Harris rushed for nine touchdowns as a freshman and caught another two.
A touchdown by Myren Harris and successful 2pt conversion now gives Wayne State a 14-10 lead before halftime. pic.twitter.com/93RODVeUFN

— Matt Williams (@MattProMedia) September 2, 2021
Shomari Mason, West Florida
Record-setting quarterback Austin Reed transferred from West Florida, but the Argos offense should be just fine with Shomari Mason returning to the backfield. Mason averaged more than eight yards per carry in 2021, enough to surpass 1,000 for the season despite just 120 carries.
How much heavier his workload looks in 2022 will be an intriguing development. Mason's also a threat in the passing game, having hauled in 20 receptions for 209 yards with a touchdown to complement his 10 rushing scores.
Dwayne McGee, Lenoir-Rhyne
Dynamic Dwayne McGee carried an impressive spring debut into his first full freshman season at Lenoir-Rhyne. The elusive McGee exploded for 1,669 yards and 19 touchdowns. He rushed for another two.
McGee's combination of vision and breakaway speed make him one of the most exciting players in all of college football heading into the new season.
Seth McGill, Valdosta State
The evolution of Valdosta State's signature air-raid offense into a balanced look with multi-dimensional rushing looks is most profoundly stated in the Blazers becoming the first program in history with three 1,000-yard rushers. Seth McGill emerged chief among them after producing around 700 yards in 2018 and 2019.
The Miami native heads into his fourth season as a Blazer poised for even more after surpassing 1,200 yards in 2021. A proven difference-maker who can produce in the passing game as effectively as rushing, this is one McGill you won't catch slipping.
Jariq Scales, Southern Arkansas
Jariq Scales finished 2021 stronger than he started — and considering Scales went for 168 yards and a touchdown Week 1, that's lofty praise.
Scales' 171-yard, two-touchdown finale against Arkansas-Monticello capped a closing stretch of three consecutive 100-yard games; hitting the century mark in four of the last five (including a career-high 245 against Arkansas Tech); and recording touchdowns in four of the final five.
🚨🏈💥🤩😎

💪Congrats to Mulerider Football's Jariq Scales on being named #theGAC Freshman of the Year and an All-GAC Second Team performer‼️😤 #GoMuleriders #RideAsOne pic.twitter.com/NqlZQIVokh

— Mulerider Athletics (@MuleriderSports) November 16, 2021
Jordan Terrell, Barton
Barton may be a newcomer to the South Atlantic Conference, but Jordan Terrell's reputation precedes him — as is evident from his selection to the SAC preseason 1st Team.
Terrell logged more than 300 carries as a freshman, in the process racking up nearly 1,900 yards. Membership in the exclusive 2,000-yard club is conceivable for Terrell.