2022 NFL Academy Freedom Bowl - Atlanta
2022 Freedom Bowl: Nationally Ranked Powers Headline Two-Weekend Event
2022 Freedom Bowl: Nationally Ranked Powers Headline Two-Weekend Event
No. 11 nationally-ranked Buford headlines the loaded field in the 2022 Freedom Bowl, featuring games in Georgia and Ohio.
Aug 15, 2022
by Kyle Kensing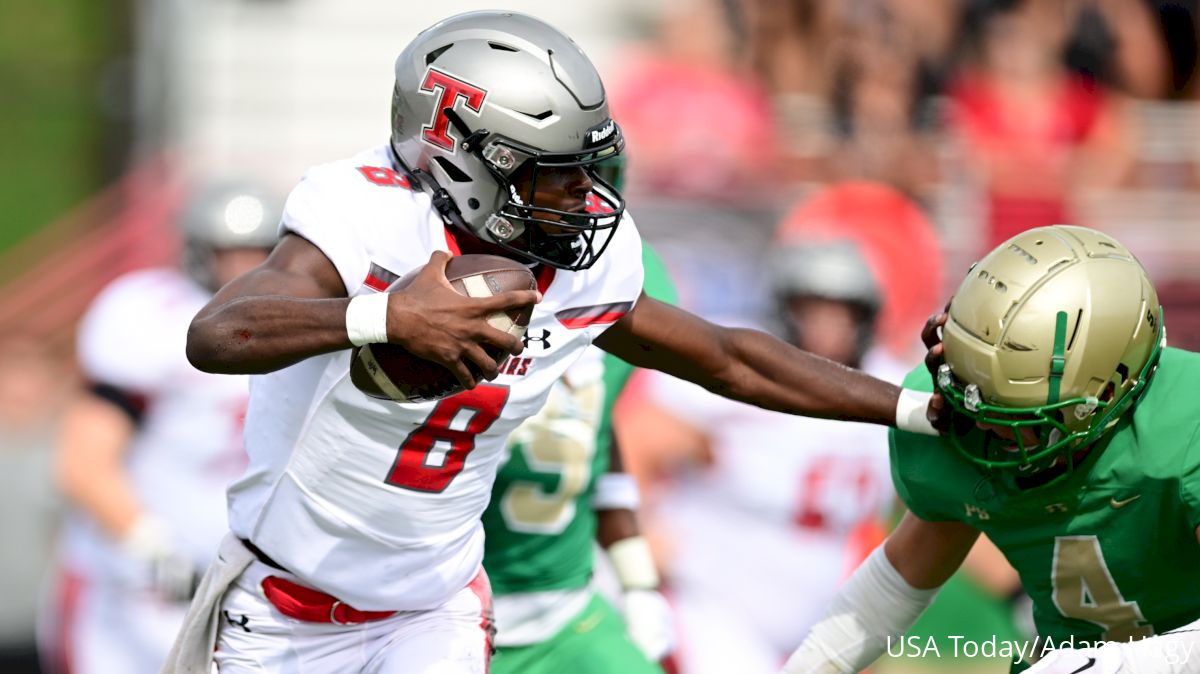 Some of high school football's best teams from a variety of states usher in the season at the Freedom Bowl.
The 2022 event kicks off Aug. 19 in Georgia with four games featuring teams from five states: Alabama, Georgia, South Carolina, Tennessee and Virginia. Headlining the group is Buford High School, ranked No. 2 in Georgia and No. 11 in MaxPreps' preseason national poll.
The Wolves get the Freedom Bowl started with a cross-state showdown of top 15 nationally ranked teams. Thompson High School out of Alabaster, Alabama tops its state poll and checks in at No. 14 in the national rankings.
The following week in Ohio offers a field with teams from seven American states and a squad from Canada.
GEORGIA: FRIDAY, AUG. 19 & SATURDAY, AUG. 20
Buford vs. Thompson - Friday, Aug. 19 at 5 p.m. ET
Thompson High School comes into 2022 seeking a four-peat as Alabama 7A state champion. The Warriors won their third straight title in a 38-22 title-game romp over Phenix City Central last December.
Thompson features one of the top players in the class of 2025 and the younger brother of current Alabama Crimson Tide freshman Tre'Quon Fegans, defensive back Anquon Fegans. Fegans plays in a secondary that also includes Alabama commit Tony Mitchell at safety. On offense, the Warriors return 1st Team All-State honoree and Michigan State commit Stanton Ramil.
Buford boasts its own future Crimson Tide in running back Justice Haynes, a top 100 nationally rated prospect coming off an incredible 2,375-yard rushing season as a junior. Haynes has gone for more than 1,700 in all three of his prep seasons, and could realistically become just the third player in Georgia high-school football history to reach 8,000 career rushing yards.
Buford juniors KJ Bolden and Eddrick Houston are standouts at defensive back and on the edge, each boasting 5-star designation in the 2024 signing class.
Lipscomb Academy vs. Milton - Friday, Aug 19. at 8:30 p.m. ET
Friday's nightcap features Lipscomb Academy out of Nashville. Tennessee's reigning Div. II-AA state champions aim for a third consecutive trip to the title game behind quarterback Hank Brown. Brown is committed to Hugh Freeze's Liberty program, while Lipscomb Academy's leading blocker—tackle Brandon Solis—has interest from FBS programs like Mississippi State, TCU, Boston College (where Lipscomb standout Alex Broome landed) and Playoff qualifier Cincinnati.
The Mustangs meet Milton, Georgia's No. 15-ranked team heading into the season. Milton reached the 7A championship a season ago, and will look to complete the title run this time around.
The Eagles feature safety Bryce Thornton, an SEC recruiting target and 4-star 2024 prospect Debron Gatling. Gatling ranks among the top wide receivers in the nation among the junior class.
Life Christian vs. Collins Hill - Saturday, Aug. 20 at 4 p.m. ET
Collins Hill (Suwanee) prepares defense of its Georgia 7A state championship with a roster that features high-4-star tight end Ethan Davis, a commit to Tennessee; and Louisville-bound safety Jayden Davis.
Collins Hill check in at No. 6 in the Georgia preseason poll, while Life Christian comes in ranked No. 20 in Virginia. Life Christian sets an appropriate tone for what's one of the most ambitious schedules in all of prep football this season, facing nationally No. 3-ranked St. Frances Academy, DeMatha and Stranahan.
Spartanburg vs. Langston Hughes - Sat. Aug 20 at 7 p.m. ET
South Carolina's No. 9-ranked Spartanburg Vikings conclude the Georgia portion of the 2022 Freedom, facing Georgia No. 5 Langston Hughes. Spartanburg features quarterback Raheim Jeter, a target of the West Virginia Mountaineers.
Another WVU target anchors the Viking defense with 6-foot-4, 300-pound defensive lineman Cameron Jackson. The Spartanburg d-line squares off with a Langston Hughes High School offensive line that includes high-4-star 2023 recruit Bo Hughley, an offensive tackle committed to Georgia; and tight end Jelani Thurman, bound for Ohio State.
The Panthers also have speed-demon wide receiver Robert Lockhart III, among the latest high-profile recruits to commit to Deion Sanders and Jackson State.
OHIO: FRIDAY, AUG. 26 & SATURDAY, AUG. 27
Christian Brothers vs. Milton - Friday, Aug. 26 at 5:30 p.m. ET
After its season-opening foray at the Georgia installment of the 2022 Freedom Bowl, Milton heads to Ohio for a meeting with the St. Louis-based Christian Brothers.
Christian Brothers sports the top ranking in Missouri behind a lineup that includes high-4-star playmaker Jeremiyah Love, Northwestern University-bound defensive lineman Tyler Gant, Cincinnati-committed offensive lineman Joshua Gregory and rising wide receiver Dakotah Mayo.
St. Edward vs. Central Catholic - Friday, Aug. 26 at 8:30 p.m. ET
It's an Ohio vs. Pennsylvania showdown to conclude the first night of the Freedom Bowl's second weekend. St. Edward out of Lakewood is Ohio's top-ranked team heading into 2022, thanks in part to a lineup that includes Northwestern commit and edge-rusher Michael Kilbane as well as high-4-star 2024 prospect Ben Roebuck on the offensive line.
The Eagles rolled to a state championship in 2021 and should be front-runners to do so again in 2022. But the Pittsburgh-based Central Catholic Vikings should be state-title contenders in Pennsylvania, as well. Central Catholic is ranked No. 2 in the preseason poll with a pair of the state's top-rated junior prospects: linebacker Anthony Speca, a 4-star recruit with interest from Michigan, Notre Dame and Penn State; and 3-star wide receiver Peter Gonzalez.
Clarkson North vs. Perry - Saturday, Aug. 27 at 2 p.m. ET
Clarkson North comes to the 2022 Freedom Bowl from Mississauga, Ontario, Canada. The school has an impressive list of alumni who advanced to FBS, FCS and Div. II programs in the United States. The team begins its odyssey in 2022 at the Freedom Bowl, taking on Massillon Perry out of Ohio.
The Perry Panthers played a remarkable five overtime games in 2021, going 1-4 in the close finishes. The lessons learned from last year's heartbreak could push the Panthers into contention during the 2022 campaign.
Camden vs. Chardon - Saturday, Aug. 27 at 5 p.m. ET
Ohio's No. 12-ranked Chardon High is coming off a 16-0 finish to 2021 with a state championship. The Hilltoppers return quarterback Alex Henry, wide receiver Trey Liebhardt and defensive lineman Alex Kisely, three of the top producers on last season's title-winning team.
Camden High School comes into the Freedom Bowl with a defense featuring a pair of West Virginia commits: 2023 prospect and linebacker James Heard, and 2024 defensive lineman Richard James Jr.
St. Frances vs. East St. Louis - Saturday, Aug. 27 at 8 p.m. ET
The 2022 Freedom Bowl concludes with a bang. Nationally No. 3-ranked St. Frances Academy—featuring high-4-star defensive end Dashawn Womack, Pitt-committed defensive lineman Isaiah Neal, Power Five prospective running back Durell Robinson and Maryland-committed wide receiver Ryan Manning—facing off against Illinois' top-ranked team, East St. Louis.
The perennial powerhouse Flyers zoom into 2022 with a stacked offensive line, featuring seniors Brandon Henderson, Miles McVay and Arkansas Razorbacks commit Paris Patterson. The matchup between the loaded East St. Louis front five and a ballyhooed St. Frances defensive line could provide the biggest highlights from this year's Freedom Bowl.