2023 South Atlantic Conference Football
2022 South Atlantic Conference Preview: Newberry Aims to Repeat
2022 South Atlantic Conference Preview: Newberry Aims to Repeat
Newberry returns standouts from its 2021 SAC title-winning roster, and the Wolves are projected to repeat. But they'll face stiff competition in 2022.
Aug 19, 2022
by Kyle Kensing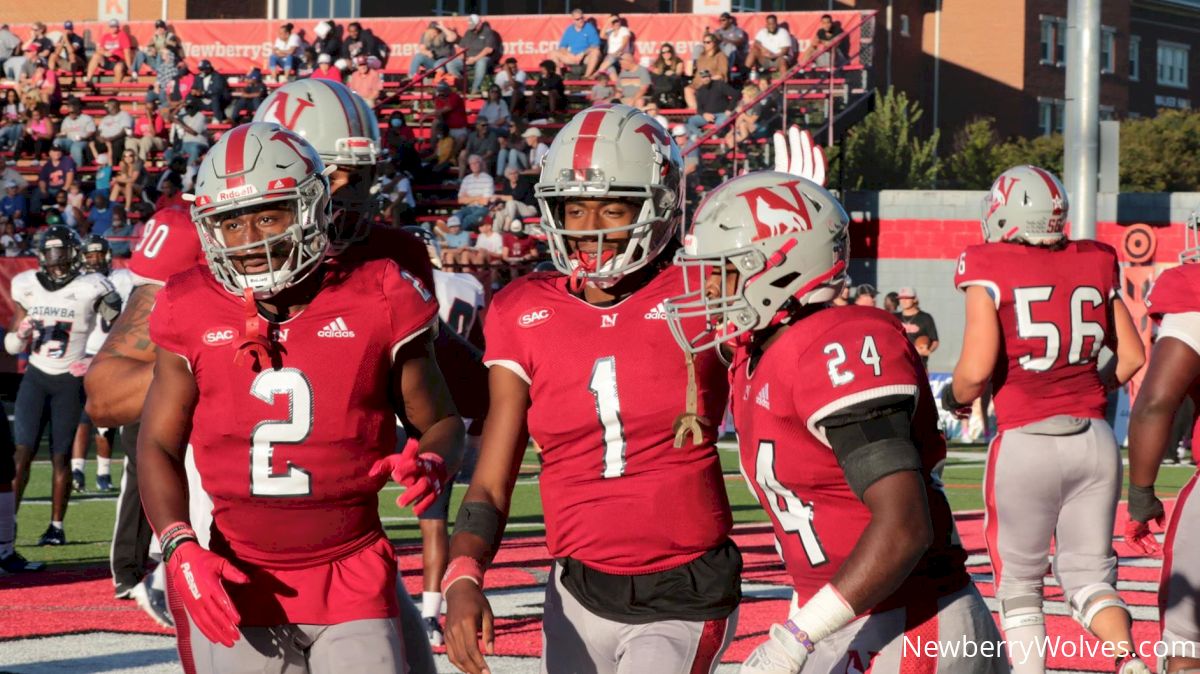 A landmark 2022 season approaches in the South Atlantic Conference. With new members joining the fold and the return of star players, an exciting autumn awaits. Barton and Erskine come aboard as football-only affiliates, while Emory & Henry embarks on its inaugural season as an SAC member.
Reigning champion Newberry reloads with key members of the 2021 SAC title-winning team back for the new campaign, but the Wolves can expect serious challenges to the throne.
BARTON
Head Coach: Chip Hester, third season
2021 Record: 6-5
Games to Watch
Sept. 17 at UVA Wise: Barton's first official SAC game takes it to UVA Wise, which the Bulldogs beat in the 2021 season finale, 36-24.
Sept. 24 vs. Mars Hill: BC welcomes Mars Hill to Truist Stadium for the Bulldogs' first SAC home game.
Oct. 8 at Newberry: The Bulldogs get their shot at taking down the defending champion in a midseason road game.
Bulldogs Overview
South Atlantic newcomer Barton has plenty of background with the league, starting with head coach Chip Hester. Hester coached Catawba to a pair of SAC championships in the 2000s.
Though officially an independent in 2021, Barton played all nine members of the SAC a season ago and fellow conference-newcomer Erskine. The Bulldogs ranked 10th nationally in rushing offense at 229.5 yards per game, powered by running back Jordan Terrell. Terrell posted the second-most rushing yards in Div. II at 1,843.
Quarterback Jaquan Lynch added 410 yards and seven touchdowns while passing for another 11. His primary target, wide receiver Kameron Johnson, returns from a seven scoring-grab 2021. The Barton defense also features key returning production, starting with leading tackler and linebacker Shane Perry.
Perry racked up 99 tackles a season ago, including 12 for loss and four sacks. Matt Smith joins Perry in the linebacking corps, while defensive end J.L. Ledbetter is coming off a 13 tackle-for-loss campaign and defensive back Kendarius Jenkins picked off five passes in '21.
CARSON-NEWMAN
Head Coach: Mike Clowney, third season
2021 Record: 1-9, 1-7 SAC
Games to Watch
Sept. 1 at West Georgia: West Georgia's air-raid offense powered the Wolves to the 2nd Round of the Playoffs, and gave the Eagles fits in the 2021 season opener.
Sept. 17 vs. Limestone: CNU scored its only victory of the 2021 season at Limestone in the penultimate weekend. This year, the Eagles open SAC play against the Saints.
Eagles Overview
After a strong pandemic-shortened spring 2021 season, Carson-Newman came into the fall with Top 25 billing. However, it ended up being a trying campaign en route to a 1-9 finish. The Eagles opened with a tough couple of games out of the gate against West Georgia, which made the Playoffs out of the Gulf South Conference; and against SAC counterpart Wingate.
This year's first month is more of the same, with a season-opening date against UWG, then early SAC matchups against Newberry and Lenoir-Rhyne. With three different but all prolific offenses early on the docket, a veteran Carson-Newman defense can expect to be tested. The Eagles return Jalen Anderson and Jackson Ward in the secondary, while linebacker Caleb Goins is back from a seven tackle-for-loss season.
Carson-Newman's defense will shoulder the load while an Eagles offense that struggled mightily in '21 undergoes an overhaul with new faces in positions to produce.
CATAWBA
Head Coach: Curtis Walker, 10th season
2021 Record: 5-4, 2-4-2 (issued two forfeit decisions due to COVID-19 protocols)
Games to Watch
Indians Overview
Catawba was off to a promising, 3-0 start a season ago with an impressive defensive performance against Barton. However, COVID-19 intervened. Two cancellations of SAC games preceded a hard-fought win over Carson-Newman to improve to 4-0, but a 14-7 loss to Newberry was the first of four games over the final five in which Catawba scored 14 points or fewer.
Improved offense in Everette Sands' second season as coordinator is a must for Catawba to compete with the top of the league. Sands has the background to lead a turnaround, having previously been on the ground floor of Coastal Carolina's transformation into a Top 25-caliber program. Sands worked with Chanticleer tight ends, a group that included current Baltimore Ravens rookie Isaiah Likely.
The Indians return Jyrea Martin at running back. Martin showed plenty of promise in his freshman season, breaking the century mark on three occasions. While the offense seeks greater consistency, particularly in the passing game, a defense that produced some strong outings looks to build off the return of preseason All-SAC honoree Izaiah Taylor.
EMORY & HENRY
Head Coach: Curt Newsome, ninth season
2021 Record: 6-4
Games to Watch
Sept. 17 vs. Newberry: The Wasps debut in the SAC against the league's current leader of the pack.
Oct. 1 vs. Catawba: Emory & Henry welcomes Catawba to Fred Selfe Stadium for the Wasps' first Homecoming as members of the SAC.
Wasps Overview
The line between undefeated and a 6-4 finish proved to be razor-thin for Emory & Henry a season ago. The margin of the Wasps' four losses playing an independent schedule totaled just eight points, the most lopsided of which was a 34-31 decision.
Emory & Henry heads into its inaugural SAC season returning Kyle Short, a capable two-way quarterback who totaled 1,694 yards passing with 15 touchdowns and another 280 yards with four scores on the ground. Devontae Jordan's 1,800-plus yards and 25 touchdowns will be difficult to replace, but veteran Mykah English averaged more than five yards per carry as the Wasps' No. 2 running back.
Defensive end Jay Swegheimer made a splash with team-highs of four sacks and nine tackles for loss, while Addison Knicely picked off three passes in 2021.
ERSKINE
Head Coach: Shap Boyd, third season
2021 Record: 3-8
Games to Watch
Sept. 17 vs. Lenoir-Rhyne: The Flying Fleet begin SAC membership against one of the conference's best.
Oct. 1 vs. Wingate: Erskine opens a stretch with 3-of-4 at home when it hosts Wingate.
Flying Fleet Overview
Former UVA Wise defensive coordinator Shap Boyd was tabbed to head the relaunch of Erskine football in 2018, with designs on the program playing its first game since the early 1950s in 2020. The COVID-19 pandemic pushed back the program's restart to spring, with 2021 marking the Flying Fleet's first autumn series in 70 years.
Given Erskine's upstart status, growing pains are to be expected; and, indeed, the Flying Fleet ranked near the bottom of Div. II in points allowed at 36.4 per game. However, with three wins playing an independent schedule, Boyd and his staff set a positive foundation.
The team debuts in the South Atlantic with veterans Bryce Jeffcoat at quarterback, Tiffin transfer Kaavon Parker at running back and defensive end Carter Vest. The Flying Fleet also welcome back Bennett Caldwell on special teams. Caldwell pinned 11 punts inside the 20-yard line and connected on a field goal of 40-plus yards.
LENOIR-RHYNE
Head Coach: Mike Jacobs, third season
2021 Record: 8-3, 6-2; 1st Round NCAA Playoffs
Games to Watch
Sept. 10 vs. Ferris State: Reigning national champion Ferris State visits Hickory for one of the premier matchups on the entire Div. II calendar.
Oct. 1 at UVA Wise: The Cavaliers stunned the Bears a season ago, 35-28. Lenoir-Rhyne will look to avoid a repeat this year when visiting Wise.
Oct. 22 vs. Newberry: If the preseason poll is any indicator, Newberry's visit to Lenoir-Rhyne will decide the 2022 SAC championship. This matchup also falls on L-R Homecoming.
Bears Overview
After a 2-2 start a season ago, Lenoir-Rhyne returned to form with six straight wins.
"You learn more from failure than you do from success," Bears coach Mike Jacobs said. "You saw that over the tail-end over the remaining part of our schedule."
The surge over the schedule's back-half landed Lenoir-Rhyne in the Playoffs, but it was a short stay. The "bitter, bitter taste" that running back Dwayne McGee described of the anticlimactic ending fuels the Bears heading into 2022. Plenty of returning talent from that roster shapes this year's squad, starting with the All-American back McGee.
The offensive line is experienced, including preseason 1st Team All-SAC selections Bryce Heidinger and Blake Jefferson. Wide receiver Deondre Lester is also a preseason 1st Team'er, and along with Kelin Parsons shouldered the load in the passing game with current Seattle Seahawk Dareke Young limited.
Defensively, the Bears are replacing a ton of production, but defensive tackle Andre Jefferson and linebacker Jon Ross Maye are veteran cornerstones around whom to build.
LIMESTONE
Head Coach: Mike Furrey, third season (first since 2017)
2021 Record: 0-9, 0-7-1
Games to Watch
Sept. 17 at Carson-Newman: The last of three Saints losses by a touchdown or less came to the Eagles. This season, Limestone opens SAC play with them.
Sept. 24 vs. UVA Wise: Limestone drove into Cavs territory trailing 28-24 last season, but could not produce the game-winning touchdown.
Saints Overview
Limestone endured a winless 2021 campaign while scoring just 13.2 points per game — the 156th-ranked average in the nation. However, the Saints dropped three games by a combined 13 points, all in conference. That suggests the gap from a stronger 2022 isn't so wide. The return of Mike Furrey to the sidelines, where he had four and five-win teams in 2016 and 2017 before joining the Chicago Bears staff, could revitalize the program.
Dustin Noller returning at quarterback after missing the latter-half of last season could also boost the Saints offense. Anthony Jefferson and Tre Stewart will handle ball-carrying duties.
Linebacker Chandler Corey is a solid all-around contributor who last year produced 3.5 tackles for loss, three quarterback hurries, and a forced fumble.
MARS HILL
HEAD COACH: Tim Clifton, 29th year
2021 RECORD: 8-3, 6-2
GAMES TO WATCH
Sept. 24 at Barton: Mars Hill goes on the road to meet the newcomers from Barton in what could be a crucial matchup for determining early SAC position for two teams that could be in the title hunt.
Oct. 29 at UVA Wise: The Lions' trip to Wise has trap potential, tucked in a stretch of 3-of-4 at home and ahead of the regular season's final two weeks.
Nov. 12 at Newberry: The reigning conference champions welcome Mars Hill to town for the regular-season finale, which could have playoff implications.
LIONS OVERVIEW
Perhaps well-positioned to earn an at-large playoff berth, Mars Hill instead ended an otherwise solid season with a disappointing loss to Wingate. The lingering sentiment serves as motivation for the Lions ahead of 2022.
Mars Hill has the pieces to push front-runner Newberry, particularly on defense. Three Lions landed on the preseason All-SAC 1st Team Defense, matching L-R for the league-high: linebackers Dexter Fitzpatrick and Landon Honeycutt, and defensive back/2021 SAC Defensive Freshman of the Year Tristan Rankin. A fourth Lion defender, defensive back Nick Jackson, earned 2nd Team All-SAC preseason honors.
A veteran offensive line sets the tone on that side of the ball, where quarterback Jimmy Urzua returns behind center. Running back Joraye Morrison led a multifaceted Lions rushing attack with eight touchdowns on the ground in 2021.
@MarsHill_FB touchdown!!! Joraye Morrison!!#lionsontop🦁 pic.twitter.com/7bW7Idn8Ml

— Carolina Sport Studios LLC (@StudiosSport) October 10, 2021
NEWBERRY
HEAD COACH: Todd Knight, 14th season
2021 RECORD: 10-3, 7-1; 2nd Round NCAA Playoffs
GAMES TO WATCH
Oct. 22 at Lenoir-Rhyne: The two preseason favorites clash in a showdown that will set the direction for the SAC heading into its home stretch.
Nov. 5 at Wingate: Picked to finish third in the preseason SAC poll, Wingate draws a prime opportunity to stake its claim to the postseason and perhaps the conference championship.
Nov. 12 vs. Mars Hill: A treacherous back-half to the Wolves schedule wraps up with a tough Mars Hill bunch visiting Newberry.
WOLVES OVERVIEW
2021 proved special for Newberry. The Wolves claimed an outright SAC championship, Todd Knight won the conference's Coach of the Year, and they bounced then-defending champion West Florida from the Playoffs in a 33-30 classic. Newberry kicks off 2022 with a lofty standard to match as it seeks an encore.
Boasting one of the nation's best backfields is a good place to start, which Newberry has with the return of quarterback Dre Harris and running back Mario Anderson. The dual-threat Harris passed for 2,356 yards with 18 touchdowns and a 62-percent completion average, while supplementing Anderson's 1,237 rushing yards with another 444 on the ground.
Newberry made its bones last season on defense with the nation's No. 14 stingiest scoring yield at 15.8 points per game. Linebacker A.J. Valentine returns as the anchor, but there's plenty of production to be replaced with the departures of Ty Kelly from the line, and David Vereen and Anthony Blue from the secondary.
TUSCULUM
HEAD COACH: Jerry Odom, seventh season
2021 RECORD: 5-6, 3-5
GAMES TO WATCH
Sept. 17 vs. Wingate: Tusculum's upward mobility in the SAC standings hinges on winning some of those hard-fought games against the league's upper echelon. Wingate is the first such opportunity.
Sept. 24 at Catawba: Last season's meeting was a wild one in which the Pioneers fell behind 31-7, but scored three fourth-quarter touchdowns leading to a make-or-break onside-kick attempt.
Nov. 12 at Lenoir-Rhyne: Tusculum surrendered two Bears scores in the final 5:48 to lose the 2021 meeting.
PIONEERS OVERVIEW
Tusculum finished on the wrong side of .500 a season ago, yet dropped South Atlantic games to Newberry, Lenoir-Rhyne, Wingate and Catawba by a combined 23 points and all by one possession; and lost a non-conference shootout to Chowan in double-overtime. The Pioneers' ability to make the handful of plays necessary to turn those near-misses into wins could mean the difference in a playoff berth this season.
A new starting quarterback will command the offense, but key, difference-making receivers Justice Parham and Tyler Burke will help ease the transition. Parham scored eight touchdowns and caught for a shade below 800 yards in 2021. The speedy Burke doubled as a playmaker in space and electrifying return specialist, whose exploits included a kickoff returned for a touchdown.
The Tusculum secondary is experienced with Jermaine Witherspoon, Jordan Taylor and Ty'Korian Brown all returning.
UVA WISE
HEAD COACH: Dane Damron, seventh season
2021 RECORD: 5-6, 4-4
GAMES TO WATCH
Sept. 17 vs. Barton: Barton, and specifically Jordan Terrell, spoiled UVA Wise's 2021 Senior Day. Terrell came just shy of rushing for 300 yards in the non-conference matchup, which marks the Cavs' league opener this time around.
Oct. 1 vs. Lenoir-Rhyne: The high watermark of the Cavs' 2021 season came in a 35-28 defeat of Lenoir-Rhyne.
CAVALIERS OVERVIEW
UVA Wise completed a rather unpredictable 2021 that included a win over playoff-qualifier Lenoir-Rhyne, but that was immediately followed with a three-game losing skid. The Cavaliers will look to sustain a level at which it can compete with the SAC's best every week.
Returning one of the league's premier running backs at 100 percent is a good starting point, and it's no coincidence that the Cavs endured their midseason dip while Jaevon Gillespie was limited. The standout ball-carrier totaled just 16 carries against Tusculum and Newberry, and didn't play against Wingate. But a healthy Gillespie had plenty of opportunity to show what he can do, as evidenced in an outstanding finish to '21.
Gillespie went for 68, 117 and 69 touchdowns in the final three games on a modest workload, and scored two touchdowns in the blowout of Catawba. He'll complement gunslinger quarterback Lendon Redwine in the backfield. Redwine is a preseason All-SAC selection coming off his 2,819-yard, 24-touchdown campaign.
Joel Burgess returns as the backbone of the Cavaliers defense. Burgess recorded some remarkable stats at defensive tackle, including a team-high 62 tackles — a rarity for an interior defensive lineman.
WINGATE
HEAD COACH: Joe Reich, 22nd season
2021 RECORD: 8-3, 6-2
GAMES TO WATCH
Oct. 22 vs. Barton: Barton knocked off Wingate in last year's non-conference affair, 26-20. Wingate's inability to score more than two touchdowns proved to be the difference.
Oct. 29 at Lenoir-Rhyne: Sandwiched in the middle of their late-season, definitive stretch, the Bulldogs hit the road.
Nov. 5 vs. Newberry: A showdown with last season's SAC title winner could determine who plays in the 2022 SAC Championship Game.
BULLDOGS OVERVIEW
Wingate is picked third in the preseason SAC poll. If the Bulldogs reach the Playoffs coming off last year's worthy 8-3 finish, they'll have truly earned it. Wingate's scheduled is bookended with grueling, three-game stretches — the first in September sending the Bulldogs on the road for three straight contests, including against a tough Fayetteville State bunch, before ever playing a home game; and the second with three of the most challenging SAC games of the year.
Navigate that, however, and Wingate will have a resume more than deserving a postseason bid.
Sirod Cook and Jaquan Edwards lead a defense that was solid a season ago, holding opponents to 22.2 points per game. The two preseason 1st Team All-SAC selections join 2nd Team honorees Daquan Mosley and DJ Horne to form one of the more formidable units in the league.
Shaw Crocker and Kamal Desor make up a quarterback-wide receiver tandem to follow closely all season. Desor went for touchdowns on more than 20 percent of his grabs in '21.
TOUCHDOWN BULLDOGS!!!!

Crocker finds Desor in the back of the end zone from 5 yards out!

21 unanswered points - #8 @WingateFb now leads 21-14 at Limestone!#OneDog pic.twitter.com/TzVks4fKSc

— Wingate Bulldogs (@WU_Bulldogs) October 9, 2021