2022 CAA Football
Breaking Down CAA Early Signing Additions
Breaking Down CAA Early Signing Additions
Amid the holiday season, each CAA program welcomed in the first signees of the 2022 recruiting class.
Dec 27, 2021
by Kyle Kensing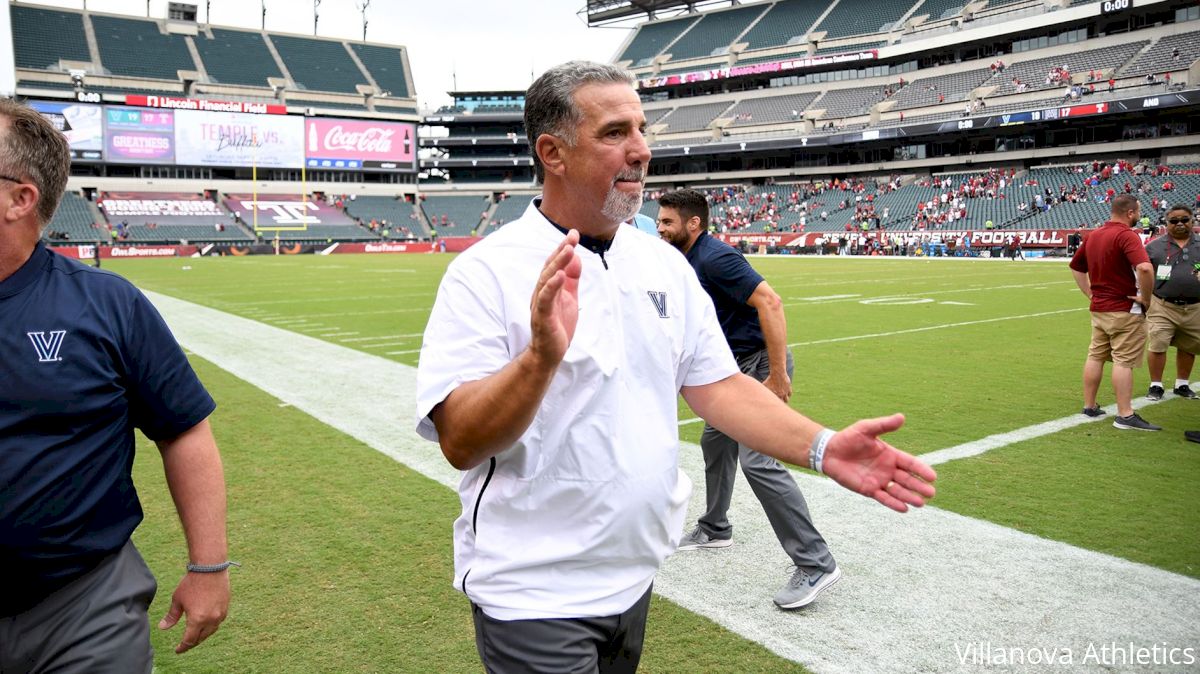 Meet the next generation of Colonial Athletic Association football players.
Amid the holiday season, each CAA program welcomed in the first signees of the 2022 recruiting class.
UAlbany
Total Signees: 7
In what coach Greg Gattuso called a group that "can help us…certainly next fall," UAlbany brings in a combination of high school recruits and collegiate transfers.
The wide receiver corps can expect a boost to its depth with the additions of Brevin Easton, a transfer from Assumption College; Clarion transfer Quinn Zinobile; and D.C. area prep standout LaSalle Rose Jr.
Easton eclipsed 500 yards receiving in each of his two seasons at Assumption and totaled 12 touchdowns. Zinobile similarly excelled in two seasons at Clarion with 51 receptions for 686 yards and four touchdowns in 2019; and 29 receptions over six games for 494 yards and six touchdowns in 2021.
Delaware
Total Signees: 7
New Blue Hens head coach Ryan Carty had quite a bit on his plate, finishing up his duties as offensive coordinator for national championship-contending Sam Houston and finalizing the early portion of additions to his first Delaware recruiting class.
Local talent make up the early signees in the 2022 UD class; that includes cornerback Shayub Brinkley, who prepped at Southern California powerhouse Mater Dei, but is a Philadelphia native.
Brinkley is one of two Pennsylvania products to land with the Blue Hens, joining Western Wayne High School standout tight end Thomas Chernasky. Delaware signed three players from New Jersey, a trio that includes Bergen Catholic defensive line star Dominick Brogna.
Let's go to the📽️@thedom_brogna is going to be a common sight in the opponents' backfield!#BleedBlue302 | #BlueHens | #NationalSigningDay pic.twitter.com/JbviMLZuWR

— Delaware Football (@DelawareFB) December 15, 2021
In-state prospect Elijah Sessoms comes to UD from Dover High.
Elon
Total Signees: 13
The "early" in early signing day isn't just in reference to the date on the calendar. As Elon coach Tony Trisciani demonstrates, recruiting is an around-the-clock job that requires putting in some early hours.
Here we go! @TonyTrisciani is ready to kick off National Signing Day. #FuelTheFire22 #AED #PhoenixRising pic.twitter.com/BIzCXuDyFB

— Elon Football (@ElonFootball) December 15, 2021
Elon was among the most active programs on early signing day with 13 prospects added. The Phoenix staff went especially heavy—literally and figuratively—on the offensive line.
Six-foot-six, 310-pound Carlos Moore of national powerhouse St. John's College High School in the D.C. area joins 6-foot-3, 285-pound Indian Land (Fort Mill, South Carolina) lineman Ahmarion McLeod and 6-foot-5, 285-pound Timothy Hogan of Leesville Road High in Durham.
The big fellas up front can expect to be blocking for quarterback Will Lankford in the future, a signee out of Pelham, Alabama. Elon also went again to Georgia for a running back after striking gold there with Jaylan Thomas.
This time, the Phoenix added Marcus McFarlane of North Gwinnett.
Maine
Total Signees: 2
New Black Bears head coach Jordan Stevens welcomed aboard two recruits in the early signing period, one of whom continues Maine's impressive history of pinpointing standout international talent.
Wide receiver Rohan Jones comes to Orono from Montreal. The 6-foot-2, 215-pound Jones could be an instant impact playmaker in a receiving corps losing some elite talent.
Maine also welcomes quarterback Ayden Pereira out of Auburn, New Hampshire.
Take a look at some of the highlights from our newest addition to the QB room 👀!#BlackBearNation | #CAAFB pic.twitter.com/dfejBbbex6

— Maine Football (@BlackBearsFB) December 17, 2021
New Hampshire
Total Signees: 7
The transition from legendary coach Sean McDonnell to former star Wildcats quarterback Rick Santos took an important step with Santos' first recruiting class adding seven prospects.
New Hampshire welcomes a trio of New England prospects, each a big addition on the line and at tight end: lineman Nathan Roach from Manchester, lineman Jack Wilson from Westford, Mass., and tight end Peyton Strickland from Goffstown.
The first signing class of the Santos era also dipped into the South with signees from Florida and Georgia. Quarterback Barry Kleinpeter of Savannah (Ga.) Country Day received FBS interest from Akron and Conference USA-bound Jacksonville State per 247Sports.com.
"I know it's a long way from home, but I ended up loving it," Kleinpeter told ESPN Coastal. "I got a chance to visit and tour the campus. I really liked it a lot and felt like it was home."
New Hampshire also picked up 6-foot-7, 315-pound lineman Beau Riley from Sebring, Fla.
Rhode Island
Total Signees: 7
Jim Fleming and his staff have signed some of the more geographically diverse classes among CAA programs in recent years. The Rams again left their regional footprint in the 2022 early-signing period with Florida-based offensive lineman Tre Alexander, but otherwise concentrated aggressively on the Northeast.
Rhode Island welcomes in the home state's Gatorade Player of the Year, wide receiver Marquis Buchanan. The rangy Buchanan could be the Rams' next big-time pass-catching playmaker in the vein of Ivory Frimpong or Aaron Parker.
Three prospects from New Jersey signed with URI, including linebacker A.J. Pena. The Milford Academy signee will join the squad in the spring and have a leg up on factoring into the defense as URI looks to build on its seven-win finish to 2021.
Richmond
Total Signees: 6
Local recruiting came through strong for Richmond in the early-signing period. Russ Huesman and his staff landed National Letters of Intent from three All-Region selections in the state of Virginia: defensive back Jordan Allen; defensive lineman Camden Byrd; and linebacker Zach Chambers.
"It's where our numbers are, where our needs are," Huesman said in his signing day press conference on the defensive signings. "Byrd…the dude can run. Track kid, he's 6-foot-3, 225 [pounds]. He can go and he plays with a great motor. We're fortunate we got him.
"We actually had Zach in camp," Huesman continued. "He'd been on campus quite a bit, got to know him and his family…He fits our mold for an inside linebacker."
Veteran departures from the defense, including standout linebacker Tyler Dressler, and starring linemen Kobie Turner and Darius Reynolds, present immediate opportunities for the incoming Spiders.
Stony Brook
Total Signees: 12
No recruiting class will log more miles to reach campus than the group coming into Stony Brook for 2022. Chuck Priore and Co. are adding recruits from New York, Tennessee, California, Guam and Australia.
Oceanside (N.Y.) quarterback Charlie McKee headlines the local recruits. He passed for 27 touchdowns per Newsday and rushed for another two scores.
And here he is…after signing his NLI. Congrats @CharlieMckee07 https://t.co/E77e92HwNy pic.twitter.com/m5rURudBNZ

— News12SportsRush (@SportsRushN12) December 16, 2021
From the other side of the continent, linebacker Anthony Ferrelli keyed an excellent defense at Carlsbad High School in the CIF San Diego Section. The Seawolves also picked up another linebacker from California (by way of Guam), College of San Mateo transfer De'Aundre Cruz.
Stony Brook maintains the pipeline to Australian special-teams factory ProKick Australia, adding punter Clayton Taylor.
Towson
Total Signees: 6
A former opponent headlines Towson's group of six newcomers. Maryland native and Stony Brook grad transfer Makye Smith made 42 tackles including 10 for loss during the 2021 season. He'll give the Tigers an immediate All-CAA caliber presence on the line in 2022.
Towson also welcomes in fellow Maryland natives Rishon Holmes, a quarterback from Milford Mill Academy; and cornerback RJ Chapman of Rock Creek Christian Academy in Clinton.
Joden Nelson, an offensive line recruit out of Pennsylvania, was a top 50 prospect in the state. He could be an instant impact player for the Tigers up front.
Villanova
Total Signees: 9
Recruiting never sleeps, and Wildcats coach Mark Ferrante said during their FCS Playoffs run, he continued to hit the trail. Ferrante's travels took him to Texas, where Villanova dove in to sign wide receiver Nathaniel Hill.
The 6-foot-3 Hill earned All-State recognition while helping Parish Episcopal in Dallas to a Texas championship.
#AGTG COMMITED💙🤍 @coachnovakov @CoachCoreyH @coachferranteVU @devine_sean @CoachChrisBoden @CoachPagan @NovaAthletics @ParishSports pic.twitter.com/tKaZKh0QsF

— Nathaniel Hill (@Nathanielhil1) October 10, 2021
Eli Smith also comes to the Main Line out of Texas, where the running back earned All-State honors at Second Baptist High School in Houston.
Villanova also welcomes local prospect Tanner Maddocks, a quarterback from Fleetwood High and the Berks County Player of the Year.
William & Mary
Total Signees: 5
Tribe coach Mike London touted the local success William & Mary enjoyed with its early-signing crop. And indeed, London's team welcomes linebacker Desmond Cook, wide receiver Carson Jenkins and tight end Sean McElwain all signing from Virginia.
A look at @SeanMcElwain1 📽️⤵️#GoTribe | #NSD22 pic.twitter.com/kNBq9d9pwa

— William & Mary Tribe Football (@WMTribeFootball) December 16, 2021
The Tribe also bring in Pennsylvania offensive line Greg Klingensmith and Maryland linebacker Stewart Harrington III.