2019 CAA Football Media Day
Elon's Jaylan Thomas Lights Up A Room--And Opposing Defenses
Elon's Jaylan Thomas Lights Up A Room--And Opposing Defenses
Elon running back Jaylan Thomas is a multidimensional nightmare for opposing defenses and he's evolving into an every-down player.
Jul 24, 2019
by Kyle Kensing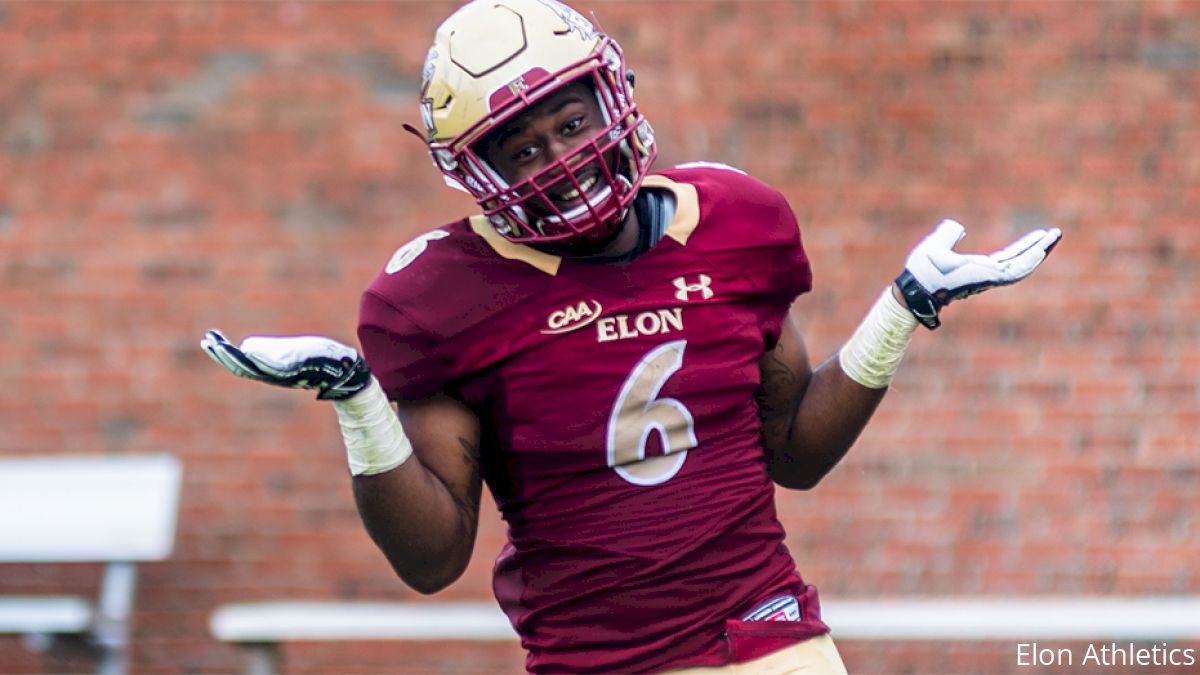 Diversity defines Elon running back Jaylan Thomas, in a variety of ways.
"Certain backs have certain skill sets, but with Jaylan, you've got to be prepared to defend it all and the whole field," Phoenix head coach Tony Trisciani said. "He has a very diverse skill set."
Thomas debuted last season rushing for 761 yards on just 115 carries, a 6.6-per carry clip. He caught seven passes for another 71 yards, and scored five total touchdowns. Trisciani said in 2019, the Phoenix coaching staff expects more, commensurate with Thomas evolving into a true every-down back.
"He's big enough to break tackles. He's fast enough to hit a home run. He's big enough to block on third down," Trisciani rattled off. "When you gameplan for a kid like Jaylan Thomas, you've got to be prepared for everything."
The multifaceted nature of Thomas' game translates to his demeanor. Based on his punishing running style and the positive aura those who have been around him described, the phrase that might best summarize Thomas on gameday is killing 'em with kindness.
The 2018 Colonial Athletic Association Offensive Freshman of the Year arrives to the Phoenix football facilities each day with a smile, according to Trisciani. Once he dons his helmet and pads, however, Thomas isn't exactly Mr. Nice Guy.
Not to opposing defenses, anyway. He carries the ball with tenacity and breaks tackle with a combination of elusive, speed and strength.
Our 2019 preseason All-@CAAFootball honorees, congrats to Jaylan Thomas and Matt Foster!

ℹ️ | https://t.co/xOT5iPh98E#AED pic.twitter.com/oZ92hJvi63

— Elon Football (@ElonFootball) July 23, 2019
No doubt about it, when Thomas is on the field, he's a bad man. But it's positive energy that fuels this cornerstone of Elon's 2019 CAA ambitions.
The attitude Trisciani describes as a defining quality of the star running back is nothing new in his college career. Sean Calhoun, Thomas' head coach at Carrollton High School in Georgia, described a similar radiance that powered the Trojans during the back's prep days.
"He's a great kid," Calhoun said. "He's 100 times better human being than he is a football player. … He's different. That's what Jaylan had. He loved the weight room, loved watching film, and what a great personality."
When his high school coach says Thomas is a better person than player, that's hardly a knock on Jaylan Thomas The Running Back. Calhoun said that upon Thomas' commitment, he told Phoenix coaches they were "getting the steal of the [2018 recruiting] class."
And it hasn't taken long to translate to the college game.
"What Jaylan ended up doing was not a surprise in the least," Calhoun said. "He was such a versatile player for us. We could have slid him out to wide receiver and not missed a beat."
Of course, Thomas worked out just fine at running back. His senior season at Carrollton, he rushed for 1,626 yards and averaged a staggering 10.4 per carry. Thomas racked up 19 touchdowns on the ground, with a 20th via reception.
The wave from Carrollton carried Thomas into his debut season at Elon, and the unknown any freshman transitioning from high school to college faces. Not all handle it as adeptly as Thomas, but in retrospect, he said his first year in the Colonial adjusted his preparation style ahead of his second.
Attitude | Effort | Discipline

It's who we are.#AED pic.twitter.com/zJFpkPV8Lg

— Elon Football (@ElonFootball) March 8, 2019
"Last year, coming in as a freshman having a big high school career, I wasn't trying to work on my weaknesses," Thomas said. "Now, I can go back and watch the film of the things that I did [in 2018] and work that to become faster, more explosive."
Thomas adding more dimensions to his repertoire makes him just that much more fearsome come autumn—and those around the Colonial take notice. He was tabbed preseason All-CAA at media day in Baltimore.
The many qualities Thomas brings to Elon football exemplify the mantra Trisciani said the Phoenix pursue: "AED—attitude, effort, discipline."
That, in turn, has made for a smooth transition with the former defensive coordinator Trisciani replacing Curt Cignetti as head coach. Thomas said the new-look staff has provided an initially seamless fit, in particular with Tony Lucas coaching the Phoenix running backs.
And Elon itself is a fit with Thomas that speaks to the multidimensional nature of his presence.
"Elon was the last school to communicate with me. When I got here, I fell in love with the place—and not just athletically," he said. "Academically, too. Elon will get me ready for 50 years down the line, not just playing football. Me coming to Elon, I know I'll be set for the rest of my life and able to provide for my family."
Goal-oriented and infectiously positive, Thomas will continue to attack defenses with the same balanced approach he views his college experience. And he'll do it with a smile contrary to the aggressive style he carries the ball—like when in his freshman season, he capped a touchdown rush against Richmond with a GQ grin and shrug.
"The shrug will be back," Thomas laughed. "But I can tell, there will be more [celebrations]."