2023 CAA Football
JMU-SELA Playoffs Dubbed "The Cole Bowl," and More
JMU-SELA Playoffs Dubbed "The Cole Bowl," and More
Cole Johnson has put together a stellar season, leading the Dukes to a share of the CAA championship, a 10-1 record and the home-field advantage.
Dec 1, 2021
by Kyle Kensing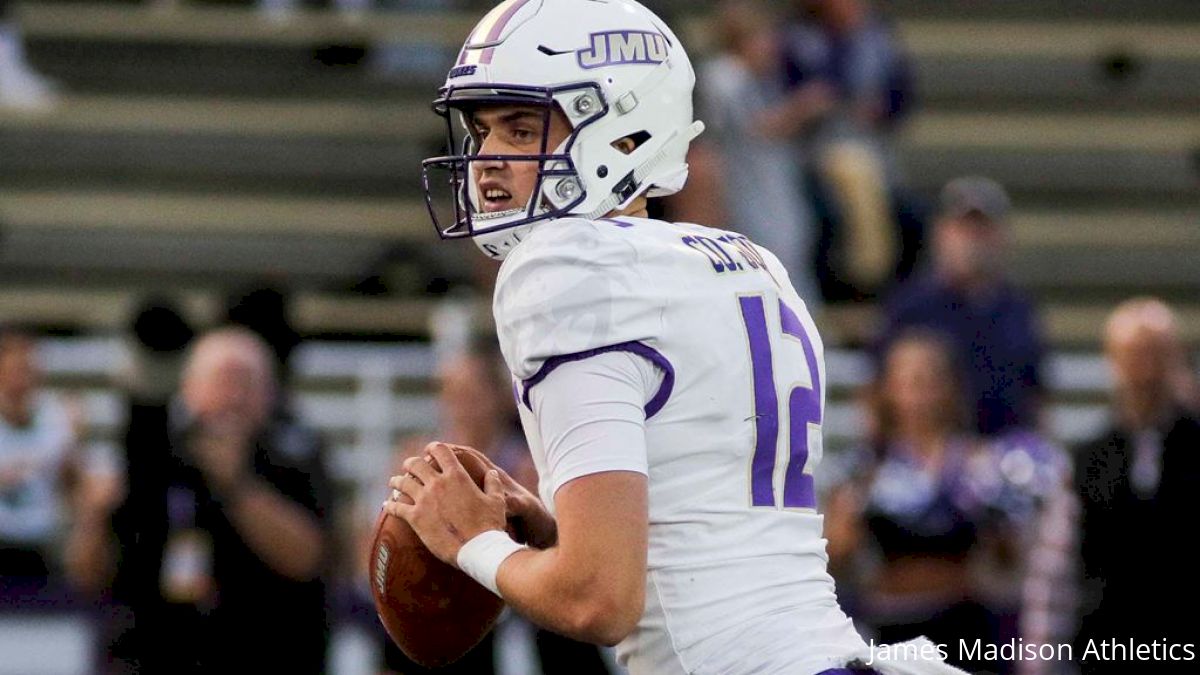 Some of the more creative minds on social media tagged Southeastern Louisiana quarterback Cole Kelley with a nickname for the FCS Playoffs matchup between his Lions and No. 3 seed James Madison.
"They're calling this game 'The Cole Bowl,'" Kelley said, adding he's never met James Madison quarterback Cole Johnson, "but I've heard a lot of good things about him."
Johnson has put together a stellar season, leading the Dukes to a share of the Colonial Athletic Association championship, a 10-1 record and the home-field advantage up to the semifinals of the postseason.
Johnson may well be the primary competition between Kelley and a repeat Walter Payton Award. Kelley won the top individual honor in FCS during the spring season when he passed for 2,662 yards and 18 touchdowns against just three interceptions with another five scores on the ground—all in just seven games.
He's arguably been better this season: 4,727 passing yards, 42 touchdowns and a completion percentage of almost 74 with 16 rushing touchdowns and another 480 yards on the ground.
"He's a really good player," James Madison coach Curt Cignetti said. "Big guy, 6-[foot]-7, 260 [pounds]. Reminds me of Drew Bledsoe, who we went against a long time ago at one of the places I was at."
In 1992, Bledsoe finished in the top 10 of Heisman Trophy voting. Along the way, he went 16-of-21 for 214 yards playing less than three quarters of a 51-10 Washington State win over a Temple team on which Cignetti coached quarterbacks.
So, for Cignetti to compare Kelley to the Pac-12 Conference legend and 14-year NFL veteran is especially high praise. And Kelley can align himself with another legendary college quarterback should he repeat as Walter Payton Award winner: Appalachian State's Armanti Edwards.
Edwards became the first repeat recipient of the trophy in 2008 and 2009. But it's a different kind of hardware Edwards collected during his time in Boone that drives Kelley, and that's the national championship.
"It's a really special thing," Kelley said of the Walter Payton Award. "I'm not going to ignore that, but I really want to win. If I could trade winning even this game [against James Madison] alone, I'd win this game over winning the Walter Payton. But I'd definitely trade a national championship for the Walter Payton."
Winning both has been exceedingly rare. While Edwards claimed multiple Walter Payton Awards and national championships, he never did so in the same season.
Before former North Dakota State star Trey Lance in 2019, Georgia Southern's Adrian Peterson in 1999 was the last to win both in the same season.
The best team does not necessarily have the best single game involved in a game. Thus—and tempting as it might be to do so—focus on the James Madison-Southeastern Louisiana matchup cannot rest exclusively on the Coles.
Starting with each quarterback's individual success reveals two of the deepest rotations of pass-catchers in the nation. The James Madison duo of Antwane Wells Jr. and Kris Thornton has been remarkable all season, but the addition of running back Solomon Vanhorse has brought a dimension the Dukes lacked in the first half of the season.
Reggie Brown and Devin Ravenel have made big catches of late and Scott Bracey is coming off his best statistical performance of 2021.
James Madison's turn to an aerial offense after coming into this season boasting the deepest running-back rotation in the FCS was somewhat abrupt, but effective.
"It's evolved a lot, out of necessity," Cignetti said. "Every year as a coach, you've got to identify your strengths week-to-week because it can change based on injury."
True enough, the offense Johnson quarterbacks in this postseason functions dramatically differently than the Ben DiNucci-led Dukes of the 2019 campaign. But this version has the firepower to end its run in the same destination of Frisco.
Not many teams in this playoff field have the pure depth in the passing game to match James Madison', but Southeastern Louisiana is one. The Lions come into Bridgeforth Stadium with a rotation Cignetti described as boasting "players across the board."
Austin Mitchell, Gage Larvadain, Tim Wilson Jr. and Brennon Dingle have all made plays at wide receiver. Tight end Nolan Givan is a rock. It's a group Kelley described as having consistency that belies their youth.
Between Kelley's playmaking, the depth of pass-catchers, a big and veteran offensive line that includes standout Rendon Miles-Character and coordinator Greg Stevens' savvy, Southeastern Louisiana has the best offense the Dukes defense will have seen in 2021.
And that's a two-way street.
"They're probably the best defense we'll play this year," Kelley said. "But we have a really good offense, so it should be a fun matchup."