2022 CAA Football
Cole Johnson Closes Walter Payton Award Case
Cole Johnson Closes Walter Payton Award Case
Johnson's statistics are impressive enough in a vacuum, but the added context of his progress as the season continued makes those numbers exceptional.
Nov 23, 2021
by Kyle Kensing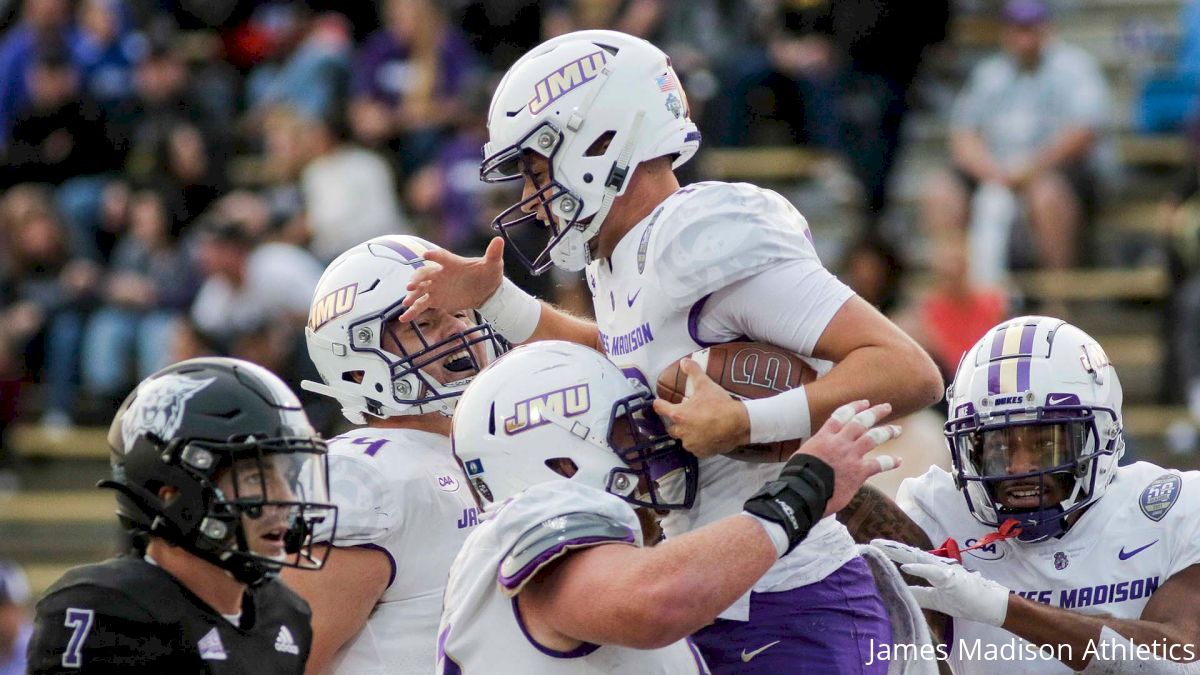 Curt Cignetti doesn't know a whole lot about the Walter Payton Award.
"I assume [it's] given to the No. 1 athlete in FCS, right?" Cignetti replied when asked about Cole Johnson's case for the honor.
Partial credit: The Walter Payton Award goes to the top offensive player in FCS. Cignetti may not have known its title, but he does know who he views as the leading offensive player in the nation.
"Show me a more productive player in the country than Cole Johnson," Cignetti said following James Madison's 56-10 rout of Towson to cap a 10-1 regular season. "There's no way."
Johnson wrapped up the regular season 233-of-342 passing for 2,953 yards with 32 touchdowns and just two interceptions. He rushed for another 184 yards and five scores. =
Johnson's statistics are impressive enough in a vacuum, but the added context of his progress as the season continued makes those numbers exceptional.
Three of his four 300-plus-yard passing performances came in the Dukes' final four games. He set the program record for six touchdown tosses in one game on Oct. 30, and matched it three weeks later.
TOUCHDOWN!

Johnson ties his own single-game record of 6 TD passes, finding Vanhorse in the corner of the end zone!#GoDukes pic.twitter.com/ycC6x50uJ1

— JMU Football (@JMUFootball) November 20, 2021
Seventeen of Johnson's 32 touchdown passes and three of his five scoring runs came in the final month. He recorded a big, fat zero in the interception column over that same stretch.
What's more, Johnson and the James Madison pass-catchers have upped their performance when the Dukes offense most needed it. The deep, talented running-back room lost both Percy Agyei-Obese and Kaelon Black midway through the season.
Losing such a prominent part of the offense could have limited James Madison's passing output. Instead, the Dukes became the Colonial Athletic Association's most potent passing offense and No. 17 in the nation at 276.5 yards per game.
In terms of efficiency, Johnson ranks among the best in FCS for the duration of the season—third overall at 170.3, behind only spring Payton Award winner Cole Kelley and Eastern Washington's Eric Barriere. Johnson has been untouchable in efficiency since Halloween weekend with three games exceeding 200.
"It's a whole collective unit [effort] with coach [Mike] Shanahan as the offensive coordinator and our quarterback coach, coach [Tino] Sunseri, just kinda understanding what works for us and how to exploit defenses in certain ways," Johnson said of the late-season surge from the Dukes passing game. "We've just been hitting our stride just because we're getting so comfortable and we kinda know what's going to happen when we see certain coverages."
Being a quick study helps a quarterback continuously improve the way Johnson has—and he's studious both in and away from the game.
Getting the job done on and off the field!

Congrats to Cole Johnson for being named to the CoSIDA Academic All-District Football Team.

📰 https://t.co/Qtiq9ogHLg#GoDukes pic.twitter.com/qESlgOzkeR

— JMU Football (@JMUFootball) November 18, 2021
It also helps to have elite wide receivers. The Walter Payton Award has been a quarterback-dominated honor for the better part of two decades, but the position can't thrive without great pass-catchers.
James Madison has some of the nation's best in Antwane Wells Jr., and Kris Thornton, who have not coincidentally played their best ball commensurate with Johnson playing at his peak.
"The coaches have a lot of faith in us," said Wells, who caught three of Johnson's six touchdown passes against Towson. "We feel like we can't be guarded, in this conference, in this league...and we're going to prove that every week."
The Dukes passing attack will now get to prove its prowess in the Playoffs. James Madison draws the winner of Florida A&M and Southeastern Louisiana, the latter of which features the spring-season Walter Payton Award recipient, Cole Kelley.
Kelley's in the mix to repeat, but Johnson has built a strong case deserving of serious consideration all season—but especially in the last month.
Being named the best offensive player in the FCS would make for a fitting chapter in the Cinderella story that has been Johnson's ascent during his time at JMU. But if it's up to Johnson, it wouldn't be the final chapter.
"[Winning the Payton Award] would mean a lot to me, but really, I'm only focused on a national championship," Johnson said. "That's the only thing I care about right now. I had one in 2016, and it's the best feeling I've ever had in my life. So, I'm looking forward to getting this playoff run started and getting back to Frisco."