2021 Valdosta State vs West Florida
QBs Reed & Durham Headline Heavyweight GSC Fight
QBs Reed & Durham Headline Heavyweight GSC Fight
Elite quarterbacks Austin Reed and Ivory Durham go head-to-head in the must-watch Gulf South matchup of the weekend.
Nov 12, 2021
by Kyle Kensing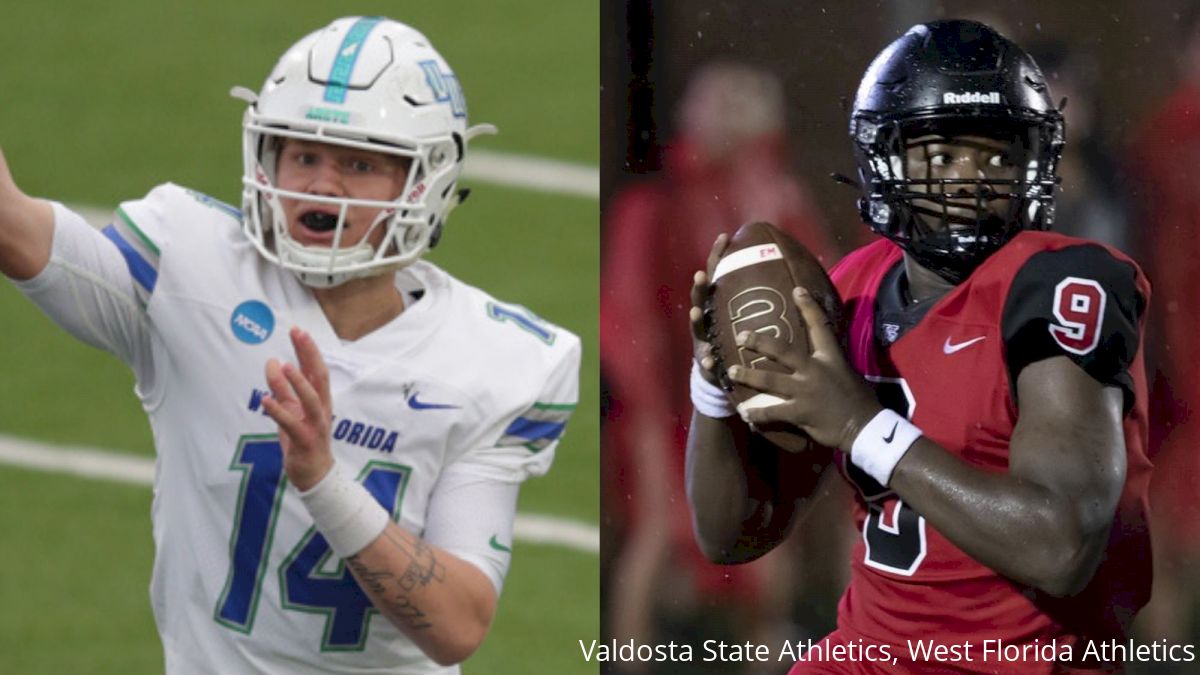 In the blue corner: From St. Augustine, Florida, he stands 6-foot-2, 220 pounds. He's third in the nation with 325.6 passing yards per game, fourth in passing touchdowns despite playing just nine games with 33, and holds the NCAA Division II Championship Game record for passing yards.
This...is West Florida quarterback Austin Reed.
In the red corner: From Jacksonville, Florida, he stands 5-foot-10, 200 pounds. He's the dazzling, dual-threat engine that drives a 42-plus-point per game offense and the signal caller of the undefeated, top-ranked team in Super Region Two.
This...is Valdosta State quarterback Ivory Durham.
#GSCfb Offensive Player of the Week:
Ivory Durham, Valdosta State

🔗 » https://t.co/WCHUkKiUYe pic.twitter.com/Q9jaIgXlRm

— The GSC (@GulfSouth) November 1, 2021
Pensacola channels its inner Las Vegas or Madison Square Garden on Saturday, as the final weekend of the Div. II regular season pits Valdosta State against West Florida in a true heavyweight showdown.
The last two national champions meet with supremacy in what is fast becoming an intriguing rivalry. More importantly, the Gulf South Conference championship is on the line at UWF on Saturday, and two of the nation's premier quarterbacks take center stage for this title bout.
Reed showed no ill effects from the layoff between his record-setting outing in the 2019 NCAA Championship, immediately dropping bombs all over the field and leading the Argos to an 8-1 record.
He's near or at the top of most every passing statistic in college football, including touchdowns despite playing one game fewer than every quarterback near or ahead of him.
Getting back to the National Championship Game isn't a goal Reed has shied away in an outstanding 2021. Talking to GSC Weekly last month, the Argos quarterback said: "We don't want to be the national champion after five weeks. We don't want to be the regular-season championship after 10 games. We want to be in that national championship on Dec. 18 this year, and that's what matters to us."
In 2019, West Florida reached a crescendo at season's end, which Reed cited as the blueprint to getting back to the title game; week-to-week improvement.
Reed is playing his best ball individually to that end, coming off a pair of games against both Mississippi College and West Alabama in which he passed for four touchdowns.
Taking that form into the postseason is no guarantee. UWF is ranked fourth in Super Region Two coming into the showdown with Valdosta State, and there's a logjam of two-loss teams behind the Argos—including West Georgia, which handed West Florida its only defeat.
Reed and the Argos need a strong showing against the Blazers, which have boasted the nation's strongest defense throughout 2021. Valdosta State is allowing just 113 passing yards per game, and has as many picks (eight) as touchdowns it's allowed through the air.
Blazers quarterback Durham faces a similar proposition. Durham has been electrifying in his role guiding a multifaceted Valdosta State offense, but the West Florida defense may be the most talented Durham and the Blazers have seen this season.
The Argos rank No. 16 in the nation, averaging 3.3 sacks per game. They come from a variety of sources, too, with De'Marco Artis, Stephon Williams, Shea Campbell, and Trent Archie all boasting more than two.
Durham's mobility and threat out of RPO looks are potential neutralizers against an aggressive rush. Seth McGill and Jamar Thompkins pepper defenses with jabs, while Durham's better-than-nine yards per carry explosion delivers the haymaker. His 27-yard touchdown run against West Georgia set the tone for a tight Blazers win.
But when opponents load the box, Durham has a big arm and will attack deep.
"When we come out before the game, [our goal] is to score every time we hit the field," Durham told GSC Weekly.
It's two of the best teams in the nation, with two of the best quarterbacks in the game. Expect a heavyweight fight in Pensacola.