2021 James Madison vs William & Mary
In-State Rivals JMU, William & Mary Meet One More Time
In-State Rivals JMU, William & Mary Meet One More Time
With the Dukes transitioning to the FBS and Sun Belt Conference next season, the future of James Madison's longest standing continuous rivalry is uncertain.
Nov 10, 2021
by Kyle Kensing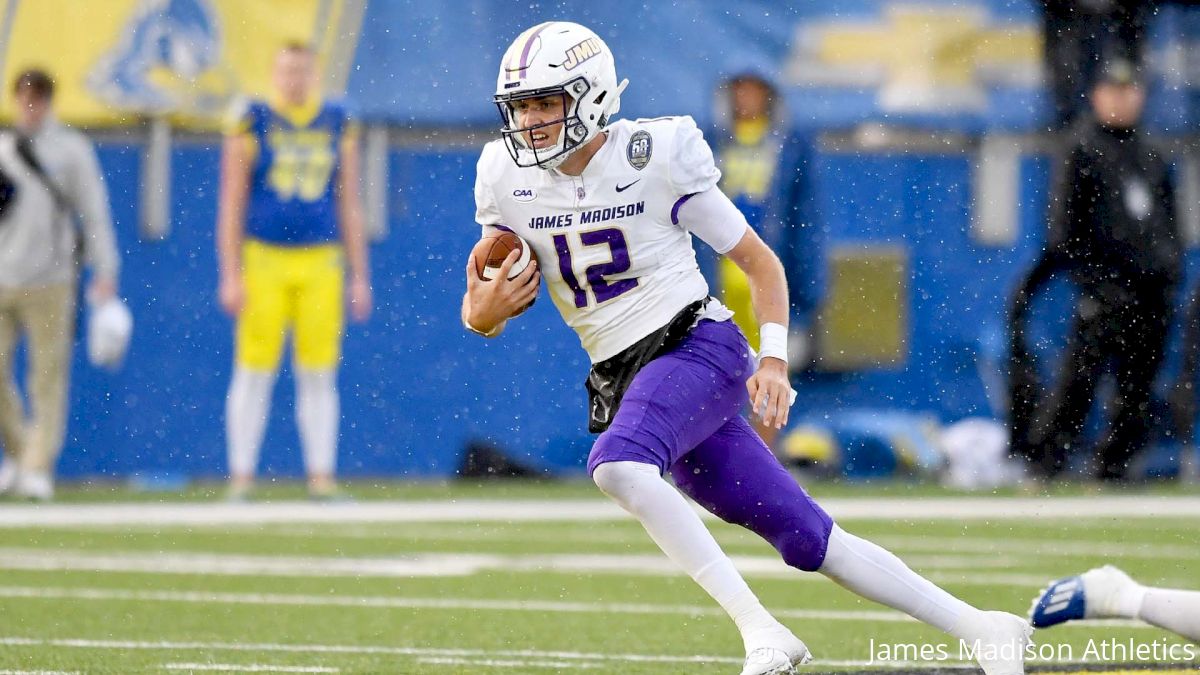 When William & Mary first hosted James Madison in 1978, JMU football was in just its seventh season of existence, and the school itself had only just been renamed from Madison College a year prior.
William & Mary football, meanwhile, was between legendary coaches: Lou Holtz left Williamsburg for NC State in 1972, and the program was still two years from hiring Jimmye Laycock.
The late Jim Root—a product of the Miami University Cradle of Coaches that includes his mentors Woody Hayes and Ara Parseghian—manned the Tribe sidelines that October day, 43 years ago.
"It's difficult to play against a Division III team," Root told the Daily Press (Newport News, Va.) after the 32-7 Tribe win. "We knew what we were in for. Madison had a good game plan; they picked away at us and they kept the football away from us."
The win was the first of three straight for William & Mary, and six of the first seven matchups between the in-state counterparts.
James Madison made the move up from Div. III to the FCS forerunner Div. I-AA during that time, and has remained for 41 years since—including the last 14 in the Colonial Athletic Association.
Until next year, anyway.
With the Dukes transitioning to the FBS and Sun Belt Conference next season, the future of James Madison's longest standing continuous rivalry is uncertain.
So might the 43-game series extend beyond 44 games after James Madison moves to FBS?
"As my good friend [Richmond coach] Russ Huesman just said, 'Yeah—if they pay us,'" William & Mary coach Mike London laughed. "That's the name of the game nowadays. Everybody's looking for games, in particular FBS teams for FCS teams to play. It makes regional sense, but at the same time, contracts are made years in advance."
William & Mary has played an FBS program every season starting in 2011; typically Virginia, as was the case this September, but with matchups against NC State, Maryland, West Virginia and Virginia Tech sprinkled in over the past decade. The pandemic scrapped a scheduled trip across the country to Stanford in 2020.
In an ironic twist, James Madison was the only conference member not to play an FBS opponent this season, but the Dukes have typically done so while in the CAA.
Other programs have left the Colonial for the FBS and played non-conference games against former league counterparts. Old Dominion hosted UAlbany in 2017, and UMass is playing consecutive games this season against Rhode Island and Maine.
Saturday at Zable Stadium doesn't necessarily spell the end of James Madison-William & Mary; perhaps more a see ya later.
Run-Game Availability
The talk headed into the 2021 fall season with regard to the James Madison offense focused largely on the remarkable depth in the Dukes' running-back room. Injuries have hit JMU hard at the position, most notably preseason All-American Percy Agyei-Obese and early-season standout Kaelon Black.
In last week's blowout win over non-conference opponent Campbell, both Latrele Palmer and Lorenzo Bryant Jr. came off, and Austin Douglas has missed the last two outings.
Dukes coach Curt Cignetti said Palmer "will be fine," and Bryant "looked better than we expected." Palmer put up 92 yards against Campbell, and Solomon Vanhorse's return to the lineup from a suspension earlier in the season gives JMU a change-of-pace look.
While Cole Johnson airing it out to Antwane Wells Jr. and Kris Thornton has defined the Dukes' offense, particularly in recent, record-setting weeks, James Madison has hardly lost its ability to run the ball. The Dukes average roughly 4.5 yards per carry and 179 per game, good for No. 26 in the nation.
William & Mary comes into Saturday's matchup featuring the kind of multidimensional rushing attack expected of JMU, featuring five ball-carries with at least 34 rushes and four with at least one touchdown on the ground.
Dual-threat quarterback Darius Wilson commands attention from opposing defenses, but that in turn opens things up for Malachi Imoh, the dynamic freshman who just recently returned from injury; and Swiss Army knife Bronson Yoder.
The health of feature back Donavyn Lester will be of utmost importance to the Tribe. London said on Monday Lester would be evaluated as the week progressed.
Special Teams Significance
London cited field position as a key impact on William & Mary's loss last week at Delaware. The Tribe's best starting point was at its own 43-yard line; Delaware started four drives in William & Mary territory and three produced touchdowns.
James Madison comes in with some of the best special teams in the country, including the all-time most productive placekicker in FCS history Ethan Ratke and productive punter Harry O'Kelly.
O'Kelly has pinned opponents inside the 20-yard line 12 times in just 35 punts. Winning the field-position battle can do wonders for an already-stout defense, as last week when Campbell never started more than its own 29.
Pushing opposing offenses back routinely allows the Dukes to attack aggressively, which has translated into the CAA's most dangerous scoring defense.