2021 Elon vs James Madison
Elon-James Madison 2018 And The 2021 Sequel
Elon-James Madison 2018 And The 2021 Sequel
Saturday's visit to Bridgeforth Stadium marks Elon's first since October 2018 when the Phoenix knocked off the then-No. 2-ranked Dukes, 27-24.
Oct 29, 2021
by Kyle Kensing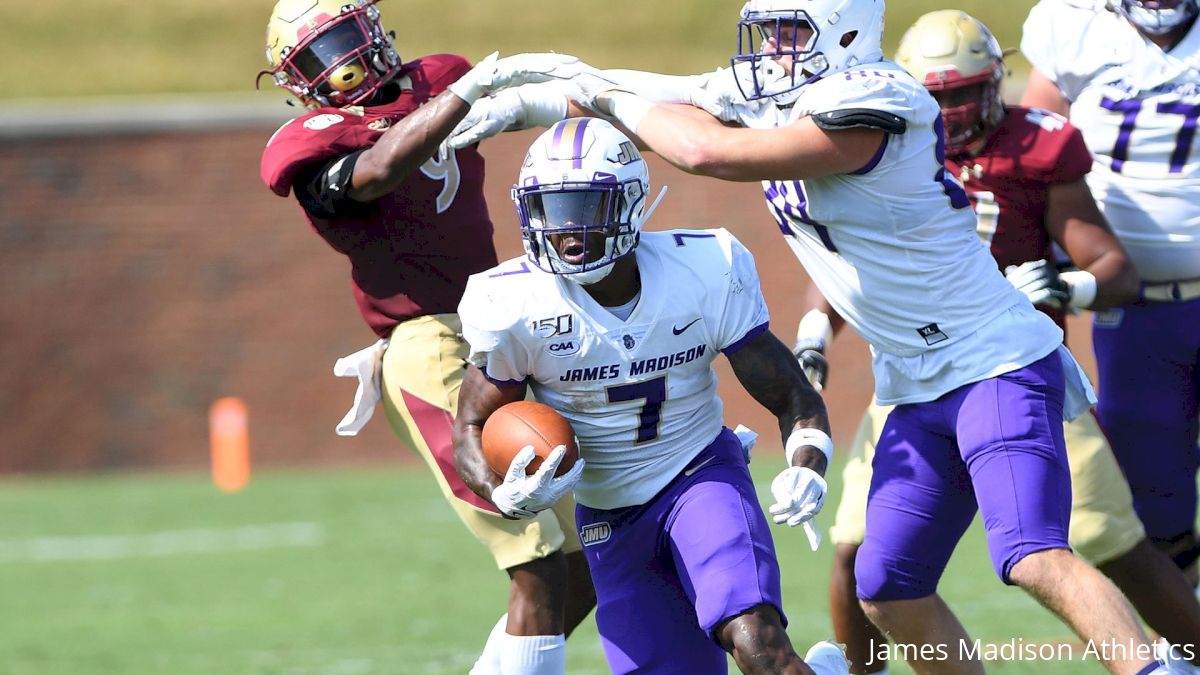 Halloween season often brings to cinemas predictable sequels and retreads. The Colonial Athletic Association gridiron features a sequel on this Halloween eve, but nothing about James Madison and Elon should be deemed predictable.
Saturday's visit to Bridgeforth Stadium marks Elon's first since October 2018 when the Phoenix knocked off the then-No. 2-ranked Dukes, 27-24, and arguably shaped the CAA for the immediate future.
The 2021 sequel bears some distinct similarities. Elon is red-hot, winning its last three to emerge in the conference championship hunt.
The Phoenix are living up to their nickname and restoring their postseason aspirations from the proverbial ashes of a 1-3 start.
"We got our swag back, definitely," Elon wide receiver Jackson Parham said following the Phoenix's 24-10 defeat of New Hampshire on Oct. 23. "With the leaders on our team, I think we're very confident and ready to make a statement."
"I know they're going to come up here all-in," said James Madison coach Curt Cignetti. "We all know what happened last time Elon came up here with [Davis] Cheek at quarterback."
Few know better what happened—or how it happened in 2018—than Cignetti.
The head coach of the Phoenix that season, Cignetti and his staff went into Harrisonburg with an aggressive and innovative game plan that both caught James Madison off guard, and fueled Elon's faith that it could score the upset.
"We went up with a great belief we could be successful, would be successful," he said. "We weren't afraid to try a few onside kicks; started the game with a ricochet squib."
Trickery helped Elon establish the tone, but the Phoenix didn't win with smoke-and-mirrors.
Then-defensive coordinator Tony Trisciani called an excellent game, and Elon limited a James Madison offense that had 73, 51 and 63 points in the three weeks preceding the Phoenix's visit to Bridgeforth to just 12 points through the first three quarters.
"What I remember most was just the attitude of our team and everyone in our locker room," said Trisciani, who was promoted to Elon head coach two months later. "There was nobody on the bus, or in our program or in that locker room that didn't believe we could go out and beat JMU that day."
Elon held James Madison to 2.6 yards per carry and picked off Dukes quarterback Ben DiNucci.
It's a largely new-look defense coming to Harrisonburg this time around, but one that's played at a similarly high level amid the team's current winning streak. The Phoenix have been especially good in the red zone, allowing scores on just 62.5 percent of their opponent's trips inside the 20.
While Elon's defensive playmakers from 2018 are mostly gone, the offense returns familiar faces starting with Cheek.
"He was actually signed by the previous staff, was a midyear transfer," Cignetti said of the quarterback. "Him and Jalen Greene were both in spring ball, competing for the quarterback job. The year started out with those two rotating every two series.
"Second game of the year, second half [against Furman], we just decided to stick with Davis. Brought us from behind, went on to win eight in a row with him," Cignetti continued. "Every game, he was clutch down the stretch."
Cheek quarterbacked Elon to just its second-ever NCAA Playoffs as a freshman in 2017, and captained the playoff resume-building win at JMU in 2018. That clutch play Cignetti mentioned may not have been any more evident than on the game-winning drive.
With Elon trailing 24-20 and 4:16 remaining, Cheek's line of positive plays went as follows:
10-yard completion to Malcolm Summers
Five-yard completion to Avery Jones
11-yard completion to Kortez Weeks (Elon's second-leading receiver thus far in 2021)
Seven-yard completion to De'Sean McNair
Six-yard run for a first down
14-yard completion to McNair
15-yard touchdown completion to Jones
It was about as methodical a game-winning drive as a quarterback could lead and a high point in a career reaching a crescendo in Cheek's final season
The possession sealed the win, and evidently made an impression on James Madison brass—just two months later, Cignetti was introduced as the Dukes head coach after Mike Houston left for East Carolina.
The 27-24 contest three years ago was the first of 17 career wins and counting for Cignetti in Bridgeforth Stadium. It was a signature day for Davis Cheek at quarterback, for Tony Trisciani's defense, and one of only two JMU losses at home in the last five years.
And unlike most sequels released this time of year, the 2021 return of Elon to James Madison promises the potential to be as unpredictable and memorable as the original.