2021 Elon vs Richmond
Elon, Richmond In Pivotal CAA Showdown
Elon, Richmond In Pivotal CAA Showdown
Saturday marks the third meeting between Richmond and Elon in less than seven months, but the upcoming matchup might as well be in another lifetime.
Sep 30, 2021
by Kyle Kensing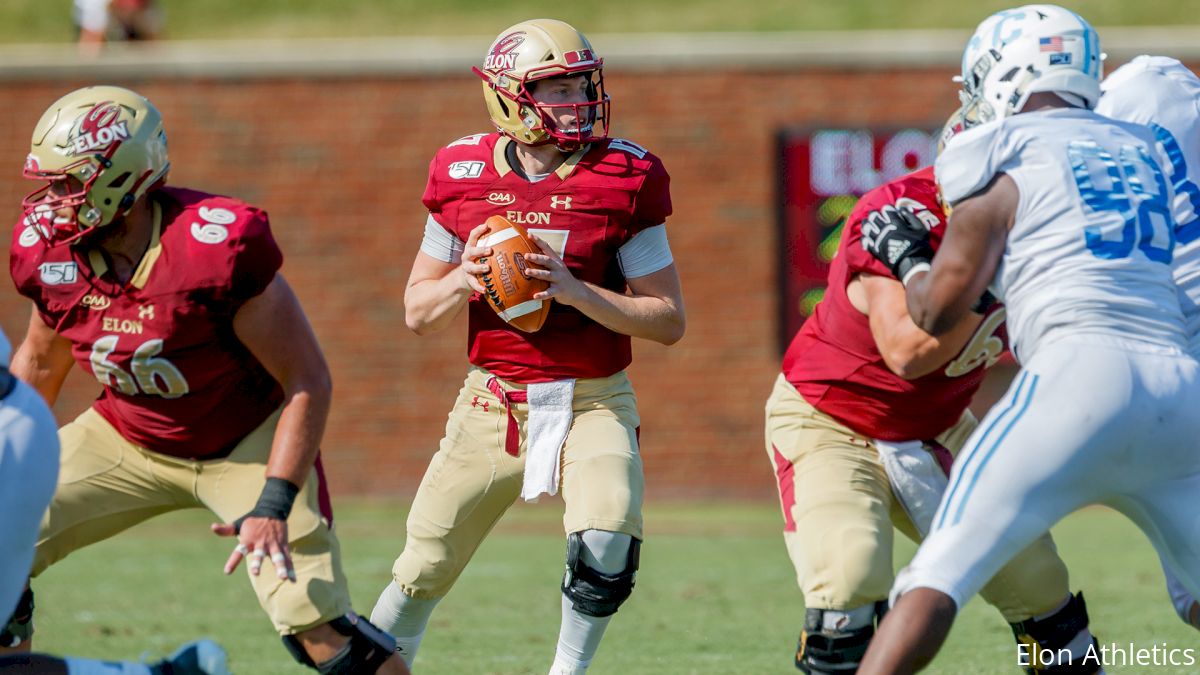 An unfortunate reality of thrilling football games dictates that for a team to win, another has to lose. Elon and Richmond both ended up on the wrong side of this reality in their respective Colonial Athletic Association openers, with the Phoenix's rally from down 21 points to William & Mary falling just short; and Richmond exchanging big leads with Villanova in a wild Week 3 contest.
The two meet at Robins Stadium in Week 5 looking to avoid an 0-2 start in the deep conference race, but will likely have to navigate another nail-biter to get that all-important first CAA win.
Saturday marks the third meeting between the Spiders and Phoenix in less than seven months, but the upcoming matchup might as well be in another lifetime. Richmond won the two contests last March, 38-14 and 31-17, but can expect a much different look from Elon this time around.
"A lot different," Richmond coach Russ Huesman said of the team coming to town in Week 5 compared to the Elon squad from the spring. "They got beat up with the injury bug in the spring, but it gave them an opportunity to play some younger guys, gain some experience."
"Now," Huesman added, "They're getting some of the guys [who] didn't participate in the spring back. Obviously the key one is Davis Cheek."
The quarterback Cheek has been electric through four games, most recently passing for 384 yards and three touchdowns in the 34-31 loss to William & Mary.
Davis Cheek continues to be one of the top quarterbacks in FCS.

* Set a career-high with 384 passing yards Saturday
* Tied for 10th most in a single game in program history
* One of 6 FCS QBs with 4 games of 225+ passing yards this year. #AED pic.twitter.com/lwJ2q5lCE6

— Elon Football (@ElonFootball) September 29, 2021
While Elon welcomed back its QB1 to start this season, Richmond just recently lost its starting quarterback. Joe Mancuso came off early in a 21-10 loss last week at Virginia Tech, sending in Beau English. With Mancuso out for what Huesman said on Monday could be up to four weeks, English will lead the Spiders in their return to CAA play.
After facing the hostile crowd of Virginia Tech's Lane Stadium, Richmond will be welcomed home to much different conditions this week. Robins Stadium figures to be rocking with a capacity crowd in attendance.
We're sold out for @Spiders_FB's Family Weekend showdown vs. Elon! Can't wait to see you all on Saturday 🕷️

📰 : https://t.co/XHMFqIIwPB#OneRichmond pic.twitter.com/hzKmvySqre

— Richmond Athletics (@SpiderAthletics) September 29, 2021
Line It Up
Richmond's defensive line is among the most talented and productive in the country, and few know that better than Elon coach Tony Trisciani.
"Having played Richmond twice last year, we're familiar with their ability up front," Trisciani said. "I've been really impressed with Kobie Turner and Darius Reynolds."
Reynolds has four tackles for loss, two quarterback hurries and 2.5 sacks on the year, while Turner has been active against the ground game with 14 tackles. Add a veteran linebacker corps, keyed by All-America-caliber playmaker Tyler Dressler, and the Spiders are a handful for blockers.
Elon's growing pains in the spring included the integration of a young offensive line, but the Phoenix front has been a strength through the first month of the fall season. Cheek's success in the passing game has been a byproduct of that unit's play, and Cheek has helped the cause in his own right.
"We did a really nice job up front on the offensive line protecting Davis against a team that was leading the CAA in sacks and not giving up a sack," Trisciani said of Elon's blocking against an outstanding William & Mary front seven. "And I thought Davis did a good job of protecting the o-line by knowing where he wanted to go with the ball and getting the ball out on time."
Huesman offered similar praise for Cheek's decision-making,
"When you watch him on film, he knows exactly where he's going with the football," Huesman said. "He probably knows pre-snap, but if not, it's pretty quick post-snap.
He doesn't take sacks. He gets the ball out somehow, some way," Huesman added. "They won't [have] negative yardage plays."
In addition to the offensive line, Trisciani noted running back Jaylan Thomas' blocking contributions. The versatile Thomas will also have a key role in limiting the tenacious Richmond front seven.
Beau Knows
Beau English would have had every reason to struggle last week, coming into a high-pressure situation against an ACC opponent with some 60,000 fans cheering against him. But English's confidence behind center gave Richmond a chance to beat Virginia Tech, and carries the Spiders offense into a pivotal CAA matchup.
"Saturday was definitely a good thing, both for me and the offense as a whole, going against a quality opponent like that," English said. "Getting all the first-team reps this week in practice has also been big for me."
English went 15-of-23 for 77 yards against Virginia Tech and chipped in 22 yards running on what was an encouraging day for the Spiders rushing attack.
With a week as the clear QB1 and associated first-string reps to his credit, don't be surprised to see English take more control of the playbook this week.
"As far as the offense, I've been here a number of years and I feel I have a pretty good grasp on what we're doing. [Offensive coordinator Jeff] Durden and I are always on the same page," he said. "The amount of reps I'm getting just helps with the execution and how smooth things run."
Perhaps the key stat from English's performance in Blacksburg: zero interceptions thrown. Turnovers could play a central part in Saturday's CAA matchup.
Give And Take
Plenty of new photos have been added to Elon's Get The Ball Wall in 2021. The Phoenix come into Robins Stadium ranked No. 10 nationally with 10 takeaways.
Shamari Wingard and Cole Coleman each intercepted passes against William & Mary, and Coleman forced a fumble. The defensive back Coleman is thriving through the first month of the 2021 season with 24 tackles, two fumbles forced and a blocked punt.
"That's who he is," Trisciani said of Coleman. "He's going to make plays."
Coleman, Omar Rogers and Tre'Von Jones combine to make for one of the most dangerous takeaway-generating secondaries in the nation. Ball control will be critical for Richmond.
"They're really, really good at attacking the football. They're always trying to strip it, they're attacking the ball as they tackle people," Huesman said of the Elon defense. "It's an emphasis for them, [and] they do a great job with it. For us, we've got to understand that how that ball is carried, how it's held in our hands, when we're going down, it can't get away from our body."