2022 CAA Football
Snacks & Sacks: Richmond D-Line Roommates Eat Up Quarterbacks
Snacks & Sacks: Richmond D-Line Roommates Eat Up Quarterbacks
Kobie Turner and Darius Reynolds have been spoiling Saturday afternoons for quarterbacks in the CAA all spring.
Mar 31, 2021
by Kyle Kensing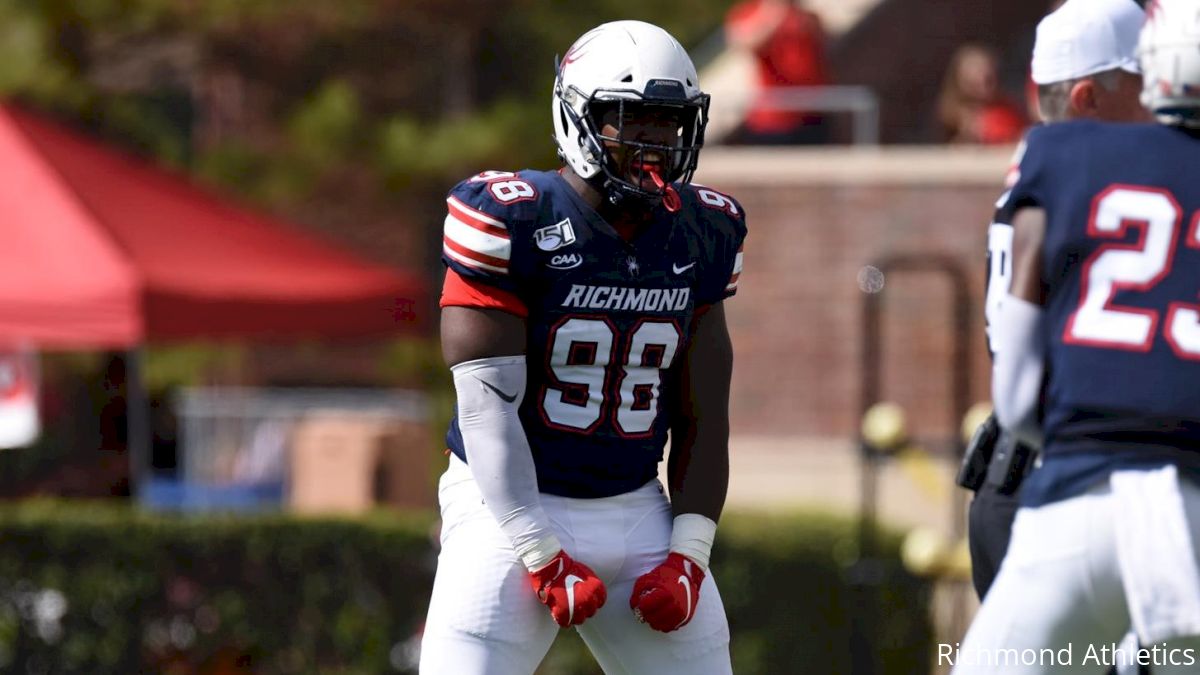 Certain roommate dynamics are almost universal — like when food in common areas goes up for grabs.
"Kobie is a big snack guy," said Richmond defensive end Darius Reynolds of his housemate, Spiders defensive tackle Kobie Turner. "Always has snacks, always bringing food back to the apartment. And sometimes, man, the stuff in the fridge looks really good. And sometimes, I take a bite of it."
Turner confirmed.
"One-hundred percent," he laughed. "We had a little come-to-Jesus talk in the fall."
Like the occasional sneaked bite of snacks, the Richmond linemen might also snatch up sacks from one another on Saturdays.
Watch James Madison vs Richmond LIVE on FloFootball
Turner joked that there have been moments — like in UR's 31-17 defeat of Elon on March 27, when Reynolds racked up three sacks — that he'll hit his teammate and roommate with a, "C'mon, bro! That one was mine!"
Reynolds — who in returning from knee injury has recorded five sacks rank third among all FCS players — summarized their internal competition bluntly.
"There can only be one sack leader."
But any time one gets to the opposing quarterback, it's a win for all the Spiders. They rank among the most prolific pass-rushing defenses in the nation with nine team sacks, an average of three per game.
And while Turner said he has work to do in order to catch Reynolds' sack production, The Conductor has made four tackles for loss to contribute to Richmond's 21 in '21. That's a Herculean number at the defensive tackle position.
Line play is powering the Spiders through a perfect start and contention for a playoff berth this spring. In addition to Reynolds and Turner, tackle (and another housemate) Caleb Brooks is contributing with a team-high three quarterback hurries.
All together, the defensive line is a unit Richmond coach Russ Huesman called "one of the harder working groups we've got."
✔️ Career-high 3️⃣ sacks
✔️ Career-high 3️⃣ ½ TFL
✔️ Holding Elon to 21 yards rushing

Congrats to @dvrius_jermvine for being named @CAAFootball Co-Defensive Player of the Week!#OneRichmond #JoynerFineProperties pic.twitter.com/LKQmyIwOxS

— Richmond Spider Football (@Spiders_FB) March 29, 2021
The grind doesn't stop when the line leaves the field, either. Reynolds said extra film work put in at the apartment has the line "calling out plays before they even happen" on game day.
"Football's a huge part of our lives," Reynolds said. "When we're at the apartment, it feels like we're at practice. When we're on the football field, it feels like we're hanging out."
Most anyone who has had roommates — especially in college — knows that relationships can become contentious just by virtue of overexposure.
Now imagine the time commitment playing football requires, then add a once-in-a-century pandemic that shut much of the world down and forced everyone on the planet to spend more time home, and the prospects for roommate drama would seemingly climb exponentially.
At Richmond's d-line house, however, the group's been able to bond in this unusual time.
Turner said the four roommates, which also includes currently sidelined standout Colby Ritten, get the occasional football break and bond over XBox and PS4 — Modern Warfare is the game of choice at the moment — and Reynolds said they "get the Spotify bumping."
The peculiarities of the pandemic year strengthening bonds off the field shows up in Richmond's outstanding defense on it. And once the spring season transitions into fall, the Spiders should only improve up front.
Ritten will return to the lineup, and the extended offseason afforded underclassmen additional practice opportunities.
"With coach [Justin] Wood as the new defensive coordinator [the long offseason], we have some time to jel in his system," Turner said. And as for some of the freshmen: "They're not just young bucks who've been through camp."
Not that Richmond's looking ahead to fall, though. With a Colonial Athletic Association title and playoff appearance both attainable this spring, the internal competition to lead the way in sacks is one of the catalysts for a greater honor all the Spiders can revel in.
And a championship makes for quite the topic to reminisce on when old college roommates-turned-good friends get together. That's just the kind of relationship the Spiders defensive line is forging.
"It's one of those relationships that's definitely going to outlast the game of football," Turner said.