CAA
CAA Notebook: Tough Matchups Show Teams' Mettle
CAA Notebook: Tough Matchups Show Teams' Mettle
The difference in roster size and other factors between FBS and FCS were underscored in Saturday's bevy of CAA matchups against such opponents.
Sep 28, 2021
by Kyle Kensing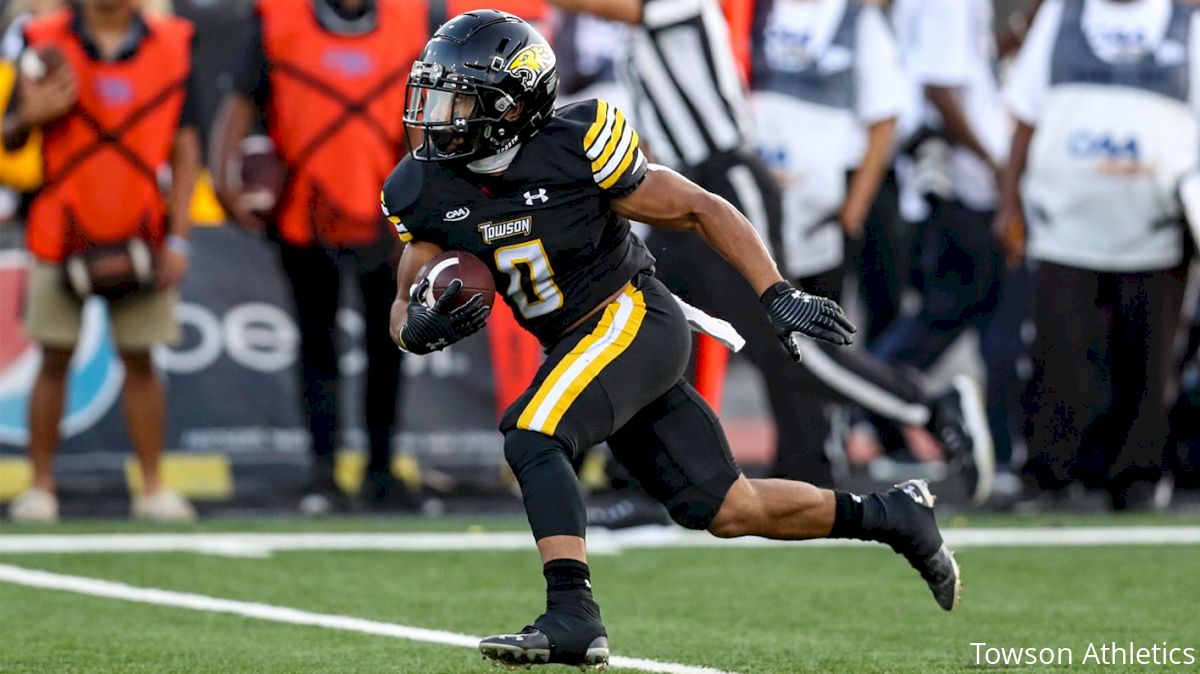 Shadows over the Dignity Health Sports Park turf lengthened as the sun made its descent toward the Pacific horizon, commensurate with a good San Diego State team overshadowing the upset hopes of visiting Towson.
The Tigers opened the last game of arguably the most difficult September in the Football Championship Subdivision—by outplaying the host Aztecs. Towson defenders swarmed into the San Diego State backfield, tight end Jason Epps trucked a would-be tackler on a long gain…
Jason Epps makes the grab and powers his way forward for the first down....#UnitedWeRoar | #NCAAFCS pic.twitter.com/XQQFogiL1P

— Towson Football (@Towson_FB) September 25, 2021
...and Jerry Howard leapfrogged a defender to score the game's first touchdown in spectacular fashion.
TOUCHDOWN TOWSON! Jerry Howard Jr. with the catch, then a JUMP to keep going and get into the end zone! 7-0 Tigers, 5:36 in the 1st.#UnitedWeRoar | #NCAAFCS | #SCTop10 pic.twitter.com/AB9QcUJvOS

— Towson Football (@Towson_FB) September 25, 2021
Even as San Diego State started to cook, Towson responded when Chris Ferguson found Caleb Smith in the end zone for a 21-14 score at halftime with the Tigers getting possession out of the locker room.
An Aztecs team that beat Pac-12 Conference opponents the two weeks prior and finished 28th in Associated Press Top 25 polling this week pulled away in the second half, but Towson left the West Coast with more than just airline miles—which, after their inbound flight had to be diverted to Las Vegas on Friday, ended up being more than anticipated.
They left with valuable experiences to take into the Colonial Athletic Association.
"If we do the things we're supposed to do, the way we're supposed to them, even against great competition like this, we can be very, very successful," Tigers coach Rob Ambrose said, in particular: "After the roughness of last week [playing North Dakota State] to fly all the way out here and to be down a score at halftime."
"They're never going to quit at all, but there's confidence to be gained from when you know you can do that against what you know is going to be a ranked team, a bowl team," Ambrose added.
The Towson coach noted he'd "like to have the third quarter back," when San Diego State seized momentum to put away the win. The difference in roster size and other factors between FBS and FCS were underscored in Saturday's bevy of CAA matchups against such opponents.
Maine went into halftime tied with Northern Illinois, and Villanova gave then-No. 6-ranked Penn State a handful in the first quarter before ultimately losing. Both Black Bears coach Nick Charlton and Wildcats coach Mark Ferrante noted areas for improvement, but each came away with building blocks for the remaining league slate.
Such games can show a team much about its identity.
On the other side of the country, wrapping up just before Towson and San Diego State kicked off, Richmond gave Virginia Tech all it could handle in the infamously inhospitable Lane Stadium.
"It's an electric environment," Spiders linebacker Tyler Dressler said.
From the ballyhooed entrance with roughly 66,000 bouncing to Metallica's "Enter Sandman," it's easy to see how a game can snowball on visitors if the Hokies start strong—and Virginia Tech did just that against Richmond when Braxton Burmeister found Tré Turner for a touchdown 110 seconds into the game.
The rest of the way, however, the Spiders defense locked up the Hokies. Virginia Tech netted only 106 yards, Burmeister finished a modest 17-of-27 passing and Aaron Banks intercepted the quarterback.
"We didn't come into this game thinking 'Let's just survive, let's get through it,'" Dressler said. "We came in expecting to win."
The defense and Beau English's steady play at quarterback, stepping in for Joe Mancuso who sustained a broken finger early in the first quarter, gave Richmond that opportunity.
The offensive line opened up holes for Aaron Dykes and Savon Smith to average almost five yards per carry, the veteran front seven played as well against ACC competition as it has against FCS opponents, and coach Russ Huesman shouted out the opportunities a young secondary capitalized on.
"Aamir Hall, I thought played really, really hard," Huesman said. "They tried to pick on him some and didn't get him a whole lot. And he's just a freshman."
Dressler, one of the veteran leaders of the defense, echoed the sentiment.
"They came out and fought every single rep and we won some battles today," he said. "Even though we lost, I'm extremely proud."
And both the super-senior Dressler and the freshman Hall were recognized for their efforts.
✌️🕷 earn @CAAFootball Weekly honors! @TDressler5 has been named CAA Defensive Player of the Week after his 1️⃣2️⃣ tackles and 1️⃣ sack. @ajtheshow has been named CAA Rookie of the Week after his 8️⃣ tackles and 3️⃣ pass breakups!@SpiderAthletics #OneRichmond x #CAAFB pic.twitter.com/qL9sI0nmwh

— Richmond Spider Football (@Spiders_FB) September 27, 2021
Villanova spent the unofficial CAA vs. FBS Challenge weekend in Happy Valley. The Wildcats left with reason to be happy about their performance despite losing to the No. 6-ranked Nittany Lions.
Like Richmond, Villanova played unafraid in front of a crowd known for being intimidating.
"I am from Pennsylvania, so I came to a game before and then in high school I came to the spring game. I had been here before, but playing on the field did not feel different," Forrest Rhyne said in his postgame press conference. "The field is 120 yards and it is 53-and-a-half feet wide and there are 11 players."
And, similar to the Spiders, the Wildcats defense performed well against the run. Penn State finished with just 80 rushing yards for a 2.4-per-carry average.
That was fewer than the yields Wisconsin or Auburn allowed to the Nittany Lions, and speaks to the potential for Villanova's veteran defense in pursuit of a conference and FCS championship.
"We think that we are the number one rushing defense...in FCS [and] that is how we play," Rhyne said. "We have had that confidence. This is the same starting six [at linebacker and up front] that we have had for two years and we have always been stout [against] the run."
While no one brought back a win against FBS opponents, all five CAA teams who played those games in Week 4 returned with a reflection of what they are as teams.
"You never know really how tough, how strong, how hard you can play until you're forced to play against somebody who's supposedly bigger, faster and stronger than you and has more members on their team," Ambrose said. "It's the measuring stick of how far you can go in a year."
A Thriller In A CAA Opener
Week 4 marked the conference opener for both Elon and William & Mary, and the two picked up where they had left off at Rhodes Stadium two years prior.
While not going to five overtimes this go-around, the 2021 edition included a furious rally from down 21 points for Elon and featured some of the most remarkable offensive performances of the season.
Elon running back Jaylan Thomas continued to demonstrate his versatility as both a ball-carrier and receiver:
𝐍𝐨 𝐃𝐨𝐮𝐛𝐭𝐢𝐧𝐠 𝐓𝐡𝐨𝐦𝐚𝐬
Jaylan Thomas Saturday

73 yards rushing
70 yards receiving
Career-high 8 catches
2 Touchdowns

🚨 First 70/70 game by an Elon student-athlete in more than a decade 🚨#AED pic.twitter.com/Jfyqx2E94H

— Elon Football (@ElonFootball) September 27, 2021
Tribe quarterback Darius Wilson earned national love for his two-way performance.
#𝘾𝘼𝘼𝙁𝘽 𝙊𝙛𝙛𝙚𝙣𝙨𝙞𝙫𝙚 𝙋𝙡𝙖𝙮𝙚𝙧 𝙤𝙛 𝙩𝙝𝙚 𝙒𝙚𝙚𝙠

𝐃𝐚𝐫𝐢𝐮𝐬 𝐖𝐢𝐥𝐬𝐨𝐧 (@Darius_W11)

➡️ 293 yds of total offense
➡️ 2 passing TDs
➡️ 95 rushing yds, TD
➡️ TRIBE WIN!

🔗 https://t.co/4YVwEo7OMw#GoTribe pic.twitter.com/0nBOnvfnZx

— William & Mary Tribe Football (@WMTribeFootball) September 27, 2021
Wilson, coming just 12 combined yards away from a rare 300/100 game, is all the more impressive given he's played in all of three collegiate games thus far in his career. But it doesn't come as a surprise to Tribe coach Mike London.
"I noticed it in his highlight tape coming out of high school [Iona Prep in New York]," London said. "Then we got into the early part of camp. He is even-keeled, which is a level of maturity that you want a lot of players to have, but particularly your quarterback."
"And he's going to get better with experience and time," London added.
Significant Special Teams
The value of timely special teams plays has been highlighted before in this space. As critical as they are to victory, the flipside is how devastating a special teams miscue can be in defeat.
Towson's first possession in the second half at San Diego State completely changed the game's trajectory, which had been trending the Tigers' way. Tyrell Shavers' punt block for a touchdown pushed what was a one-score margin back to two.
It isn't a play one thinks of in association with analytics, but Ambrose offered a simple statistical analysis of its impact:
"Any time you get a kick blocked, the percentages of winning go down drastically," he said.
Before going to Virginia Tech, Russ Huesman noted the importance of avoiding giving up big special teams plays. Tayvion Robinson's punt-return touchdown may have been all that prevented Richmond from scoring the upset.
"[Robinson] is a tremendous athlete. We had to be spot-on in where we put that ball, the hangtime that we had on it," Huesman said, noting Robinson's touchdown earlier in the season against Middle Tennessee and the similarities Saturday's score had to that return. "We kicked it back across the field, to the middle of the field, kind of where we weren't covering. We had to keep that ball at the sideline."
Huesman commended punter Aaron Trusler for placing seven of his kicks perfectly. The position is one, however, that only seems to be noticed when something goes awry.
"You know, it's just like anybody: Defensive guys miss tackles, offensive guys drop ball, quarterback throw interceptions. They're not perfect," Huesman said.
With that in mind, highlighting a game-changing punt from Week 4 is in order. William & Mary's Will Whitehurts prevented Elon from having a look at a Hail Mary on its final play with a perfectly executed kick.
The punt traveled 45 yards, but more importantly, towered high in the air long enough for the Tribe coverage team to get into position and deny Elon a lengthy return.
"Will did a great job of knowing [where to place the punt]," London said. "We tried to pin them back in their own territory coming out, and just knowing that and having the realization that you take a little bit off the ball to get some hangtime and give our gunners...the opportunity to get down the field."
The Phoenix were pinned 92 yards from the end zone, effectively ending the comeback and game.
Conference Season Gets Rolling
For the first time in fall 2021, the entire weekend slate in the CAA is all CAA. Each of Saturday's four contests are conference games, including James Madison's return to New Hampshire for the first time since the Wildcats pulled off a 35-24 upset in November 2018.
"You look at Bowling Green beating Minnesota [as a] 30-point underdog up in Minnesota," Dukes coach Curt Cignetti said of keeping focus after New Hampshire lost a rout at Pitt. "We're playing a playoff team ranked in the Top 25 prior to their game at Pitt...Their kids get after, they play tough."
Elsewhere in New England, Rhode Island hosts Stony Brook seeking its first-ever win against the Seawolves since they joined the CAA. The Rams joined the FCS STATS Top 25 this week at No. 21, and are one of six Colonial teams in the poll.
A season-high six #CAAFB teams ranked in the latest @FCS_STATS poll

3️⃣ @JMUFootball
9️⃣ @DelawareFB
1️⃣2️⃣ @NovaFootball
2️⃣1️⃣ @RhodyFootball
2️⃣2️⃣ @Spiders_FB
2️⃣5️⃣ @UNH_Football pic.twitter.com/fmKdlqucjO

— CAA Football (@CAAFootball) September 27, 2021