2021 Bucknell vs Villanova
Villanova Runs Into Home Opener Against Bucknell
Villanova Runs Into Home Opener Against Bucknell
Villanova's explosive offense has an opportunity to rack up more points when it faces Patriot League counterpart Bucknell in Week 2.
Sep 8, 2021
by Kyle Kensing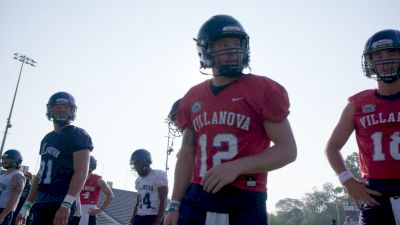 Fresh off a season-opening rout of one Patriot League opponent, Lehigh, Villanova kicks off its fall 2021 home slate in Week 2 with another Patriot counterpart, Bucknell.
The Wildcats flexed their offensive muscles with an almost even distribution of passing and rushing yards en route to more than 500 in total and 47 points. A series of big-play scores midway through the contest blew it wide open.
"If we can get 40-plus a game, that would be a great thing," Villanova coach Mark Ferrante said. "I don't anticipate anything like that happening, but if we can get that going consistently, that'll be a huge thing for us moving forward."
Only three teams averaged 40 points per game or more in the last fall FCS season: Dayton (42.5), Eastern Washington (40.6) and James Madison (40). But at 37.3 points per game and eighth in the nation, Villanova was not far off that mark.
Consider the rout of Lehigh a preview of what this Villanova offense can evolve into over the course of the season as the Wildcats pursue a return to the Playoffs.
Bucknell reached the Patriot League Championship Game in the shortened spring season, but comes into Villanova Stadium off a 21-0 to Sacred Heart to open the fall slate.
A Contrast In Rushing Offense
Ahead of the 2021 season, Ferrante touted Villanova's multifaceted rushing attack. It didn't disappointing against Lehigh. Justin Covington surpassed 100 yards by halftime on the strength of 13-and-51-yard touchdown runs. DeeWil Barlee wasn't far off the century mark by intermission thanks to a 31-yard carry and a series of 5-to-8-yard gains hammered out in the second quarter.
The Wildcats had 187 yards rushing in the first half. Justin Covington had 12 carries for 116 yards and two scores and DeeWil Barlee had 8 carries for 79 yards.

— Villanova Football (@NovaFootball) September 4, 2021
Both averaged more than eight yards per carry, pacing the Wildcats to 6.5 as a team.
Bucknell, meanwhile, struggled to contain Sacred Heart's multilayered rushing offense. Walter Payton Award contender Julius Chestnut did the bulk of the damage at 170 yards, but the Pioneers accrued almost 300 as a team at 5.6 per carry.
The Bison's challenges in stopping the run are exacerbated by an inability to start running when they have possession. In each of the last two seasons — both the pandemic-impacted spring and the 2019 campaign — Bucknell averaged fewer than three yards per carry.
Villanova saw a limited workload defending the ground due to its fast-growing lead forcing an already-pass oriented Lehigh offense to go to the air. When the Mountain Hawks were rushing, they went nowhere in an almost literal sense. The Wildcats held Lehigh to negative 0.6 yards per carry.
While a byproduct of four sacks registered on the day, Villanova limited Lehigh's primary ball-carriers to 38 total yards.
Showing More In The Passing Game
If there was much negative to take away from Villanova's thoroughly dominant Week 1, Ferrante said he hoped to see more diversity from the passing offense going forward.
Quarterback Dan Smith certainly didn't play a bad game, throwing for three touchdowns include a 61-yarder. With just 13 total completions, his production was muted compared to a stellar 2019 season.
Ferrante said he hopes to see more inclusion of the tight ends. Todd Summers, who caught for 364 yards and six touchdowns in 2019, went without a catch in the season opener. The unit also includes Charlie Gilroy, a veteran who got into the end zone for the first time during the spring season.
With Richmond coming to town Week 3 in a showdown of what could be two playoff-bound teams from the Colonial Athletic Association, the Wildcats will likely limit how much of the passing game offensive coordinator Chris Boden shows against Bucknell. Still, a potent attack early is key to the Wildcats wrapping up a Week 2 win early.
Coming Out Fast
Saturday's matchup should be a mismatch based on each team's strengths. Bucknell's best path to an upset relies on keeping the score low and controlling possessions. The Bison are not built to play from behind, especially against an offense as multidimensional and explosive as Villanova's.
Should the Wildcats establish Covington and Co. in the first quarter and engineer a couple of early touchdown drives, Ferrante can go to the reserves in the second half and get a jump on preparation for a marquee showdown in Week 3.