CAA Articles
High-Powered Villanova Aims For Playoff Return
High-Powered Villanova Aims For Playoff Return
Villanova football returns key offensive playmakers poised to lead the Wildcats back to the FCS Playoffs.
Aug 24, 2021
by Kyle Kensing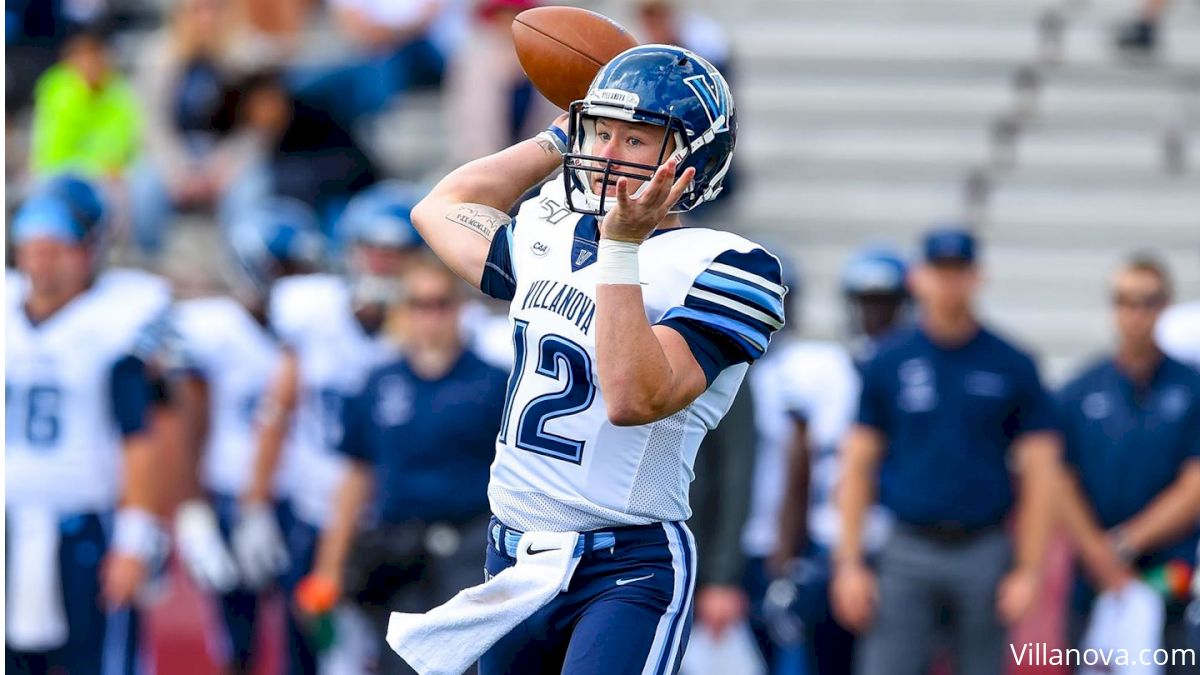 Villanova boasted a nationally top 20-ranked scoring offense in each of the past two seasons — and the Wildcats just might be at their most dangerous on that side of the ball in the campaign to come.
Returning quarterback Dan Smith — already holder of multiple records at Campbell and entering his third season as Villanova's starter — running back Justin Covington, and wide receiver Rayjoun Pringle, Villanova features one of the country's best big threes at skill positions.
And while offense is sure to garner plenty of headlines in fall 2021, Villanova also features a leading contender for this season's Buck Buchanan Award in linebacker Forrest Rhyne.
Villanova also stands to benefit from having competed into the final week of the truncated spring season.
"Our freshmen class came in in the fall, we were able to get on the field...that was an extended evaluation period," said Wildcats coach Mark Ferrante. "When we were able to lineup and play those four games in the spring, we rolled a lot of guys through. It really gave us a full-speed, gameday look at what a lot of our young guys could do."
All told, the Wildcats have the pieces to contend for the Colonial Athletic Association championship and the program's first trip to the National Championship Game since winning it all in 2009.
OFFENSE
If Dan Smith and Rayjoun Pringle appeared to have an innate connection as passer-and-receiver during the spring, credit the pandemic. Smith told FloFootball.com that the two used downtime in Virginia to work on routes and rhythm. Their workouts manifested in 17 connections over just four games for 245 yards and two touchdowns.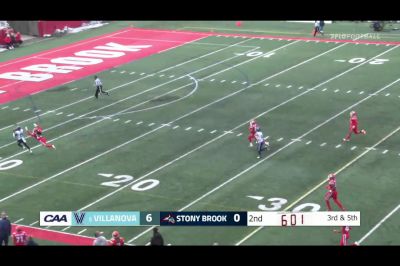 Pringle established himself as a clear No. 1 receiver after the departure of Changa Hodge, Smith's primary target in a stellar 2019. The quarterback put up some of the gaudiest numbers from any CAA quarterback since John Robertson won the 2014 Walter Payton Award, going for 42 total touchdowns between the air and ground. Expect a return to form for Smith after a dip in production over the spring.
Smith wasn't the only Wildcat playing at a Payton Award-contending level in 2019 when Villanova averaged 37.3 points per game. Justin Covington threatened to lead the nation in rushing with 727 yards through just six games, but a torn ACL ended his campaign.
He was excellent in his return, averaging 7.5 yards per carry in the spring and racking up six touchdowns in just four games. Covington will have holes paved thanks to a stout offensive line, which returns All-CAA performers Michael Corbi and Colin Gamroth, and could return veteran MJ Dumas.
DEFENSE
Defense dictated the direction of Villanova's shortened spring. In wins, the Wildcats held opponents to 13 and 17 points. In losses, they gave up 40 and 27.
There may have been some hard knocks sustained in those games, but they could buoy Villanova's title aspirations come fall with the opportunities provided to youngsters.
"A lot of guys learned-while doing, not just on paper or on the board," linebacker Forrest Rhyne said. "When we're going late into a season, depth is always key."
Ferrante mentioned linebacker Richie Kimmel as one young Wildcat in particular who shined during the limited slate. The integration of first-and-second-year players with returning talent like Rhyne, defensive end Malik Fisher and defensive back Christian Bedford will shape Villanova's season — especially in light of how important the second-half of the season will be.
SPECIAL TEAMS
Placekicker Cole Bunce finished the spring 7-of-8 on field-goal attempts including a long of 45 yards. He's back, as well as punter Nathan Fondacaro, who pinned 6-of-16 kicks inside the 20-yard line last season. Fondacaro landed 15 inside the 20 during the 2019 campaign.
Dez Boykin, who handled the majority of returning duties the last two seasons, returns. So, too, does Nowoola Awopetu, who ran one back for a touchdown in 2019.
That was fast!

Nowoola Awopetu takes the opening kickoff to the 🏠 for the @novafootball touchdown#CAAFB on @flofootball pic.twitter.com/cflPadSW79

— CAA Football (@CAAFootball) November 9, 2019
THE SCHEDULE
Sept. 4 at Lehigh
Villanova won three games over Patriot League competition in 2019 by an average of 27.7 points per game, including a four-touchdown blowout of Lehigh.
Sept. 11 vs. Bucknell - FloFootball
Dan Smith passed for three touchdowns and rushed for a fourth when Villanova routed Bucknell in 2019, 45-10.
Sept. 18 vs. Richmond - FloFootball
Teams with playoff and CAA championship-contending make-up square off with an opportunity to set the tone early in conference play.
Sept. 25 at Penn State
Mark Ferrante said the trip to Happy Valley will be a unique opportunity for more Villanova alumni to see the Wildcats in action. The two programs haven't played since 1951.
Oct. 9 at James Madison - FloFootball
Villanova counter-punched everything JMU threw at it for three quarter during a fiercely contested 2019 matchup, but James Madison pulled away in the second half.
Oct. 16 at UAlbany - FloFootball
Two of the CAA's highest-scoring teams in 2019 did not see each other in either of the last two years. With Smith and Covington on one side and Jeff Undercuffler and Karl Mofor on the other, the two offenses can put up enough points to make up for lost time.
Oct. 23 vs. Rhode Island - FloFootball
Among the most exciting games of the 2021 spring season was a 40-37, overtime thriller that went Rhode Island's way.
Oct. 30 vs. William & Mary - FloFootball
A 7:57 drive in the fourth quarter secured a 35-28 Villanova win when these teams met in 2019.
Nov. 6 at Elon - FloFootball
Elon head coach Tony Trisciani was an assistant coach on Mark Ferrante's staff before joining the Phoenix. This season marks their first meeting as opposing head coaches.
Nov. 13 vs. Stony Brook - FloFootball
Each of the last three seasons have produced classics when Villanova and Stony Brook meet. The total (not average) margin of victory in those contests is six points.
Nov. 20 at Delaware - FloFootball
Villanova's stranglehold on the Battle of the Blue came to end in the spring, marking the Wildcats' first loss in the rivalry series since 2011.