2021 Rhode Island vs Villanova
The Difference Maker: Dan Smith Makes Villanova A Title Contender
The Difference Maker: Dan Smith Makes Villanova A Title Contender
Villanova quarterback Daniel Smith has the Wildcats eyeing a deep playoff run in this strange spring season of 2021.
Mar 12, 2021
by Kyle Kensing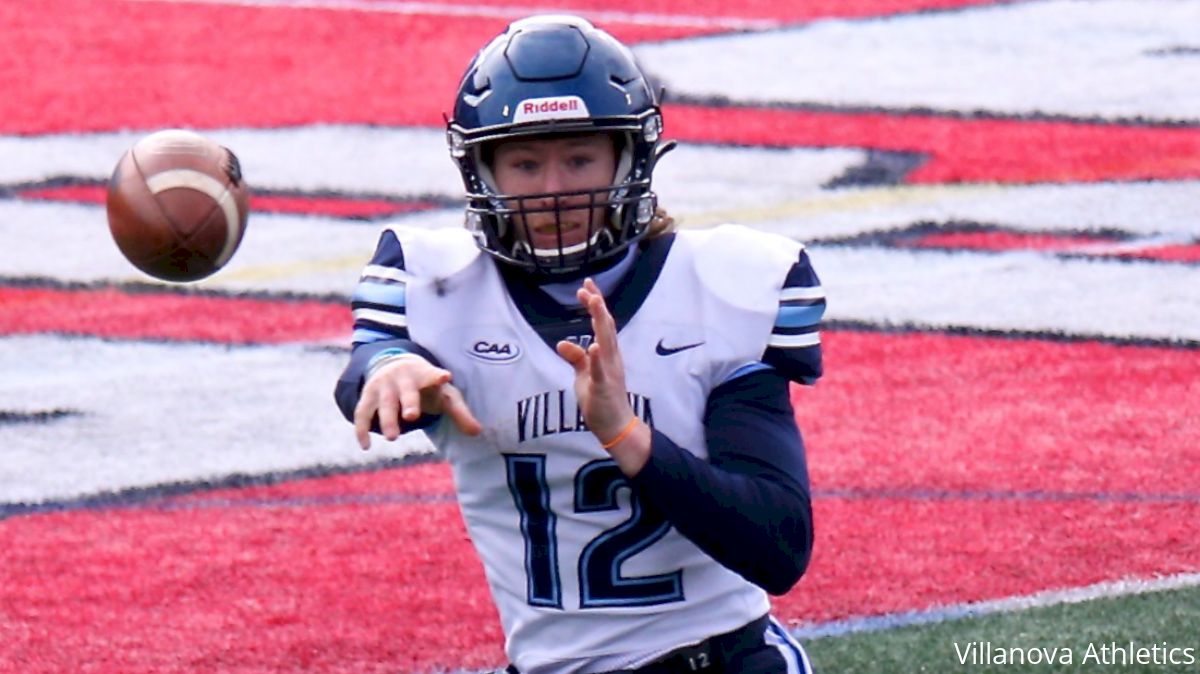 Practicing football amid the COVID-19 pandemic has been a tenuous proposition coaches and players around the nation have had to navigate. Fortunately for Villanova's Dan Smith and Rayjoun Pringle, 49 yards are considerably more than the six feet the CDC recommends for social distancing.
Smith found a streaking Pringle on a 49-yard bomb in the second quarter of the Wildcats' season-opening, 16-13 win at Stony Brook. The touchdown-scoring play was arguably born of the pandemic.
Watch Rhode Island vs. Villanova LIVE on FloFootball
"One of the things between Rayjoun Pringle and I, he's not really far from my house back home in Virginia," said Smith, a Leesburg native. "Over quarantine, we were getting together every once in a while, throwing around our houses."
The highlight-reel moment cemented Pringle's Colonial Athletic Association Player of the Week honors, and according to Stony Brook coach Chuck Priore, showed what a game-changer Smith continues to be despite a 15-month layoff.
"Quarterback's legit," Priore said of Smith. "When the game was over, he was the difference."
Smith's difference-making was well-established before the spring 2021 season kicked off. In 2019, he put together the best individual season at Villanova since John Robertson won the 2014 Walter Payton Award, passing for 3,069 yards and 35 touchdowns with another 457 yards and 12 touchdowns rushing.
Villanova scored more than 37 points per game en route to the FCS Playoffs, and dropped 44 in a thrilling, 1st Round loss to Southeastern Louisiana. Smith's presence helped elevate an offense that a season earlier averaged two touchdowns fewer per game.
This campaign may not have opened with as much of a bang offensively as Villanova produced in Smith's first year in the program, but it ended in the desired result.
🎥: Highlights x 𝗪𝗶𝗻 𝟭 #NOVAvsStonyBrook pic.twitter.com/zdGIrmBIb0

— Villanova Football (@NovaFootball) March 7, 2021
"It's great to start off, especially a weird season, with a win," he said. "Even if it's ugly."
It will get prettier.
As his dime to Pringle demonstrated, the extended time away and practice limitations did nothing to deteriorate the quarterback's powerful arm.
And, if 2019 is any indicator, Smith should not take long to get fully back up to speed. He came into Villanova from Campbell, where in 2018, he passed for 13 touchdowns and rushed for as many.
In 2017, he passed for 18 touchdowns and rushed for 12 to begin his record-setting two years with the Camels. Despite the monster numbers he put up at Campbell, Smith sought a new opportunity in 2019.
Villanova was an ideal fit because of coaches like offensive coordinator and quarterbacks coach Chris Boden.
"They focused on their relationships, and to me that's a big thing," Smith said. "I think a lot of success comes from knowing your guys, understanding where they come from and where they've been, and how you can talk to some people one way and other people another."
Fast forward a year-and-a-half since Smith won the starting job, and Villanova's thriving. The Stony Brook win marked the program's 10th since Smith became its quarterback.
If Smith can help keep the Wildcats winning, they will earn back-to-back appearances in the Playoffs since Hall of Famer Andy Talley coached them to three straight from 2008 through 2010 (including a national championship in 2009).
March 13 is Villanova's first home game of the spring season. The Wildcats' return to Villanova Stadium since hanging a season-high 55 points on rival Delaware — the same opponent they host in the spring home-opener.