CAA Articles
Playoff Snub Fuels Richmond For '21
Playoff Snub Fuels Richmond For '21
Richmond was passed for a spring playoff berth, giving the Spiders extra motivation heading into the 2021 season.
Aug 19, 2021
by Kyle Kensing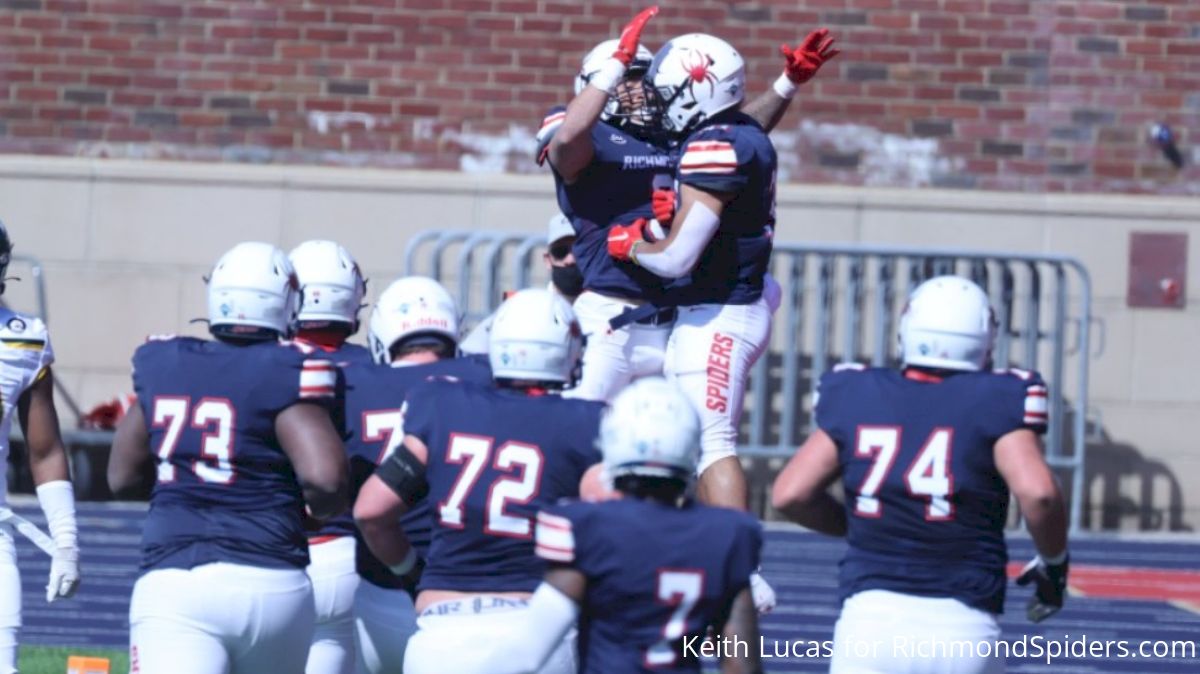 Missing on a Football Championship Subdivision Playoffs berth earlier in 2021 has the Richmond Spiders primed to avoid a repeat later in the year.
Springtime football proved positive for Richmond: Coach Russ Huesman noted the unusual season provided underclassmen more opportunities to play, the lineup as a whole came out of the truncated slate mostly healthy, and the Spiders finished ranked No. 15 in the nation.
Despite its final ranking, however, Richmond was not among the 16 teams in a playoff field shortened from 24 teams.
The snub, perhaps more than anything else from the spring, could be the strongest catalyst fueling the Spiders in fall 2021. Kobie Turner "still remembers that [selection] Sunday like it was yesterday."
.@Spiders_FB and Kobie Turner are fueled 🔋 up and ready for the fall football season.#CAAFB pic.twitter.com/fq0HKG4tcm

— CAA Football (@CAAFootball) July 27, 2021
If All-American defensive end Turner is indeed headed into the fall with "more fuel," as he said during July's Colonial Athletic Association media days, linemen expected to block The Conductor will be in for a long season.
"After that Sunday hearing we weren't in the Playoffs, I essentially took until that Monday or Tuesday then got right back into the weight room," Turner said.
Turner made six tackles for loss and 3.5 sacks in the spring, while Darius Reynolds went for five sacks at the other end position. The defensive line helped set the tone for a Spiders defense that allowed 17 points per game and held opponents to just 2.6 rushing yards per attempt and 78.5 per game.
What's more, Richmond's defense put up such impressive numbers without All-America potential lineman Colby Ritten. At seven tackles for loss and 2.5 sacks in 2019, Ritten's an established force whose return to the lineup gives the Spiders some of the most impressive depth up front of any team in the nation.
UR's defensive line trio of Reynolds, Ritten and Turner don't just establish the tone with their production. Along with standout linebacker Tyler Dressler, they are also reflective of a quality that has Huesman high on the 2021 squad's makeup as fifth-year seniors.
"No matter where I've ever been [in my coaching career] that you win championships with fourth-and-fifth-year seniors," he said. "When you have a bunch of those guys, it gives you a great opportunity. Now, we've got fourth-and-fifth-and-sixth-year guys."
The circumstances that resulted in the 2020 season shifting to spring 2021 also provided players the choice to extend their eligibility by a year. Huesman said the fall 2021 Spiders roster features six sixth-year players.
Among the super-seniors is offensive lineman Tim Coleman, a Freshman All-American at Furman in 2016 and All-CAA selection in 2019 and spring 2021 with Richmond. Seyoum Settepani, who started every game in the 2019 season, returns to the offensive line for his sixth year in the program.
#BossHawgs https://t.co/n0QV9zhesD

— Richmond Spider Football (@Spiders_FB) August 10, 2021
The veteran presence up front offensively could have a dynamic for that side of the ball similar to the Spiders in the trenches on defense. And those veterans on the front five will protect quarterback Joe Mancuso, another sixth-year senior.
Mancuso redshirted in 2016, the last season in which the Spiders made the Playoffs. Riding the wave of a strong 2019 in which he passed for 2,128 yards, rushed for 647, and scored 23 combined touchdowns, he captained
"I remember that morning, we were watching the selection show," he said.
The sting of taking in the telecast as 16 teams were announced "honestly motivated me the past months," he continued. "I want to be in the Playoffs. I want our team to experience that and maybe get to the national championship."
How the Richmond offense parlays its offseason motivation into production may shape the entire season. Mancuso has been individually electric each of the past two seasons, and running back Aaron Dykes, a Freshman All-American in 2019 for his special-teams play, developed into a reliable every-down back in the spring.
Scoring with consistency has been the Spiders' greatest challenge, last averaging more than spring's 24-point per game average when they posted 30.9 points per game behind current Cleveland Browns quarterback Kyle Lauletta.
The health of the offensive line will be a key factor in picking up that scoring average. Good news for Richmond, per Huesman: The group features 14 and can go two-deep per spot, a significant turnaround from years the coach said the Spiders have "gone on trips in the fall with six."
Wide receivers make up another intriguing position group with both depth and experience. East Carolina transfer Leroy Henley caught on quickly with 15 receptions in the spring for 193 yards and Justin Jasper went for as many yards in the four-game spring (134) as his first, full campaign in 2019.
With Cornell-transfer tight end John Fitzgerald establishing himself as a pass-catching threat, Richmond gained an additional target — and more length to an already-sizable rotation of targets. Henley, Jasper and Fitzgerald, the top three pass-catchers in the spring, range from 6-foot-1 to 6-foot-4.
From offense to defense, with some potential difference-making special teams sprinkled in, the pieces are all there for Richmond to make a run to the Playoffs — even if the Spiders have to wait a few months more than they hoped back in April.