2021 UAlbany vs New Hampshire
Underdogs No More: UAlbany Enters 2021 With Its Fair Share Of Hype
Underdogs No More: UAlbany Enters 2021 With Its Fair Share Of Hype
UAlbany emerged as arguably the greatest surprise at the FCS level in 2019. Can they live up to the hype now in 2021?
Mar 2, 2021
by Kyle Kensing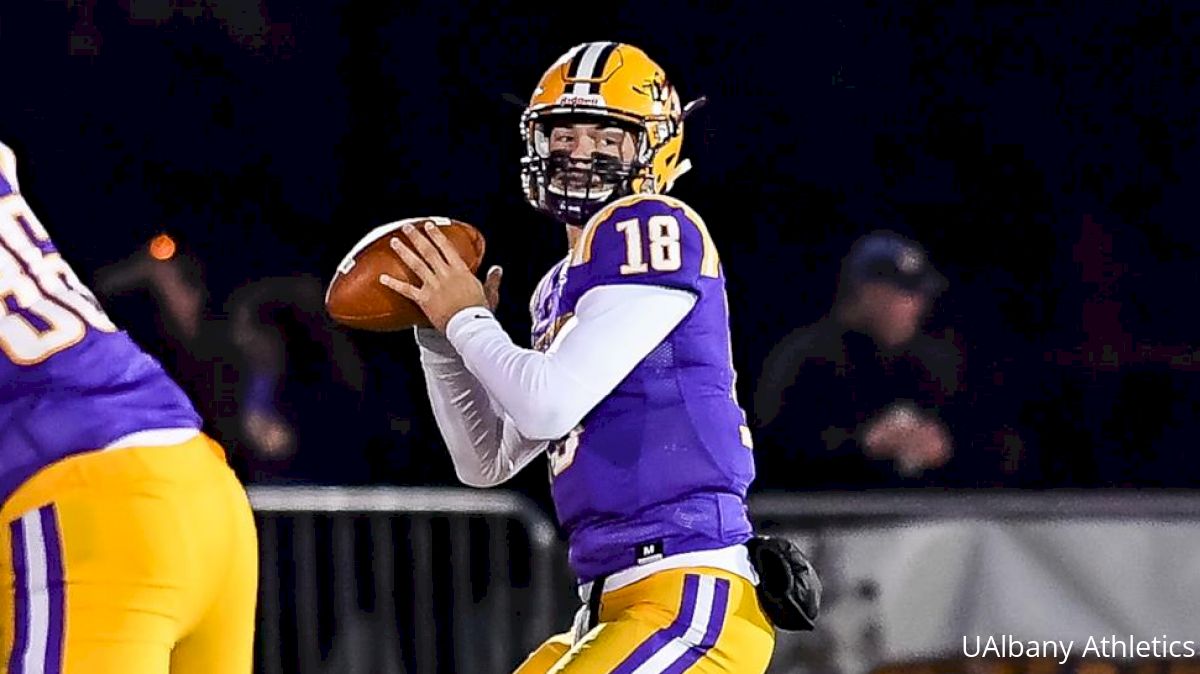 Picked to finish in the cellar of the Colonial Athletic Association in 2019, UAlbany emerged as arguably the greatest surprise of the last FCS season. The Great Danes not only reached the Playoffs, but scored their first-ever Div. I postseason win.
Greg Gattuso and his staff have UAlbany built on a strong foundation, likely ensuring that the success of 2019 was no aberration. Restarting the momentum the Great Danes had going with a historic campaign, after the long layoff brought on by COVID-19, will be the key challenge ahead of them in 2021.
Watch UAlbany vs. New Hampshire LIVE on FloFootball
Returning some of the most productive playmakers in the CAA certainly helps. The backfield tandem of quarterback Jeff Undercuffler and running back Karl Mofor is electric, and linebacker Levi Metheny is among the Colonial's standout ball-hawks.
---
Head Coach: Greg Gattuso (Seventh year at UAlbany, 33-37; 19th season overall, 130-69)
Offensive Coordinator: Joe Davis
Defensive Coordinator: Joe Bernard
2019 Record: 9-5; lost FCS Second Round to Montana State
---
Defense
Eli Mencer powered UAlbany's aggressive defense in 2019 with staggering outputs of 14.5 sacks and 24 tackles for loss. He's gone, leaving a considerable void to fill in the front seven, but the Great Danes are hardly depleted. Mazon Walker racked up 14 tackles for loss with 3.5 sacks and three quarterback hurries in the last season.
Anthony Lang produced an impressive 11 quarterback hurries; he also returns to the defensive line. Metheny sets the tone for a linebacker corps welcoming back Danny Damico and A.J. Mistler. The three together led the '19 Great Danes in tackles.
The secondary features more new faces than the front seven, losing Josh Wynn, Dante Mount and Jarren Williams. The integration of new contributors during the spring should be a boon come fall, and the emerging defensive backs are not without standout veterans alongside them.
Tyler Carswell is coming off an excellent 2019 with six pass break-ups, two picks and a forced fumble. Hayden Specht made a pick and forced a fumble last season, as well.
Among newcomers, Semaj Brown was a 3-star signee in the Great Danes' 2020 class and could be one to watch in the secondary.
Offense
Karl Mofor is a pro-caliber talent who rushed for almost 1,300 yards with 10 touchdowns in '19. Pair him with Undercuffler, who threw for 41 yards as a redshirt freshman, and the UAlbany backfield commands plenty of deserved attention.
They're hardly all there is to the UAlbany offense, though, which could be one of the most prolific in the CAA. Tight end LJ Wesneski is a problem in the red zone, evident in his seven touchdown receptions — one of which came in the FCS Playoffs rout of Central Connecticut State.
Video | @UAlbanyFootball tight ends have 8 TD catches this season, six of them by redshirt junior LJ Wesneski, including two this Saturday in the Homecoming win against Rhode Island. It's enough to make us want to know more about TE Coach Nate Byham #CAAFB pic.twitter.com/Ze3WOX2OlT

— UAlbany Sports (@UAlbanySports) October 21, 2019
Jerah Reeves and Juwan Green leave voids in the receiving corps, but Dev Holmes' return to the team after leaving early into the 2019 season gives UAlbany a proven playmaker. Mohamed Jabbie, a transfer from Rutgers, was productive in the Big Ten. He should be at home in the Great Danes offense.
To pinpoint the success of 2019, the experience of the offensive line provided a good starting point. Gone from that unit are Micah Royster, Clancy Griffin and All-CAA honoree Sean Kennedy, but returners Kobe Thomas and Kassy Desir were stalwarts in the previous campaign.
Special Teams
Placekicker Dylan Burns has some clutch moments to his credit, and arguably set the tone for the last, breakout season when his game-winner to beat Stony Brook capped the 2018 campaign.
Burns went 10-of-16 on field-goal attempts in '19 and was perfect inside the 30.
A new returner will replace Donovan McDonald, who was electric in that role previously.
The Schedule
March 5 @ New Hampshire | WATCH LIVE
March 13 @ Maine | WATCH LIVE
March 20 vs. Rhode Island | WATCH LIVE
March 27 vs. Stony Brook | WATCH LIVE
April 3 @ Delaware | WATCH LIVE
April 10 vs. Villanova | WATCH LIVE