CAA
After Monster 2019 Season, UAlbany Remains Hungry For Greater Success
After Monster 2019 Season, UAlbany Remains Hungry For Greater Success
With Jeff Undercuffler and Karl Mofor leading the way, UAlbany has its gaze focused on ascending to even greater heights in 2021.
Sep 14, 2020
by Kyle Kensing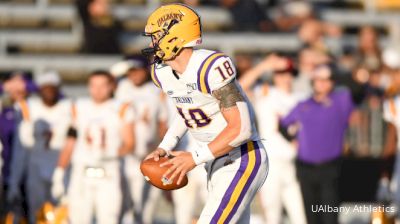 Football's unpredictability makes the game exhilarating and heartbreaking all at once, reflected in the past year for UAlbany.
Picked to finish last in the Colonial Athletic Association ahead of the 2019 season, the Great Danes defied all outside expectations to reach just the second FCS Playoffs in program history. There, they claimed the school's first Div. I postseason win ever -- and did so in a deluge of Central Connecticut State that foreshadowed potentially bigger things in 2020.
Then-freshman quarterback Jeff Undercuffler passed for a UAlbany record six touchdowns.
Highlights | History for @UAlbanyFootball! The Great Danes explode for 35 second-half points to dominate CCSU, 42-14, and win the program's first ever #FCSPlayoffs game. Redshirt freshman QB Jeff Undercuffler threw for all 6 TDs. On to Montana State! pic.twitter.com/zOI3lRFgJk

— UAlbany Sports (@UAlbanySports) November 30, 2019
He's back with the Great Danes. So, too, is running back Karl Mofor. A strong All-American candidate in the prospective spring 2021 season, Mofor scored three touchdowns in the rivalry game win over Stony Brook that sealed UAlbany's place in the 2019 FCS Playoffs.
With a star running back and fast-rising young quarterback at the forefront, it's easy to be high on the Great Danes' prospects. But it's hardly the only reason, which both Undercuffler and Mofor noted on Twitter.
@MR__PLAYMAKER 🗣🗣 we know it takes all 11 guys 💯💯 https://t.co/rvipUAYdmK

— Jeff Undercuffler Jr. (@Jcuff13) July 13, 2020
Hunnit. Family effort

— K$ MOFOR (@MR__PLAYMAKER) July 13, 2020
Indeed, an all-around effort paved UAlbany's way to history. Returners like tight end L.J. Wesneski, who was on the receiving end of one of Undercuffler's six touchdown passes against CCSU, contributed.
An unrelenting defense that applied aggressive pressure on opposing backfields, resulting in 94 tackles for loss and a CAA-best 28 forced turnovers, also played a crucial part. Key contributors like Levi Matheny and Tyler Carswell are back in the mix.
And although there are losses to address, UAlbany welcomes in some significant newcomers like Northern Iowa transfer Jalen Rima, and a noteworthy returner of a different kind. Dev Holmes, a breakout performer as a freshman in 2018, left the program early into the 2019 campaign. He was reinstated in January.
All together, the 2019 Great Danes personified football's unpredictability. Duplicating their success takes navigating unpredictability to a new, unprecedented level.
The COVID-19 pandemic ended UAlbany's spring practice before it began, and since prompted the postponement of the 2020 CAA season.
Should the conference or FCS at large adopt a scheduling model similar to that of the SWAC and MEAC, kicking off in late March, the Great Danes will open the campaign almost 15 months since the conclusion of their historic 2019 season.
"This is going to be felt for a year or two, or more, whether it's budgets, protocols...how you practice, we make sure we reduce contact," said UAlbany coach Greg Gattuso, emphasizing part of the process when the time comes to reintroduce an in-season schedule will require some unique rollout. "We're going to get [the team] started as slow as possible."
COVID-19 has altered routines in a sport built around regiment, but every program has been impacted in that regard. Few will restart looking to regain as much paused momentum as UAlbany.
As a scientific principle, momentum is Mass x Velocity. A slow reintroducing to formal football workouts runs contrary to this idea, but is an unfortunate necessity.
In that regard, UAlbany's defiance of expectations in 2019 sets the program's approach to a belated 2020 season.
"I don't know how much stress [the wait to get back into action] adds to anyone else on the team," said Mofor. "But for me, I know with the players and coaches we have coming back, we can do better."
UAlbany has the playmakers to be a contender in the CAA. Continuing the positive momentum of last season requires those playmakers to also be elite decision-makers.
"The signs I'm seeing right now are that they've worked hard to be ready for whatever's next," Gattuso said. "That's been our mantra: Everything you're doing now will affect us when we do play. So if we're playing in the spring, we're training … and building out whatever we can do legally to have a great season in the spring."
Mofor's regiment offers some insight into how the Great Danes have used their time while separated from one another during the pandemic.
"I worked on exercises that built up my flexibility, things I could without free weights," he said. "When I can get out onto the field two, three times a week, I do positional work."
Staying sharp individually is, of course, a vital component to recapturing the team success. But as Undercuffler tweeted, winning is the end equation of 11 putting their individual abilities and efforts into a collective.
The winter version of fall camp could be the most critical stretch in shaping the spring season, with weighted importance perhaps exceeding a traditional preseason camp.
"That's the part I hope puts us back in our routines; when we're in football practice," Gattuso said. "Of course, there will be changes with how we handle things, and what goes on around the world with this virus and vaccines and testing upgrades. But at the end of the day, if we're in a fall [preseason] camp, that's our familiarity; that's our turf. And that's the place where we can get back to normal."
"It changes the mentality," Mofor said of the delayed fall camp, adding not so much because of the intensity of the workouts -- or even having those workouts in snow instead of summertime heat.
"We already had that part [the physicality of preseason practices] down pat," he said. "It'll just be a different feeling [after the layoff]."
But even with the unpredictable timetable thrust on the Great Danes, slowing the momentum built up in a milestone season, taking on a season of the unknown simply asks UAlbany to defy odds again.
And when it comes to doing just that, Mofor said of this group: "We know what we've got."