2022 CAA Football
'Authentic' Liam Dobson Enjoyed Viral Moment, Primed For Big '21
'Authentic' Liam Dobson Enjoyed Viral Moment, Primed For Big '21
Maine's Liam Dobson became a social media sensation this year, but the star offensive lineman is much more than a funny photo.
Nov 4, 2020
by Kyle Kensing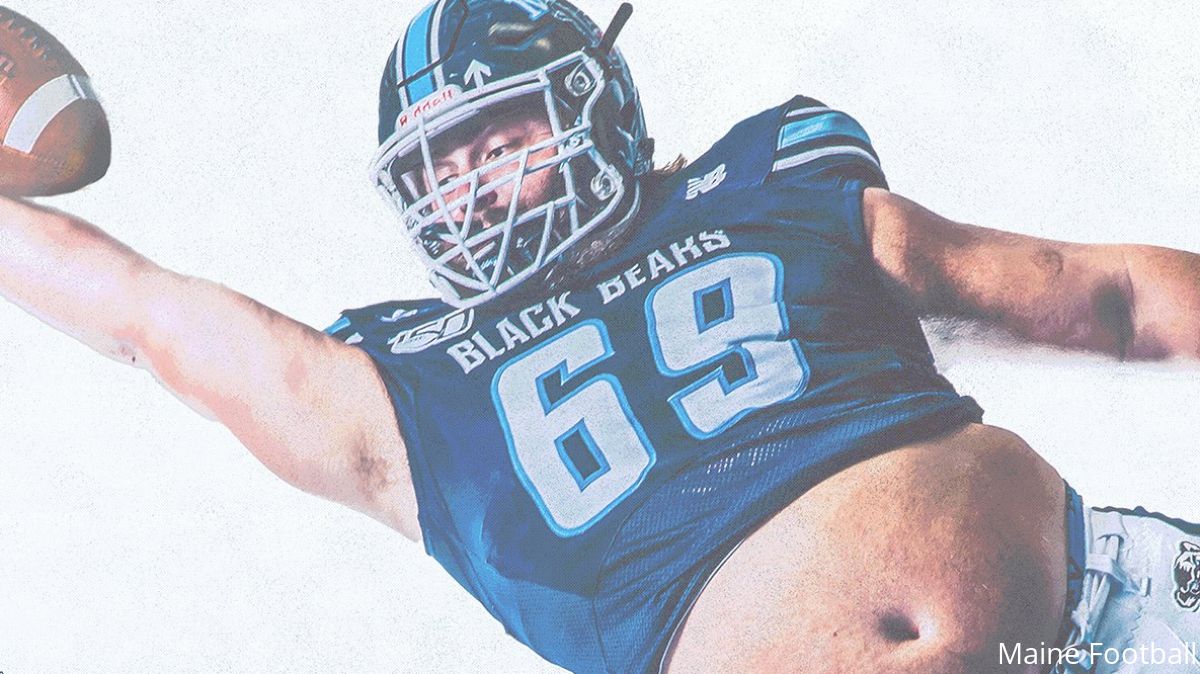 It's easy to understand why Liam Dobson became a social-media sensation this year.
The schedule poster mock-up conveys a kind of unbridled joy that attracts millions to football. Those of a certain generation might be reminded of Billy Bob's game-winning touchdown in the climatic scene of Varsity Blues, what with the No. 69 jersey and the outstretched cradling of the ball, as if Dobson is reaching for the pylon.
One almost has to draw a fictional parallel; like the vast majority of offensive linemen, Dobson has no career touchdowns. But few players around college football contributed to as many scores as the Maine lineman, who did his part in the Black Bears 29.6 point per game output in 2019.
To describe offensive line as a thankless position that doesn't get its due from football media borders on cliche -- and yet, it's absolutely true.
Last week we released the final version of our 2020 schedule poster. However, it was a close vote for this year's poster design so we thought it was important to share the runner-up version...#BlackBearNation | #ChampionshipMentality | #CAAFB pic.twitter.com/SG4FjhtTqO

— Maine Football (@BlackBearsFB) June 1, 2020
"As a position group, all over the country, we're slept on," Dobson said of playing up front. "Everything we do is for the better of the team. We don't mind not having our names called, we're just happy our teammates are having success off our work."
Still, Dobson conceded "it was cool" to get some love in the summer -- "everyone loves the spotlight," as he described it. And he's not the only one.
"Up here at Maine, all the publicity we can get -- especially when it goes viral like that -- we're all for it," said Black Bears offensive line coach Pat Denecke. "The best thing about him is it's all authentic."
Denecke recounted a story of the "maddest [he] ever saw" Dobson. It was when the NCAA declared midriff jerseys, like the one Dobson's wearing in his viral poster prototype, a uniform violation.
"He's not the most vocal guy, but he's got a great sense of humor; dry and sarcastic. He cracks me up," Denecke said.
Such is the duality of Liam Dobson. The bare-stomached Black Bear whose sense of humor sparked a popular meme is no joke on the field. At 6-foot-3, 340 pounds, Dobson ranks among the biggest linemen in the nation.
He's also one of the best. The accolades speak volumes: 2019 All-Colonial Athletic Association, a preseason All-American ahead of the delayed 2020 campaign. But honors only reveal so much.
Dobson Tabbed 2020 Stats Perform @NCAA_FCS Preseason Second Team All-American

Details: https://t.co/ywOVH89eBC#BlackBearNation | #ChampionshipMentality | #CAAFB | @FCS_STATS pic.twitter.com/SesWFG0y6n

— Maine Football (@BlackBearsFB) September 2, 2020
Throw on game footage and keep your eyes locked on No. 69. The Black Bears' win over UAlbany, in which they dropped 47 points, offers an insightful starting point. He's virtually unbeatable at right tackle against an opponent that thrived getting into opposing backfield.
In pass protection, he's a physical roadblock who frustrates would-be rushers. Blocking for the run, Dobson grates the path well off the line of scrimmage. Both are indicative of skills that Denecke said defy Dobson's size.
"Not many people his size can move the way he does," Denecke said. "His athleticism jumped off the charts. You see him move in space, then you see him up close and he's just a massive human being."
If Dobson is ever photographed for another promotional poster, a shot of him dunking a basketball at his size would capture both that mix of athleticism and size -- and probably go viral again.
Even if not, Denecke said Dobson sent a video of throwing down on a basketball hoop during the recruiting process, a moment that underscored the prospect's physical potential.
Dobson's evolution into a college star in the years since has more than validated Denecke's recruitment of the big man. As a graduate assistant on Brian Polian's staff at Nevada, Denecke first noticed Dobson in a much different role.
"Liam's recruiting process was interesting," Denecke said. "We were looking at Liam at defensive lineman. I stayed in touch with him when I got to Maine."
Meanwhile, at Canada Prep Academy in St. Catharines, Ontario, Dobson made a change out of necessity that changed the trajectory of his football life. Denecke said an injury on the Academy's offensive line forced Dobson onto the other side of the trenches.
He only played a handful of games on the offensive line, Denecke noted, which might account for a player with his ceiling not receiving a flood of offers. No matter, as Dobson's right at home at Maine, a literal Big Man on Campus that Denecke laughed could often be spotted on campus wearing shorts regardless of outdoor temperature.
Dobson affirmed his place at Maine amid the tumult of the pandemic-impacted offseason.
As the majority of the FCS opted to pursue a spring season in response to COVID-19, some FBS conferences' commitment to a fall campaign invited a bevy of late transfers. Some FBS conferences eventually became almost all of the subdivision, with a handful of FCS programs following suit.
"Everything was up in the air," Dobson said of the uncertainty prior to the CAA's completion of a spring schedule. "But the staff here, coach Denecke recruited to me. I came to UMaine with my only scholarship offer. They trusted in me. I believe in the staff, they believe in me, and we're going to do everything we can here."
Maine finds itself at an important milestone in the process, completing the spring practice season COVID-19 took from the program during the autumn months. Dobson said going through workouts typically reserved for April has not been difficult or unusual in any way; at least, not in a negative way.
"I used to think my weekends were all football," Dobson said of pre-pandemic autumn. "Heck, it might be more filled with football now than it was before.
"We practice on Saturdays, but I get home at about 1 o'clock and don't leave the couch until 10:30," he said. "The next day, we normally have a lift and meeting, but Sundays are our off days, so I'm watching NFL all day."
Dobson has used that downtime to check in on friends playing elsewhere: Max Roberts at Boston College; Jesse Luketa of Penn State; North Carolina's Patrice Rene; Luiji Vilain at Michigan; Chris Ferguson and John Kourtis of Liberty.
Come springtime and Maine's return to action, it will be Liam Dobson's turn for the spotlight...again.