Return-To-Play Strategies & Perspectives Vary Radically Across FCS
Return-To-Play Strategies & Perspectives Vary Radically Across FCS
For college football programs like Central Arkansas, North Dakota State and Eastern Washington, now two COVID-19 contingency plans are the same.
Aug 25, 2020
by Kyle Kensing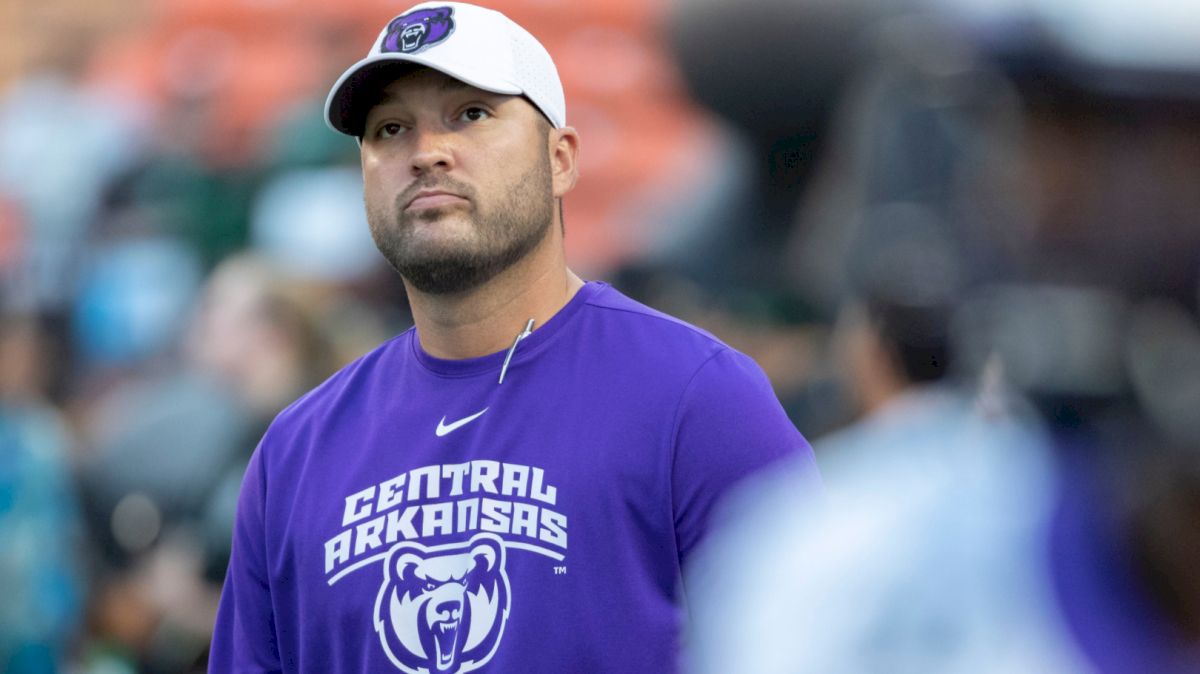 Spend enough time around folks in college football, and a consistent attitude regardless of the program says whoever, wherever, whenever. The COVID-19 pandemic promises to put that mindset into action like never before.
Beginning with the Ivy League's July 8 announced postponement of the 2020 fall sports calendar, one conference after another followed in some fashion. The Northeast Conference members plan to reconvene on Oct. 1, while other Football Championship Subdivision leagues navigate the uncharted territory of a campaign kicking off in the winter and concluding in spring.
"I'd done that many years ago in the [United States Football League], and there's nothing really strange about football in the spring," said former Boston Breakers and New Jersey Generals assistant coach, Dale Lindsey, who is the current University of San Diego head coach. "It's still football, and people still want to see it."
Still, football and the fall are so interwoven into American culture that the concept of spring on the gridiron draws ire.
Such was the case when the fledgling USFL launched as a spring league. As rumors of a move to the fall gained traction in 1984, Dave Anderson wrote in a New York Times column "fall [is] when football is meant to be played."
The sentiment remains in 2020 as administrators grapple with the decision to forge ahead amid the uncertainty of COVID-19, or face further uncertainty in pursuit of an unprecedented spring season.
"There's just so much unknown and uncertainty when it comes to a spring football season," said Central Arkansas coach Nathan Brown, whose Bears usher in the 2020 season Aug. 29 against Austin Peay. "Football's meant to be played in the fall."
Central Arkansas and Austin Peay are among 15 FCS programs with at least one game scheduled for the traditional fall season. The NCAA announcing on Aug. 7 the postponement of all autumn championships, meanwhile, prompted other programs to hold off.
All told, it's made for the most bizarre August in modern history of the sport.
"It definitely feels weird," said UAlbany running back Karl Mofor. "It's the first time in 10 years or so I'm not getting ready for a season in the fall."
"The things we're doing to take care of business now matter later to win games -- as strange as it is to say -- in March, April, May," said Mofor's head coach Greg Gattuso.
And in a quintessential summary of 2020, Gattuso said: "Now, nothing is normal."
Why A Spring Season ... And Why Not
The Ivy League was the first Div. I basketball conference to shut down in March as the first positive COVID-19 cases began to surface in the United States. Mere days passed before other leagues followed suit, and the 2020 NCAA Tournament was done shortly thereafter.
With a longer window before the football season, the Ivies shelving operations for the fall did not prompt the same immediate response. The Ivy League exists on its own island of sorts within the FCS, opting to not participate in the Playoffs.
The postponement of the Playoffs a month later, however, sped up the process. The Missouri Valley Football Conference, Big South, SoCon and Ohio Valley all announced their own postponements on either the same day or within a week.
With the prospect of no national championship at the end of a fall season, regrouping makes sense. But conveying the decision to aim for spring as simply as pursuit of a title dismisses the grave concerns stemming from COVID-19 uncertainty.
"You hate to put what we're going through in sports terms, because there are a lot of people out there who have it a lot worse than us," Gattuso said.
As of Aug. 24, the CDC reported 5.9 million COVID-19 cases in the United States with more than 180,000 deaths. No state experienced a more severe wave of infections than New York, so when Gattuso says others face much more difficult circumstances, it comes from an intimate familiarity.
Coaches and players still have their goals to balance, however.
"In our world, that's a big challenge," he said. "We fought hard to get ourselves into the position we were in last year, and we need to make sure we continue doing the things that got us to that level, and that's a challenge in our conference."
One of the rumored formats for the spring is a six-game, exclusively in-conference season.
The mystery of what the spring season might like, or it happens at all, casts a pall on an otherwise promising forecast for UAlbany. The Great Danes enjoyed a historic season that included the school's first-ever FCS Playoffs win.
One of their crowning moments came at LaValle Stadium, home of Colonial Athletic Association rival Stony Brook. Crystallizing the duality of life pre-and-mid-pandemic life, LaValle Stadium served as a makeshift medical center for overwhelmed New York hospitals just four months after the 2019 Battle for the Golden Apple.
Elsewhere in the same borough, Long Island University made its Div. I debut in 2019. The postponement of the 2020 season throws an especially unpredictable hurdle in the program's establishment at this level -- but the uncertainty of COVID-19 weighs heavier, as Sharks head coach Bryan Collins explained.
"Does the virus have an effect on the heart? Getting sick might be a part of it, and [players might think], 'We're young and in shape and we might not get the symptoms older people might have,'" he said. "But once information comes out that we don't quite know about this disease, and it might have lasting effects on the heart, I think that's a bit more alarming."
Georgia State quarterback Mikele Colasurdo revealed on Aug. 20 his bout with COVID-19 resulted in myocarditis. His is a specific instance of a potentially further reaching problem highlighted in a July 31 Science Magazine article.
Deborah Rucker, mother of Indiana offensive lineman Brady Feeney, posted to Facebook earlier in the month:
After 14 days of hell battling the horrible virus, his school did additional testing on all those that were positive. My son even received extra tests because he was one of the worst cases. Now we are dealing with possible heart issues! He is still experiencing additional symptoms and his blood work is indicating additional problems. Bottom line, even if your son's schools do everything right to protect them, they CAN'T PROTECT THEM!!
COVID-19 and its long-term effects remain a medical mystery.
Since so much of the virus is indeed a mystery -- from side effects to potential solutions -- hence the emphasis on prevention of spread. Mitigating spread drives the philosophy for those programs on hiatus, as well as those few FCS teams forging ahead in the coming weeks.
Aggressive testing protocols will have to be implemented and adhered to regardless of when games are played. A Seattle Times Q&A with University of Washington team physician Kim Harmon sheds light on not only the importance of testing, but the challenges as it pertains to sports.
Accessibility to and administering of tests will make or break football for the foreseeable future.
"I really thought our administration did a great job with what we're doing moving forward," said Austin Peay interim coach Marquase Lovings. "Our administration has really done a great job with the COVID protocols and us getting tested once a week."
Lovings added that ahead of playing Central Arkansas on Aug. 29, the Governors would adhere to NCAA protocols with team-wide tests 72 hours before kickoff.
At Central Arkansas, the university is partnering with Conway Regional Medical Center as part of its plan to shape both athletic department and academic decisions.
"My opinion: As long as we're doing it healthy and we're doing it in a safe manner where our young men and their families feel they're getting the best care and playing in a safe environment, then you need to play when you have the opportunity to play," Brown said. "As the weeks go by, and as it turns cooler and we start getting into flu season and cold season, you just don't know what's going to happen."
Likewise, hope of a more effectively curbed virus come time for a hypothetical winter/spring football season is just that: hope. The hope in March, when campuses nationwide shut down and sports went on hiatus, was that COVID-19 would be effectively contained come football season.
Timetables have shifted, and a potential vaccine would have to be made readily available with historic efficiency if it's to be college football's proverbial Hail Mary.
Until such a game-changer emerges, the tightrope walked in fall or spring is the same, as Collins summarized.
"While you may feel you can get it going, and you can handle the virus," he said. "And you can handle practice and possibly competition and traveling in a relatively smaller footprint, I think all it takes is one instance of somebody getting sick, then that whole thing starts from scratch."
Mapping Out A Spring Schedule & Beyond
Playing in the spring addresses one set of questions, but as Eastern Washington coach Aaron Best said, "spawned a new set."
"What will we be able to do when we get to fall quarter?" he asked. "Do guys have scholarships, do guys have eligibility, when is this season going to be played out in winter, when can guys start conditioning?"
The NCAA Division I council recommended extending eligibility, which will have residual impact on rosters for at least the following year. The same is true of scheduling, even as the matter of schedules remains unclear.
What a spring FCS Playoffs might look like -- from the number of bids, to the schedule, even location -- is left to imagination ahead of the season's first game.
The NCAA has not announced plans for a spring tournament, and the organization did not respond to FloFootball.com's request for comment.
However, the most workable template may have come from conferences with no stake in the FCS Playoffs. The Southwest Athletic Conference and Mid-Eastern Athletic Conference, neither of which send their championships to the playoff, released spring schedules.
The MEAC and SWAC slates kick off Feb. 27 and wrap up with league championship games on May 1. No date for the annual Celebration Bowl has been announced, which has coincided with semifinal week of the FCS Playoffs.
Following the MEAC and SWAC lead addresses some of the concerns associated with the spring, like building in a training camp period after spring semester courses begin on most campuses.
"I would assume there would be some kind of spring ball 'fall' camp, where you have some time to get your team together and practice a little football somewhere in January of February," Lindsey said.
Weather presents a challenge for these early phases of a potential spring season. Programs in the Big Sky Conference like 2019 FCS Playoffs participants Montana and Montana State are located in cities where the average high temperature in January and February is 33 and 39 with eight and six average inches of snow (Missoula); and 35 and 38 with nine and six inches of snow (Bozeman).
Consider training camp in such conditions as the Bizarro Junction Boys.
Cheney, Washington, is another locale in Big Sky Country where temperatures plummet in the winter.
Practicing in frigid weather is typically a badge of honor at Eastern Washington. As Best explained, continuing the season into December means they've made the Playoffs -- and the 2018 season's national runner-ups have made a habit of doing just that.
Postseason games at Roos Stadium, with the red Inferno splashed throughout the snow,
"You can't gripe about what the environment is. You can't say, 'I want to play football but I want to have 72 [degrees] and no wind,'" Best said. "Climate is something we will use as a benefit."
Working through, or with, the weather may not be an issue. Spring's impact on the following fall is a challenge that both individual conferences and the NCAA will have to resolve.
Critics like ESPN analyst Rece Davis have lambasted the idea of a spring season because of the quick turnaround that would be needed to play a traditional fall docket in 2021.
"It doesn't make a whole lot of sense to play two full seasons in a six-to-eight month period. That's tough on guys' bodies, and their health," Brown said. "We talk about pandemic health, but [when we] talk about the physical health from playing two full seasons in that short a time, that's something that's going to be hard to do."
Reality is if the spring proceeds, college football won't return to what we long considered normal until 2022 at the earliest. Those health concerns are indeed valid, which would require a truncated season in the fall.
Even with a modified 2021 fall slate, a spring season isn't feasible for Central Arkansas. After Brown spoke with FloFootball.com, the university athletic department announced additions to its fall schedule with 2018 Conference USA champion UAB on Sept. 3; 2019 Sun Belt Conference runner-up Louisiana on Nov. 21; and FCS juggernaut North Dakota State on Oct. 3.
🚨 Bison Football is Coming Back! 🚨

NDSU will host Central Arkansas on October 3 at the Fargodome. Ticket availability will be limited. Season ticket holders have until 4:00 next Friday, Sept. 4, to request tickets. Details: https://t.co/pOnxdLc7WX pic.twitter.com/TlCiv9nFGX

— NDSU Football (@NDSUfootball) August 24, 2020
One of only two FCS vs. FCS games on the fall calendar, Central Arkansas is also the sole game North Dakota State has scheduled, described as a "showcase" opportunity for NFL prospects like quarterback Trey Lance.
For North Dakota State, it's a one-off that does not preclude the Bison from defending their crown come spring -- if that's the direction the FCS goes. For Central Arkansas, it's a marquee date on an unprecedented schedule for the program.
"You're going to get the opportunity to play the best competition this program's ever played [in a single season]," Brown described as a message to his team, while crediting athletic director Dr. Brad Teague's "relentless" efforts.
As for marquee opportunities in fall 2021, that's another layer of the unknown. Part of building a brand-new Div. I program at Long Island includes playing its first-ever FBS games; the Sharks have two on their 2021 schedule against Miami (OH), and an especially landmark date with Big 12 Conference member West Virginia. The trip to Morgantown includes a payday of almost a half-million dollars for the Long Island athletic department.
"We don't know how that whole thing looks now," Collins said. "You're getting done with your season in May, obviously the players need time off. It's a [short] summer to get them back on campus and get them prepared to play an FBS game that would be happening in early September as it's [scheduled] now."
The Players' Interests
In the wake of assorted postponements, college football players took to social media to express their emotions. Athletes pushing for a season adopted the Twitter hashtag #WeWantToPlay, while others -- like reigning Walter Payton Award winner Trey Lance -- shared their feelings in other ways.
We did everything we could and handled everything the right way. It's not fair, but we are unbelievably thankful for our coaches, staff, and administration for putting us in a position to have a chance to safely play this fall. https://t.co/K7AUHsfYec

— Trey Lance (@treylance09) August 14, 2020
Describing such feelings as acceptance isn't quite accurate -- more so, it's expression of the omnipresent mentality preached around football to control the controllable.
"You just have to stay focused and realize football's going to start again," said Karl Mofor. "That just has to be a motivation.
"I don't know how that's going to look, but I graduate in December so if we play in the spring, that'll be my grad (semester). I'm just going to work to be the best me possible," he said.
The best version of Mofor is an NFL prospect, much like North Dakota State's Lance. But amid the pandemic, showing that version of ones game is a more tenuous proposition.
The cancellation of traditional pro days and travel restrictions during the spring made an undeniable impact on the NFL draft. Six FCS prospects were selected in 2020, the fewest since the Div. I split in 1978.
The NFL has offered no indication it will modify its draft timeline in 2021, despite much of the FCS and Power Five conferences the Big Ten and Pac-12 opting out of fall competition. Training camp and games overlapping with the NFL evaluation process is another unknown -- but could be a positive.
"In some regards, for the FCS level, it might help some," Gattuso said. "A lot of the scouts will have more time to get to more practices, to see them and interact with them. A scout can do more, attend a game. It's hard for a lot of them to get out to FCS games [in the fall]."
At the same time, the scheduling shift has resulted in some shakeups around the FCS landscape. James Madison lost defensive lineman Adeeb Atariwa and defensive back D'Angelo Amos to transfer.
Both landed at Virginia, which is proceeding with a fall schedule as a member of the ACC.
"Most of our kids who are coming to school here are seeking a high-level of education," said Dale Lindsey of San Diego, a non-scholarship program. "The downside of that is there's also a cost that goes with that education.
"In the past week, we've got lost three critical players," he added. "One was given a scholarship to an [FBS] program. Another called and said his father had just lost his job, so we're trying to help him find a place."
Of the pandemic's many impacts on society, the job market ranks the most hard hit. Unemployment as August ends hover above 10 percent, and its ramifications don't spare football.
Meanwhile, there's the future employment prospects players have to protect. While some have transferred, North Dakota State offensive lineman Dillon Radunz took another route. He is skipping a potential fall season to train for the NFL draft.
As with tackling the virus itself, shaping football around COVID-19 is a massive project with no past template on which to rely. Opinions on when to play vary, but the ultimate end-goal is still the same: Get back on the field, and do so with players' health in mind.