2019 Rhode Island vs William & Mary | CAA Football
William & Mary & Rhode Island Are Both Looking To Get On A Roll
William & Mary & Rhode Island Are Both Looking To Get On A Roll
A season rife with near-misses produced hits for Week 11 opponents Rhode Island and William & Mary.
Nov 5, 2019
by Kyle Kensing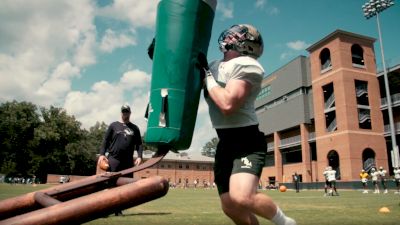 A season rife with near-misses produced hits for Week 11 opponents Rhode Island and William & Mary.
---
Who: Rhode Island (2-7, 0-5 CAA) at William & Mary (3-6, 1-4 CAA)
When: Saturday, Nov. 2, 1 p.m. ET
Where: Zable Stadium; Williamsburg, Virginia
Watch: LIVE on FloFootball
---
The Rams and Tribe – who, between them, dropped seven single-digit decisions in 2019 — each broke through last week.
Rhode Island trounced Merrimack in nonconference play, 42-14, while William & Mary went five overtimes to claim its first Colonial Athletic Association win under first-year coach Mike London.
"It was a great win, great to see the players celebrate after some close losses in previous game," London said, calling the 31-29 defeat of Elon a "historic moment in William & Mary football."
With the Tribe now in the CAA win column, that leaves Rhode Island the last team seeking a breakthrough. The winless start in the Colonial isn't because Jim Fleming's crew isn't dangerous: The Rams went to three overtimes with Delaware, lost to a currently ranked New Hampshire on a last-second field goal, then fell to Stony Brook on an incredible, 50-yard run in the closing seconds.
"It was a good W. We needed it in the worst way," Fleming said of the Merrimack. "See now if we can capitalize on the momentum in CAA play."
Pressure & Picks
Both Rhode Island and William & Mary played Elon in their last CAA game. A key defensive stat from each directly impacted the outcome: In Rhode Island's case, the Oct. 26 loss was the result of five turnovers, including three interceptions.
Conversely, William & Mary's win came in no small part as a result of the Tribe getting to the quarterback for six sacks.
Another sack - this time by Tyler Crist!

Sack No. 6️⃣ today for the Tribe!#GoTribe | #OurStateOurTribe pic.twitter.com/n4FpKpooZw

— William & Mary Tribe Football (@WMTribeFootball) November 2, 2019
Rhode Island's offensive line has played well much of this season, allowing 18 sacks – a solid number, given how often the Rams pass. William & Mary ranks fourth in the conference for sacks throughout the season, building off a strong defensive line. That matchup will play a pivotal role, particularly if the Tribe can generate enough pressure on quarterback Vito Priore to create some takeaway situations for a talented secondary.
In that same token, Rhode Island's made the second-most interceptions of any team in the CAA with 12. Momodou Mbye's five are second only to Elon's Greg Liggs among all CAA players, and tied for fifth in the nation.
The Rams have succeeded in generating takeaways through their own consistent pass rush, and William & Mary's 25 sacks allowed are the next-most in the conference. While the Tribe have not thrown a high volume of interceptions, their touchdown-to-pick ratio falls on the negative side (7-to-8).
Secondary Stars vs. Remarkable Receivers
With Isaiah Laster, Gavin Johnson and Latrelle Smith – who made a critical interception in the win over Elon – the William & Mary secondary is loaded with potential game-changers.
They face an all-hands-on-deck matchup against one of the best receiving corps in all of college football.
.@_____aaronn's fourth quarter TD grab moved him into second in place school history with 199 career receptions. #GoRhody pic.twitter.com/1jzfWzpi4T

— Rhody Football (@RhodyFootball) November 2, 2019
Rhode Island will likely finish 2019 with two pass-catchers eclipsing 1,000 yards for the campaign; future NFL'er Aaron Parker is already there. His 1,016 yards are the second-most in FCS. Not far behind him, Isaiah Coulter is at 800 yards. If he catches for his average (88.9 per game) down the stretch, he'll also finish in the quadruple-digit club.
With a third prolific pass-catcher in Ahmere Dorsey joining them, the Rhode Island receivers might be the most exciting at any level of college football. It's small wonder that Priore ranks sixth nationally with 2,780 passing yards.
Special Special Teams
Special teams have had a front-and-center role in the 2019 CAA season, and these two teams offer insight just how much so.
With 8⃣0⃣1⃣ KO return yds, true freshman @bronson_yoder9 currently ranks 1⃣st nationally and needs just 16 more yds to break W&M's single-season record set by Jonathan Grimes in 2011.#GoTribe | #OurStateOurTribe pic.twitter.com/432m1apLcq

— William & Mary Tribe Football (@WMTribeFootball) November 4, 2019
William & Mary's Bronson Yoder is one of only four players in FCS with multiple kickoffs returned for touchdowns this season. Rhode Island's Dorsey ranks in the top 10 nationally for kickoff return yardage.
Putting the ball into play after a score can be as dangerous for either team on Saturday as playing defense.