2019 Villanova vs New Hampshire | CAA Football
The Big Picture: Colonial Chaos Persists Into The Stretch Run
The Big Picture: Colonial Chaos Persists Into The Stretch Run
FCS Selection Sunday is three weeks away, and the season-long chaos of the Colonial Athletic Association continues.
Nov 4, 2019
by Kyle Kensing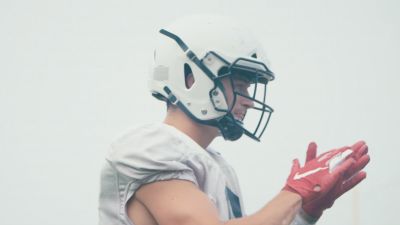 With the rolling back of the clocks, the days get shorter. Winter approaches, and so, too, does the postseason.
FCS Playoffs Selection Sunday is three weeks away, and the season-long chaos of the Colonial Athletic Association continues. The Colonial's postseason landscape is no clearer after Week 10 than it was at October's conclusion — the scene may be even more muddled now.
Six teams head into the final, three-week stretch with five or six wins. A seventh, four-win team is hardly out of the conversation, surging late. Only eight-win James Madison, on bye in Week 10, appears locked into the postseason – but the Dukes still have seeding to play for.
Oh, and a CAA championship, to boot.
This week, The Big Picture look at the Colonial sees unpredictability, and a wildly fun finish to the 2019 regular season still to come.
Comeback Cats
A term for November that New Hampshire interim coach Ricky Santos picked up from Sean McDonnell refers to this as "championship season."
When it comes to competing for championships, few are better to emulate than Coach Mac. And what better way for Santos and the 2019 Wildcats to honor McDonnell, stepping away for the season to focus on his health, than by returning to the playoffs.
The program reached 14 consecutive FCS Playoffs from 2004 through 2017. New Hampshire has work still ahead of it to ensure its place in the field, but the Wildcats appear primed to begin a new streak in '19.
Saturday's 28-20 win over Villanova was a microcosm of New Hampshire's season to date. The Wildcats went down two scores early and appeared headed for a loss.
Villanova rolled off 20 unanswered points in the first half, with two drives set up on New Hampshire's side of the field.
"They did a really good job setting the tone of that game. We were a little disappointed how we started," Santos said in his postgame press conference.
But three explosive scores in the second half — passes of 21 and 38 yards from Max Brosmer to Dylan Laube, and a run of 31 yards from Carlos Washington — turned the scoreboard in New Hampshire's favor.
In fashion befitting New Hampshire football, however, Granite State-tough defense won the day. The Wildcats held Villanova scoreless throughout the comeback, an effort that included drive-stalling interceptions on each of the visitor Wildcats' final two possessions.
Momentum interrupted!!!

Big time @unh_football interception#CAAFB on @flofootball pic.twitter.com/gvuHa1gWBJ

— CAA Football (@CAAFootball) November 2, 2019
It's rarely been easy for New Hampshire in this season of difficult circumstances. After dropping to 0-2 to start the campaign, the Wildcats rebounded with a 4-1 CAA mark. Three of those, including Saturday's, came by a single possession.
New Hampshire beat Rhode Island on a last-second field goal; stuffed Stony Brook on downs to preserve a six-point win; and came through with the Randall Harris interception in the end zone, and Evan Horn's pick to end the game.
The win-sealing interception was Horn's second of the day.
"They ran a lot of things in the first half we didn't really prepare for; a lot of [empty-set backfields], formations we didn't know how to react to," Horn said. "At halftime, we saw what they were doing, made adjustments, and obviously it showed."
"So proud of the fact we're always going to play until the last whistle blows," Santos said. "It's who we are, and it's in our DNA."
Maine Momentum
The analytics-focused crowd in and around college football never hesitates to express its dismissal of the concept of momentum. Just don't question momentum's existence around Nick Charlton's Maine Black Bears.
"That's a huge win. This momentum is real."

We're on to Elon.#BlackBearNation | #Elevate | #CAAFB pic.twitter.com/i7PhbDTZJT

— Maine Football (@BlackBearsFB) November 2, 2019
The defending CAA champions appeared done as far as FCS Playoffs hopes as recently as two weeks ago. They battled against FBS independent Liberty on Oct. 19, but the 59-44 loss – noteworthy for the breakout performance of freshman quarterback Joe Fagnano – dropped Maine to 2-5.
The Black Bears were also winless in the CAA at the time, having dropped a home nail-biter to Richmond.
Maine's offensive outpouring at Liberty began a movement that's carried over into a critical, stretch run for the Black Bears, however. Even momentum agnostics can't question the scientific definition of momentum: A moving object continues to move.
That's Maine right now. With Fagnano slinging it – and he threw four touchdowns, one-third of his attempts for the game in a 47-31 win over UAlbany – the Black Bears have scored 125 points in their past three outings.
Earnest Edwards was again Fagnano's primary target, and there are not enough superlatives to describe how excellent he's been for Maine all season.
With 128-yards receiving today, @EdwardsEarnest has now moved past Drew O'Connor and into third on Maine's all-time receiving yards list (2,364 yds).#BlackBearNation | #Elevate | #CAAFB pic.twitter.com/IEs46Vn4wI

— Maine Football (@BlackBearsFB) November 2, 2019
Glimpses of the Black Hole Defense showed up against a UAlbany offense that came in red-hot. Ori Jean-Charles accounted for two big scores with a pick-six and a safety.
Should Maine win out, the Black Bears will finish 7-5 with two losses to FBS opponents. That hypothetical also suggests a five-game winning streak; few teams in FCS would head into the postseason with comparable momentum.
Call On Caleb
Towson's A-1 connection of Tom Flacco and Shane Leatherbury has been well-established all season. Flacco's hook-up with Darian Street provided one of the most scintillating moments of the season.
But on Saturday, it was all about the pair of Flacco and Caleb Smith in the Tigers' rivalry game win over Delaware.
Smith caught for 200 yards in a 31-24 victory that keeps Towson in the hunt for the Playoffs. Among his grabs was this nifty juke into the end zone off a ridiculous, sack-evading toss from Flacco.
Wow.

Just wow.

Tom chucks it in a hurry and finds Caleb Smith down by the end zone and it's a 14-7 Tiger lead. This is Smith's first 100-yard receiving game (and it's only the second quarter). pic.twitter.com/yYS1Rmucvf

— Towson Football (@Towson_FB) November 2, 2019
"We won a game we needed to win, because it's Tom's birthday," Smith said in the postgame press conference through a telling grin.
Spiders Staying Alive
Joe Mancuso accounted for all three of Richmond's pivotal, second-quarter touchdowns in an impressive, 30-10 defeat of No. 21 Stony Brook. The dual-threat quarterback appears to be hitting his stride at the ideal time for the Spiders.
In the four games since returning from injury that held him out for almost a month, Mancuso has three multiple rushing-touchdown games; completed 72.4 and 76.7 percent of his passes in Richmond's last two outings (both CAA wins); and threw for the second-most single-game yardage of his career this week.
Mancuso's 318 yards on 23-of-30 passing produced two touchdowns – both to breakout freshman star Keyston Fuller – and he rushed for 88 yards and two scores.
Q2 - 5:54 | ?13, ??3

@its_Jerome_now gets the SACK that leads to a 40yd @jojocuso1218 BOMB to @1Keyston for another TD! #OneRichmond pic.twitter.com/NyjXU73Dk2

— Richmond Football (@SpiderFootball) November 2, 2019
Charlie Fessler provided Mancuso with a dependable target: 11 receptions for 147 yards, moving the ball to put Richmond into scoring situations. Running back Aaron Dykes, who made the difference with two kickoffs returned for touchdowns in Week 9, contributed on a beautiful wheel-route reception.
Q3 - 1:48 | ? 20, ?? 10

Mancuso fakes the run to Dykes and rolls to his right before hitting @dykes_aaron on the wheel route! Spiders gain 50 as they move into the red zone #OneRichmond pic.twitter.com/IHvx5eVcuQ

— Richmond Football (@SpiderFootball) November 2, 2019
Is it a scheme thing? Approach the coaching staff has taken to preparation? Spiders head coach Russ Huesman gives the praise to the athletes.
"Keyston's a good player, and Charlie's a good player. They get catches, and they get us first downs, and they score touchdowns. How they manage that, I don't really know," he said.
Whatever the formula, it's working for the Spiders. Their defensive strategy worked, too. Richmond held a Stony Brook rushing offense that came in as one of the most productive in the CAA to just 72 yards; running back Ty Son Lawton rushed for 2.2 yards per carry, and no Seawolves ball-carrier broke one any longer than eight yards.
"Whenever we get put into those situations where we have a quarterback who can beat you with his legs, as well, we have to keep the pocket condensed; not allow them to have their running lanes," Spiders defensive back Brandon Feamster said of Stony Brook's Tyquell Fields. "Keeping him in the pocket, the combination of good rush by the D-line, and good coverage in the back end, was the recipe for today."
The Spiders limited Fields to one yard net rushing and 12-of-25 passing. Feamster intercepted the Seawolves quarterback, punctuating a performance Huesman called Richmond's best of the season in terms of offense and defense flourishing in concert.
Richmond's margin for error down the stretch is presumably non-existent as a result of heartbreaking, non-conference losses to Fordham and Yale. They face one of the most difficult back-to-backs for any CAA team at any stretch in this season, traveling to Villanova next week and James Madison the next.
Tribe Off The Schneid
William & Mary knocked on the door of its first CAA win of the Mike London era repeatedly before Week 10. The Tribe finally broke through in dramatic fashion at Elon, surviving a 31-29, quintuple-overtime thriller.
Yes, quintuple. As in five. And those were five defensively stout extra frames of football.
Each team scored just one touchdown, in the third overtime. Both failed on the mandatory two-point conversion attempts.
With the score a 29-29 stalemate after a scoreless fourth, William & Mary and Elon became the first CAA teams to play under new rules instituted this season. Once a game reaches the fifth overtime, the two sides attempt alternating two-point conversions.
The rule came into effect after LSU and Texas A&M went seven overtimes on the final day of the 2018 FBS regular season. Virginia Tech and North Carolina played the first contest that necessitated the new rule, just two-and-a-half hours away from Rhodes Stadium.
Owen Wright capped his 113-yard day with the game-winning rush.
Tribe converts first in 5OT!#GoTribe | #OurStateOurTribe pic.twitter.com/2gnJcbcbTh

— William & Mary Tribe Football (@WMTribeFootball) November 2, 2019
But the defense keeping Elon out of the end zone repeatedly in overtime was a fitting conclusion. The Tribe held the Phoenix to field goals on three different drives to the William & Mary 21-yard line or closer. Six sacks helped make the difference.
Celebrate, Tribe. You earned it.
Inside the Tribe locker room after an epic 5️⃣OT win at Elon!#GoTribe | #OurStateOurTribe | #CAAFB pic.twitter.com/7DxDkSABMG

— William & Mary Tribe Football (@WMTribeFootball) November 2, 2019