2019 Towson vs James Madison | CAA Football
Stepping In & Stepping Up: Flacco, Leatherbury Set The Tone For Towson
Stepping In & Stepping Up: Flacco, Leatherbury Set The Tone For Towson
Towson roommates Tom Flacco and Shane Leatherbury exploded against Bucknell — and hinted at a sustainable life after Shane Simpson.
Oct 23, 2019
by Kyle Kensing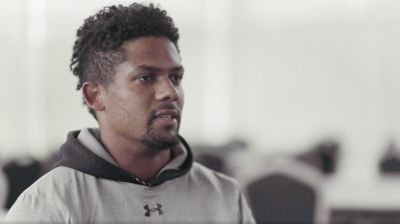 Roommates Tom Flacco and Shane Leatherbury have a great relationship both on and off the field – just don't expect to see the quarterback and wide receiver at any bowling alleys around Towson.
"Tom's pretty good at every sport," Leatherbury said. "We can't do anything else [beside football] because I don't really like losing to Tom."
A shared competitive nature might make a friendly game decidedly less so, but it sure makes for a fun Tigers offense.
Leatherbury said in lieu of bowling or something along those lines, the teammates spend their downtime talking football, watching the game, dissecting it. The end product manifests in one of the nation's most potent passer-receiver dynamics.
As Flacco puts it: "That's what you see on game day: We're similar people who like to work hard."
No. 16-ranked Towson now heads into a marquee matchup with second-ranked and Colonial Athletic Association-leading James Madison off their quintessential performance. Flacco threw for a record six touchdowns in the first half of a Week 8 romp over Bucknell, with five going to Leatherbury.
BREAKING: @CAAFootball has announced Tom Flacco and Shane Leatherbury as Co-Offensive Players of the Week!

Tom's FIVE touchdown passes tie the school single-game record. First since the 2006 campaign pic.twitter.com/BmXPH11HAN

— Towson Football (@Towson_FB) October 19, 2019
"It was a nice slump-buster for us [to] get our offense back clicking," Flacco said.
And how. The Tigers' 56 points matched the program's high output of a season ago, when they led the CAA in scoring behind the Offensive Player of the Year Flacco. Flacco paced Towson to 56 points last October against UAlbany, but even then, tallied only two-thirds the number of touchdowns as he put up against Bucknell.
Likewise, Leatherbury caught for 114 yards in that rout a season ago but finished with a single touchdown. Saturday's effort demonstrates how the duo has progressed from an already impressive level to a record-setting standard.
And coach Rob Ambrose can point to one play in particular.
"The longest [Flacco-to-Leatherbury touchdown] we actually called that early in the game but screwed it up," he said. "We still had a positive [gain] out of it, but we didn't get out of it what we wanted. I said, 'We're going to call this again so the two of you get on the page and figure this out.' I didn't really expect it to be a 50-yard touchdown."
YOU GUUUUUUUUUUYS.

Tom has SIX touchdown passes today and now owns the school single-game record.

Shane has tied the single-game receiving touchdown record with his FIFTH. pic.twitter.com/9OzXeqVFm9

— Towson Football (@Towson_FB) October 19, 2019
"A couple of them were easy throws because of what he did to get open," Flacco said. "The last one obviously, he broke two or three tackles before he got into the end zone. That's all him."
Regardless of who gets the credit, Flacco and Leatherbury buoy the Towson offense heading into the final push of 2019.
James Madison kicks off the final, four-game stretch that will determine the Tigers' postseason fate. It's been a season of high-and-lows at Towson, opening with an impressive 3-0 record that launched it to No. 5 in the nation.
Injuries piled up, most notably to versatile running back Shane Simpson. Losses coincided.
Coming into the Bucknell matchup, Towson lost an overtime heartbreaker to fellow CAA Top 10-ranked Villanova, a non-conference game at SEC powerhouse Florida, and at home to UAlbany. The 21 points the Tigers scored against the Great Danes were their fewest against an FCS opponent this season and 35 fewer than they put on UAlbany a season ago.
Getting right against Bucknell wasn't just about jump-starting the offensive production. Rather, the 56 points reflected the attitude Ambrose said the Tigers carried into Saturday.
"We saw it all the way around: Guys who were in second-tier leadership positions before, once the guys got injured, they stepped up," he said.
More than just "stepping up," Flacco and Leatherbury credited teammates for "stepping in." Both praised running backs Yeedee Thaenrat and Adrian Feliz-Platt for shouldering the responsibilities left in Simpson's absence.
Both broke 100 yards rushing against Bucknell, complementing the explosiveness in the passing game.
"They're going to get those 8, 9, 10-yard pops. They're going to block in the pass game," Leatherbury said. "We know what they can do."
And everyone paying attention knows what the Flacco-Leatherbury tandem can do, too. Leatherbury ranks second in the CAA and tied for sixth nationally with eight touchdown receptions now on the year. Flacco's thrown for slightly fewer yards per game than a season ago, but his touchdown-to-interception ratio has improved from 2.5 to 4.7.
After busting that short slump, the Towson offense looks like it's having fun at a most pivotal juncture.
"It's always fun when you're winning," Leatherbury said. "That's when we play the best, when we're enjoying ourselves."
Winning with your roommate on the football field is a whole lot more fun than competing against at the bowling alley, anyway.