2019 James Madison vs William & Mary | CAA Football
The Big Picture: This Is The Carter
The Big Picture: This Is The Carter
Yet another landscape-shaking result leaves five teams tied in the loss column of the CAA. Three of those five have 3-1 marks.
Oct 21, 2019
by Kyle Kensing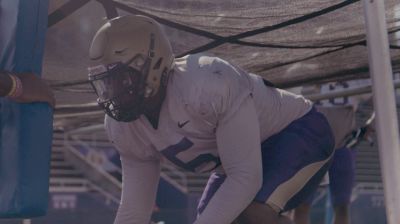 Yet another landscape-shaking result leaves five teams tied in the loss column of the Colonial Athletic Association. Three of those five have matching 3-1 marks.
The 2019 CAA season has certainly been chaotic, but at least one element is going as predicted: preseason favorite James Madison sits atop the tangle.
Seemingly, the closer the CAA moves toward the conclusion of the regular season, the less clear the title race becomes. Perhaps some clarity can be found viewing the scene in the Big Picture.
'There's Always Hope If You're Willing To Fight'
Above is the message Delaware coach Danny Rocco emphasized with his team between Weeks 7 and 8. Through the first half of the season, the Fightin' Blue Hens lived up to the gerund in their moniker.
Even in losses, Delaware never rolled over to defending national champion North Dakota State. UD took current ACC Coastal leader Pitt down to the last play, one week removed from the Panthers snapping UCF's almost three-year regular-season winning streak.
But after losing in CAA play last week to Elon 42-7, the Blue Hens faced a gut check against red-hot New Hampshire. The Wildcats came into Newark winners of four straight, and one of only two CAA teams with an unblemished conference record.
There's a blemish after Saturday, courtesy of a game Rocco said Delaware made intentionally "ugly."
The 16-10 slugfest was exactly the kind of skirmish New Hampshire flourished in previously, just a week earlier grinding one of the best rushing attacks in the CAA to a 20-14 finish. In this instance, however, Delaware rallied from surrendering 42 the week prior on the defensive side.
The fourth quarter featured some especially big defensive stands. Defensive tackle Cam Kitchen led the effort to pressure New Hampshire freshman quarterback Max Brosmer, including breaking up a pass with the Wildcats driving into Blue Hens territory.
Amonte' Strothers picked off a pass in the end zone to kill one fourth-quarter drive, and the Blue Hens collectively shut down every passing lane to snuff the Wildcats' game-ending possession at the 22-yard line.
"This is definitely what you play football for," Kitchen said of the atmosphere on New Hampshire's late-game drives. "It's fun, your heart is pumping,"
On offense, running backs DeJoun Lee and Will Knight both broke 100 yards rushing, and Lee scored the Blue Hens' only touchdown.
Lee, who missed three games this season, showed no ill effects of previous injury. He was the smallest player on the field at 5-foot-7, 185 pounds. At one point in the contest, however, he carried both the ball and a few Wildcats defenders on the Blue Hens' game-sealing scoring drive.
No single moment better crystallizes the manifestation of Rocco's message about fight than that.
Tha Carter V
Facing the James Madison defensive line forces an offensive coordinator to determine what strategy might mitigate damage most effectively. William & Mary didn't let reigning national Defensive Player of the Week John Daka wreak as much havoc as he caused against Villanova — well, not after the first play of the game, at least.
But the Tribe weren't stopping Ron'Dell Carter. He ate. And ate. Then ate some more.
Carter's monster afternoon concluded with 10 tackles, a sack, and a ridiculous six tackles for loss, one week after Daka racked up five TFL.
nah Ron'Dell just doing Ron'dell things ??‍♂️ its not a competition, my brother is a baller @rc5____ ?? https://t.co/9xEMmF5G8A

— John Daka (@JDak_7) October 19, 2019
The Dukes cruised to a 38-10 win with Percy Agyei-Obese rushing for two touchdowns and Ben DiNucci throwing for a pair. Coupled with New Hampshire's loss at Delaware, James Madison sits alone atop the otherwise bottlenecked Colonial.
Touchdown Tom
Towson's brief sabbatical from CAA competition provided the Tigers with a get-right game. Tom Flacco bombarded Bucknell in a 56-7 win that rewrote a few Towson records.
YOU GUUUUUUUUUUYS.

Tom has SIX touchdown passes today and now owns the school single-game record.

Shane has tied the single-game receiving touchdown record with his FIFTH. pic.twitter.com/9OzXeqVFm9

— Towson Football (@Towson_FB) October 19, 2019
More than one-third of Flacco's completion and more than a quarter of his pass attempts went for touchdowns. Five of those scores went to Shane Leatherbury, who caught six passes in total. That the damage was done entirely in the first half makes the accomplishment all the more impressive.
"Coach [Rob] Ambrose had the play-call that set up Shane, and Shane's going to execute," Flacco said. "He's obviously a target I like to throw to."
Obviously.
The Flacco-to-Leatherbury connection now accounts for 15 touchdowns all-time. Leatherbury's eight touchdown catches this season already surpass the seven he made in 12 games a season ago.
UAlbany Remains In The Mix
UAlbany's strong start to CAA play is no fluke: The Great Danes are among the teams still in the hunt for the Playoffs and a conference championship halfway through the Colonial slate, after beating Rhode Island 35-28.
Quarterback Jeff Undercuffler didn't throw for the lofty yardage that has been a staple of UAlbany's 3-1 conference and 5-3 overall record, but the redshirt freshman still had himself a day. Ten of Undercuffler's pass completions went for touchdowns, and he now sits a score away from tying a UAlbany record.
Q4 | With his 2️⃣4️⃣th TD pass of the season, Undercuffler is now just one shy of the program single-season record, set by Dan DiLella in 2011.

UAlbany 35, Rhode Island 21#GreatnessLivesHere #CAAFB pic.twitter.com/MTxDsdHWZD

— UAlbany Football (@UAlbanyFootball) October 19, 2019
The Great Danes prolific passing attack also has his No. 1 target, Juwan Green, sitting a touchdown away from setting the program's single-season mark.
Record watch | With his TD catch in the fourth quarter, Juwan Green now has 1️⃣0️⃣, tying the program's single-season record. ???

— UAlbany Football (@UAlbanyFootball) October 19, 2019
Running back Karl Mofor also continued to quietly have one of the best offensive seasons in the nation, again breaking 100 yards rushing with 101. He's now the CAA's leading rusher at 756 yards.
A Heartbreaking Finish
Richmond endured a tough, three-game losing streak in September that tested the team's resilience. The Spiders came out of the skid tougher, and won a couple of big Colonial contests before facing a tough Ivy League foe, Yale.
Richmond's ability to bounce back in the second half of CAA play will again be revealed after dropping a heartbreaking, 28-27 decision. Yale scored two touchdowns in under 90 seconds.
"We handed them that game, and I told our team that," said coach Russ Huesman. "We had opportunities. You can't get down there [in the red zone] four times, put up 464 yards, and only come away with six points."
"We outplayed them by a million miles," he added. "Our wideouts played good, our offensive line played good, Joe [Mancuso] played good. Our defensive line played good. [Yale] made a couple plays at the end."
Closing out games will be the theme for Richmond heading into the critical stretch in the Colonial. The Spiders made big defensive stops against both UAlbany and Maine to preserve those wins, but had misfires late that cost them in non-conference against Fordham and Yale.
Coming Down The Stretch
An important note to remember about a CAA weekend, as has bared out through this and most seasons before it: Any game has the potential to drastically change the title picture.
For the sake of brevity, The Big Picture lays out the remaining matchups between one of the Colonial's five 1-loss teams and/or undefeated James Madison.
Oct. 26
Richmond at Delaware: Two teams that have experienced ups and downs in 2019, the first meeting of one-and-no-loss CAA opponents could create separation in the logjam. These are two of the most physical defenses in the conference.
Nov. 2
Villanova at New Hampshire: The clash of 'Cats provides Villanova an opportunity to show how much it has progressed from a season ago. The Wildcats (Pennsylvania version) lost their second shutout in as many weeks when facing New Hampshire a season ago, 34-0. This year through eight weeks, Villanova boasts the second-most prolific offense in the CAA, but New Hampshire's defense is the stingiest at 16.1 points per game.
Nov. 9
Richmond at Villanova: Programs that account for two of the last three CAA national championships square off. Villanova will be at about one month without star running back Justin Covington by this point. The nation's leading rusher after six weeks sustained a season-ending injury that changes the complexion of the Wildcats offense.
UAlbany at Delaware: Will the surprise Great Danes still be in the championship hunt when they head to Delaware Stadium?
New Hampshire at James Madison: The Colonial's two longtime standards for excellence playing in the final month of the regular season — with potential championship and Playoff implications — just feels right.
Nov. 16
New Hampshire at UAlbany: Pending results leading up to the penultimate weekend of the regular season, the Wildcats and Great Danes may both be playing for their Playoff lives.
Richmond at James Madison: The aggressive Spiders front seven will try to slow James Madison's multifaceted rushing attack.
Nov. 23
Delaware at Villanova: The Battle of the Blue, first played in 1895, has been all Villanova of late. The Wildcats' current, seven-game winning streak is the longest for either side in the series' 52-game history. Snapping the streak may determine Delaware's Playoff fate – while extending it could do the same for Villanova.