2019 Yale vs Richmond | CAA Football
Tackle Machine Tyler Dressler Has Gaze Fixed On A Playoff Berth
Tackle Machine Tyler Dressler Has Gaze Fixed On A Playoff Berth
Richmond linebacker Tyler Dresser has helped lead the Spiders to back-to-back victories after a 1-3 start.
Oct 17, 2019
by Kyle Kensing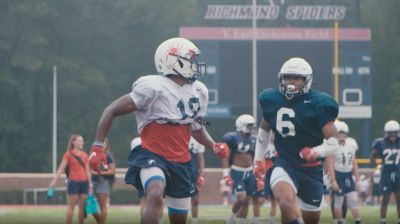 Unlock this video, live events, and more with a subscription!
Get Started
Already a subscriber? Log In
The Richmond Spiders reached a crossroads that intersected at the 20-yard line in the Bronx.
Their final effort to score a game-tying touchdown at Fordham fell short, and the 23-16 decision left Richmond at 1-3 on the season. The loss marked three straight, the first two coming against Boston College and Elon.
"We could have gone down two paths," said Spiders linebacker Tyler Dressler. "Are we going to go down and stay down, or are we going to do something about it? … When that adversity hits, that's what makes us come out there like, 'Who are we? What kind of team are we going to be?'"
Watch Yale vs Richmond LIVE on FloFootball
Dressler and his Spiders teammates responded, showing the kind of team they plan to be is one with a physical and imposing style of play.
Since that loss at Fordham, Richmond won back-to-back Colonial Athletic Association games against a surprise UAlbany bunch and on the road over defending conference champion Maine.
Richmond allowed just 37 combined points in the two wins behind some outstanding defensive play. In Week 7 at Maine, Dressler was especially excellent with a career-high 20 tackles. Those 20 hits didn't just mark a Richmond high for the Covington (Va.) High School product, either – Dressler estimated that was his most active performance at any level of football.
He just didn't know it until after the game.
Congratulations to @TDressler5 for being named the @CAAFootball Defensive Player of the week!

NO other player in @NCAA_FCS has had more tackles in a game this year than Dressler's 2️⃣0️⃣ for ??against Maine!#OneRichmond pic.twitter.com/trWhdqNfY3

— Richmond Football (@SpiderFootball) October 14, 2019
"I was shocked to find out I had that many," Dressler said. "[Richmond assistant athletic director for communications] Matt [McCollester] came up to me — there was a postgame press conference with me and coach [Russ] Huesman. I was surprised they chose me; then he told me I had 20 tackles. I was in disbelief."
Believe that this Richmond defense can continue to make noise, though. The Spiders certainly will, because believing in their ability to turn it around has them in a positive place for the critical stretch in the CAA.
"The Fordham loss was tough, but there was nobody packing it in. They were all bought in, and they wanted to win," Huesman said. "Our guys have some confidence that they're good enough to win some games in this league."
Confidence is a necessary component for success but can be understandably rattled in difficult times. A team maintaining its belief requires a cohesive effort from its leaders.
That's exactly what Dressler credited for inspiring the bounce-back.
"Our captains deserve a lot of credit for that," he said. "Daniel Jones, Mo Jackson, and Seyoum Settepani. Those guys are always, 'Keep your chins high.' 'If something's going wrong, what can we do to make it better?' 'Stay positive at all times.'"
Richmond standout @youngboul_Reece joins the show to talk about his incredible season so far and Kolby and Bratke preview the monster showdown between #5 Villanova and #2 JMU.

— FloFootball (@FloFootball) October 11, 2019
Such a message resonates, too, when those delivering it are living it. Jones and Jackson are two of the top-producing Spiders on defense, with the defensive back Jones registering 34 tackles, a team-high four pass breakups, and two interceptions on the season.
Jackson came into the season already well established as one of the top defenders in the nation, earning Preseason CAA Defensive Player of the Year. But his performance thus far in 2019 might actually exceed expectations. He won the conference's Defensive Player of the Week one week prior to Dressler, and his two sacks at Maine were crucial in that win.
Jackson has built one of the strongest portfolios for the Buck Buchanan Award of any candidate in the FCS. But some of his contributions that don't show up on the stat sheet elevate the Spiders' defense, as Dressler explained.
"He makes my job a whole lot easier," Dressler said. "At the recent press conference, they were asking, 'How'd [you] get 20 tackles?' And really, the defensive line deserves the credit. They were keeping me clean all game, and especially Mo.
"Mo was on the same side as me, so he's able to take one or two blocks every play, and that frees me up," he added.
Of course, getting to the ball once those blockers are accounted for requires excellent ball-pursuit ability. Dressler said pre-snap reads are critical to his anticipation and getting to the ball quickly.
With this defense now rolling, Richmond aims to finish the second half strong. A flourish in conference play – and in Week 8 against out-of-conference foe Yale – could be enough to net a playoff berth.
The Spiders reached their crossroads, and so far, have taken the right path.