2019 UAlbany vs Towson | CAA Football
Fresh Off A Bye Week, Ninth-Ranked Towson Hosts UAlbany
Fresh Off A Bye Week, Ninth-Ranked Towson Hosts UAlbany
Ninth-ranked Towson is back in action on Saturday, as UAlbany makes the trek south to meet the Tigers at Johnny Unitas Stadium.
Oct 8, 2019
by Kyle Kensing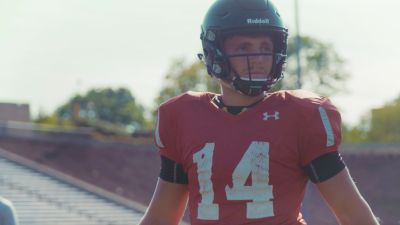 Ninth-ranked Towson is back in action on Saturday, as UAlbany — in search of a bounce-back performance after a tough three-point loss at Richmond — makes the trek south to meet the Tigers at Johnny Unitas Stadium.
---
Who: UAlbany (3-3, 1-1) at No. 9 Towson (3-2, 1-1)
When: Saturday, Oct. 12, 4 p.m. ET
Where: Johnny Unitas Stadium; Towson, Maryland
Watch: LIVE on FloFootball
---
The reality of life in the Colonial Athletic Association dictates that with the top-to-bottom depth boasted throughout the league, no one can celebrate wins or lament losses for too long. Such is the case for UAlbany and Towson when they meet Saturday at Johnny Unitas Stadium.
The Tigers return to action off a bye week, which came following a two-game losing skid. Towson dropped an overtime heartbreaker in a Top 25 tussle with Villanova on Sept. 21, then took a lump from undefeated FBS powerhouse Florida on Sept. 28.
With the bye week to regroup, however, Rob Ambrose's Tigers return home and to CAA play aiming to build off the positives and improve on the negative.
Towson's Week 7 opponent, UAlbany, has been a testament to improvement. The Great Danes, picked to finish last in the preseason CAA poll, finished the season's first month above .500. With a win over a good William & Mary team on Sept. 28, the 2019 Great Danes needed one game to reach a milestone that took eight in 2018.
UAlbany nearly improved to 2-0 in the CAA but dropped a 23-20 decision at Richmond that, within it, can be found a microcosm for Colonial competition.
"It's hard to recover. But like I told our team, we fought back and really had a chance to win that game at the end," said Great Danes coach Greg Gattuso.
UAlbany now aims to fight back on the road against the No. 9 team in the country, with an offense that averages 40 points per game against FCS competition.
Offenses Putting On A Show
Towson's offensive explosiveness surprises no one, given the Tigers led the CAA in points scored a season ago. Just how good they've been in 2019 may be another story.
Towson hit 45 points in each of its first two CAA matchups, a feat made all the more impressive given the Tigers lost All-American do-everything running back Shane Simpson in the first half Week 3 at Maine.
"Outside of the Florida game, we've been incredibly efficient scoring points on the number of plays we've run," said Ambrose.
Count UAlbany's Gattuso among those who know full well of the Towson offense's full capability. Last season, the Tigers scored 56 points in their win over the Great Danes.
Tom Flacco is quickly rising up the Towson record book...….. pic.twitter.com/pypPG93dI3

— Towson Football (@Towson_FB) September 25, 2019
Quarterback Tom Flacco was central to the outpouring with 306 yards passing, 80 yards rushing, and two touchdowns apiece through the air and on the ground. The reigning CAA Offensive Player of the Year draws high praise, and a flattering comparison, from Gattuso. He said Flacco's combination of vision and mobility was reminiscent of Doug Flutie in his Heisman Trophy-winning time at Boston College.
While Towson's explosive on offense and Flacco's playmaking ability were well-established coming into the year, UAlbany's own ability to put up points comes as more of a surprise.
Quarterback Jeff Undercuffler ranks No. 19 nationally with 1,213 passing yards, and he's made full use of an outstanding wide receiving corps. Jerah Reeves and Juwan Green have stepped up to rank 14th and 71st in the FCS for receiving yards.
"Jerah Reeves has elevated his game to a level that's fun to watch, to be honest," Gattuso said.
QB Pressure & Turnovers
UAlbany went into its matchup with Richmond boasting some of the nation's best pass-protection stats. The line's ability to give Undercuffler plenty of time to throw contributed to the Great Danes' lofty numbers, and that's one critical area in which Richmond found success.
The Spiders pressured Undercuffler more than any other opponent was able in five games prior, getting to the UAlbany quarterback for seven sacks. Richmond also undercut the Great Danes' rushing attack with 11 tackles for loss.
Getting into opponent backfields has been key for Towson's defense, which has been one of the most aggressive in college football. The Tigers' ability to apply pressure has presented a bevy of turnover opportunities.
Bye week is over. Back to work. UAlbany coming to Unitas on Saturday at 4 p.m. pic.twitter.com/KiWnhMh5cd

— Towson Football (@Towson_FB) October 7, 2019
"We've forced more turnovers defensively in the first part of the season than we'd done in a very, very long time," Ambrose said. Indeed, Towson ranks fifth in the nation with 12 turnovers generated.
Linebacker Keon Paye, who has three interceptions and came a yard shy of having two pick-sixes, is one of the most dangerous defensive playmakers in the CAA.
The Great Danes have been solid getting into the backfield in their own right. Mazon Walker and Eli Mencer combine for 18.5 tackles for loss, with Mencer boasting 4.5 sacks and three quarterback hurries. That has, in turn, translated to 14 turnovers gained for the Great Danes: third-most in FCS.
Points In Bunches
A combination of the talented playmakers on offense and ability to generate turnovers on defense factors into another key of Saturday's game: big runs.
Whether against Maine and Villanova this year or UAlbany a season ago, Towson has had a knack for rolling off points in bursts. The Tigers turned a 10-point advantage into 24 points in fewer than a minute-and-a-half when these teams met last October, the result of two chunk-play touchdowns. One was a 17-yard Flacco touchdown pass, the other a 41-yarder to Shane Leatherbury.
The Tigers slammed the door on any comeback hopes with 11 more points scored in a four-minute stretch in the third quarter.
Explosive plays – runs of 10 yards or more and passes of 15 or more — are a defining characteristic of this Towson offense. While losing Simpson impacts some of the Tigers' ability to break off such plays, Yeedee Thaenrat proved more than capable of breaking loose when he rushed for a 42-yard score in the 2018 meeting with UAlbany.
Against William & Mary, UAlbany's ability to put up 17 points in about six minutes of game time was difference-making. Replicating that effort to keep pace with Towson is critical – and earlier than the fourth quarter might be essential to give the Great Danes a shot at the upset.