2019 Villanova vs Towson | CAA Football
An Attacking Towson Defense Has Tigers Eyeing The Ultimate Prize
An Attacking Towson Defense Has Tigers Eyeing The Ultimate Prize
The transformation of Towson's defense — from 10th in the CAA in 2018 to the upper echelon of the FCS in '19 — has been remarkable.
Sep 19, 2019
by Kyle Kensing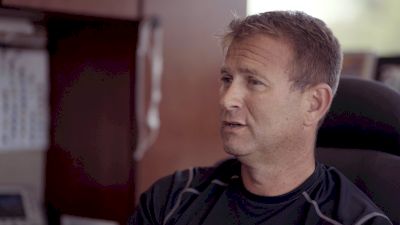 Past results don't have to dictate future outcomes – just look at the Towson defense.
Tenth in the Colonial Athletic Association a season ago for points allowed, the Tigers charged to a 3-0 start in 2019 behind one of the most aggressive and opportunistic defenses in the nation. The game-defining drive of the season opener characterizes this team's reset.
"We have a thing: One snap and clear," said cornerback Coby Tippett.
Watch Villanova at Towson LIVE on FloFootball
In other words: There's no redo on past plays, so just focus on what's head. After running back Shane Simpson punched in a touchdown run to give Towson the lead at The Citadel with 1:27 remaining, Tippett put that mentality to action.
"It's funny, the series before when they scored, I actually gave up the touchdown," Tippett said of the nine-yard Raleigh Webb scoring reception that put The Citadel ahead, 21-20. "Our offense went down the field very quickly and scored, and it was coming down to the defense. So I did it – one snap and clear – I couldn't let that affect the next drive."
We like defense too! Our defense is off to a great start with 15.7 points allowed per contest through three games, and you can see them this Saturday at Unitas! https://t.co/559pchiNzp pic.twitter.com/A3utUcY1eH

— Towson Football (@Towson_FB) September 18, 2019
Of course, it's one thing to move on from misfires; learning from them builds winners. The Bulldogs ran just three passing plays all game before the final drive, but one was a play Tippett saw previously. He recognized, reacted by undercutting the route, and his interception preserved a 28-21 win.
It also set the tone for both Tippett, who has a pick in every game thus far in 2019, and the Towson defense.
The No. 5-ranked Tigers come home in Week 4 for their first CAA game at Johnny Unitas Stadium, and No. 18 Villanova makes it a second straight matchup with a nationally ranked opponent. Towson went on the road in Week 3 for a Top 10 showdown with defending Colonial champion Maine.
Maine stakes a well-earned reputation on its Black Hole Defense. The most chaotic force at Alfond Stadium, however, came all in white.
The Tigers defense broke the game open in the second half, keeping Maine out of the end zone until late in the fourth quarter, when the outcome was set. A Black Bears attack that came into Week 3 one of the nation's most prolific put up yards – 401, to be exact – but the overall yield was the definition of "bend-don't-break" as coach Rob Ambrose put it.
"It was a little more attack than it was defending," Ambrose said, particularly on third downs. "We were going to put them on their heels."
The aggressive game plan from first-year defensive coordinator Eric Daniels was a gamble that hit jackpot. The Tigers picked off Maine quarterback Chris Ferguson four times, including Tippett's third of the season, and a near-pick-six from linebacker Keon Paye.
Paye took the interception — his second of 2019 — 73 yards to set up a goal-line touchdown run on the ensuing snap.
He wasn't credited with the touchdown – "If anything, I was on the one-inch line," Paye said – but the offense closing the door ensured he "wasn't worried about it too much."
It was all @Towson_FB in the second half last night as the Tigers picked up a huge road win at Maine. pic.twitter.com/ey7B19QeYR

— FloFootball (@FloFootball) September 15, 2019
Sure, it would have marked a second straight week for Paye to get into the end zone. He ran one back 38 yards the week prior against North Carolina Central. And if things continue on their current course, there will be more opportunities for more defensive touchdowns.
Towson's excelling at generating pressure through three games. Eleven Tigers have contributed at least one tackle for loss, while Robert Heyward and Christian Dixon have 3.5 and three each. Dixon also has a sack.
"We're pressuring the QB a lot, so we're pushing him on his back foot and making him make bad passes," Paye said. "He's not able to read the defense, so we're able to jump their routes."
Capable pass-rushers up front open the trap, and Towson has the capable playmakers to close it.
For Paye, his outstanding start lives up to a prediction Ambrose made in the summer: "This is Keon's year."
"He's playing like that," Ambrose said. "He's the first guy to practice, he's the hardest working guy. He gives Robert Heyward a run for his money for how much he knows about the defense. I couldn't say more good things about Keon Paye right now."
With Tippett, the cornerback's breakthrough start brings the conversation back to offense for a team that came into 2019 generating buzz for its scoring ability.
"He was a two-way player in high school, and a very dynamic prep player. He could very easily be an offensive player," Ambrose said of Tippett.
Tippett won ESPNBoston.com Mr. Football in 2015, his senior year at Xaverian Brother High School. The Hawks completed a perfect season and their second state title that season in a championship game that included Tippett hauling in a 49-yard touchdown reception.
Such moments, according to Ambrose, readied Tippett to be the difference maker Towson now has in its secondary.
INTERCEPTED!!!

What a play by Coby Tippett on the sideline for the @towson_fb defense #CAAFB pic.twitter.com/TTI7CfLLON

— CAA Football (@CAAFootball) August 31, 2019
"He takes offensive knowledge and applies it to what he's learned defensively, and it puts him in very good position to make plays on the ball," Ambrose said.
As important as Paye and Tippett both were to the rout in Maine, safety S.J. Brown stole the show. He picked off a pass, broke up another, got into the backfield for a TFL, and his nine total tackles were a team-high.
Not bad for a player in just his third Division I game.
Brown landed at Towson after Ambrose and his staff searched "all over for safeties." They found Brown on the other side of the continent at Sierra College in California.
Brown's smooth transition from JUCO to FCS can be credited in part to Tom Flacco, Shane Simpson, and the rest of the Towson offense.
"We've got the best offense in the country, and it just makes us better when we're out there competing every day," Brown said.
The standout safety is one addition found in an unlikely spot who has helped elevate the Towson defense. The other is Daniels.
Daniels came to Towson in the offseason with an impressive track record as a defensive coordinator, boasting a one-year, four-touchdown turnaround in his team's per-game scoring yield. But he did so at NAIA program Briar Cliff.
The NAIA-to-D1 leap isn't a common one, but little about Towson's defense is.
A group with "a lot of passion," as Tippett described it, the Tigers are playing with new-found confidence and exuberance in 2019. And they're not shying from talking about an ultimate goal at season's end: the national championship.
All three of Brown, Paye and Tippett said those two words. They espouse the importance of weekly preparation and focusing on the next opponent – as back-to-back games against nationally ranked Maine and Villanova prove, the CAA provides no off-weeks – but they don't shy from the prize every team wants, but few will speak of.
"If you're not willing to talk about it, that means you're not willing to try and get to it," Paye said.
Towson's never won a national football championship — but that's the past. With an explosive offense and salty defense, the Tigers are focused on the future.