We are officially three months "and change" from the start of the 2018 college football season.
Really, it's basically four months out, but the "and change" trick is one I use when counting down mileage during a run and it seems to work pretty well from a psychological perspective, so we might as well try it here.
Three months and 97 cents to go — or something.
Anyway, now seems like as good a time as any to count 'em down from 130 to No. 1 in a post-spring practice rendition of our (still) way too early college football rankings.
Let's get to it.
---
130. San Jose State
129. UTEP
128. Kent State
127. Rice
126. Texas State
125. Charlotte
124. Bowling Green
123. Liberty
122. Connecticut
121. Hawaii
---
If this is the honeymoon for new Rice head coach Mike Bloomgren, it's been rough. Like, cloudy, rainy, and his new spouse got food poisoning from the quesadillas at the airport Chili's.
The Owls weren't exactly a powerhouse to begin with. But, in the past five months, they've been decimated by transfers, including guard Calvin Anderson—who chose Texas over Auburn and Oklahoma—along with safety JT Ibe (South Carolina) and defensive lineman Preston Gordon (Texas Tech).
Couple that with the tragic, practically inconceivable death of defensive end Blain Padgett in March and, I mean, wow.
Bloomgren is the man for the job, but the clouds have been dark over Houston.
---
120. Ball State
119. Oregon State
118. Kansas
117. Louisiana-Lafayette
116. New Mexico
115. South Alabama
114. East Carolina
113. Louisiana-Monroe
112. New Mexico State
111. UNLV
---
Not only is Kansas 3-33 under head coach David Beaty, 15-81 since Mark Mangino was expelled, but there's plenty of insult to injury: The Jayhawks' best players are starting to make a habit out of leaving Lawrence and then excelling.
A year ago, it was Montell Cozart, once the chosen, homegrown star of Kansas Football, leaving as a graduate transfer for Boise State—and promptly having the best season of his career.
This spring, it was another quarterback, Ryan Willis, and tight end Jace Sternberger who shined after leaving the program for Virginia Tech and Texas A&M, respectively.
Willis, who will likely backup Hokies' incumbent starter Josh Jackson, completed 10 of 15 passes for 262 yards and two touchdowns in the Virginia Tech spring game. Sternberger caught eight passes for 147 and two scores in the Aggies' spring game, and he's received rave reviews from his new teammates and coaches—including quarterback Nick Starkel.
"[He's] very, very valuable," Starkel said. "He's a playmaker. He's been making those plays every day, ever since he got here."
---
110. Miami (OH)
109. UTSA
108. Nevada
107. Georgia State
106. Eastern Michigan
105. Cincinnati
104. Central Michigan
103. Coastal Carolina
102. Georgia Southern
101. Illinois
---
There has been nothing on the field to suggest that head coach Lovie Smith is any closer to pulling Illinois out of its decade of suck. In fact, the Illini actually moved in the opposite direction last year, going winless in the Big Ten.
But, whatever Smith's recruiting pitch is at Bishop Dunne (Texas) Catholic, it's working. The Illini signed underrated three-star defensive tackle Calvin Avery in February and then received a massive commitment from blue chip athlete Marquez Beason in March.
Happy 60th birthday, @LovieSmith!

You won't find a ? coach in better shape, as the @IlliniFootball head man showed on this 2016 episode of @BTNJourney: pic.twitter.com/qkLM5MY3Cc

— Big Ten Network (@BigTenNetwork) May 8, 2018
Folks aren't buying it, of course. Not for a Top 100 two-way player with LSU and Oklahoma—among more than 40 others—hot on the trail. But no one thought Avery would stick with the Illini, either.
So, um, just say more of whatever it is that you say to kids in Dallas, Lovie. That's a start.
---
100. Old Dominion
99. SMU
98. Western Michigan
97. Tulsa
96. Western Kentucky
95. Buffalo
94. Akron
93. Rutgers
92. Utah State
91. Air Force
---
No Chad Morris. No Courtland Sutton. No Joe Craddock. No Trey Quinn. The Mustangs enjoyed a bit of a renaissance during Morris' final year on the Hilltop, but a severe regression in 2018 seems imminent.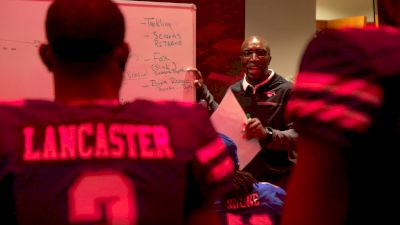 Unlock this video, live events, and more with a subscription!
Get Started
Already a subscriber? Log In
Sure, Ben Hicks is back under center. But Hicks' success came as a result of the system, Sutton and Quinn. And that's being polite about it.
Braeden West and James Proche are nice pieces, but this a four-win team.
---
90. Arizona State
89. BYU
88. Tulane
87. UAB
86. Florida International
85. Colorado State
84. Baylor
83. Syracuse
82. Colorado
81. Ohio
---
For a program fresh off of a 1-11 season, Baylor actually has a lot of reason to be optimistic—starting with the quarterback position. Charlie Brewer is a baller. Zach Smith will push him. And highly-touted dual-threat quarterback Gerry Bohanon would probably be starting out of the gate if he'd stayed home and attended Arkansas.
The pride of Earle, Arkansas.

Get to know early enrollee Gerry Bohanon in his interview with @CoachDWetzel. ? #SicEm pic.twitter.com/XLZ5NLa0AV

— Baylor Football (@BUFootball) March 31, 2018
A year ago, Matt Rhule inherited five returning offensive linemen—which became four returners when Ishmael Wilson was dismissed from the program. A couple of injuries later, the Bears were starting two tight ends at center and left tackle against Oklahoma.
Offensive line depth has, in large part, been solved. And the former Temple head coach is no stranger to rebuilds. He's been there and done this already.
---
80. Vanderbilt
79. Appalachian State
78. Massachusetts
77. North Carolina
76. Indiana
75. Southern Mississippi
74. California
73. Wyoming
72. Arkansas
71. Minnesota
---
Speaking of Arkansas, Morris can fix the Razorbacks, but not in nine months.
The quarterback situation is bad-to-quite bad and it won't be solved by September. Cole Kelley is very tall. So he's got that going for him—and it may be enough for him to start ahead of former four-star prospect Ty Storey, who has been disappointing at best since arriving in Fayetteville.
The defense has a chance to be a bright spot, but playing in the SEC West figures to diminish that some, and the offensive skill players, for the most part, are slow and unspectacular. Bret Bielema recruited like he was unaware that horologist Samuel Watson invented the stopwatch some 400 years ago.
---
70. Ole Miss
69. Georgia Tech
68. Army
67. Louisiana Tech
66. Tennessee
65. Troy
64. Kentucky
63. Wake Forest
62. Maryland
61. Purdue
---
There's actually a lot to like about Maryland. Last year's 4-8 mark is deceiving, considering the team lost approximately 60 quarterbacks along the way.
The Terps could've conceivably survived the loss of Tyrrell Pigrome, but not Pigrome and Kasim Hill. And definitely not Pigrome, Hill and Max Bortenschlager.
#Terps QB Kasim Hill (@Khillqb11) and Tyrrell Pigrome (@_piggyt) are coming along just fine from their ACL injuries. If anything, they look to be ahead of schedule. https://t.co/Mwtn4k7y7y pic.twitter.com/Un600zz29K

— Josh Stirn (@Josh_Stirn) April 4, 2018
Replacing DJ Moore will be vital and there are holes on defense—particularly at linebacker and on the defensive line—but head coach DJ Durkin, with Matt Canada calling plays, is an excellent candidate to experience a breakthrough season.
---
60. Virginia
59. Middle Tennessee
58. Fresno State
57. Boston College
56. Duke
55. Navy
54. Washington State
53. North Texas
52. Texas Tech
51. Pittsburgh
---
Mason Fine is really good at football. He's 5-11, 180 pounds soaking wet, played at a high school no one had ever heard of, and no one but North Texas wanted him, but the joke was on them, because Fine is a very fine quarterback.
Seth Littrell, the head coach who took a chance on the boy from Peggs, Oklahoma, narrowly missed a 10-win season in Denton last year after a 9-3 start. At North Texas, it quite literally does not get much better than that. If Littrell can repeat that success this year—and there's no reason to think he won't—he'll be Power Five-bound in seven months.
Of course, it's not all about Littrell and Fine. Offensive coordinator Graham Harrell has, in short order, engineered an offensive attack that was second only to Florida Atlantic in the C-USA last season—and he will have 2,271 receiving yards returning from that team in the form of wide receivers Michael Lawrence, Rico Bussey Jr., and Jalen Guyton.
---
50. Temple
49. Arkansas State
48. Marshall
47. Memphis
46. Houston
45. Northern Illinois
44. Toledo
43. Missouri
42. UCLA
41. Louisville
---
For all of their warts, Missouri does have one of the nation's best quarterbacks in senior Drew Lock.
Lock is, by most accounts, the top '19 NFL prospect at the position as a result of prototypical size, a quick release and plus arm strength—and, not coincidentally, he quietly led the nation in touchdown throws a season ago.
Oh, hey Drew! pic.twitter.com/k8c7aQtHT8

— PFF College (@PFF_College) April 18, 2018
Josh Heupel is gone, but it's debatable whether or not that's even a negative considering a.) some of the comments made by his players after his departure, and b.) the fact that he was replaced by former Dallas Cowboys assistant—and Tennessee head coach—Derek Dooley.
Lock's ability as a runner shouldn't be dismissed, but a more pro-style approach to the offense figures to lean into his strengths as a passer.
---
40. Florida
39. North Carolina State
38. LSU
37. Kansas State
36. Northwestern
35. Iowa
34. Utah
33. Oregon
32. South Florida
31. Nebraska
---
It's probably not fair to expect instant success out of Scott Frost, but it's also extremely difficult to refrain from being overconfident.
The Huskers are going to be extremely experienced everywhere on defense, with virtually everyone back on the defensive line, and key returners overshadowing departures at linebacker and in the secondary.
The freshman showing off the jets. ?

✊ @MartinezTheQB #GBR pic.twitter.com/FF0MdGyjc7

— ❄️ Nebraska Football ❄️ (@HuskerFBNation) April 22, 2018
The offensive backfield is loaded thanks to the additions of junior Greg Bell and freshman Maurice Washington. That duo will join Tre Bryant, who was expected to be Nebraska's lead back last season before a knee injury knocked him out.
It still feels funny having the Huskers this high considering we have no idea who their quarterback will be, but whatever. That's where Frost's genius comes in.
---
30. Oklahoma State
29. Texas A&M
28. Central Florida
27. Iowa State
26. South Carolina
25. Texas
24. San Diego State
23. Southern Cal
22. Arizona
21. Florida Atlantic
---
It's hard not to get excited about a full year of Khalil Tate with Kevin Sumlin calling the shots.
Sumlin may have fallen out of favor at Texas A&M, but he's a fantastic fit in Tucson, with a track record for paving the way for breakout performances by his signal caller.
What do y'all think he was telling me lol? pic.twitter.com/9I3Ropwhrm

— Khalil Tate (@KhalilDTN) April 12, 2018
And, in case you've forgotten, Khalil Tate had an all-time great run last October before returning to earth in November. He has to be on the short list of Heisman Trophy candidates heading into 2018 and really ought to be forced to wear a caution sticker on his jersey because the dude is electric.
In what appears to be a down Pac-12 save for Washington, Tate could conceivably carry Arizona into a New Year's Six bowl in year one of the Sumlin era.
---
20. Michigan State
19. Boise State
18. West Virginia
17. Notre Dame
16. Florida State
15. Michigan
14. Mississippi State
13. Virginia Tech
12. Miami (FL)
11. Penn State
---
For whatever reason, folks seem to be sleeping on the Seminoles.
This is a team that had Top 3 talent entering last season before injuries and Jimbo Fisher's wandering eye did them in. A year later, new head coach Willie Taggart's biggest issue will be deciding whether to re-insert quarterback Deondre Francois—lost for the season in the '17 opener against Alabama—or ride with now-experienced sophomore James Blackman, who learned on the fly last fall.
"We compete. A lot. Everything. Every play."

One-on-one with @RDMW6.#SpringBall | #DoSomething pic.twitter.com/PkeOukUFxM

— FSU Football (@FSUFootball) April 2, 2018
The defense is a potential problem area, with six departed starters to replace. But this is damn Florida State, so playmakers lay in wait on both sides of the ball—among them, safety Hamsah Nasirildeen and defensive tackle Marvin Wilson.
---
10. TCU
9. Ohio State
8. Stanford
7. Auburn
6. Wisconsin
5. Washington
4. Oklahoma
3. Alabama
2. Georgia
1. Clemson
---
What more do you want from a preseason No. 1-ranked team?
Clemson already returned senior quarterback Kelly Bryant. But the Tigers also signed top-ranked quarterback Trevor Lawrence who enrolled in January and will push Bryant for the QB1 designation.
The running back room remains intact, with Tavien Feaster and Travis Etienne ready to roll again in 2018, as well. And, regardless of whether its Bryant or Lawrence delivering the football, the Tigers' receiving core of Hunter Renfrow, Tee Higgins and Amari Rodgers may be the nation's best.
"It's about the details..."#ALLIN ?? #Clemson pic.twitter.com/Kd0FHDVrcD

— Clemson Football (@ClemsonFB) March 1, 2018
Defensive coordinator Brent Venables will again lead one of the best defenses—a group that will be even better than expected after defensive ends Clelin Ferrell and Austin Bryant and tackle Christian Wilkins decided to return to Death Valley at the draft deadline.
Assuming the Tigers survive road trips to Florida State and Texas A&M, they really ought to be heading to the ACC title game unbeaten.