Create a free account to unlock this article!
Get Started
Already a subscriber? Log In
Without having yet put on shoulder pads for their respective schools, guys like Trevor Lawrence, Patrick Surtain Jr., and Zamir White are already household names amidst their respective fan bases — and rightfully so.
But, a year ago, it's safe to say that Jonathan Taylor, AJ Dillon, and Victor Dimukeje were not exactly frequent topics of conversation in any crowd.
So, while we could project ad nauseam the future exploits of Justin Fields and Xavier Thomas, let us instead shine light on some sleepers from the 2018 class.
Now, to be clear, these players can all ball and that's not a secret. There isn't a guy on the list who isn't a consensus four-star prospect — but none is ranked inside of the composite top 200 and a good portion of them are buried beneath players at their position who, to be frank, simply aren't as talented.
Without further ado, here's our first batch of underrated prospects to watch.
Asa Martin, RB, Auburn
Asa Martin's high school career was a unique one, to say the least. The Austin (AL) running back rushed for 1,374 yards and 12 touchdowns as a sophomore before leaving for IMG Academy in Bradenton, Florida — which, as we all know, has become a virtually guaranteed catapult to a table full of Power Five caps and a room full of cameras come National Signing Day.
But, at IMG, Martin shared a backfield with a stable full of talented prospects, which meant sharing carries for the length of his junior season — and if you've ever been out for pizza with a big group, you know how annoying that can be. Make no mistake, Martin was a standout on the biggest stage, but 697 yards on 66 touches didn't satisfy his appetite.
Martin made the unorthodox move back to his regular 'ole high school for his senior season and starred for Austin, rushing for 2,228 yards and 33 touchdowns en route to being named Alabama's Mr. Football.
With Kerryon Johnson headed to the NFL, the lead role in the Auburn backfield would appear to be up for grabs. Martin will face stiff competition from both Kam Martin and Devan Barrett, but his explosiveness and suddenness as a cutback runner seems tailor-made for a Gus Malzahn offense.
---
Dakereon Joyner, QB, South Carolina
If you've paid much attention to FloFootball since our inception six-ish months ago, you're well aware of our love for Fort Dorchester (SC) product Dakereon Joyner. Of course, you don't have to take our word for it. Just ask, well, literally anyone who's ever met him.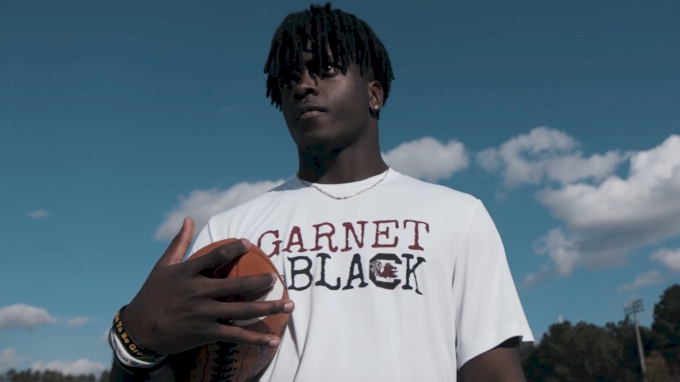 Create a free account to unlock this video!
Get Started
Already a subscriber? Log In
Joyner started for practically his entire high school career, leading Steve LaPrad's Patriots to an undefeated state championship as a freshman. As a junior and senior, he combined for well over 8,000 total yards and 108 touchdowns. He was named South Carolina's Mr. Football at the conclusion of the 2017 season.
Work in the winter, shine in the fall pic.twitter.com/gcZnNmc3ev

— Gamecock Football (@GamecockFB) February 6, 2018
Despite questionable depth behind Jake Bentley, Gamecocks head coach Will Muschamp was intentional in signing only Joyner — who enrolled in January — at the position as part of his '18 class. And, while Bentley is a virtual lock to remain the starter throughout camp, Joyner has made it clear that he has no desire to redshirt — and Muschamp has made it equally clear that every position, including quarterback, will be up for grabs.
---
Maurice Washington, RB, Nebraska
The composite rankings for Trinity Christian (Texas) running back Maurice Washington looked like this: No. 10 at his position, No. 207 overall.
Prettaaay, Prettaay, pretty good — and, yet, criminally underrated at the same time.
Tigers head coach Aveion Cason protected his backs from wear and tear in a run-heavy offensive attack by dividing the carries almost exactly into thirds between Washington and juniors Qualan Jones and Ja'Marvin Hatfield.
This has been an amazing weekend now we have a big decision coming up @HuskerFBNation @coach_frost pic.twitter.com/RInNiv2QuS

— maurice washington 3 (@Mo_is_blessed) February 4, 2018
Before he ever arrived in Cedar Park, Texas, Washington was forced to sit out his junior year after the California Interscholastic Federation ruled him ineligible because, according to a CBS Bay Area report, his mother sent an email to the CIF suggesting that his transfer from The King's Academy to Oak Grove High School was athletically motivated — which is against state rules.
All of that, coupled with academic concerns, explains the relatively modest prospect ranking to some extent. But, take a closer look, won't you?
Washington finished his senior season with 1,835 total yards on 149 touches. According to a calculator, that's 12.3 yards per touch. He averaged a first down every time he carried the football (10.2), averaged 22.4 yards per catch and scored on 35 percent of his receptions (nine touchdowns on 26 grabs).
Twice, he hit the 20-carry mark in a game — and casually rushed for a combined 511 yards on 41 carries in those games. And, then, of course, there's what he did in the Under Armour All-American game — an event he entered as the No. 415 player overall, according to 247Sports.
Sorting out Nebraska's massive pile of running backs is nearly impossible, which is due — at least in part — to the fact that no one jumps off the screen. Washington could redshirt. Or he could immediately emerge as a three-down threat in Scott Frost's high-powered offense.
---
Andrew Chatfield, DE, Florida
Andrew Chatfield was, and should've been, evaluated as an edge rusher throughout his career at American Heritage (FL) High School. And, for a rush end, he's a bit on the short side at around 6-foot-2. One can only assume that this little detail held him back a bit in the eyes of talent evaluators.
Chatfield was a four-star prospect with 32 offers, so it's not like he was being ignored. But 247Sports ranked him as the No. 21 weakside defensive end and the 375th best player. And that is practically inconceivable.
Chatfield was among the most disruptive players in all of high school football during the 2017 season. He has an outstanding first step and plays violent — which is easier said than done. It was hard for a player to stand out on a defense full of standouts at American Heritage, but No. 9 off the edge did just that.
Florida is stout and veteran-laden at the top of the depth chart at defensive end, but it's not hard to imagine Chatfield getting into the mix sooner rather than later. In any case, the Gators' ninth-ranked prospect from its 2018 class could end up being its most impactful down the road.
---
Calvin Avery, DT, Illinois
In mid-October of 2015, Bishop Dunne (Texas) defensive tackle Calvin Avery received his first scholarship offer from the University of Illinois.
That offer would be the first of 25 — and Illinois would be joined by a group of suitors that included Oklahoma, Texas, Notre Dame, and Southern Cal. But, nearly two years later, Avery remained loyal to the first school to come after him, committing to Lovie Smith and the Illini last August.
On paper, Illinois did nothing altogether noteworthy in signing Avery — the composite 219th-ranked player in the country who 247Sports considered to be just the 26th best defensive tackle in the class. But watch the 6-2, 320-pounder's tape and then you have to wonder, in this case aloud, if Avery's prospect profile wouldn't have magically elevated if he'd have committed to, say, the Sooners, instead.
Avery's size suggests a zero-technique who controls the center and plugs the run, and, rest assured, he can do that. But Avery lives in the backfield. He totaled 12 sacks as a junior and combined for 35 tackles behind the line of scrimmage during his final two seasons at Bishop Dunne.
He's a nightmare who cannot be consistently single-blocked and the door is wide open for the Dallas native to make an immediate impact for the Illinois defense.
Check back next week for Part 2.