2023 South Atlantic Conference Football
NCAA Div. II Playoffs: Lenoir-Rhyne, Limestone Represent The South Atlantic
NCAA Div. II Playoffs: Lenoir-Rhyne, Limestone Represent The South Atlantic
South Atlantic Conference teams Lenoir-Rhyne and Limestone were selected for the 2023 NCAA Div. II Playoffs. Their road to the title begins Nov. 18.
Nov 17, 2023
by Kyle Kensing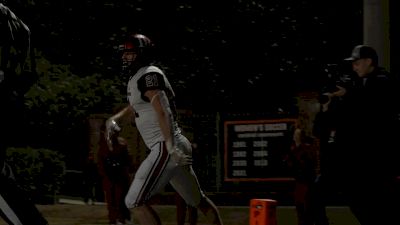 With a 48-7 blowout of Tusculum, Lenoir-Rhyne completed its pursuit of the South Atlantic Conference championship for 2023. The Bears now turn their attention toward the national championship with the start of the 2023 NCAA Div. II Playoffs.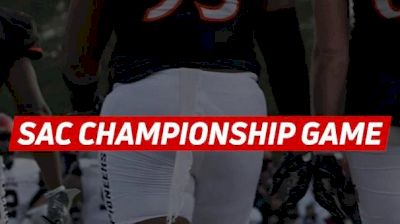 Limestone joins champion Lenoir-Rhyne as the two SAC teams selected for this year's field. The Saints and Bears open postseason action both on Nov. 18, each facing opponents of recent prominence among the Div. II ranks.
Lenoir-Rhyne vs. Shepherd
Lenoir-Rhyne is at home in the 1st Round, its reward as the No. 4 seed in Super Region Two. The Bears face an opponent that reached the 2022 Div. II Playoffs semifinals, Shepherd.
Shepherd was ranked sixth in the final Super Region One rankings released before Week 11, but sent to Lenoir-Rhyne's bracket as a result of the logjam of PSAC teams qualifying for the postseason. Slippery Rock, East Stroudsburg and league champion Kutztown all earned bids out of the PSAC.
The Lenoir-Rhyne Bears face an opponent that's been in the NFL spotlight this season for producing a different kind of Bear: Chicago Bears rookie quarterback and former Harlon Hill Trophy winner, Tyson Bagent.
Darnell Mooney gets the first down. Tyson Bagent is fired up. The Bears secure the win.#CARvsCHI on Prime Video
Also available on #NFLPlus pic.twitter.com/GCrDC733Fm

— NFL (@NFL) November 10, 2023
Bagent's successor at Shepherd, Seth Morgan, hasn't put up nearly the gaudy numbers Bagent produced his last few seasons as a Ram. But Morgan has been steady with better than 67 percent completions, more than 2,700 yards and 23 touchdowns.
Morgan finished the regular season on the upswing with seven of his passing touchdowns coming in Shepherd's final two games — both Rams wins, and one coming against fellow playoff team, East Stroudsburg.
The Rams offense compensated for the lack in Bagent's eye-popping passing production with a multifaceted run game from backs Jordan Barnett and Malakai Brown. Brown eclipsed 1,000 yards rushing in the regular season, while Barnett broke the century mark in each of Shepherd's final two outings.
It's a clear matchup of strength-on-strength with Shepherd's versatile offense against a Lenoir-Rhyne defense that has been lights out pretty much all season.
The Bears surrendered more than 10 points only twice in the regular season, and more than 30 just once. Shepherd averages almost 32 points per game.
L-R opponents gained almost 150 fewer yards than Rams running back Brown produced himself. The Bears give up only 2.5 yards per carry, and opponents have totaled just five rushing touchdowns against them in 2023.
Week 10: Players of the Week #GOBEARS | #betweenthebricks🧱🐻🧱 pic.twitter.com/eNe28hoidw

— Lenoir-Rhyne Football (@LRBearsFootball) November 7, 2023
Nickel-and-diming the Lenoir-Rhyne defense is a non-starter; Shepherd's hope is in finding ways to create long explosive plays. Wingate's 34 points in the lone L-R loss of the season were the result of going for broke successfully for scores that went 47, 26 and 75 yards.
The dangerous one-two combination of Jon Ross Maye and Andre Jefferson getting into the backfield — as they have a combined 30.5 times on the year — will be a storyline to watch. The Shepherd offense has allowed just 47 tackles for loss all season, but isn't immune to giving up sacks. The Rams allow 1.7 sacks a contest, and Morgan has been intercepted nine times.
Limestone at Valdosta State
Perennial Div. II national championship contender Valdosta State hit an unexpected snag a season ago under first-year head coach Tremaine Jackson. The Blazers' slide out of the playoff picture was short-lived, however, as VSU came roaring back in 2023 with a fury befitting the program's lofty reputation.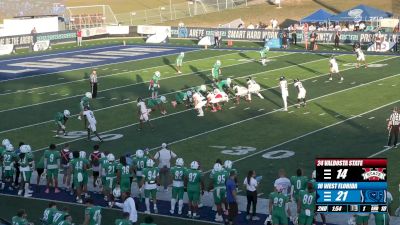 Valdosta State averaged 37.2 points per game en route to splitting the Gulf South Conference championship with Delta State. VSU uses a multi-dimensional offensive attack with five ball-carriers who have scored multiple touchdowns, among them quarterback Sammy Edwards.
With his five rushing touchdowns and 25 passing scores, Edwards is a threat both on the ground and in the air. He's also adept at spreading the ball among a variety of pass-catchers, with four Blazers sporting at least 421 receiving yards. Chief among the quartet are B.K. Smith with 859 and Council Allen with 598.
The balanced and prolific Valdosta State attack mirrors the Greatest Show on Turf-influenced approach Mike Furrey's staff introduced at Limestone.
Adopting traits from one of the most revolutionary offenses in NFL history and adapting them to the modern game have helped the Saints exceed 30 points four times this season, including scoring a combined 80 points to close out the campaign.
Limestone quarterback Dustin Noller comes into the program's second-ever Div. II Playoffs, and second such appearance in as many years, as the SAC Offensive Player of the Year. Noller went 208-of-317 for 2,704 yards and 26 touchdowns, and was intercepted just four times.
🚨🚨🚨🚨 pic.twitter.com/a7QqWtEDRT

— Limestone Football (@LimestoneFB) November 16, 2023
Like Edwards, he spread the ball effectively among a corps of pass-catchers who surpassed 500 yards and four touchdowns each: Drew Dixon, with 519 yards and four scores; Mikey Jones at 520 yards and five touchdowns; and Jelani Baker.
At 1,030 yards and 12 touchdowns, Baker may be the most dangerous wide receiver in the Div. II Playoffs.
Combined with Tre Stewart's 1,289 yards rushing at a 7.3-per carry clip, the Limestone offense has a variety of ways to beat a defense. The Saints and Blazers could deliver the marquee shootout of the 1st Round when they meet in Valdosta to open the postseason.