2023 Limestone vs West Georgia
"How Fast Can We Get To 40?" On Limestone's Mike Martz-Inspired Offense
"How Fast Can We Get To 40?" On Limestone's Mike Martz-Inspired Offense
"Greatest Show on Turf," the offense that changed the NFL a generation ago, is an evolutionary step in the potent attack employed at Limestone.
Aug 31, 2023
by Kyle Kensing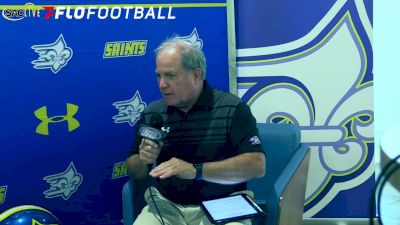 Unlock this video, live events, and more with a subscription!
Get Started
Already a subscriber? Log In
Zero-to-40 as soon as possible: It's not the goal of a car manufacturer testing the engine, but rather the pedal-to-the-metal mentality of the Limestone Saints offense in 2023.
"Our motto right now is 'How fast can we get to 40?'" said Limestone quarterback Dustin Noller.
The Saints aim to pick up an already torrid tempo — they averaged 34.8 points per game in 2022, good for 21st in the nation — to be one of the most productivity in all of college football. The race to 40 starts every kickoff and Limestone looks to reach that marker in fewer than 60 minutes, but it's a process that began almost a quarter-century ago.
In 1999, the National Football League's Rams were heading into their fifth season since moving to St. Louis from Los Angeles. The organization had been largely hapless in its first stretch after relocation, winning one game less each season on a descent from 7-9 to 4-12.
But as the Rams reached the bottom of that stretch, Dick Vermeil was already in the process of building upward as head coach, general manager and president of football operations.
With the proverbial keys to the car, Vermeil picked up a journeyman coach with experience in the Rams organization, Mike Martz. Martz had been all around the football landscape, from high schools to junior college, Div. I college and the NFL.
Martz had been part of the 1987 Rose Bowl-winning Arizona State Sun Devils coaching staff.
He remained in Tempe until taking the quarterbacks coaching position with the then-Los Angeles Rams in 1992, before moving to wide receivers coach upon the franchise's departure for St. Louis.
A revolution then began, though it took a few years for the football-watching world to know it.
In 1995 — the first season in which Martz coached the Rams receivers — Isaac Bruce took the first significant step toward Canton and the Pro Football Hall of Fame with his 119 receptions for 1,781 yards.
Bruce led the NFL with 1,338 yards receiving the next season. The 1996 campaign was the first of three over the next eight seasons in which a Ram led the league.
Two of those seasons — 2000 and 2003, with Torry Holt accruing 1,635 and 1,696 yards — were after Martz had succeeded Vermeil as Rams head coach. The 2003 Rams receiving corps also featured a rookie who had set records at Northern Iowa and — like another UNI product had very recently — was getting his first opportunity in the NFL; a rookie named Mike Furrey.
Furrey, in his second season of his second stint as Limestone head coach, worked his way to football's top level through tenures in the original XFL and old Arena League before joining the Rams. Beginning with the 2003 campaign, however, he spent seven seasons playing in the NFL.
His most impactful came either with the Rams or the Detroit Lions, in both stops playing for Martz.
"Like coach Martz mentioned to our staff, if you don't have a vision and a standard and what you're going after and chasing...which all we know [on offense] is points, then we're not doing our kids justice," Furrey said was Martz's message to the Limestone coaches during the 2023 offseason.
In the weeks leading up to the Saints opener against West Georgia — a program rooted in its own revolutionary offensive approach adapted from a late 1990s origin with Wolves head coach David Dean having worked at Valdosta State in its early air-raid days — Furrey said Martz sat down for a "three-or-four-hour Zoom meeting" with the Limestone roster.
"[They] were talking with him about the Greatest Show on Turf and how to use weapons, how to use Dustin, how to get [running back] Tre [Stewart] the ball, and what's the mindset of your offense," Furrey said.
Greatest Show on Turf is the nickname given to the Rams attack Martz coordinated in 1999, on the way to St. Louis beating the Tennessee Titans in Super Bowl XXXIV.
The title comes from the Ringling Bros. Barnum & Bailey Circus' promise of "The Greatest Show on Earth." Coincidentally, or not, it wasn't the only time in 1999 the circus was invoked to refer to football's metamorphosis for a methodical style to more wide-open offensive approaches.
In that year's hit film Varsity Blues, hard-nosed traditionalist coach Bud Kilmer chastises quarterback Jonathan Moxon for calling four-and-five-wide receiver sets — looks that were gaining some traction at the college level with former Valdosta State coaches Hal Mumme and Mike Leach moving onto Kentucky — comparing it to a carnival act.
Well, these offensive changes did provide some spectacle to the sport. But more importantly, they delivered results.
St. Louis racked up 6,412 yards in the regular season; almost 500 more than the next-most prolific offense, and averaged 32.9 points a contest, nearly a full touchdown more than No. 2 Washington.
The Rams' 66 touchdowns were nine more than the NFL-leading San Francisco 49ers scored in the 1995 regular season, the first year Martz spent in St. Louis with the wide receivers; and were 11 more than the league-best produced by the eventual Super Bowl champion Denver Broncos in the 1997 campaign.
Part of the "Show" in St. Louis was the breakout performance of quarterback Kurt Warner, who — like Furrey a few years later — rose from Northern Iowa through stints in lower-tier leagues before breaking out under Martz.
Warner's journey has something of a parallel in Limestone from Noller, who went the first month of last season as a reserve. Furrey praised Noller for earning his starting job, which he retains after quarterbacking the 2022 Saints team to the program's first-ever NCAA Div. II Playoffs.
"The greatest thing about last season...is that Dustin developed week-in and week-out in regards to just managing a football team," Furrey said of Noller. "Executing, becoming a leader, using his legs, using his mind, using his arm and at the same time, understanding handing the ball off to Tre Stewart."
The running back Stewart returns for 2023 after a monster 2022 in which he fulfilled the Marshall Faulk role for Limestone's version of the Greatest Show.
While Martz's transformative offense in St. Louis was renowned for its passing, The Greatest Show on Turf didn't rely on a single act. Faulk won the league's Most Valuable Player in 2000 under Martz, was runner-up the following year, and claimed the Associated Press Offensive Player of the Year in both campaign.
Stewart made his own considerable mark for Limestone's potent offense last season: In just 11 games, he racked up 1,517 yards and scored 15 touchdowns, all while producing at a whopping 7.3-yard per carry clip.
Meanwhile, Limestone also returns receivers Jelani Baker and Drew Dixon, a pair of preseason 1st Team All South Atlantic Conference honorees who both hauled in 592 yards and five touchdowns last year; tight end Herman McCray, who caught 27 passes and two touchdowns; and 2022 All-SAC offensive lineman Luke Bond.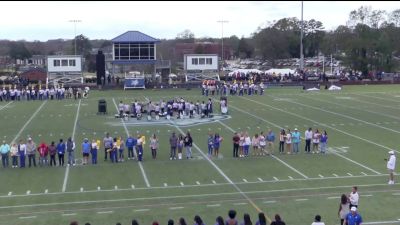 Unlock this video, live events, and more with a subscription!
Get Started
Already a subscriber? Log In
The balance is a key part of Limestone's identity, but does nothing to take away from the push to go, go, go.
Expect a Show each week when the Saints make their drive for 40 and keep the legacy of one of the NFL's most influential systems alive.