2023 CAA Football
CAA Notebook: October Arrives And Conference Championship Jockeying Begins
CAA Notebook: October Arrives And Conference Championship Jockeying Begins
The first month of the 2023 season is in the books, and the Coastal Athletic Association championship race is taking shape early with Elon setting the pace.
Oct 3, 2023
by Kyle Kensing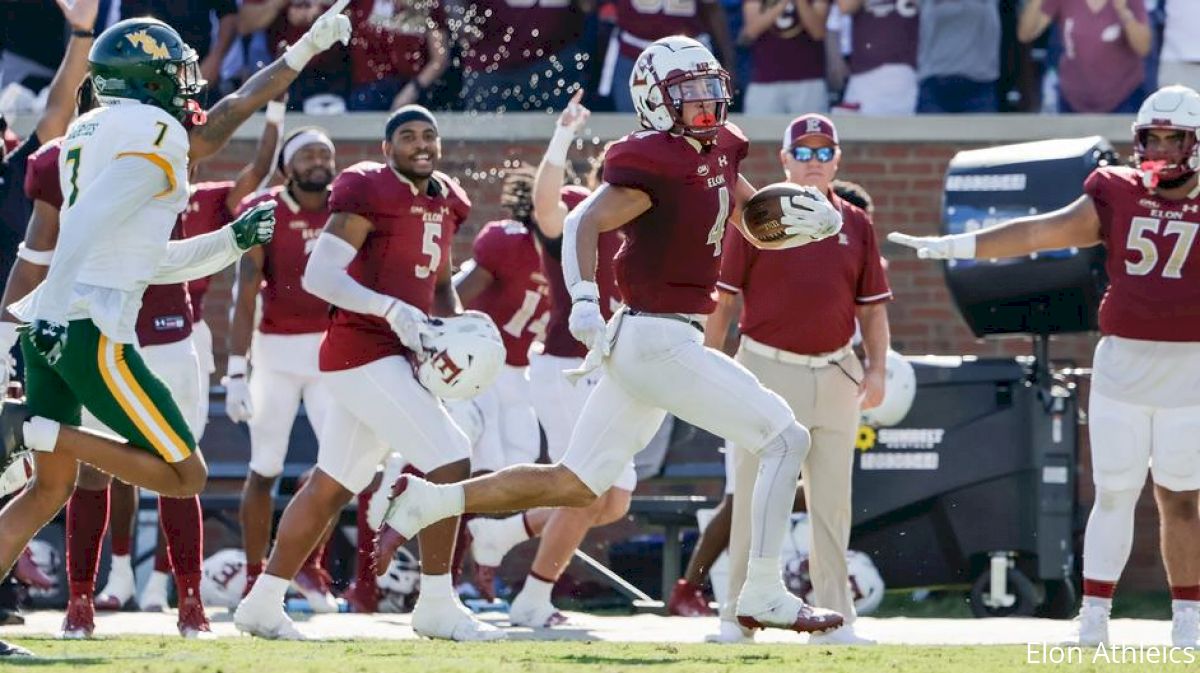 October's arrival signals conference championship races around college football begin taking shape. The Coastal Athletic Association enters the month with four teams undefeated in league play to set the early pace, and Elon is the first to streak out ahead of the pack.
The Phoenix sit alone at 3-0 in the CAA after grinding out another fiercely contested installment in what is fast becoming one of the Coastal's most exciting series. Their 14-6 win over defending co-champion and then-No. 4-ranked William & Mary marked the fourth consecutive one-possession decision between the programs over the last four autumn seasons.
Subscribe To FloFootball To Watch More Football Action
FCS Football Rankings For Week 6: W&M Football Drops; Rhode Island Ranked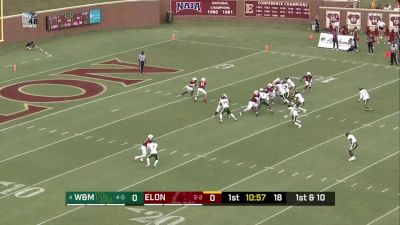 Week 5 was also the third one-possession game of Elon's first month following a rally effort that fell just short Week 2 at Gardner-Webb, and a late defensive stand to hold off Campbell in Week 4.
"We've been a very fan-friendly football team this fall," Phoenix coach Tony Trisciani said. "Been a lot of fun for everybody except for our coaching staff."
So many nail-biters on top of each other may not be good for one's stress levels, but the ability to win such games can mean the difference in a conference championship chase. Already this season in the CAA, four league games have been decided by one score.
Elon accounts for two of them. It's the kind of early-season test of a team's mettle that can pay off significantly come November.
𝗪𝗶𝗻𝘀 𝗢𝘃𝗲𝗿 𝗙𝗖𝗦 𝗧𝗼𝗽 𝟭𝟬 𝗧𝗲𝗮𝗺𝘀 𝗜𝗻 𝗣𝗿𝗼𝗴𝗿𝗮𝗺 𝗛𝗶𝘀𝘁𝗼𝗿𝘆
2018 - 27-24, at #2 James Madison
🚨Today - 14-3, vs. #5 William & Mary🚨
2017 - 36-33, at #6 Richmond
2007 - 24-13, at #6 Wofford
2016 - 27-10, at #8 William & Mary#AED

— Elon Football (@ElonFootball) September 30, 2023
"Those are important experiences, especially for a young football team," Trisciani said. "We've got a really good balance on our team. We've got some really good veteran leadership. We've also got some really young guys who are seeing things for the first time. For them to be in these type of football games and really understand and believe it's one snap at a time...invaluable experience."
The experience has propelled Elon into the Top 25 for the first time this season, an impressive rise for a team that opened the season 0-2.
For a team that's had to make some second-half rallies through the first month, the Phoenix's turnaround after dropping non-conference games to Wake Forest and Gardner-Webb
"We are a one-game-a-week operation," Trisciani said of moving on after the initial hole. "Getting into conference play was an opportunity for us, with that [North Carolina] A&T game early in Week 3, was a chance for us to say, 'Hey, let's go. We're 0-2 but all our goals and objectives are right in front of us.' "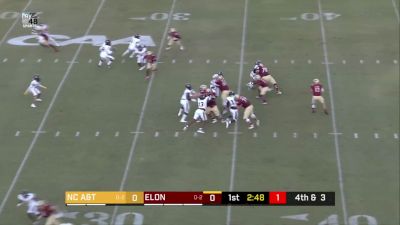 It's one thing to preach the significance of conference competition, and being able to flip the script in league play. Elon actually doing so starts with its stellar defensive play over the three-game winning streak.
Saturday's win makes two games holding opponents to single-digits scoring. Last year's playoff-qualifying Phoenix did not do that until the final stretch of the season.
The 27-3 and 14-6 defeats of A&T and William & Mary bookended a 28-24 win at Campbell, making Elon just 1-of-2 Camels opponents thus far to hold them to fewer than 42 points. The other to do so was William & Mary in the season-opener.
A bevy of Phoenix have pitched into Elon holding opponents to 20.4 points per game, a yield good for 24th nationally. Caleb Curtain's starring performance in Week 5, which included forcing a key fumble in the red zone, continued a breakout season for the defensive back.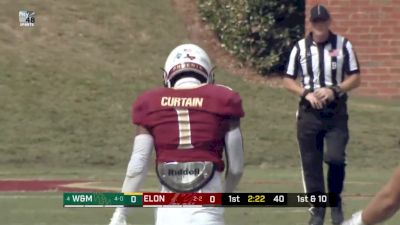 Reflecting the trial-by-fire growth of youngsters Trisciani mentioned, linebacker Marco Patierno is fast becoming a significant part of Elon's stinginess. Patierno put together a career-best performance against the Tribe with 11 tackles to match Curtain's team-high, including 1.5 for loss.
The Phoenix take their league-leading mark and winning streak into one final non-conference date to start October, hosting a Top 20-ranked opponent for the second time in as many weeks. North Carolina Central brings the 16th-most prolific offense in FCS to Rhodes Stadium, fresh off outlasting Campbell in a 49-48 overtime shootout.
While the result has no bearing on CAA standings, scoring another high-profile win at the midway point of the regular season would bolster Elon's playoff resume. Much like the conference title hunt, the postseason similarly starts to take shape in these October matchups.
Flying The Jolly Roger into CAA Waters
Hampton checks in among the quartet undefeated in conference play after an impressive CAA opener at Richmond. The program's first-ever defeat of a Spiders team showcased both the Pirates' offensive depth, and offered the most promising display from the defense yet this season.
Stanley Garner's two interceptions, the second of which was made in the end zone to snuff out any hope of a late-game Richmond rally, headlined.
Stanley Garner with the interception in the end zone to stop the Richmond drive. Garner's 2nd INT of the day!

Hampton 31 - Richmond 14
2:34 left in the 4th#WeAreHamptonU pic.twitter.com/xVcW4ta0n6

— Hampton Football (@Hampton_FB) September 30, 2023
But in limiting the Spiders to just 15 first downs and 260 yards of total offense, including 30 rushing, Hampton put together a truly all-around dominant performance.
"The young guys up front are growing up and getting better," Pirates coach Robert Prunty said of the defense. "They're playing better with their hands. A lot of the stuff up front has got a lot to do with hand placement. They're playing better with their eyes. ...We can play better, but I thought [the linebackers] fit [gaps] good."
Meanwhile, Hampton continues to be among the most productive offenses in the conference through the first month. The Pirates have scored at least 31 points in each of their wins after Saturday's 31-14 decision. The continued productivity of the three-man ball-carrying rotation with running backs Elijah Burris and Darran Butts, and quarterback Chris Zellous, makes Hampton's one of the most dangerous rushing offenses in the CAA.
🏴‍☠️🏴‍☠️🏴‍☠️ Darran Butts keeps the Pirates moving and they're approaching 200 rushing yards on the day. @Hampton_FB | @CAAFootball pic.twitter.com/q9lI1nIjTB

— FloFootball (@FloFootball) September 30, 2023
However, Zellous flexed his continuously progressing passing skills at Richmond with 256 yards on 24-of-34 completions with a touchdown.
⚔️@chris_zellous to @__Djm9__ 🏴‍☠️@Hampton_FB | @CAAFootball pic.twitter.com/fqBWfgegif

— FloFootball (@FloFootball) September 30, 2023
Hampton plays its first home league game of the season in Week 6 against Campbell, and with the Pirates offense clicking as it has, points should be plentiful.
Beware of Dogs
UAlbany joined Elon, Delaware and Hampton among the undefeated with its CAA-opening defeat of Villanova. The 31-10 final might be somewhat misleading of the game's competitive nature; Villanova was within a score heading into the fourth quarter, but turnovers eventually proved insurmountable for the visiting Wildcats.
But a Great Danes defense that coach Greg Gattuso praised for its growing physicality deserves credit for creating opportunities that resulted in five takeaways.
One noteworthy turnover, and a tone-setter for the entire day, saw Larry Walker Jr. dislodge the ball from running back TD Ayo-Durojaiye. The explosive Ayo-Durojaiye, coming off the edge on an end-around, leapt to hurdle an expected low tackle — only Walker anticipated the jump and met Villanova's back in the air.
A huge @UAlbanyFootball momentum shift play from Week 5, Larry Walker Jr. anticipates the hurdle and forces a fumble in a Great Danes @CAAFootball pic.twitter.com/BkHWeJolva

— FloFootball (@FloFootball) October 2, 2023
The change of possession set up the Great Danes' first touchdown drive, capped with Reese Poffenbarger's 12-yard scoring strike to Julian Hicks.
While there were was good fortune in the loose ball not going out of bounds, linebacker Dylan Kelly being on the spot to snag the rock out of the air looked like it was by design. In part because it kind of was.
UAlbany coach Greg Gattuso said the Great Danes coaching staff noticed Ayo-Durojaiye's ability to go airborne while doing film prep, and thus integrated hurdle-anticipation into the week's practice. Walker executed his job to perfection, feinting like he would go low without committing, thus being in position to jump with Ayo-Durojaiye.
Then the nation's No. 1 and No. 2 sack-producing duo, A.J. Simon and Anton Juncaj, applied consistent pressure on Villanova quarterback Connor Watkins that helped lead to Michel Lucien and Aamir Hall interceptions. Saturday was also a breakout day for Ori Jean-Charles, another of UAlbany's starters up front.
Jean-Charles delivered a pair of sacks to match Juncaj and forced one of six Wildcats fumbles. Opposing offensive lines already had their plates full with Simon and Juncaj to account for, but getting that level of production from Jean-Charles makes the Great Danes defense all the more fearsome.
😾vs. 🐶Getting things started strong it's @OJC_7 breaking into the backfield @UAlbanyFootball | @CAAFootball pic.twitter.com/6V8ne2j9dH

— FloFootball (@FloFootball) September 30, 2023
Igniting The Offense
Ahead of its Week 5 trip to New Hampshire, Towson scored 63 points in its first four games. The Tigers came just nine points shy of matching that over Saturday afternoon, outgunning the Wildcats in a 54-51 shootout.
North Carolina A&T put up 25 points in its first three games. The Aggies went for 28 in a two-point win over Norfolk State.
And then Maine — which scored 22 points in its first four games — surpassed that total in the first quarter of its 56-28 win over Stony Brook.
For each of the Tigers, Aggies and Black Bears, Week 5 was hopefully the start of plenty more points to come in the coming weeks.
"The last couple weeks, we've been close," first-year Towson coach Pete Shinnick said of the offense breaking out. "We just missed on some opportunities that really changed the complexion of the game. When you look at what we were able to do [on] third down and our fourth-down conversions, that kept us out there longer."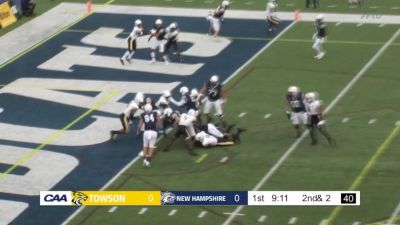 Towson came into New Hampshire converting 30.1 percent of third-down attempts; on Saturday, it improved to 42.9. On fourth downs prior to Week 5, the Tigers were 3-of-7; they went 3-for-3 at UNH.
Moving the chains translated into a 31:22 to 28:27 advantage in time of possession after being at an average disparity of around seven minutes of possession the previous four games.
Quarterback Nathan Kent was certainly integral to the eruption, and his five touchdown passes were plenty worthy of CAA Offensive Player of the Week — including the overtime-forcing toss with just 24 seconds remaining while under duress.
Tigers not dead yet!!@Towson_FB brings it within 3. @CAAFootball pic.twitter.com/94NyAvAxmo

— FloFootball (@FloFootball) September 30, 2023
Just as crucial to Towson's turnaround, however, was jump-starting its run game.
Kent factored into the ground attack with 68 yards, while both D'Ago Hunter and Devin Matthews went for 116 yards. The combination of Hunter and Matthews showed off the lofty potential the Tigers have when both the more traditional, every-down back Matthews and the speedy change-of-pace back Hunter are both clicking.
North Carolina A&T got a similar distribution of run-game production between Kenji Christian's 118 yards and two touchdowns; another 115 yards with two scores from quarterback Kevin White; and 43 yards from Wesley Graves.
What a run and score by Kevin White! 🏃🏽‍♂️💨#AggiePride | #Elite | #CAAFB pic.twitter.com/2HwDMKziAC

— Aggie Pride (@NCATFootball) October 1, 2023
"We went into the game a couple of starters on the offensive line, so we talk about the next-man-up mentality," first-year Aggies coach Vincent Brown said. "We still have some work to do in our passing game; we want to be more balanced in what we're doing. But to be able to go in and beat a team that went on a road to be another CAA team [Hampton and Towson] twice earlier this season, we felt was a real breakthrough moment for us as we start to get some of our guys back."
As for Maine, quarterback Derek Robertson came in without a touchdown pass on the season. He quickly remedied that with five against Stony Brook spread among three receivers. Cooper Heisey hauled in one score, while both Montigo Moss and Joe Gillette caught a pair.
All 8️⃣ Maine touchdowns @BlackBearsFB | @CAAFootball pic.twitter.com/Sy8HixZXXh

— FloFootball (@FloFootball) September 30, 2023
Black Bears coach Jordan Stevens, emphasizing the pursuit of continued development in all three phases, pointed to the defense forcing a turnover early in the game for providing the offense's foundation.
"You're starting on the plus-side of the field," Stevens said. "And then we a got a three-and-out the second series on defense, on a short field, and were able to go down and score again. So when you can be in a position where you're executing in an efficient way, it certainly opens the playbook in terms of being able to spread teams out more."