2023 CAA Football
CAA Notebook: Rivalry Bragging Rights For A Trio of Teams in Week 3
CAA Notebook: Rivalry Bragging Rights For A Trio of Teams in Week 3
A trio of rivalry wins shaped Week 3 in CAA play, while Rhode Island and Campbell scored conference wins with historic implications.
Sep 19, 2023
by Kyle Kensing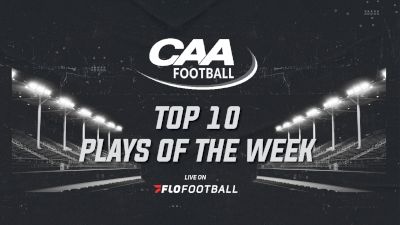 Three regional rivalries headlined the Week 3 Coastal Athletic Association docket. CAA teams went 3-0 in those contests, and not without some theatrics.
In one of the most dramatic comebacks of the early season to date, Hampton raises its flag as The Real HU for another year after beating Howard, 35-34. The Pirates rallied from down as many as 17 points in the mid-third quarter, and 13 points in the early fourth.
"It just goes to show how resilient our guys are," Hampton coach Robert Prunty said.
Resiliency showed itself in part through running back Elijah Burris breaking off what proved to be a pivotal run while wearing just one cleat. The other popped off just as Burris accelerated through a massive hole the Pirates offensive line opened for the ball-carrier.
93 yards with one shoe!?#WeAreHamptonU @Elijah_Burris_5 pic.twitter.com/TXp2HANv9f

— Hampton Football (@Hampton_FB) September 17, 2023
Burris' 111 yards paired with 87 from Darran Butts and 63 from Chris Zellous to give Hampton 258 on the day. Zellous scored twice on the ground, including the game-winner with 3:02, which the Pirates defense preserved thanks to Jordan White's interception in the final minute.
Add White's pick to a bevy of big-time defensive plays made in the DMV over Week 3. Not far from Hampton's win over Hampton in D.C., Towson claimed the Battle for Greater Baltimore against Morgan State, 20-10.
Morgan State came in boasting a win over the CAA already on the season, knocking off Richmond in the season opener. But Towson's strong start with a 20-0 halftime lead set the Tigers on their way to the first victory both of 2023 and in the Pete Shinnick era.
Shinnick arrived at Towson celebrated as a head coach whose past teams flourished on offense, but the Tigers' first win under his leadership was a testament to defense. Jesus Gibbs made 2.5 tackles for loss, 1.5 sack, and forced a fumble, while Robert Javier's two interceptions earned him a National Defensive Player of the Week honorable mention.
"In the three games that we've played, [the defense has] attacked and been aggressive and really got after the quarterback," Shinnick said. "We gave up 14 cheap points at the end of the Monmouth game. We turned the ball over twice inside our half of the 50, which I think really affected that final score; felt like we were playing pretty well up until that point."
The Battle showed a sustained effort from a Towson defense against an opponent that looked like one of the surprises of the early season.
No Average Joe for UNH
New Hampshire rounded out the CAA's Week 3 rivalry schedule with a 24-7 defeat of Dartmouth, claiming the Granite Bowl for a second consecutive year. Dylan Laube continued to build an impressive case for the Walter Payton Award, following up his National Special Teams Player of the Week effort in the opener and a record-setting receiving performance in Week 2 with an outstanding rushing performance.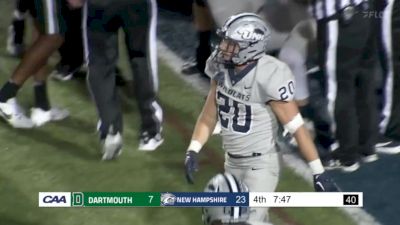 His 185 yards on the ground were central to New Hampshire earning local bragging rights for another year. But defense dominated at The Dungeon in Week 3, and at the forefront for a third straight game was Joe Eichman.
Eichman — who picked off a pass in each of the Wildcats' first two contests — accrued a team-leading eight tackles with 1.5 for loss and was in on a sack with Oleh Manzyk. Eichman also broke up a pass as part of New Hampshire's overwhelming defensive showing.
For a product of Merrimack, N.H. to play such a significant role in the state rivalry game is another bullet point in an impressive 2023 for Eichman, a player Wildcats coach Rick Santos lauded for embodying the identity of the program.
You love guys that like: New Hampshire native, came on as a walk-on, earned his way up [to] a full scholarship," Santos said. "Everyone loves him. He works his tail off. His preparation is what has separated him this year from years past. ...He really understands this is his last go at it, he's really making the most of it right now."
Making the most of his senior year includes Eichman doing his part, and then some, for the Wildcats to claim the Granite Bowl Trophy.
𝓒𝓲𝓷𝓮𝓶𝓪𝓽𝓲𝓬 𝓡𝓮𝓬𝓪𝓹: Dartmouth vs. New Hampshire | The Granite Bowl 2023 pic.twitter.com/YGXh7AUCsz

— FloFootball (@FloFootball) September 19, 2023
Conference Wins With Historical Significance
A pair of league games in Week 3 produced some historically noteworthy results. Friday's Rhode Island-Maine contest — moved up a day in response to Hurricane Lee — marked the Rams' first win at Alfond Stadium in 25 years.
The 34-17 decision marked another big night for Rhody's loaded wide receiver corps — specifically Kahtero Summers, this week. Summers caught six passes for 130 yards and a pair of touchdowns. Summers is up to sixth in the Football Championship Subdivision with 110.7 receiving yards per game, making him one of three CAA players ranked in the top 15 nationally along with Dylan Laube and Monmouth's Dymere Miller.
Rams quarterback Kasim Hill sits behind only UIW's Zach Calzada in passing yards with 941 and his eight touchdown passes are tied for third-most in the FCS.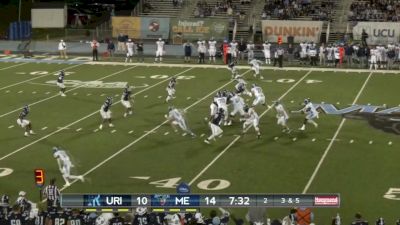 Campbell continued its 2023 campaign of firsts with a few more at Monmouth. The 45-31 victory was both the first-ever CAA win for the Camels as well as their first on the road in conference play.
What's more, it marked the first Campbell win over the Hawks in four tries all-time.
"For our guys to come out in the second half and take control of the game in a physical way was really, really good," said Camels head coach Mike Minter. Campbell rallied from down two touchdowns in the win.
The closing minutes of the first half were huge for the visitors. After giving up a 35-yard touchdown rush to Jaden Shirden, who had a terrific game for Monmouth — 165 yards rushing, 31 receiving with another score on a game-tying wheel route in the fourth quarter — the Camels were looking up at a 23-7 deficit.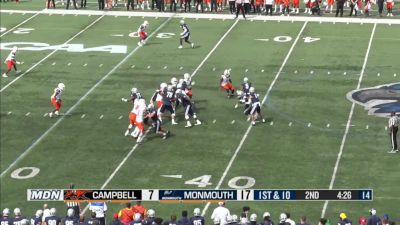 But Hajj-Malik Williams lead a quick answer, capped with his 12-yard touchdown pass to Chaney Fitzgerald. Stashing all three timeouts, Minter was able to leverage the Camels defense's ensuing three-and-out to get the ball back and tack on another three points with Caleb Dowden's 42-yard field goal just before intermission.
The dizzying 90 seconds flipped a 16-point deficit to six, with Campbell riding the wave into the second half.
Hawks coach Kevin Callahan cited the Campbell offensive line as the biggest his team will face this year, like William & Mary coach Mike London before him had. The Camels successfully used their size to lean on Monmouth and gree up NaQuari Rogers for 152 yards rushing and three touchdowns.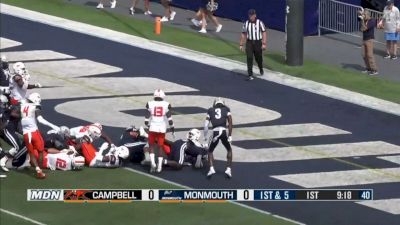 Rogers delivered repeated back-breaking runs in the second half that proved instrumental to Campbell's win — and earned the back CAA Offensive Player of the Week.
Game Balls
Elon coach Tony Trisciani asked special teams assistant Mike Nall, "How's Kyle throwing the ball?" in reference to punter Kyle Romenick. The answer was pretty darn well.
The Phoenix defense overwhelmed the visiting Aggies all evening, but the gap was a manageable 17 points at the start of the fourth quarter. Facing fourth-and-8 near midfield, Elon lined up looking to pin A&T deep...at least, it appeared.
Fake punt of the night! How many punters have an arm like that? @Kyle_R20 #SCTop10 #AED pic.twitter.com/Lkw23IE1Pm

— Elon Football (@ElonFootball) September 17, 2023
"That was awesome," Trisciani said. "Milo Austin, our special teams coordinator, did a great job identifying a technique we thought we could take advantage of in the safe punt situations."
Romenick's touchdown toss to DJ Hamilton put an exclamation point on a 27-3 win, and gave a lively Rhodes Stadium more reason to cheer.
Along with Romenick and the Phoenix defense at large, a Week 3 Game Ball is in order for the Elon crowd showing up for the team's 2023 home opener.
Rhodes Stadium was electric last night for our 27-3 win over NC A&T. Thank you to all the @elonuniversity students, alumni and community for being LOUD and PROUD from start to finish. Let's run it back in two weeks when we look to extend our 7-game home win streak! #PhoenxRising pic.twitter.com/BhSsbIlQn3

— Tony Trisciani (@TonyTrisciani) September 17, 2023
Another 2023 home opener on Week 3 gave the locals plenty of cause for celebration, as Delaware rebounded from its Week 2 loss at Penn State with an emphatic rout of defending Northeast Conference champion Saint Francis.
The rematch of a 2022 FCS Playoffs pairing played out with a similar result, Delaware winning this one 42-14. Marcus Yarns continues to be one of the most productive ball-carriers in the nation, ranking seventh in the nation at 332 yards and trailing only Jaden Shirden in the CAA.
Yarns went for 139 yards and one of the week's most sensational touchdown carries vs. Saint Francis.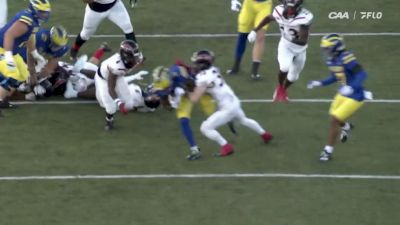 William & Mary remained perfect on the season, though not without a fight at Charleston Southern. The Buccaneers, a week removed from giving Clemson a hard time for almost two quarters, dragged the pace down in a 15-7 final.
The Tribe defense doesn't mind exchanging blows, though, and Nate Lynn answered the bell resoundingly. The William & Mary defensive end went for seven tackles with two for loss and a sack, and his forced fumble in the first quarter resulted in a safety that gave the Tribe a tenuous lead.
While William & Mary overcame a lack of offense to score its third win, the Tribe's Capital Cup rivals at Richmond delivered the Spiders' best offensive performance yet this season in scoring their first win.
Quarterback Kyle Wickersham went 20-for-25 with two touchdowns in the 38-6 rout of Delaware State, with 56 yards coming on a connection with Jerry Garcia Jr.