2023 Rhode Island vs Maine
Kahtero Summers & Rhode Island's Wide Receivers Have It All
Kahtero Summers & Rhode Island's Wide Receivers Have It All
Darius Savedge, Kahtero Summers, Marquis Buchanan and John Erby make up a Rhode Island Football's receiving corps that could be one of the nation's best.
Sep 13, 2023
by Kyle Kensing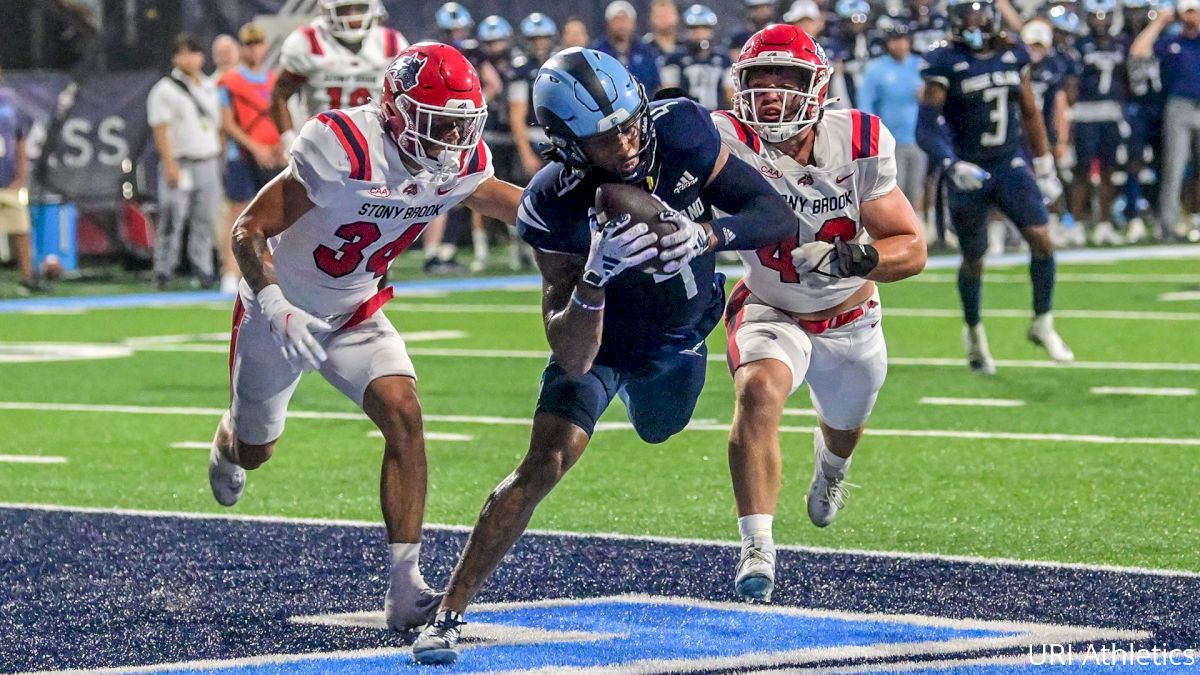 Maybe the most jaw-dropping of the impressive numbers Rhode Island's offense has racked up two games into the 2023 season are the combination of 63, 70 and 73. That's the individual longest catches hauled in thus far by Rams wide receivers Darius Savedge, Kahtero Summers and Marquis Buchanan.
Along with John Erby, the rotation of Buchanan, Savedge and Summers gives Rhody one of the most dangerous offensive units in Coastal Athletic Association — and perhaps the entire nation, with veteran quarterback Kasim Hill throwing to them.
"It's an extremely deep group," Rams coach Jim Fleming said. "We knew what we had coming in with Kahtero and Savedge and Erby; those were our three [established receivers] going in."
URI embarked on this season having to replace a standout in the receiving corps, Ed Lee, who caught for 908 yards in 2022. But Savedge showed flashes of brilliance with his opportunities, totaling 218 yards and a pair of touchdowns on 19 total receptions, and Summers led the Rams with six touchdown catches.
And while Erby's statistical production was limited in 2022, the veteran's work after missing the spring 2021 and ensuing fall with injury positioned him for a prominent role in the group as a redshirt senior.
The freshman Buchanan, who redshirted in 2022, was the Wild Card. Quickly establishing himself as a big-play threat with breakaway speed adds a layer to an already multidimensional group — and, remarkably, the current URI receiving corps may be nowhere near the finished product.
"There's still a couple more in there [who] we want to get going," Fleming said. "You haven't seen Omari Walker too much. We're still looking to get Jamal Mensah going. He had a bad drop during the course of the [Stony Brook] game, but he's getting better. You've still got [Jig] Williams."
Even if each member from that group isn't putting up numbers, Fleming noted the value in how "they push each other on a day-to-day basis."
"And the thing that's really satisfying," Fleming added. "They really are pulling for each other."
No. 14 Marquis Buchanan
Freshman - 6-foot-4 - 175 pounds
Following his debut against Georgia State, in which Marquis Buchanan caught two passes for 101 yards and a 73-yard touchdown, Fleming said: "It's kind of what we expected of him when we signed the kid."
If big plays are the expectation, Buchanan is fast making providing them routine. His encore after going 73 yards to the house vs. Georgia State was a 70-yard haul in the Rams' CAA rout of Stony Brook.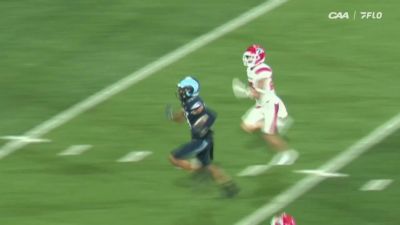 Demonstrating impressive speed to beat not just the coverage man, but the deep safety in order to turn a long gain into a touchdown, it's easy to see what make Buchanan a big-play threat.
But labeling Buchanan exclusively a deep-ball receiver wouldn't be accurate. His highlight tape from his senior season at Providence's Classical High School shows the 6-foot-4 Buchanan being able able to go to the high point over defensive backs on lobs and fade routes.
No. 3 John Erby
Senior - 5-foot-10 - 185 pounds
After almost three calendar years out of competition, John Erby finished 2022 with limited statistical output when presented without context. However, his seven catches for 96 yards a season ago came against Rhody rivals Bryant and Brown; two at Atlantic Coast Conference counterpart Pitt; and in CAA play vs. Monmouth, Maine and New Hampshire.
In other words, Erby made catches in meaningful contests while part of the rotation. In a more central role this season, Erby's caught seven passes for 71 yards through two games, including the Rams' first touchdown of 2023.
ICYMI... 👀

Here's another look at the first Rhody touchdown of the 2023 season. Kasim Hill ➡️ John Erby.#3MoreFeet pic.twitter.com/GoDlI6kXJR

— Rhody Football (@RhodyFootball) September 1, 2023
No. 4 Darius Savedge
Senior - 6-foot-3 - 215 pounds
Darius Savedge has the size and reliable hands of a consummate possession receiver. In making maybe the best catch through the first few weeks of the 2023 season, however, Savedge has shown off the athleticism necessary to make the spectacular plays along with the workmanlike.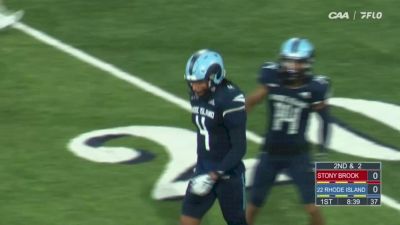 Savedge made six receptions in Week 1 and eight in Week 2 — five of which came on a single drive.
No. 18 Kahtero Summers
Senior - 6-foot-3 - 213 pounds
Entering 2023 with the most statistical production of the group, Kahtero Summers was an exceptional No. 2 to Ed Lee in 2022 with 675 yards on 42 grabs and his team-leading six scores.
Summers set the pace Week 1 with seven grabs for 99 yards. And though he hauled in fewer than half as many receptions in Week 2 with three, he outpaced his yardage with 103 — 70 of which came on a single touchdown grab.
Hill fit the ball into a window on Summers' post pattern. After powering through the initial tackle attempt, Summers hit the jets and ran it the rest of the way to paydirt.