2023 Rhode Island vs Maine
CAA Week 3 Preview: An Unexpected Early Start For Maine-Rhode Island
CAA Week 3 Preview: An Unexpected Early Start For Maine-Rhode Island
Week 3 of the Coastal Athletic Association slate kicks off a day earlier than anticipated, with Maine-Rhode Island moving to Friday as a cautionary measure.
Sep 14, 2023
by Kyle Kensing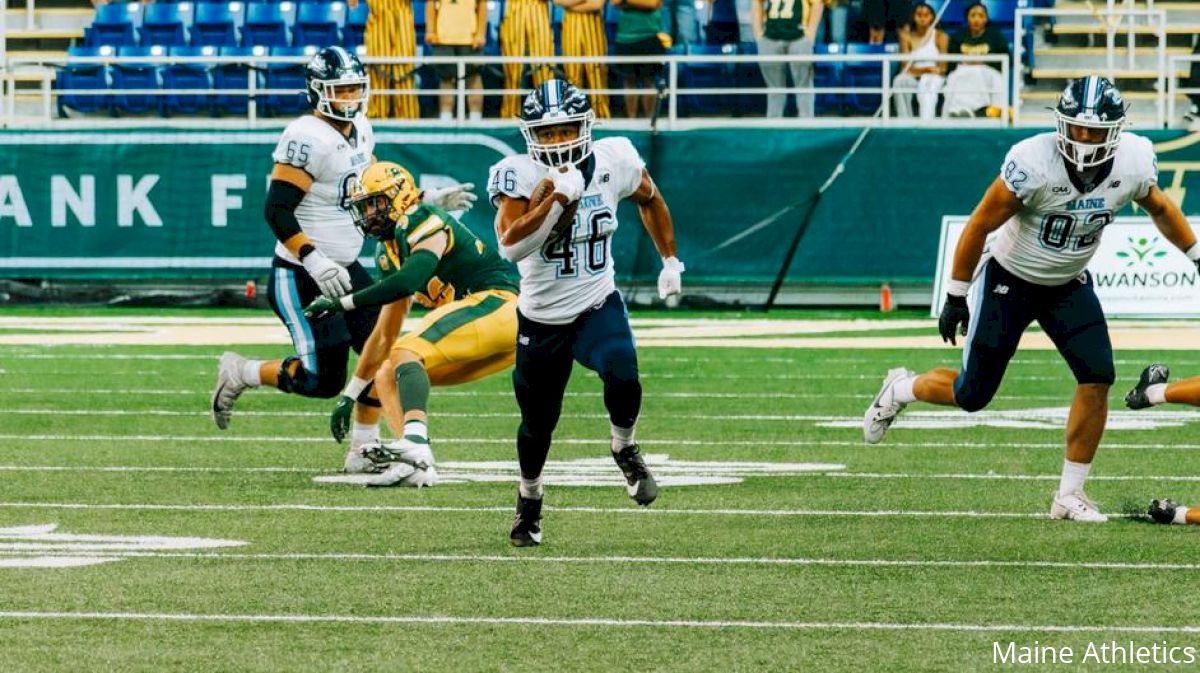 After traveling to Miami and Fargo for its first two games of the 2023 season, Maine football presumably couldn't come home to Alfond Stadium soon enough. Thanks to the trajectory of Hurricane Lee, the Black Bears home debut comes a day earlier than expected.
The announcement came late Wednesday afternoon that a Coastal Athletic Association matchup between regional counterparts Maine and Rhode Island originally scheduled for Saturday will now kick off Friday at 6:30 p.m. ET.
In a decision Maine Director of Athletics Jude Killy described in his statement as made "out of an abundance of caution," Killy's statement also offered the Friday night kickoff would give the Black Bears and Rams "the best chance to compete without interruption."
Weather delays impacted games all across college football throughout Week 2.
With hopefully cooperative conditions and the lights of Alfond Stadium on, Maine and Rhode Island usher in an intriguing week of contests around the CAA — including the most in-conference matchups so far in 2023.
The Black Bears and Rams lock up in the first of three games with implications on the CAA standings. Other matchups include a 2022 FCS Playoffs rematch and a historic rivalry for state bragging rights.
In Friday's weekend opener, a Maine defense that has had impressive stretches through the first two weeks will try to sustain its intensity against what is shaping up to be one of the most exciting offenses in the CAA.
Rhode Island put up 35 points in each of its first games, including a 35-14 rout of Stony Brook to start Coastal play 1-0. Rams quarterback Kasim Hill came into 2023 a well-established commodity behind center, but the performance of the wide receivers around him through the initial two contests only makes URI all the more dangerous.
Maine's defense gave the Black Bears an opportunity to beat FIU in Week 1 before ultimately falling, 14-12.
At perennial power North Dakota State, the Black Hole Defense bowed up near the goal line despite facing serious disadvantages in field position.
BLACK ⚫️ HOLE DENIES ON THE GOAL LINE!!

Black Bears take over on downs in the second quarter of action!#BlackBearNation pic.twitter.com/xWWmV3xNIP

— Maine Football (@BlackBearsFB) September 9, 2023
It wasn't until the second half the unit wore down and the flood gates opened in the loss. The Black Bears must establish some offensive continuity to complement its defense, particularly against an uptempo offense like that which they'll see from Rhode Island.
Campbell at Monmouth
Former Big South Conference counterparts renew their series now as members of the CAA. The Hawks dominated the Camels in the two programs' brief, shared time in the Big South, winning 38-21 in 2018; 47-10 in 2019; and 34-17 in 2021.
But Monmouth coach Kevin Callahan understands it's a new year, new conference and all-new look for Campbell in the Camels' CAA debut.
"They've assembled a much older, highly experienced group on the defensive side," Callahan said. "They're very physical, they're athletic."
Ahead of the season, Campbell coach Mike Minter was highly complimentary of Monmouth's program and cited the construction of the Hawks' roster in 2022 as offering some blueprint for joining the league. Minter noted Monmouth's speed, particularly at the offensive skill positions, as making the Hawks immediately competitive against the top of the conference.
Minter is just as complimentary of the team speed Monmouth boasts in 2023.
Speaking of Hawks All-American running back Jaden Shirden, Minter invoked the legendary Barry Sanders with the ability to "stop-start, and then outrun you.
"That creates a tough situation for a defense, because this man can end up anywhere," Minter added. "[Monmouth blockers] do a great job of just getting one little crease in there, and he's outta there. That's what makes him so good."
Shirden is coming off a 145-yard effort in Monmouth's 42-23 win at Towson, and Sone Ntoh is coming off a three-touchdown performance. The complementary backfield tandem, along with veteran quarterback Marquez McCray and a talented wide-receiving corps, make for as potent an offense as there is in the Football Championship Subdivision.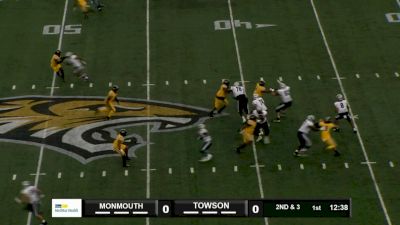 The same can be said of Campbell with dynamic quarterback Hajj-Malik Williams at the controls, a deep cast of skill-position players and a line that Callahan estimated is the biggest the Hawks will face this season.
The point total for this season's first game at Kessler Stadium should be high, and so are the stakes. A loss for the Camels put them in an immediate two-game hole after the opening-week loss to reigning co-champion William & Mary.
"You gotta win this one to try to get back at 50 percent," Minter said. "At the end of the day, you've got to win your conference games if you want to have any chance of going into the postseason.
North Carolina A&T at Elon
Minter touched on a point that provides a significant theme for Saturday's conference showdown between Elon and North Carolina A&T. The two have traveled similar paths to this point, opening with Football Bowl Subdivision opponents in Week 1 and losing tough games to Top 25-ranked regional counterparts in non-league play a week ago.
But with each facing their first CAA challenge of the season, the ledger almost resets.
"Conference season is a new season. All of our goals are still attainable." @ElonFootball HC @TonyTrisciani speaking ahead of Saturday's CAA opener vs. NC A&T. @WFMY #wfmysports @ElonPhoenix pic.twitter.com/ldVhgxAeK4

— Brian Hall (@bhallwfmy) September 11, 2023
With a chance to move to 1-0 in the conference on the line, the Phoenix will try to build on the positive momentum their offense established in the fourth quarter at Gardner-Webb.
Elon scored 17 fourth-quarter points and forced a 27-27 tie with 85 seconds to go after quarterback Matt Downing found Jamarien Dalton in the end zone for a second straight drive. The duo having a potential chemistry is a subplot to follow in Week 3.
"It's really hard when you don't get the majority of reps during the week," Phoenix head coach Tony Trisciani said, noting that Justin Allen won the starting job ahead of Week 2 for his play at Wake Forest — when Downing came in as the initial starter. "We might have to reconsider how we structure our practice reps this week."
Quarterbacking is another shared theme between Elon and A&T to open the season. In Vincent Brown's first campaign as Aggies head coach, A&T has yet to find a passing game. Eli Brickhandler played against both UAB and North Carolina Central, while Zach Yeager saw his first reps against NCCU.
Kenji Christian and Wesley Graves have moved the ball on the ground with efficiency, but A&T will struggle if it's one-dimensional against an Elon defensive line featuring Marvin Pearson and Cazeem Moore.
Non-Conference Games to Watch
Richmond vs. Delaware State
After facing Michigan State in Week 2, Richmond returns to Robins Stadium looking to close out non-conference play with a win. Saturday's meeting is the first between Richmond and Delaware State in history.
Delaware vs. Saint Francis
The Blue Hens rolled to a 56-17 win when these teams met in the 1st Round of the 2022 FCS Playoffs. The reigning Northeast Conference champion Red Flashes return to Delaware Stadium, this time hoping to have an answer for Chandler Harvin.
Harvin caught three touchdowns in the November matchup. He went without a reception Week 2 at Penn State, but opened the 2023 campaign with 100 yards receiving against Stony Brook.
New Hampshire vs. Dartmouth
Saturday's installment is the 42nd in the history of the Granite Bowl. New Hampshire shut out Dartmouth for the first time in the rivalry last season, the 14-0 victory giving UNH a narrow 20-19-2 all-time series lead.
While it's an important rivalry for state bragging rights, there's respect that's readily apparent with this marking the first edition of the Granite Bowl since 2004 without Buddy Teevens on the Dartmouth sideline. The Big Green head coach was injured when he was hit by an automobile while on his bike in March.
"First and foremost, just want to wish Buddy Teevens and his family all the best. I hope coach is healing up well. Wish we could be battling against him," UNH coach Rick Santos said. "Sending him love from down here in Durham."
Dartmouth will wear BT decals on their helmets in honor of the head coach throughout the season.