2023 Wingate vs Mars Hill
SAC Week 2 Preview: Thursday Night Football Showdown Headlines
SAC Week 2 Preview: Thursday Night Football Showdown Headlines
A non-conference showdown of league opponents in a South Atlantic version of Thursday Night Football kicks off Week 2 in the SAC.
Sep 6, 2023
by Kyle Kensing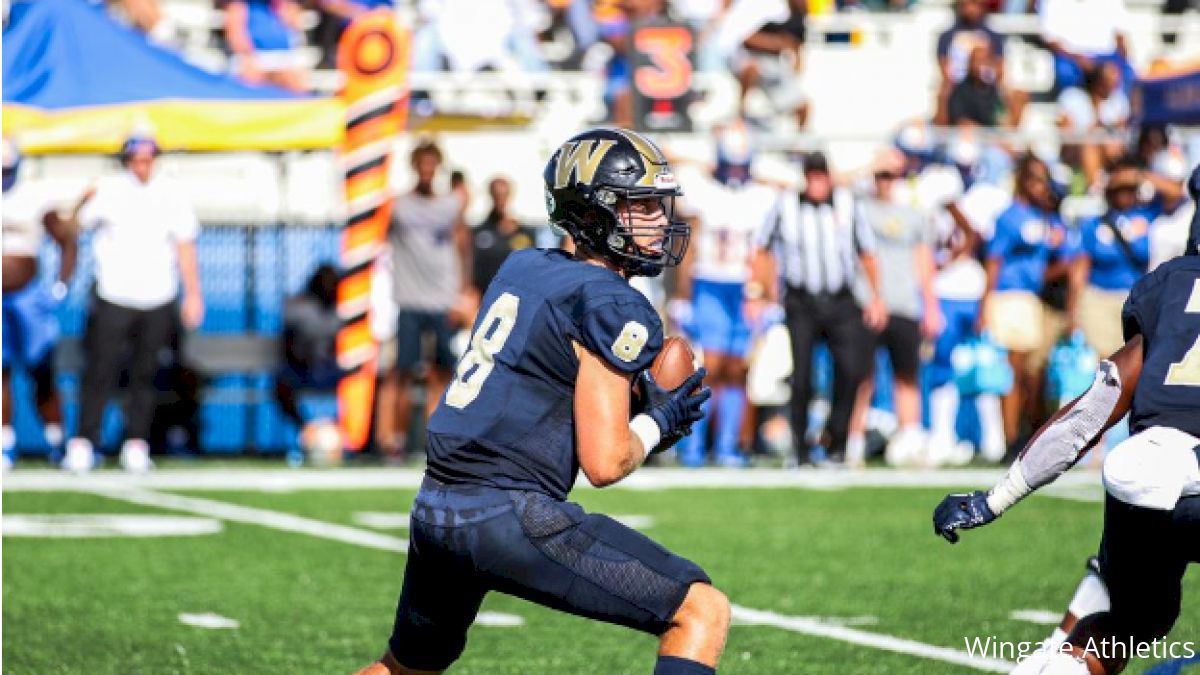 The 2022 South Atlantic Conference Mountain Division winner Mars Hill kicks off its 2023 campaign on Thursday with a Piedmont Division foe — albeit for non-conference competition.
Wingate, coming off a 30-7 thumping of Albany State in its season opener, heads to Mars Hill for an SAC game without conference implications.
The Bulldogs' defense — statistically the best in the SAC a season ago and one of the very best in all of Div. II football — picked up right where it left off with an overwhelming showing against Albany State.
Jaquan Edwards' two sacks and two forced fumbles helped set the tone as Wingate held the Rams to just 76 yards rushing and 254 yards of total offense.
Wingate's offense, meanwhile, rolled up 461 total yards with 303 via the pass. Quarterback Noah Bell shined in Week 1 at 14-of-21 passing for 236 yards and a pair of touchdowns without an interception, and he paced the ground attack with 60 yards and a score.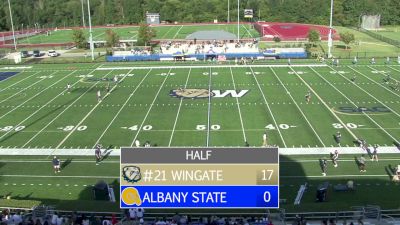 Unlock this video, live events, and more with a subscription!
Get Started
Already a subscriber? Log In
The versatility Wingate's offense showed off in Week 1 poses a significant challenge for a veteran Mars Hill that a season ago, held opponents to just 19.6 points per game.
Veteran linebacker Landon Honeycutt leads the Panthers defense and has Player of the Year potential. Honeycutt made 90 tackles in 2022 with 15 for loss and five sacks.
Honeycutt leads a Mars Hill defense also featuring Preseason All-SAC selections Boris Lewis and Damipi Lamboni on the line with Monroe Sanderson and Tristan Rankin in the secondary.
While Thursday's matchup isn't for SAC positioning, a pairing of two of the conference's most talented defenses could show a lot about the pecking order as the season unfolds.
West Alabama at Limestone
Coming off a heartbreaking loss in the season opener at West Georgia, Limestone comes home to face another Gulf South Conference foe in West Alabama.
Limestone's high-powered offense effectively mixed run and pass to finish near the top 30 in scoring a season ago, but the Saints' Week 1 matchup with a top six scoring offense of 2022 became an unexpected , 21-19 defensive struggle.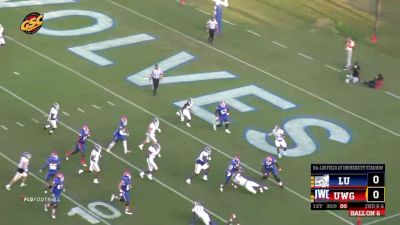 Dustin Noller came out with an injury late in last week's loss. His availability for the Saints' home opener could shape the direction of Limestone's Week 2 approach.
West Alabama comes in facing its second 2022 NCAA Playoffs opponent in as many weeks. The Tigers opened with fifth-ranked Angelo State, a game West Alabama led at halftime.
A disastrous third quarter did the Tigers, however, as they gave up three touchdowns in about six minutes of game time. Two came on explosive plays of 70-plus yards.
Look for Limestone to try to similarly exploit big-play opportunities to kick-start the offense after having to grind for points at West Georgia.
North Greenville at Newberry
Another SAC vs. Gulf South matchup on Saturday has Newberry hosting a North Greenville bunch that nearly scored a win against Div. I competition last week.
The Crusaders had Charleston Southern on the ropes going into the fourth quarter, and drove inside the five-yard line on the final possession of Thursday's 13-10 contest.
Curtis Ryans and De'Iveon Donald were active for a North Greenville defense that allowed just 12 total first downs.
Newberry came out on the right end of its own defensive struggle, beating Shippensberg, 14-10. Luke Taylor made a sack and Kevon Gregory intercepted a pass to highlight the Wolves' strong defensive start. It was an all-around dominant showing in which three of Shippensberg's points were the result of a punt blocked deep in Wolves territory.
Newberry also held Shippensberg to just 46 yards rushing with a 1.9-per carry yield. The Wolves may need to replicate that effort facing a North Greenville offense that averaged just 1.4 yards per carry in Week 1.
With Mario Anderson and Dre Harris gone from Newberry's back-to-back SAC-winning offense, the Wolves may experience some growing pains earlier on.