Big Sky
9 Quarterbacks To Watch In 2023 Division II Football
9 Quarterbacks To Watch In 2023 Division II Football
From a record-setting frosh, to a seventh-year senior who has battled adversity, and a touchdown-throwing machine, Div. II is loaded with star quarterbacks.
Aug 4, 2023
by Kyle Kensing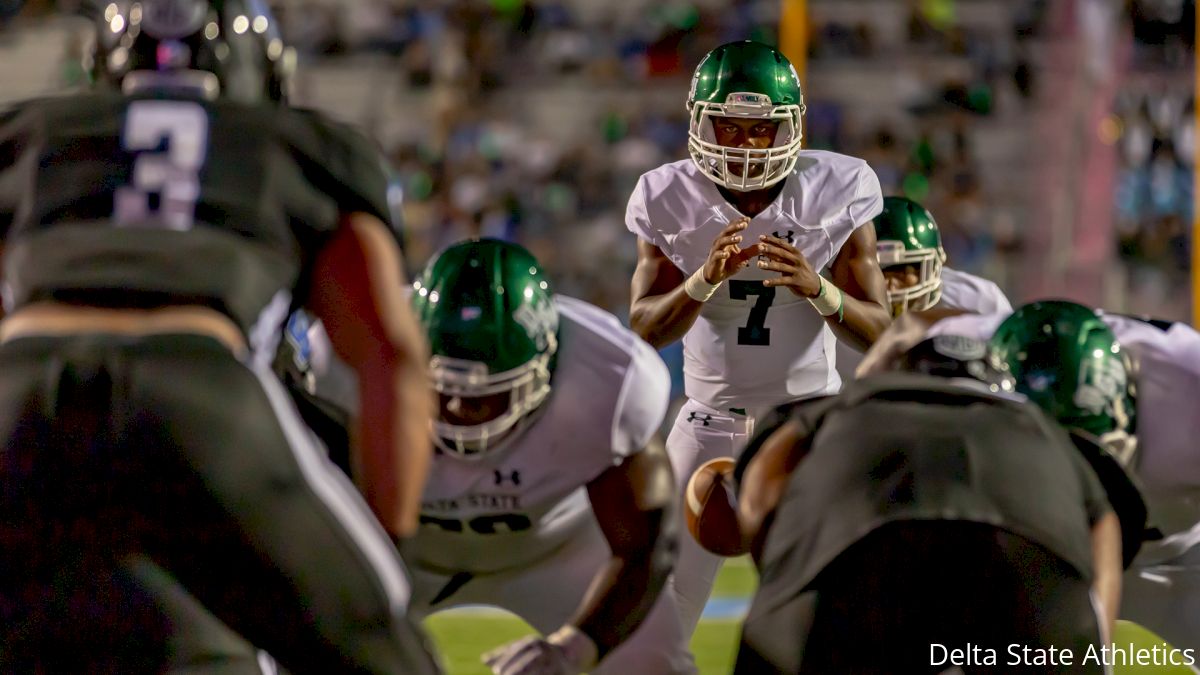 A record-setting freshman-turned-sophomore leader of the reigning national champion; a pair of returning playmakers for surprise breakout teams; and an electrifying, two-way threat are among the impressive crop of quarterbacks leading Div. II football in 2023.
Quarterback play has unsurprisingly been front-and-center for the last few Div. II national title runs, albeit in much different fashion. In 2019, Austin Reed set a D-II National Championship Game record with his passing as West Florida powered its way to the crown.
In 2022, Ferris State claimed its second consecutive championship behind the otherworldly ball-carrying of Carson Gulker.
There's no one trait that defines a top quarterback, and the quarterbacks to watch in Div. II for 2023 reflect the position's diversity. The different skill sets each bring to the table are part of what makes each exciting.
Brandon Alt, Bemidji State
Few players have ever battled back from more adversity than two-time Harlon Hill Award top-10 finisher Brandon Alt. Alt's first full season for Bemidji State was delayed four years, with the Cottage Grove, Minnesota resident first redshirting; then suffering season-ending injuries in each of his two initial "freshman" campaigns.
Then, with the cancellation of the 2020 season due to COVID-19, Alt had to wait until 2021 to truly show his stuff. And it was worth the wait.
Alt passed for 46 touchdowns in 2021 and racked up 4,245 yards. He followed up last season with 38 touchdown tosses and 3,864 on a jump from 54 percent completions to 60.
Ahead of his third full season, the super-duper senior Alt figures to be one of the front-runners for the 2023 Harlon Hill Award.
Braden Gleason, Emporia State
🗣 Captain Spotlight

8,135 Career Passing YDS ✅

78 TDs ✅

All-American ✅

2X All MIAA Selection ✅

Harlon Hill Nominee ✅

88 Hours of Community Service ✅

Captain ✅#SayWhen #StingersUp🐝 pic.twitter.com/9haxvaUKKd

— ESU Hornet Football (@esuhornetsfb) July 24, 2023
Braden Gleason needed little more than a quarter to put an exclamation point on his breakout 2022 campaign. In the Farmers Bank & Trust Live United Bowl matchup with Southeastern Oklahoma, Gleason threw three touchdown passes in less than 16 minutes of game time to give Emporia State a 28-0 lead and effectively go on cruise control to the victory.
Gleason added two more touchdown throws in the second half, completing his campaign with 33 scoring strikes, a completion percentage of 68, and he rushed for an additional seven scores.
Gleason's star turn led Emporia State to a 9-3 mark. Expect more from the Hornets in 2023 with Gleason back behind center.
Carson Gulker and Mylik Mitchell, Ferris State
How does a freshman make his presence known when joining a national championship-winning roster? If he's Carson Gulker, the answer is to make history.
"I thought maybe here or there, I'd get in. This is definitely not what I expected," Gulker told reporters ahead of last season's National Championship Game. "Opportunities have arisen, I've just taken them and ran."
Ran, he indeed has.
Gulker carried for a record 31 touchdowns in Ferris State's revolutionary ground-based offensive attack. The then-freshman already had set the mark before the Bulldogs' return to the Div. II National Championship Game, but tacking another three in Ferris State's dismantling of Colorado School of Mines pushed the bar higher.
The title game was Gulker's third multiple rushing touchdown game of the Div. II Playoffs, and his seventh game of 2022 with three-plus rushing scores, which include a high five against Waldrof.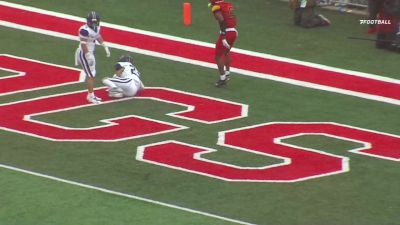 Unlock this video, live events, and more with a subscription!
Get Started
Already a subscriber? Log In
Gulker shared quarterbacking duties with another terrific quarterback, Mylik Mitchell. As the first-string quarterback for each of Ferris State's national championship runs, Mitchell deserves to be recognized among the best at the position, as well.
Mitchell more than adeptly handled aerial delivery for the Bulldogs offense when healthy last season, completing better than two-thirds of his pass attempts four times — three of which came in Ferris State's playoff run. He went 14-of-18 in the National Championship Game, bookending a postseason that included a 24-of-36 effort with a touchdown in the thrilling, 17-14 defeat of Pittsburg State.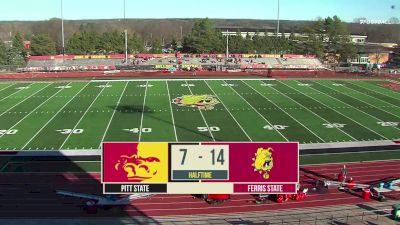 Unlock this video, live events, and more with a subscription!
Get Started
Already a subscriber? Log In
"Show guys from actually walking through life and actually doing it, not talking about it," Mitchell told reporters during spring practices when referencing his leadership style. "If you want a leader that's going to look at me."
Defenses facing the Bulldogs certainly can't put either of Gulker or Mitchell ahead of the other when preparing for Ferris State's multifaceted attack.
Peewee Jarrett, West Florida
Coming into burgeoning powerhouse West Florida with JUCO All-American credentials, Peewee Jarrett immediately transitioned his skill set to the Div. II level and thrived. In 2023, Jarrett faces another transition as the on-field leader for an Argos team undergoing a head-coaching change for the first time in program history.
Pete Schinnick built UWF from the ground up, establishing a national championship-winning program in short order thanks in no small part to outstanding quarterback play. Peewee Jarrett followed in the immense shadow of Austin Reed and didn't just continue the Argos' fast-growing tradition of excellence from signal-callers, but put his own spin on how the quarterback can power the uptempo UWF offense.
Jarrett passed for 2.719 yards and 33 touchdowns against only eight interceptions in 2022, tossed four scores in four different games, and rushed for an additional 762 yards with nine scores.
Now under first-year head coach Kaleb Nobles, co-offensive coordinator of UWF's 2019 title-winning team and an assistant at Clemson the last two seasons, Jarrett becomes the face of a new era for Argos football.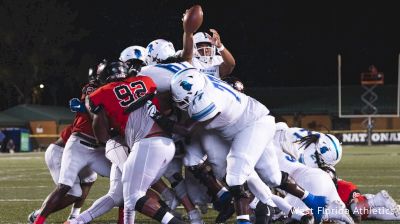 John Matocha, Colorado School of Mines
Colorado School of Mines has long been a testing ground for innovations in passing offense. John Matocha has done his part in continuing the Orediggers' revolutions in aerial attack, dissecting defenses in each of his first three seasons as starting quarterback.
Last year, Matocha delivered his strongest individual showing yet with a staggering 52 passing touchdowns and 4,778 yards, giving him 96 scores through the air and almost 11,000 careers yards.
And Matocha's individual success translated to results for the Orediggers. Mines advanced to the Div. II National Championship Game for the first time in program history, and in 2023, have the pieces of bring home the hardware.
The last guy off the field today was John Matocha. With a smile and a "thanks for coming!" he signed autographs for every kid who asked.

That's our quarterback. That's Mines Football. #HelluvaEngineer⚒ pic.twitter.com/cgafrbDw1e

— Mines Football (@MinesFootball) December 18, 2022
Dustin Noller, Limestone
There may have been no bigger surprise in Div. II football last season than Limestone. The upstart South Atlantic Conference program broke through to earn a playoff bid behind the outstanding quarterbacking of Dustin Noller.
Noller passed for 2,480 yards and 21 touchdowns after stepping into the starting role during SAC play. More than his cumulative output, though, was Noller's ability to step up in high-pressure situations.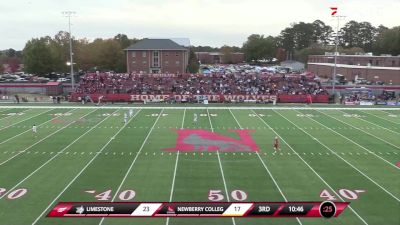 Unlock this video, live events, and more with a subscription!
Get Started
Already a subscriber? Log In
He delivered two of his best performances against recent SAC standard-bearers Lenoir-Rhyne and Newberry, combining for seven touchdown throws against the two. Noller also rushed for a touchdown against Barton.
As the clear No. 1 heading into 2023, expect Noller to shine in marquee spots once again for the Saints.
Patrick Shegog, Delta State
The 2018 Gulf South Conference Freshman of the Year grew into arguably the most savvy quarterback in the league by 2022. Patrick Shegog, who debuted with 546 yards rushing and another 1,722 rushing in his first collegiate season, upped his production in both phases a year ago.
Behind 790 rushing yards, 17 touchdowns, 2,789 passing yards and 22 scores — and perhaps most importantly, career-bests both in completion percentage (65) and touchdown-to-interception ratio — Delta State won the GSC. His seven touchdown game against Valdosta State was one of the most individually impressive performances in any conference at any level of college football last season.
Unlock this video, live events, and more with a subscription!
Get Started
Already a subscriber? Log In
The Plainsmen will make a push for another conference title in 2023 with Shegog again driving the engine. Another jump in his all-around playmaking will have the dynamic Delta State veteran in the hunt for the Harlon Hill Trophy, which no Gulf South player has claimed since Will Hall of North Alabama in 2003.
Jason Whittaker, Davenport
Davenport broke out in 2022 with an 8-0 start, including a thrilling, Top 25 win over Saginaw Valley State that effectively sewed up the Panthers' bid for the Div. II Playoffs. In that 29-28 victory, quarterback Jason Whittaker went Hero Mode when he led a fourth-quarter touchdown drive, culminating in a 27-yard scoring pass to Brenden Sherrod.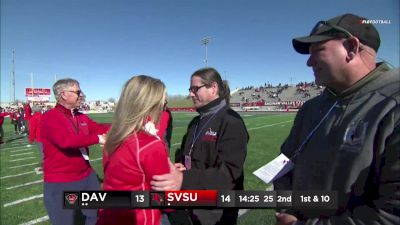 Unlock this video, live events, and more with a subscription!
Get Started
Already a subscriber? Log In
The touchdown, Whittaker's second of the second half, sealed the win. The two late-game scores were also part of Whittaker's 26 scores thrown on the season, as he and running back Caleef Jenkins complemented one another nicely to give Davenport a better-than-30-point per game offense.
Whittaker and Jenkins return for 2023, ready to once again provide a lightning-and-thunder combination for the Panthers attack.