2023 CAA Football
5 Things We Learned From CAA Football's Media Day
5 Things We Learned From CAA Football's Media Day
Coaches and players from the Coastal Athletic Association previewed the league's 2023 season. Five takeaways from CAA media day headlined the kickoff event.
Jul 25, 2023
by Kyle Kensing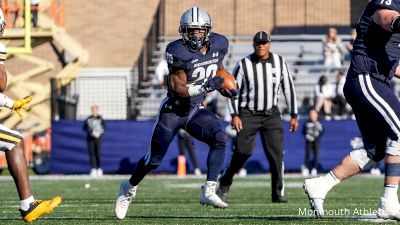 The new-look Coastal Athletic Association kicks off a watershed football season on Aug. 26. Nearly one month to the day that UAlbany hosts Fordham to officially usher in the 2023 campaign, the 15 teams making up the revamped Coastal previewed the season at the league's annual media day.
The arrival of a new season brings renewed optimism and excitement. And in the CAA, the start of another fall has typically meant surprises emerging to contend for playoff berths and the league championship.
In 2022, co-champions New Hampshire and William & Mary were picked ninth and fifth in the preseason poll. Four of the Coastal's five playoff-qualifying teams were slotted no higher than fourth.
No wonder then, at the league's media day event, attendees emphasized the only guarantee in CAA football is its wide-open nature. That's hardly a new revelation, though.
The following five storylines, on the other hand, were among the most interesting lessons served up during CAA football media day.
William & Mary's Playoff Loss Is Nate Lynn's Phone Wallpaper
William & Mary comes into 2023 off an impressive past calendar year. The Tribe opened 2022 beating FBS opponent Charlotte, claimed a share of the CAA title, and had one of its standouts—offensive lineman Colby Sorsdal—drafted into the NFL.
William & Mary opens 2023 as the favorite to again win the CAA, thanks to the bevy of returning talent on both sides of the ball, including defensive line star Nate Lynn.
However, it's a low point of the past year that Lynn uses to keep him motivated in pursuit of more success—and he's reminded every time he unlocks his phone.
Lynn revealed that the lockscreen wallpaper on his cell phone was the scoreboard at Montana State's Bobcat Stadium, site of the Tribe's 55-7 FCS Playoffs loss.
"I'm not a guy [who] holds grudges, but that hasn't sat with me well," Lynn said of the playoff blowout.
"I can say as a team, that's something that left a bad taste in our mouths. Like coach [Mike] London said, it's not about how you start, it's how you finish."
Indeed, London emphasized the lasting impression left at a season's conclusion. The Tribe seeks to make this year's final impression a much better one.
Maine Embraces Its Preseason Polling
Although positioning in the preseason poll was largely dismissed throughout media day, Maine seems to welcome its place in 13th for the proverbial bulletin-board material.
"Being down that low is never something you want to see," said Black Bears linebacker Vince Thomas.
"It will give us a chip on our shoulder, 'cause if you look at us and you think, 'Oh, that's just a team that they don't have it.' You think we're not going to be disciplined, I promise you you're going to be wrong."
Maine finished just 2-9 in its first season under alum and head coach Jordan Stevens. However, the Black Bears ended 2022 on a five-game losing skid in which each game was decided by 10 points or fewer. Four total points separated three of those games, including a 42-41, overtime heartbreaker in the Brice-Cowell Musket showdown with co-CAA champion New Hampshire.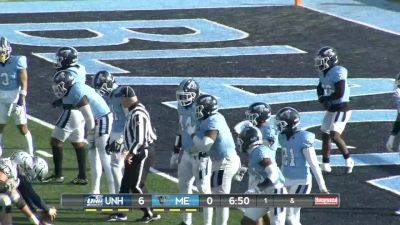 Unlock this video, live events, and more with a subscription!
Get Started
Already a subscriber? Log In
Stevens addressed the close calls in a manner that exuded an unwavering belief the 2023 Black Bears can and will come out on the other side of similar contests.
"Our focus is on...finishing those games we were unable to finish last year," Stevens said.
"We're going to be on the other end of a lot of those [close games]. That's the confidence we're approaching this season with."
Hampton Plays One Of The Nation's Most Intriguing Schedules
No schedule anywhere in college football combines the challenge and the tradition that marks Hampton's 2023 docket.
The second-year CAA member program faces many of last season's top finishers in the league, starting with the first CAA game Sept. 30 at Richmond. The Spiders are first of four 2022 FCS Playoffs qualifiers on Hampton's slate, followed by Oct. 21 with Delaware; Nov. 11 against William & Mary, an opponent the Pirates played down to the wire a season ago; and finishing Nov. 18 at Elon.
Hampton's CAA schedule also sends it to Monmouth to face 2022 Walter Payton Award finalist and reigning CAA Offensive Player of the Year Jaden Shirden on Oct. 14.
Before conference play, the Pirates open with a three-game stretch that showcases the history and tradition of HBCU football. Hampton begins Week 1 in the New York metropolitan area with a matchup against Southwestern Athletic Conference member Grambling.
"It's just been a great tradition when those two teams come together," Pirates coach Robert Prunty said.
The programs faced in New York in the '90s. Before their 1998 matchup, then-Hampton coach Joe Taylor said of that those in HBCU football stood "on the shoulders of the legendary Eddie Robinson," Grambling's luminary longtime head coach.
The Pirates come home in Week 2 for the first of two consecutive rivalry games, hosting Norfolk State in the Battle of the Bay on Sept. 9 then visiting Washington, D.C. on Sept. 16 in the 98th installment of "The Real HU" vs. Howard.
Hampton plays its fourth HBCU opponent of the season on Oct. 28 at the conclusion of the university's Homecoming week festivities, hosting North Carolina A&T in its first season as a CAA member.
"To have the opportunity to play North Carolina A&T...it's really an exciting schedule for our fan base and our alumni association," Prunty said.
Elon May Not Have To Look Far To Replace An All-American
A year ago at this time, Elon's Marcus Hillman was a productive member of the Phoenix defense, but not someone producing eye-popping numbers. By the end of Elon's breakthrough campaign under coach Tony Trisciani, Hillman earned All-American honors for his whopping 18.5 tackles for loss and eight sacks.
Finding a Phoenix capable of a similar surge this season might lead right back to the vacancy Hillman left with his graduation.
"Dylan Tucker, him and Marcus, they were like equal at that Spur/nickel position for us at preseason camp last year," Trisciani said.
"And Dylan Tucker had an injury and missed the season, so he's back. We're going to be able to plug-and-play him at that Spur/nickel position and expect the same type of production that Marcus provided."
Trisciani offered across-the-board praise for Elon's defensive depth across the line, in the linebacker corps and in the secondary, so that side of the ball should again be a strength. But Tucker having been about equal with Hillman to man that Spur position is particularly intriguing, given just how prolific Hillman was throughout the season.
Tucker's 2021 statistical output was similar to Hillman's, with Tucker forcing a pair of fumbles and racking up 35 tackles with three for loss. He fills a considerable void, but who better to step into the spot than Hillman, who originally competed for that starting opportunity.
Stony Brook Names Its Starting Quarterback
Much of the preseason buzz in the CAA focuses on the outstanding returning quarterbacks throughout the conference: players like UAlbany's Reese Poffenbarger, New Hampshire's Max Brosmer, Rhode Island's Kasim Hill and William & Mary's Darius Wilson.
Other CAA squads face competitions during their upcoming fall camps, and may not have clear starters until just before Week 1. But Stony Brook, which dealt with instability at the position a season ago, eschewed uncertainty or drama on media day, with Chuck Priore publicly announcing Casey Case as the Week 1 starter.
Case, a 6-foot-6 transfer with junior-year eligibility, earned his degree in just three years at Buffalo. Priore touted both Case's off-field commitment, completing his undergraduate work in short order, and his experience despite not attempting a pass for the Mid-American Conference's Bulls.
.@CaseyCase2020 ➡️ 𝗤𝗕𝟭 🎯

Details: https://t.co/qXvNIqwA5z

🌊🐺 x #HOWL pic.twitter.com/JSGFDnIvqu

— Stony Brook Football (@StonyBrookFB) July 25, 2023
"There were a lot of passes [at Buffalo]," Priore said.
"Just didn't happen to be in a game situation. He, over the course of spring and summer, won the starting job...for Game 1. Excited about that."
Case makes his Seawolves debut in a high-profile spot, as Stony Brook welcomes 2022 FCS Playoffs qualifier Delaware for both the season and CAA opener. Week 1 also marks the first appearance of a new offensive coordinator, with Andrew Dresner coming in from Maine during the offseason.
"He really learned coach Dresner's offense well, and I think he'll operate it correctly," Priore said.